ASICS ARCHIVE
A Rare Look Into the ASICS Archive at their Global Headquarters in Kobe, Japan
Rarely open, the ASICS Archive is a definitive time capsule of the company's designs dating from 1949 until the present day. 
Located in the ASICS global headquarters in Kobe, situated in Japan's Hyogo Prefecture, the archive showcases iconic silhouettes and rare designs behind airtight glass cabinets, our visit provided a unique look into the work that has been at the core of the sports and tech-led brand's success. They've remained at the forefront of sports technology, humble players against giants, in the global pursuit for leading performance footwear.
Our journey to the ASICS Archive begins mid-morning on a platform in Tokyo Station. Taking an 8am shinkansen with bento box in hand, we pass Yokohama and Osaka, ensuring not to miss the remarkable views of Mt Fuji along the way. After 2.5 hours arrive at our final destination, the largest city in Japan's Hyōgo Prefecture: Kobe. 
Situated along the Osaka Bay, Kobe is far from one of Japan's busiest cities yet it packs a punch. Architect Tadao Ando has revived many parts of the city, most notably designing the Hyōgo Prefectural Museum of Art and the Rokko Housing units. With a population of 1.5 million people, the city is modest yet presents a lot of potential. Whilst most known for it's world-famous marbled beef, Kobe is also instantly and proudly recognised as the home of ASICS. 
The ASICS Archive is situated in the ASICS HQ building on Kobe's Port Island. Within the same facility also lies the ASICS Museum, presenting the brand's history from 1949 when it began with Onitsuka Tiger, leading to the pivotal beginnings of ASICS in 1977. Both archive and museum showcase the brand's vast – and diverse – history in sports, technology and design.
Incredibly invaluable in more ways than one, this archive holds the key to ASICS history of experimentation and ground-breaking innovation. ASICS are most proud of the technology they have utilised to progress their products, and their focus is on the future, hence ensuring the archive is subsequently utilised for by those working on new ideas and products. Only available to researchers and ASICS designers and their collaborators to access, the archive is not only limited to footwear but also holds historically-important clothing, accessories and equipment, along with associated paraphernalia and advertising assets. 
There's something endearing about the archive, as not everything is protected behind glass cabinets. There are replica shoes which replace designs where the originals are in negotiations to be acquired or replicate those which no longer exist. Most are arranged in chronological order, yet the archive's overall display evokes the feeling of opening the ASICS equivalent of Pandora's Box. Long-term ASICS ex-designer and engineer turned curator Kozo Danshita acts as our guide, and shows us some rarely-seen footwear and apparel maintained perfectly in the archive.
Ninety per cent of ASICS business comes from their footwear, and this is indeed where their innovation lies. 
Unusual designs such as the 1960 Polar Boots 'type E' – with exclusive inner socks and insole, built to endure minus 60 degrees celcius for explorers on Antarctic expeditions – show the earliest initiatives by ASICS to remain relevant and purposeful with their technology. The 1974 Onitsuka Tiger Paw DS-5700 highlights this also, as the first all-weather-track-spike, utilising 'EVA' for the first time for light and cushioned soles. Furthermore the Marathon Sortie Ex is also in the archive, presenting the first sole which incorporated ASICS' 'DuoSole Outsole' tech.
A one-off 1953 Marathon Tabi, worn in space by a Japanese astronaut is also found, carefully held at a humidity level of 50 per cent to ensure it is deterioration-prone. Custom designs such as the 1986 Pedala of the Grand Sumo tournament can also be found. Used by the Kasugano chief director of former Sumo Grand champion 'Tochinishiki', an exclusive last was made for him especially, due to the wide width of his foot. 
Models such as the 1995 Zipangu were a pleasant surprise, we found a contemporary relevance to the ideas held in the design. Surprisingly, the Zipangu was engineered by our guide, Danshita-san. Completely original in its structure, it was a style which remained in the 90's but could easily be reinterpreted in 2020.
ASICS' game-changer has been their GEL technology. With their designs incorporating the GEL tech presented in order of release, it's any sneaker lovers dream. Discovering past designs (such as the GEL-VERTEX and GEL-TRABUCO to name a few) are the best part of the exploration. With reinterpreted GEL-BURZ by Kiko Kostadinov and GEL-KAYANO 5 360 by Angelo Baque (AWAKE), it's easy to see the incredible pool of innovation ASICS collaborators have to choose from.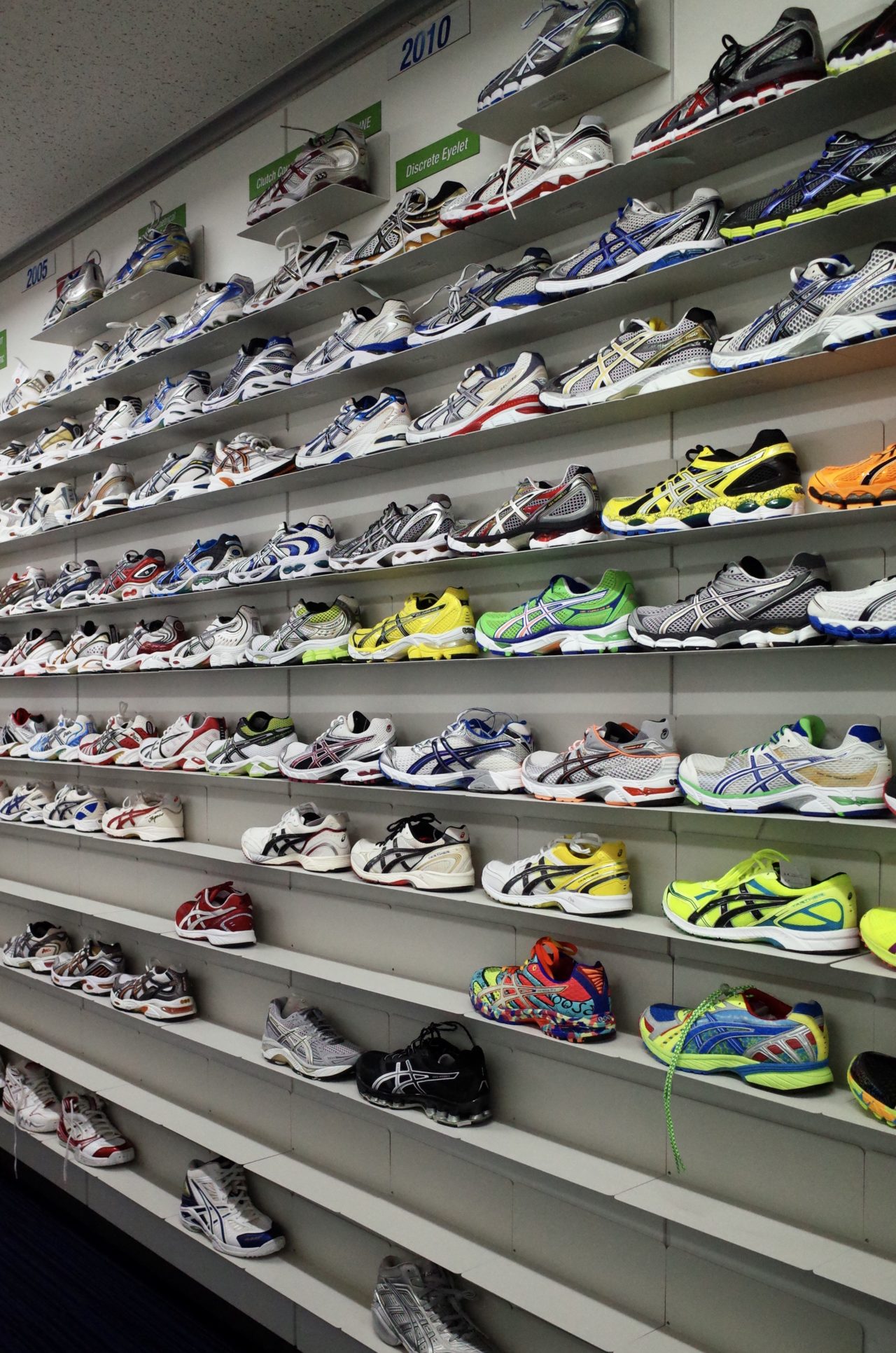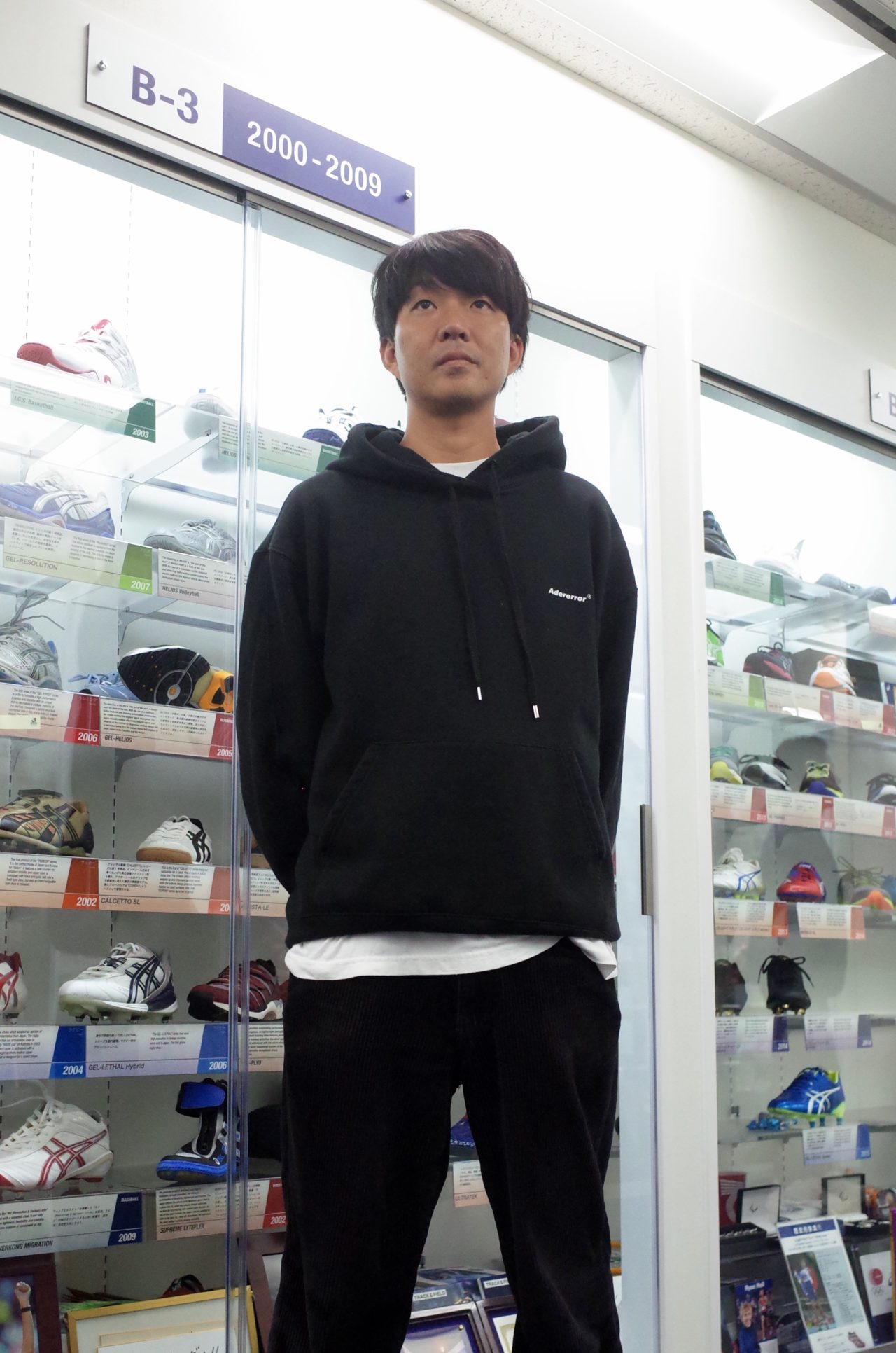 Whilst in the archive, we meet Kenichi Kawano from the Design Direction Team. He works closely with the ASICS fashion designer collaborations, and he's sporting a proto Kiko in the most curious light-blue shade. Kawano-San dived into the archive already earlier that morning, with collaborators he couldn't mention, but returned to walk us through the archive as seen through his eyes.
Whilst in the ASICS Archive, we come across the original GEL-NANDI and GEL-LYTE III with its iconic split-tongue, both designed by ASICS Future Design Box Team director Shigeyuki Mitsui. Designed 31 years ago, the GEL-LYTE III is one of ASICS' most instantly recognisable designs, with its split-tongue ingeniously informed by the foot's anatomy. The archive holds a vast majority of items, but there are still designs like the original Onitsuka Tiger Cortez that is missing from the collection. A replica is in its place, whilst ASICS negotiate on acquiring an original.
Our visit to the ASICS HQ also included a stop at the ASICS Institute of Sport Science (ISS), about another 40 minutes by train away from Kobe central.
The ASICS ISS is at the heart of both companies, where testing and analysis are done for products and future innovation. Located in a suburban area on an expansive site, in 1985 ASICS combined their Technology Research Department and Shoe Development Centers to create an institution where testing facilities, training stations and an innovation lab were all under one roof. This is where ASICS research begins and progresses, split into 3 sections; function, material and construction.
A household name in Japan, ASICS have retained their reputation as a reliable clothing and footwear brand for decades, applicable to almost every sport. As the main sponsor for the Tokyo 2020 Summer Olympics, they also act as major brand partners for the South African national Rugby team and tennis players such as world no.1 Novak Djokovic – able to assess individual players in person, in real time and adapts designs to their needs at the ISS facility.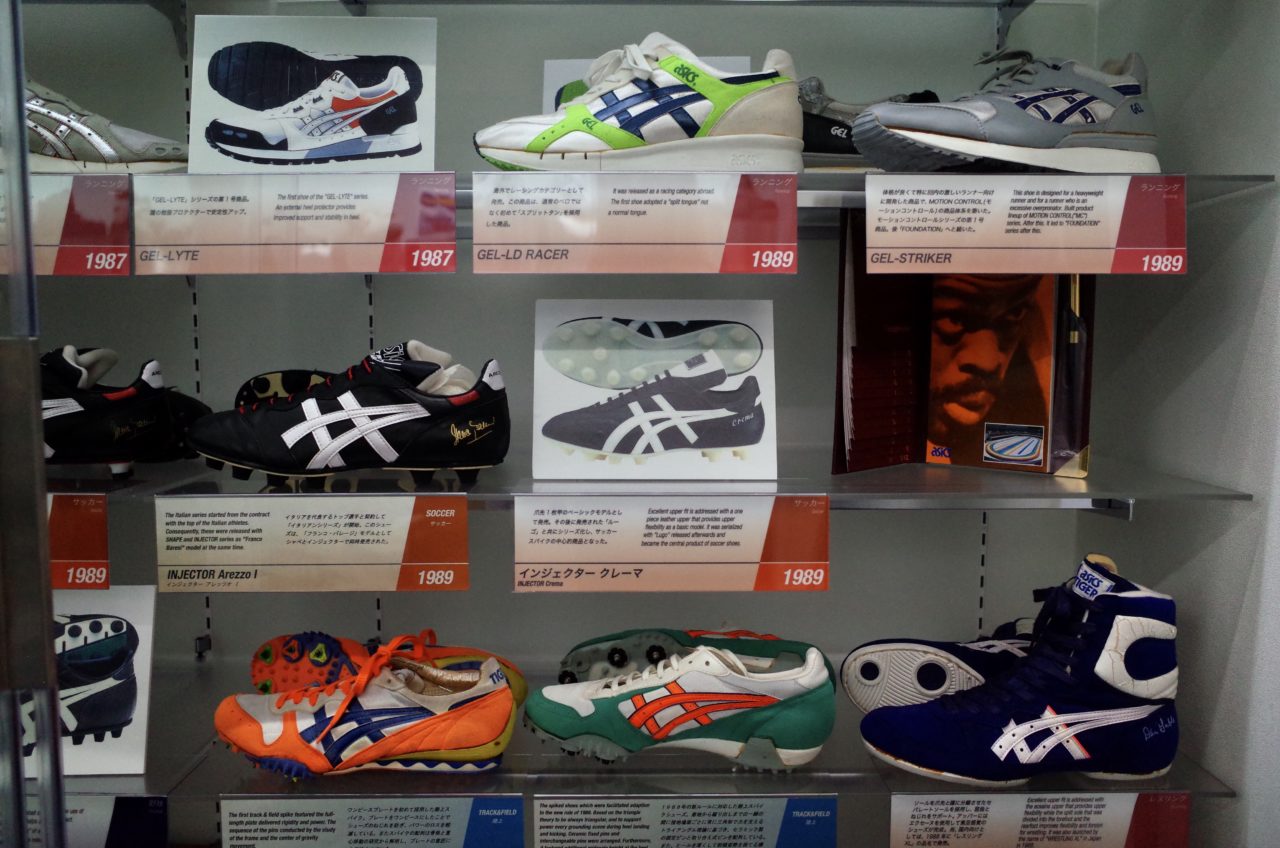 ASICS Future Design Box chief Mitsui-san's design studio is also situated in the ISS building, with a small workshop available for his team to exercise unconstrained ideas. The Innovation Works Lab reflects a beautiful chaos, but is all about experimentation not perfection and looking for breakthroughs in design and development. Mitsui-san's work has been pivotal for ASICS, designing the GEL-Lyte III as mentioned above. Not dictated by trends, Mitsui-san looks to the new, outside-the-norm, and what hasn't yet been done before. Whilst in his studio, Mitsui-san shares some unrealised ideas and prototypes in the works – original and farfetched –  instilling faith in the future of the brand for the contemporary consumer.
ASICS are gaining new relevance with their international designer collaborations. The brand has always been able to be worn on and off the field, and now commonly incorporated into leisure and lifestyle wear. Through international designers such as Baque in New York, Kostadinov in London, GmbH in Berlin and Comme des Garcons in Tokyo, a whole new chapter has opened up for ASICS. Performance shoes are incorporating more of a design edge, and reaching trend-focussed consumers.
The roots of the brand have always stood strong however we see a promising evolution for ASICS happening. The clues lie in the ASICS archive, reinterpreted and evolved for the 21st century.
∆
Words | Monique Kawecki
Images | © Ala Champ / JK RICOH GRIII