WADE AND LETA
In New York, the Dynamic Duo Continue to Reach Greater Heights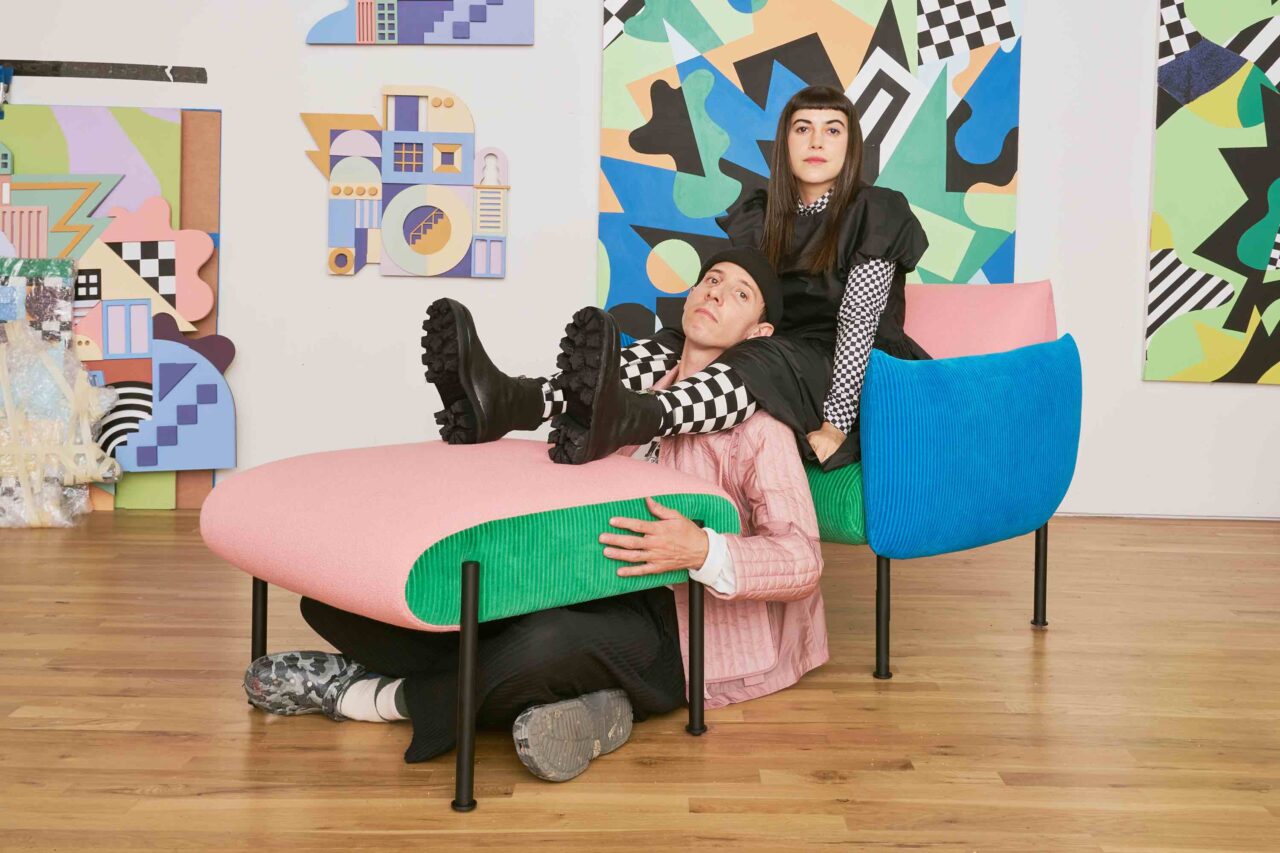 Based in New York, Wade Jeffree and Leta Sobierajski's studio in Brooklyn enables them to work on projects ranging from graphic design, web design, photography, art direction and branding projects. The city itself allows them to find originality and motivation. "There is a collective momentum which exists here that pushes everyone forward" Leta states, "It's either ride the wave or leave the city".

Their creative studio, Wade and Leta, is easily identifiable through their unique visual personality. Colour is a key component in their work, as are unusual and original aesthetics to make projects more fun and unexpected. They utilise all disciplines in their work, from physical aspects such as hand-making and hand-painting sets to working on digital designs, projects and talks. Their clients range from Comme des Garçons, AIGA, AirBNB and Herman Miller, to most recently Dims, a furniture company out of LA whom they designed seating for. There are no limits to Wade and Leta's work.
As partners in life and in work, the duo do everything together. "Working with a partner has so many benefits—there's another perspective brought to the table, different strengths, different ways of communicating—that it helps the other adapt and get better in what they're lacking" explains Leta. Wade highlights "It allows us to strengthen our perspectives on life and how we perceive what work is. We don't define those two into buckets but instead chose to see them as one that is constantly cycling around itself. Our work affects our life and vice versa. We want to grow with our work. This is in many ways why we love to build experiences for all."

Citing Arakawa and Gins as pivotal inspiration for them, Wade and Leta are equally as progressive for their age. Leta, 32 (from Jefferson NY), and Wade, 33 (originally from Melbourne, Australia), are only just getting started. 

Their projects continue to escalate but they remain grounded in what they do. Last year, they created an installation at Design Miami's art fair, interactive and a highlight of the week's events. This year, they just launched their first furniture design and are working on multiple projects at once.
We spoke to the duo to find out more about working together, life in New York, and what the future holds for their ambitious design studio. 

CHAMP: Can you tell us a bit about your backgrounds and the pathway to when you first connected?
LETA I grew up in a pretty isolated neighborhood. The town was called Jefferson with a population of 1,400. Outside of school activities, there wasn't much to do; my house was isolated in the woods and our neighbours were half a mile away. Aside from studying, I spent my free time drawing and exploring the outskirts of our backyard. I watched anime on Cartoon Network once we got cable (a difficult acquisition when you happen to live in the woods) which triggered me to ask my parents for a licensed copy of Photoshop 7.0 for my 12th birthday, which I planned to use to colour and improve my artworks. As I grew older, we acquired internet access (a whopping 1.2 kb a second!) and I spent more and more time indoors waiting for songs to download and for photos to load. Though my access was laughably slow, I had a ticket to the outside world. I used DeviantArt as a portal to share my work and visited chat rooms to connect with other people who felt as estranged as I did. From drawing, I began to design posters, study technical drawing, and eventually signed up for classes in desktop publishing. By my final year of high school, I felt design was an industry that could help me tie all of these interests together. I didn't feel the pressures of the outside world to find a path that was profitable—I felt very nurtured by my surroundings and by the elements I had at hand.
It wasn't until I went to school at SUNY Purchase did I understand the realities of the city I adored: living in New York with a career in art or design was obtainable, but it requires a hell of a lot of work. The saying "if you can make it in New York, you can make it anywhere" is absolutely true. I was determined to succeed.
WADE My suburban upbringing in the part of town that many thought was a little rough around the edges informed a lot of my "hardworking nature". We had a big family and so getting to know how to work with others is something you learn very quickly. Working together and working hard (with some bickering) is what I know. My parents' uncompromising work ethic paired with their compassionate openness to let us explore and use our imagination has very much encouraged how I engage with others to this day. Every conversation is an opportunity to learn and so being open to all conversations is something my parents instilled in me; my dad could talk to a tree and come back with a nugget of information that could be either hilariously ridiculous or somewhat insightful.  They would never call themselves creative but I see it differently. Every day I would see them solving some hard problems in creative ways to make sure we had every chance to grow. This is also where I learned to not take everything so seriously, knowing that "taking the piss" out of yourself breaks down walls and gives people their space to be open with you.
In high school they were ok with me taking 4 out of 5 "creative" classes; Art, Design, Woodwork, Photography and English.  They saw where my passion lay and led me to pursue it unknowingly…thankfully it worked out! I met my community in those classes and I'm still good friends with them. All of us found our groove and are still making to this day!
How did you first meet and strike up a partnership?
LETA Wade and I met through OK Cupid, an online dating website. It was my first time ever using a platform to meet someone romantically, and my last too.
We knew that when we met each other, we were both on ambitious paths. I had just taken the dive into independent work, and Wade was working at his dream studio. Romance came first of course, but because we were constantly sharing our ideas and our hopes and dreams with one another, our goals began to merge.
Our very first project together was a series of portraits that defined our unique and bizarre relationship, documented in a set of 57 images. While creating this imagery, we discussed collaborating on other projects together—branding, packaging, other art direction and photography—and gradually began to collaborate on projects outside of our personal work. In 2016, we got married, which also allowed for Wade to earn a green card, thus allowing us to begin a studio together where we could collaborate on projects full time.
Working with a partner has so many benefits—there's another perspective brought to the table, different strengths, different ways of communicating—that it helps the other adapt and get better in what they're lacking.
WADE It allows us to strengthen our perspectives on life and how we perceive what work is. We don't define those two into buckets but instead chose to see them as one that is constantly cycling around itself. Our work affects our life and vice versa. We want to grow with our work. This is in many ways why we love to build experiences for all. To see people have time with you work is really special.
We have our heroes who have done this and they can be as northstars in many ways for how it can work, but we are looking to craft our own path and really bring our life into the work to create forever, our truest heroes are Arakawa and Gins who said that they "had decided not to die". What they are implying is that you should be conscious of every decision and make sure that you are using your brain in every instance to activate your world.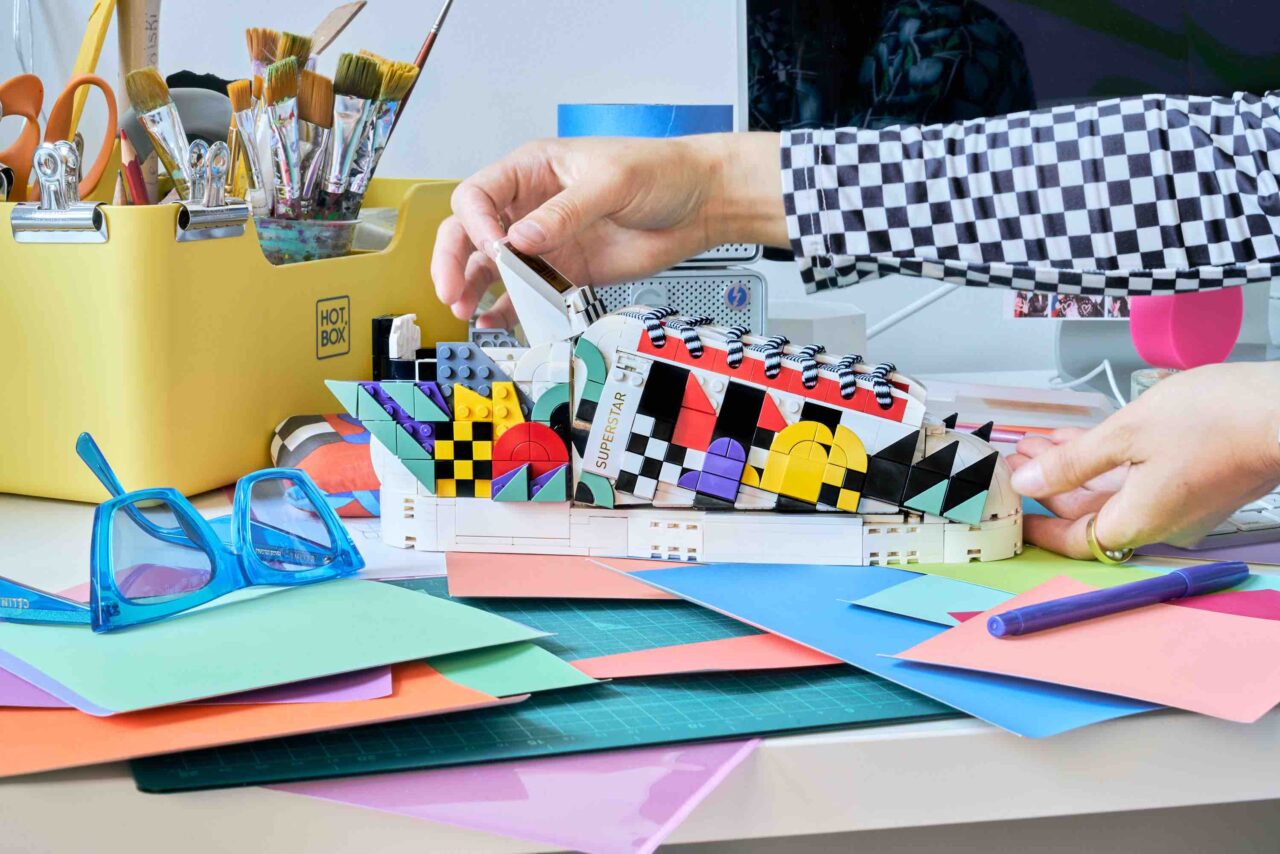 How do you both navigate working together, who does what in the business?
WADE Since day one it has always been about honesty. Talking through everything when we don't align to make sure we are both still happy.
LETA As individuals we are quite different from one another. I love the smaller details and really refining things, whereas Wade is more gestural with his work and likes to iterate to define a feeling. It really works out because we openly collaborate and share files to make sure we can catch each other when we are going a little too crazy. Everything is about balance and harmony and how we can attain it through dialogue and collaboration.
As a creative studio, how do you define what you do?
WADE It's been a constant challenge to define what we do, since we do some many different things, it's the key reason we call ourselves a creative studio to be honest. Ultimately we started in the fields of graphic design with a focus on branding but from the first day we started collaborating with each other it moved into any and all fields. The one liner would be something along the lines of, we take on anything and make it our won, from typography, 360 work to art installations.  We live in a time where information can constantly be absorbed to help you lane and grow and so why not take on something new and grow through the process? For us it's about keeping an active mind as we plan on doing this for the remainder of our lives. Although we are always doing new things and constantly evolving we have studio principles that define how we do things and they are 1. Purposeful Eclecticism 2: Design as Performance and 3: Colour as a vessel for joy.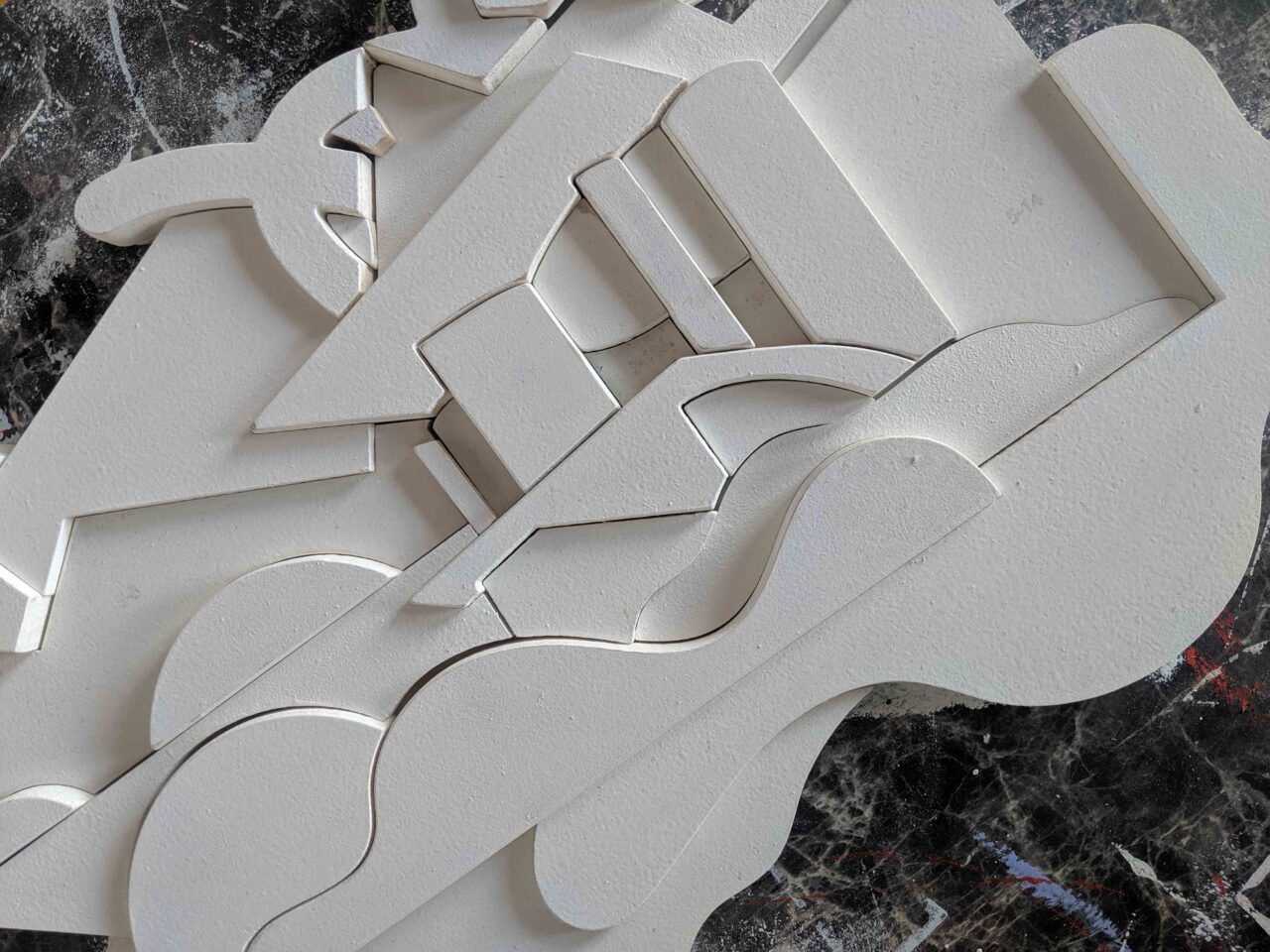 What are some of your dream projects you have worked on?
WADE In 2019 we had 3 projects that really allowed us to explore new territories we hadn't previously pursued. It all started in February 2019 when we created A Party For All at A/D/O, a design focused incubation hub in Brooklyn, a party hosted on Valentine's Day with the intention of bringing people together to dance, laugh, explore and most of all, love. We designed every corner and crevice of the space to explore and interact, and added a DJ lineup to keep everyone grooving. From large-scale playground sculptures to a 27mx27m multifaceted maze, we had dancers dressed in costumes who would add to the ambiance and dance like no one was watching. Our party was designed to allow every individual to find their own space to embrace the night.
As A/D/O have said so well, "When Wade Jeffree and Leta Sobierajski named the Valentine's event they are collaborating on with A/D/O "A Party For All," they really meant it. We wanted to reinvent the holiday and transform it into a world of connections and play, for any relationship status. There are no hearts, no roses, and nothing sappy. Instead there are complementary-colored sculptures that can be climbed through, an immersive maze designed for chance encounters, and dancers in amorphous costumes. The event evening consisted of a dinner, DJ performances, and plenty of wine to go around."
From there we were commissioned to create our first public art series where we created 8 sculptures varying in size to live on the cobblestones of New York City's Seaport District, a highly trafficked historical area in New York City.
We then finished off the year by working with a brand we have loved for years: Herman Miller. We have long loved Charles and Ray Eames and their contribution to design and art and to work with Herman Miller to create a campaign around our relationship was a dream come true. In lieu of the holiday season, we created the image campaign, designing large-scale sets, took over the Park Avenue window display, designed a recyclable bag that we now treasure, and also facilitated in-store workshops with people of all backgrounds in the New York and Tokyo stores.
Any future dream clients you'd like to work with?
WADE Any of the Issey Miyake brands but it would be extra, extra amazing to work with Pleats Please!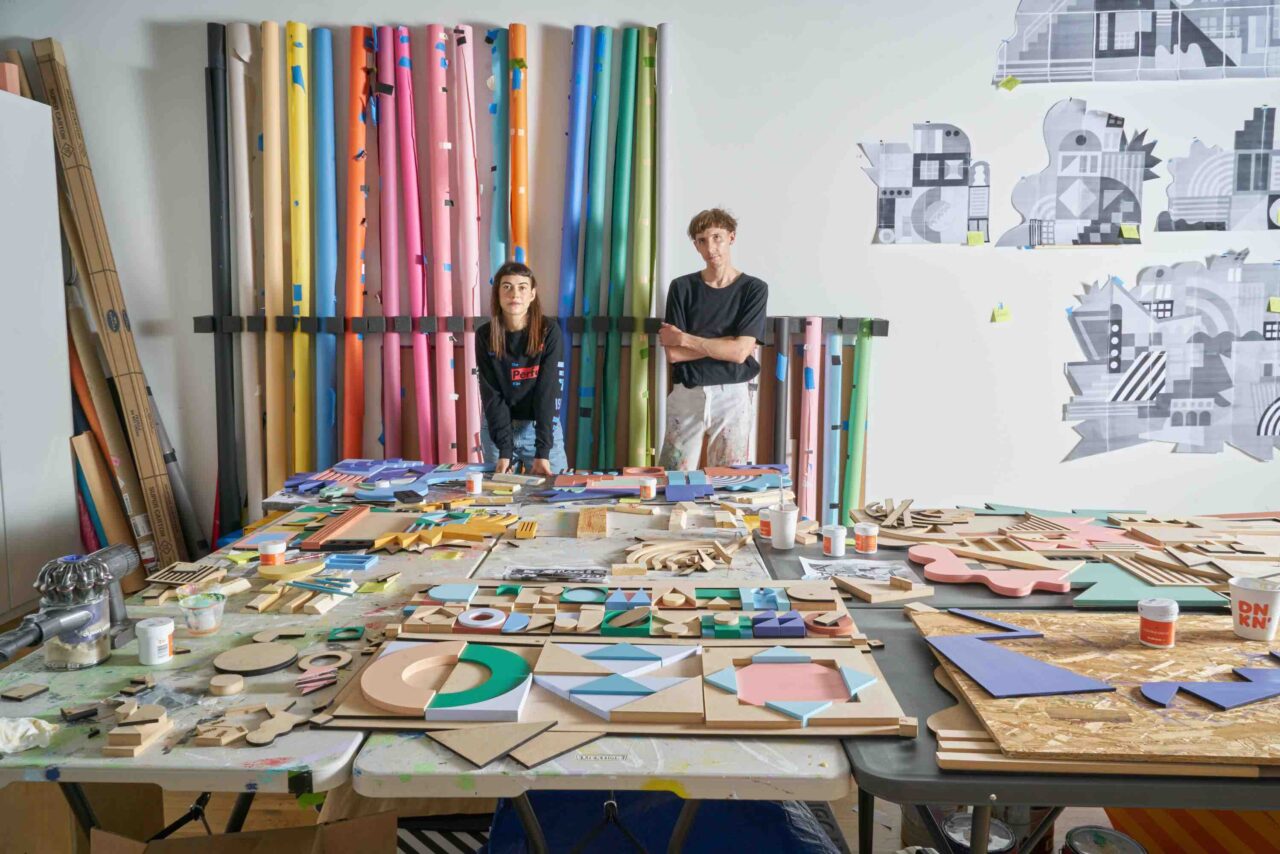 How do you navigate your artist fees when working with companies and clients?
LETA Fees are one of the touchiest of subjects and, despite how far along you have come in your career, still remain shrouded in mystery. I wish that people weren't so touchy about discussing self worth; if we were more open about our fees, it would be less likely for aspiring creatives to be taken advantage of. We'd have a collective base rate to work from.
This past year, we started working with reps who could assist us in negotiation and coordinating the finer details of our projects. As a two-person team, it's a lot to handle individually. Instead, we can focus more on the creative at hand and leave the contracts and coordination to our rep who will handle it with a more discerning eye.
WADE It is also tricky because we generally (dependent on the project type) will have base fees we won't go under and when you say that to clients they sometimes struggle to understand why. We are doing business and the name of that is to get a better pricing but sometime it can become tiring for sure. With that said we know why we charge that and stick to our guns. If our principle constantly shifts with the quality of client, the work will suffer, whether that is a logo and brand execution or public art.
What advice do you have for aspiring creatives aiming to run their own business?
WADE Look at the people you admire, study their work, study how and why they did it, ask yourself tough questions as to why you want to do something and how you want to do it and find your path through exploration. The road is never going to be straight and will always be shifting and making moves to always be thinking about what is next and how you can evolve to be better and improve yourself and work. We don't separate life and work and that's not for everyone and what works for us might not work for you, but by us coming together and asking tough questions at the beginning we were able to know that we believed in what we were doing, so when we were creatively thinking different we knew that the trajectory would still remain the same.
Where do you go to recharge and reset?
LETA We are grateful for our opportunities to travel as much as we do. Whether for work or speaking engagements, we travel far and wide to share our work and tell our story. Perhaps it isn't always the most restful of adventures, but we're constantly recharging when we travel and meet creatives from across the world, listen to their creative stories, and discover new ways of seeing. Our travels for pleasure are often fueled by art and architecture, so even if we're traveling to relax, our brains are still whirring as we collect new inspiration for future endeavors.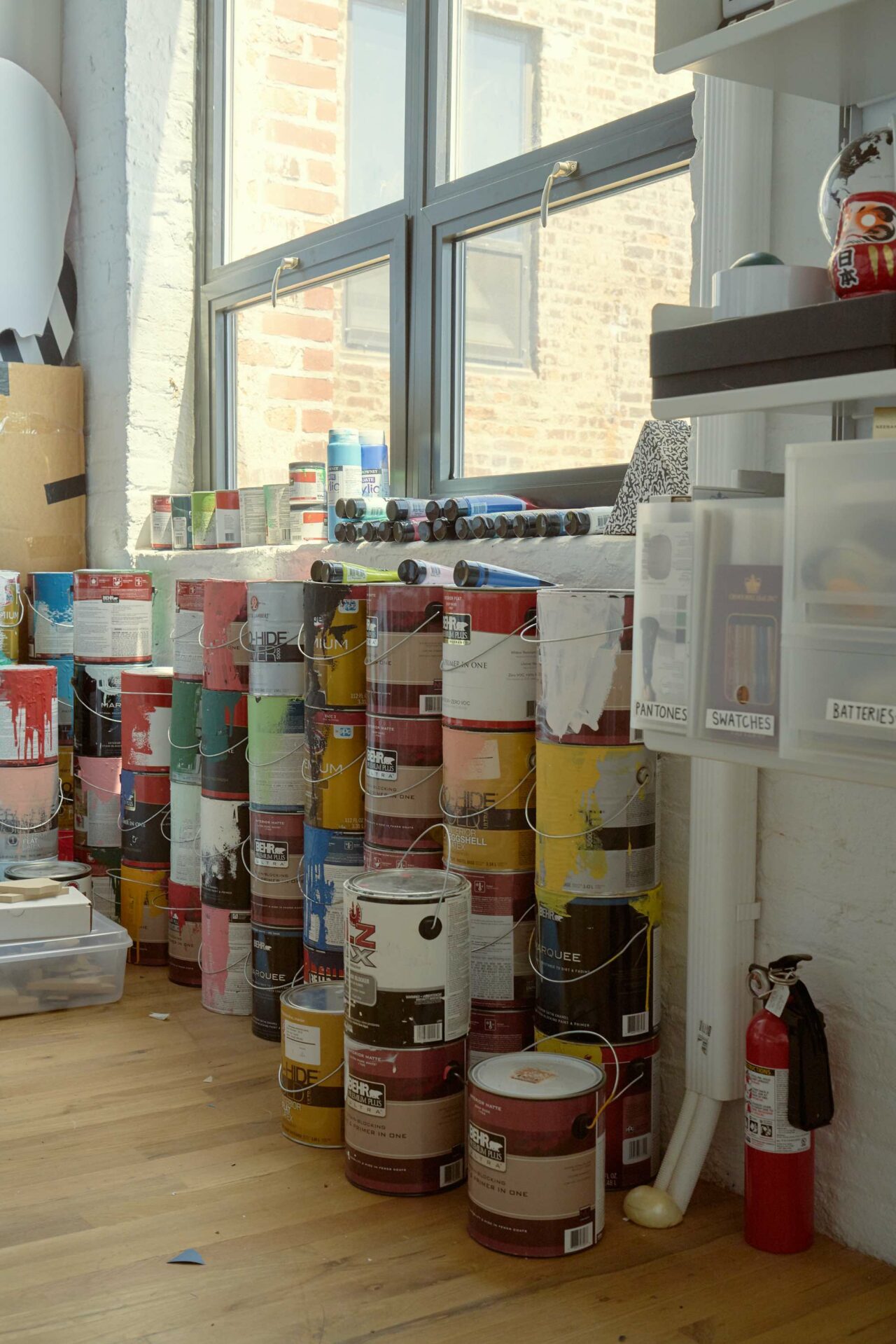 Tell us about living in New York City, what is it about the city you love most?
LETA New York City has an incredibly infectious energy that I can't compare to other places I've experienced. It's a place where you can do anything. We're so close to all of our collaborators, and it's easy to find someone who specializes in exactly what you're looking for. Our network is vast and varied—it's the total opposite of where we are both from. The vibrancy of our city gives us access to anyone and anything we need in such an immediate timeframe, and it's also influenced us to work at the high-speed pace of everyone else around us. There is a collective momentum which exists here that pushes everyone forward. It's either ride the wave or leave the city.
What are your top 5 places in NYC?
LETA We're more reflective than ever thinking about NYC right now since so many of our favorite places remain closed throughout the COVID-19 shut down. Some of the places we most look forward to returning to are:
Cerveceria Havemeyer – a family-style Mexican restaurant serving tacos, tortas, sopas, and our favorite cebollitas—grilled tiny onions that you plop into your mouth!
The Ten Bells – the oldest natural wine bar in the city (and one of the first in the country). This place has a great happy hour and offers plenty of unusual bottles (mostly from Europe). We miss catching up with friends here and drinking into the late hours of the night.
Tomi Jazz – a Japanese Jazz bar tucked away in East Midtown. While Wade and I don't really take ourselves out on dates anymore, this place is our favorite spot to visit when we want to feel like we are escaping New York. They have an extensive sake list with plenty of delicious izakaya food and jazz lineups every night of the week.
Chelsea Galleries – our weekend ritual typically consists of us heading into Manhattan to check out the latest shows in Chelsea. We've seen so many incredible shows here over the past 10 years, many of which are museum-quality (or are later shown at art fairs like Basel and Frieze).
Flushing, Queens – we started visiting Flushing regularly after the New Year of 2019. It's far enough from Manhattan and our Brooklyn neighborhood to be considered a "journey," and we can easily spend a whole day here. Our favorite way to spend the day begins by visiting Flushing Meadows Park (and the World's Fair site from 1964), grocery shopping in the underground malls, and then finishing with shabu shabu at Spring.
How do you know when you're officially a New Yorker? 
LETA I think it comes about when you start speaking your mind and forgetting to worry about the consequences. I shout at cars, we shout from our apartment window, we cross the street on a green light—there are a lot of habits we've acquired because they have rubbed off on us from someone else.
WADE I second that and will add that many New Yorkers say you don't love New York unless you complain about New York.
∆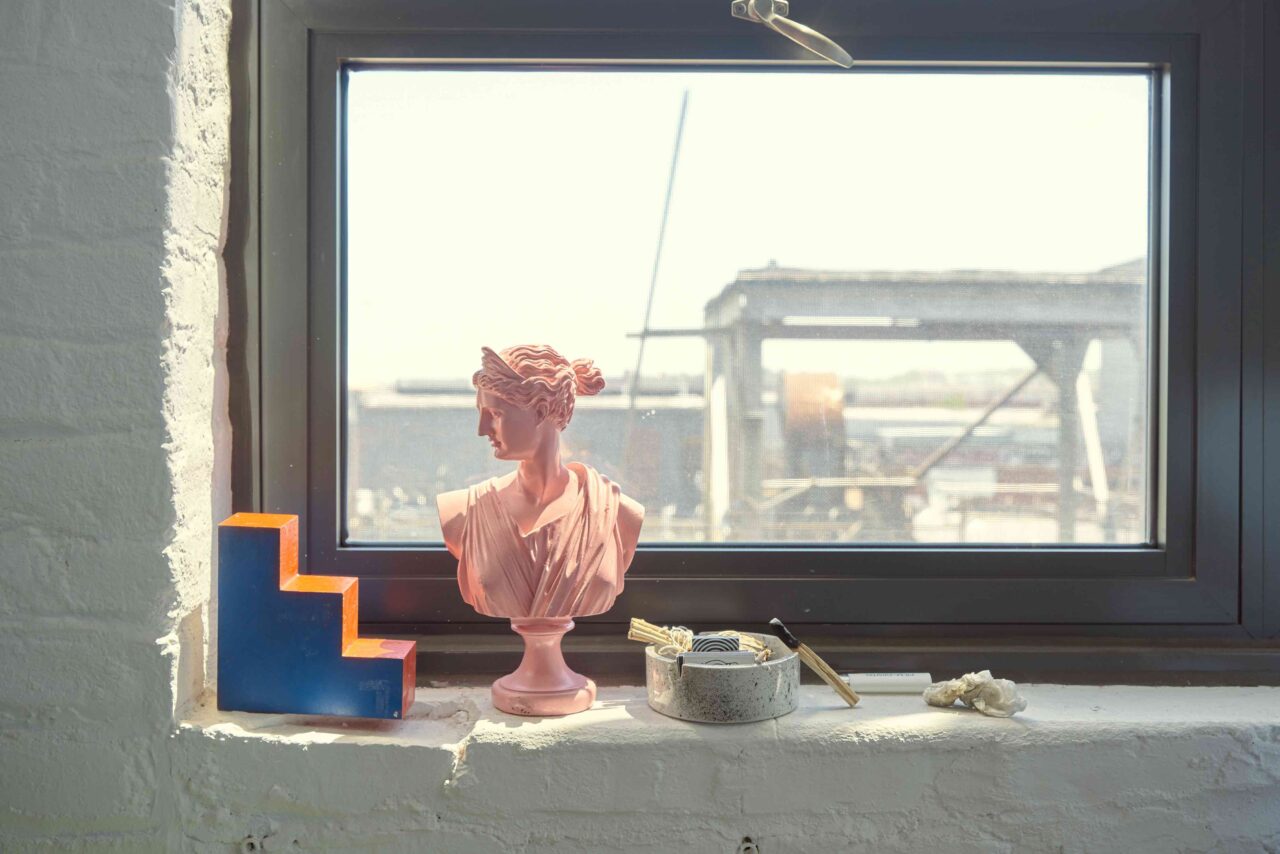 Images: Wade and Leta studio
City Portrait Series | New York