DENNIS YONG
Melbourne's Bright, Young and Radical Chef Addressing Food Waste through Fermentation
Born in Petaling Jaya, Malaysia, 26-year-old chef Dennis Yong is solving the ever-growing food wastage problem by one fermentation project at a time. First with his business Furrmien, which rescues discarded fruit and veg (or even pest species such as urchin) into fermented treasures, and now with the low-waste fermentation and wine bar Parcs.
How has this young gun achieved so much by only 26? As we discover through our interview with Dennis, it's been his calling all along. He's very matter-of-fact and witty, and we're seeing that his carefree style is actually masking a savvy and ingenious entrepreneur. His problem-solving projects are innovative and his recipes are creative and most importantly, delicious. Combining his Malaysian heritage, family traits, passion for food and numerous interests such as piano and wing chun, Dennis applies these skills into his projects. "Dennis of all trades", as they say.
Living in Malaysia for most of his life, Dennis found the mix of cultures creates an "explosion of cuisines". From an early age, he learnt from his 婆婆 to never waste anything – she would repurpose everything from plastic packaging and carry bags to metal tins. This ethos stayed with Dennis. A chance encounter with a 'mysterious man' that guided him toward cooking school, was perhaps destiny – everything in Dennis' pathway has led him to where he is. His formal training in the art of cuisine led to his experience at Kuala Lumpur's finest Sitka restaurant.
Travelling the world, then moving to Melbourne 5 years ago, he's already worked and learnt from the best in the industry. From Amaru to SUNDA, he's experienced the best of Melbourne's hospitality industry firsthand. Then in 2020, with the pandemic forcing almost everyone to think about their lives and work, Dennis turned his passion and ingrained ethos into a business with a purpose; problem-solving the ever-growing amount of food wastage. Combining his ingenuity and culinary skills, Dennis began Furrmien a project addressing food waste through fermentation. 
Furrmien "transforms undesired and imperfect produce – whether it be cosmetically flawed, overripe surplus, or byproducts – through fermentation, granting a second life to food that normally goes to waste". Furrmien has gone on to collaborate on dining experiences with Long Prawn (such as the Breaking Down the Urchin event during Melbourne Design Week 2021, where the rapidly-growing sea pest was turned into a garum by guests), pop-ups in the city, and now has 2 products available commercially.
Launching today, he's just opened his first low-waste fermentation and wine bar Parcs (scrap spelt backwards) in Melbourne's Little Collins Street. Introducing sustainable dining informed by fermentation to Melburnians, Parcs is a welcome addition to the city's innovative dining scene. With Dennis at the helm of the kitchen, there will be surprises galore on the menu.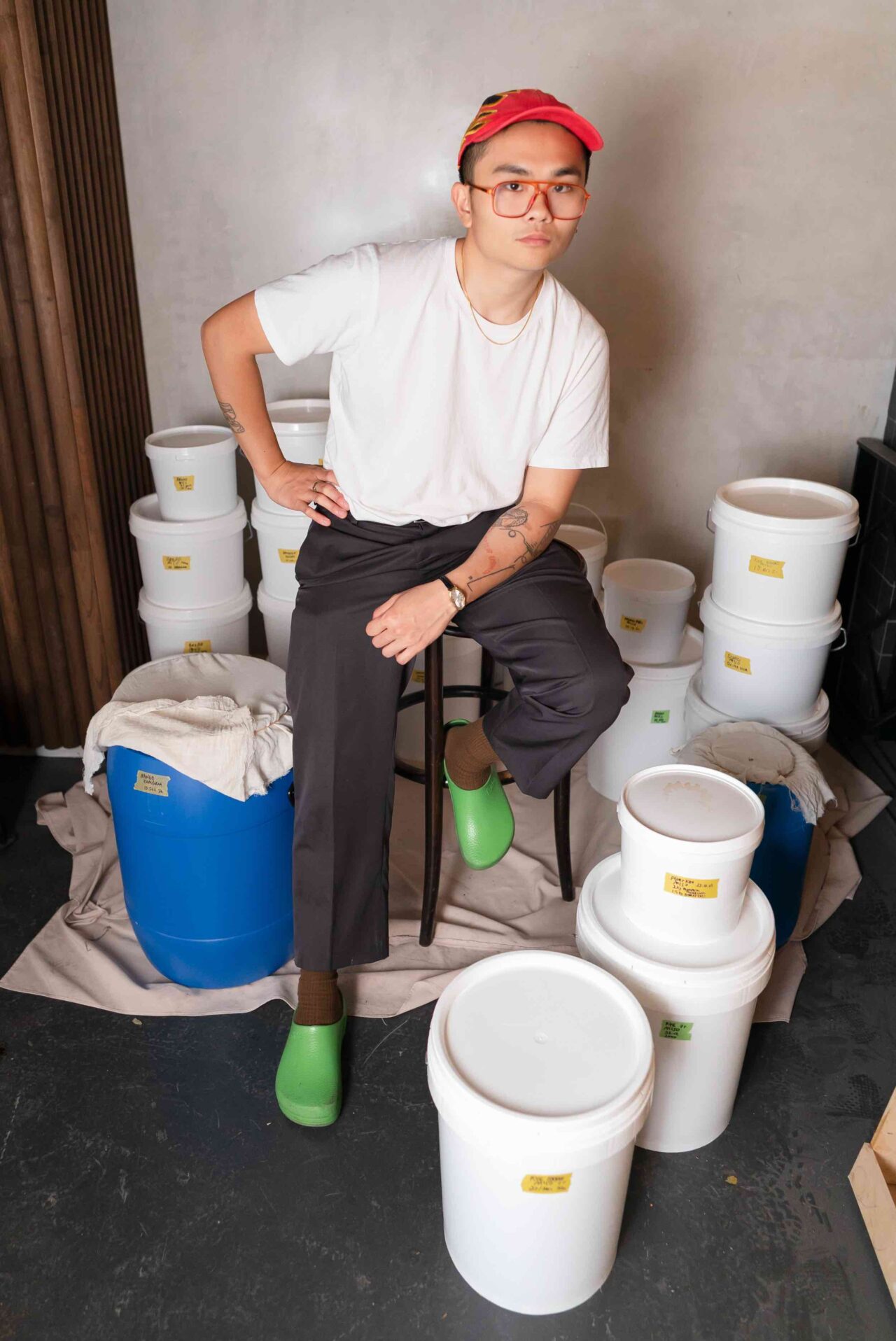 CHAMP: Hi Dennis, please tell us firstly about Furrmien.
DENNIS YONG: Throughout my cooking career I always had doubts whether I was going to be in the kitchen my whole life (earlier in my life I wanted to be an environmentalist, and I have not forgotten about wanting to be in this field). During the lockdown, I'm sure thousands of new businesses started up during 2020, Furrmien was obviously one of them. It was never a better time to start. Suddenly everyone had so much time to sit back and self evaluate. I heard so many people ended their relationship, maybe it wasn't working out and that's good for them.
I actually had the time to brainstorm about what I was actually going to do, because I'm not getting any younger (thanks to my pops I always have his voice behind of my head "不要浪费时间!" Which translated to "don't waste any damn time"). So I thought what was the fastest way of getting to my original sustainability goal now that I have kinda reached my travelling goal. I tried to merge my past experience which is cooking and fermentation which I had learnt on my own over the years while cooking. That was the beginning stage of developing the concept.
It's funny you asked because it means nothing. Furrmien obviously sounds like ferment which what I am doing. My first idea was maybe I'll make a non-existent word but my take on the word ferment, perhaps a bit more Chinese slang to it. So I tried Furmien when registering a username on Instagram. Unfortunately it already has taken so I just added an extra "r" and there you go "Furrmien" was born. In our logo design, the circle is inspired by the quick-sale price tag at the market. The one that normally says "$99 CENTS", although the red oval angle is on 20 degrees as we started on the year 2020.
Tell us more about your no-waste ethos. 
When you visit the market, there's normally a quick section where the produce are normally in bags with the $2 red oval sticker or normally comes in boxes and bulk. At the very beginning of Furrmien, I used to rock up the market with a grandma trolley and usually bought these produce, take it back to my kitchen and whip something up. My first ever product was actually a Kaya made from avocados (Malaysian Coconut Panda Egg custard jam) but without the egg, which was vegan. The whole idea is "why not use what is already there rather than buying something new", but wait there's also a way to extend its shelf life way longer by fermenting it? So taking food that already is close to its end life and provide a new life or a second chance so its used. It's a win win situation for the environment and us to savour these about to go to waste produce. We have a saying at Furrmien, "WE FERMENT THE REST".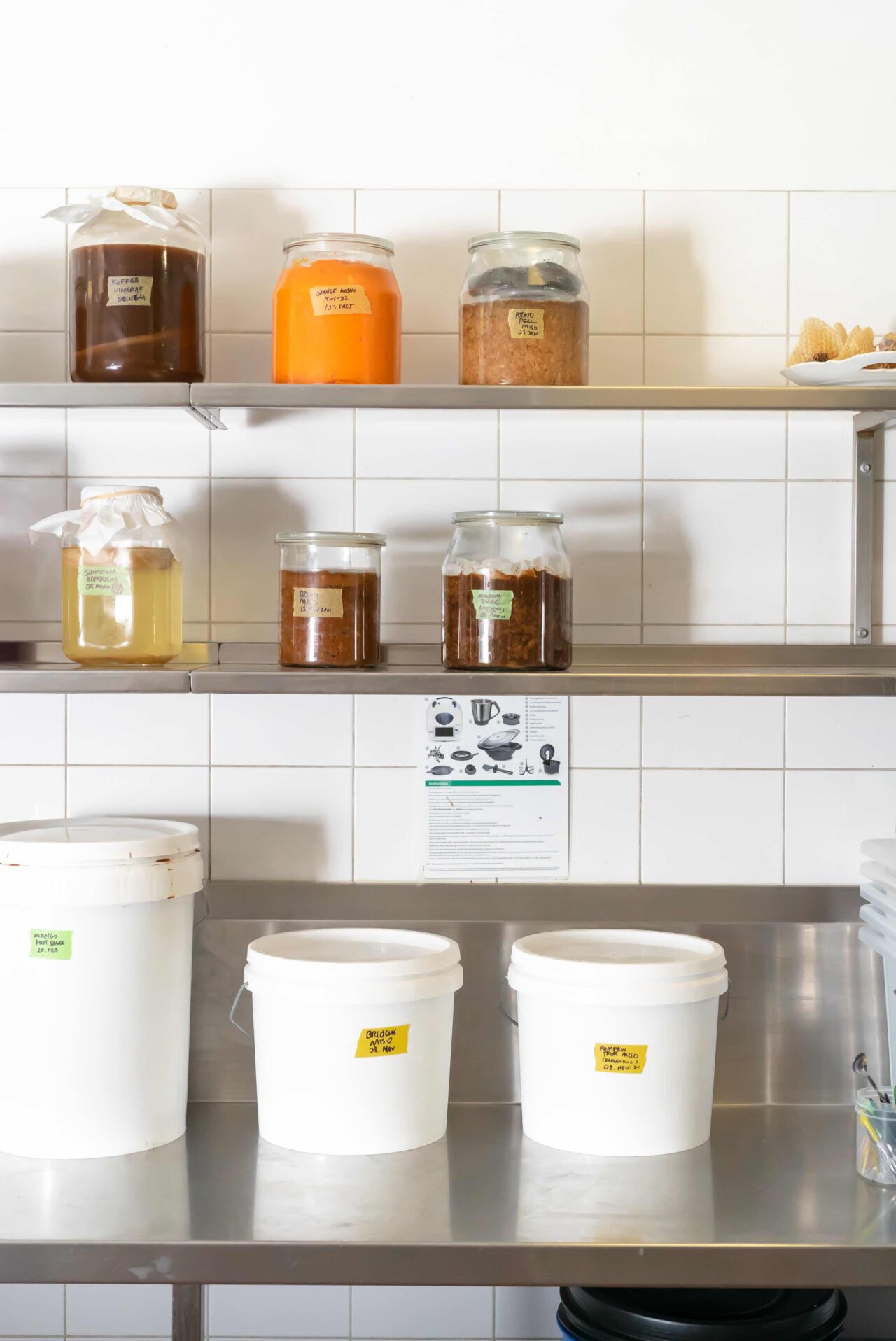 What are some key projects you have worked on?
One was during the Melbourne Design Week, with Open House Melbourne and Long Prawn run by Fred and Lauren. We gave a workshop on how to make a garum (fish sauce) using the guts of sea urchin, bones, the guts, roe just with salt, and then there was the BlueScope Steel workshop again with Long Prawn where we took artichoke peels which normally are a by-product and turn it into a wine. But on and off I do pop-ups like the one that was with Waxflower Bar – we had a wok set up in front of the bar and wok tossed noodles with a bread off-cut miso sauce. That's about it.
What are some of the most challenging projects you have embarked on?
The workshop we did with BlueScope Steel was actually an online workshop; main reason of it being online was because of COVID. Some of the participants were from Tasmania and we actually had to organise some things like the workshop package to be sent to them. It was a nightmare but thank god we had a reliable person on the other end to sort that out. A lot of the cool spots for events most of them have downside like when we did the sea urchin garum workshop on the boat, we didn't had much water supply so we actually had to bring in 20L jerry bottles for cleaning. That's about it! But we're ready for more challenges as most of the time we are rewarded with good stories *wink.
Any dream projects you'd like to realise?
YES, about a year ago I found out about "DALI COOKBOOK" which was a full on intense cookbook. I was actually very close to doing an event inspired by his book/Surrealism but sadly the Melbourne lockdown kept on happening last year in 2021 and we had to almost cancel all the events. But yes this is a dream project that will definitely come true in the future!
Tell us about PARCS, your new project!
PARCS is sort of an organic way of my vision coming to life. It's the grown up version of Furrmien, which is a bit of an incubator project I had happening during lockdown. The whole premise around Furrmein was rescuing food scraps and turning that into new products through fermentation. I did small runs of sauces and condiments and a couple of pop-ups with chef friends. Then this hole in the wall space on Little Collins Street became available. It wasn't in my plans but I thought, why not? So here we have it. A small bar where people can interact with ferments – not just through jarred products, but as snacks and dishes. The ingredients are mostly rescued, with minimal-impact proteins such as oysters and kangaroo, and a little bit international – in that, no dish is actually one cuisine or culture. It's a bit Asian, a bit French, bit of Italian, a bit of everything. There's also a mini grocery of sorts. I'll have two products to start (an orange kosho and bread miso), and down the track, hope to grow the range.
Please tell us more about your upbringing and heritage.
Born and raised in Malaysia. I was that kid that never took things too seriously even until today. Probably that's why I kinda know a bit of everything as they say "Dennis of all trades". I was in Malaysia for almost all my life and only moved to Melbourne about 5 years ago.
Growing up in Malaysia a multicultural country is something else and thanks to that I can speak about 6-7 languages including some Chinese dialect. I feel like I need to explain this just because a lot of people get confused when I say I'm Chinese but from Malaysia. So in Malaysia there are 3 main ethnicity and that's Malay, Chinese, and Indian. Then there's also fusion, mamak Indian muslim and nyonya which is Chinese muslim and those are main ones. I considered myself a Chinese Malaysian as race but I'm Malaysian if that make sense. But certainly growing up in a multicultural country the obvious benefit is the explosion of cuisines. Just being in Malaysia, anyone who have been there, knows there is food 24/7 and you can easily have 6-8 meals a day. Let me break it down for you, breakfast, brunch, lunch, afternoon tea, dinner, supper. All that and yet "what am I eating today?" still is the hardest question of all time.
Talking about heritage, I recently did the myheritage test and turns out I'm 98.7% Chinese Vietnamese and 1.3% Finnish. Maybe that's why I like foraging so much. My 公 公 (gong gong) grandpa was originally from 潮州 Chao Zhou. I remember him telling me he came to Malaysia when he was around his teenage years to start a new life and first thing he came was already working. He probably did like 20 different jobs before actually opening a mini grocery shop, kinda like a "Milk Bar" what you would called it in Australia. When I grew up my grandpa would never speak to me in any other language only in hokkien, I never knew why until I realised he was trying to force teach me how to speak that language which I was very grateful he did that. "啊炫,你吃饱了没有?" my grandparents would always ask first thing every time I visit my grandparents. It translated to "have you eaten yet?" Again coming back to food again. As you can see the connection between food and me it just follows me everywhere I go.
Has your upbringing played a big role in your current interests?
Definitely. My 婆婆 (po po) grandma is a massive hoarder. After getting groceries she would reuse the plastic bag no matter what it was carrying before, fish, vegetables, raw meat, or other things. Even like metal tins from cookies, pretty sure every grandma in the world has their own version of that. She would keep many things and my mom would be the one that controlled the limits of what she would hoard. That's probably why it made me who I am today, I'm a lowkey hoarder. When I first learned about the op shop, I think that's when my addiction of collecting stuff begin.
But there's an important lesson my grandma thought me is never to waste anything even though they're just a piece of dirty plastic, or any material. I've applied this to my life ever since but again in a modern way.
Did you follow any particular pathways to get to where you are?
Funny thing when I was around 10, I remember very clearly, I was in front of the TV – and back then my parents wouldn't allowed me to watch cartoons only on weekends so most of the time I watched TLC, National Geographic or Discovery Channel – there was this channel on Disaster TV or something like that. That time it was showing the chaos was happening around the world. That was the time I realised I wanted to be in the environmentalist field. Then, after that I kinda forgot about it for a while but not entirely. As I grew a bit older all I wanted to do was to travel and see everything.
Around the high school year, we had a fundraiser event and we had a food shop. I remembered doing like a mediocre pasta with carbonara, suddenly this mysterious guy came to me and said that's the best pasta he ever tried. In my mind I thought wow this guys expectation bar is pretty low. Anyways, he gave me his name card and told me if I needed a job I'll have one. So after a year, after high school, I went to see him and he told me I had to do at least a certificate in cooking to be somewhere. So I took his advice and got a Diploma in Culinary Arts. That was about 2 years of school and then I tried to find this guy and turns out he just disappeared. So I got scammed big time. But on second thought I was like maybe you know it's like those movies when the guy just disappears after giving the advice. It's my destiny to be a cook or something. I realised with cooking it gave me the reason to travel more so I went with it.
Did you study under a particular chef or at a particular university?
During my school days, to be frank I was just horsing around because my main goal was to get money fast, travel or hopefully get transferred to another country to work. My first mentor was literally a senior from my same university. At that time he was the sous chef of Sitka Restaurant in Malaysia. He's always on competitions, I've learnt a lot of French techniques from him. That was my first ever proper restaurant work. That's what I thought, until I came to Australia remembering applying for around 40 restaurant jobs and got nothing in return.
Then one day I got lucky, there was this chef posting about a place, AMARU that I'd never heard before which was hiring. I tried my luck and next thing you know I got a job. I really got a lot out of that place, LOTS of discipline that's for sure, a bit like being in the army and I haven't ever been in one. After that I started having a little doubt if I was going to stay in this industry for long. But anyways, I continued while just ignoring my doubt about cooking and then I was under the SUNDA group for a bit which really taught me a lot in tasting food, in fact one of the most important skills to have. Also I learnt how to use a wok which made me super satisfied.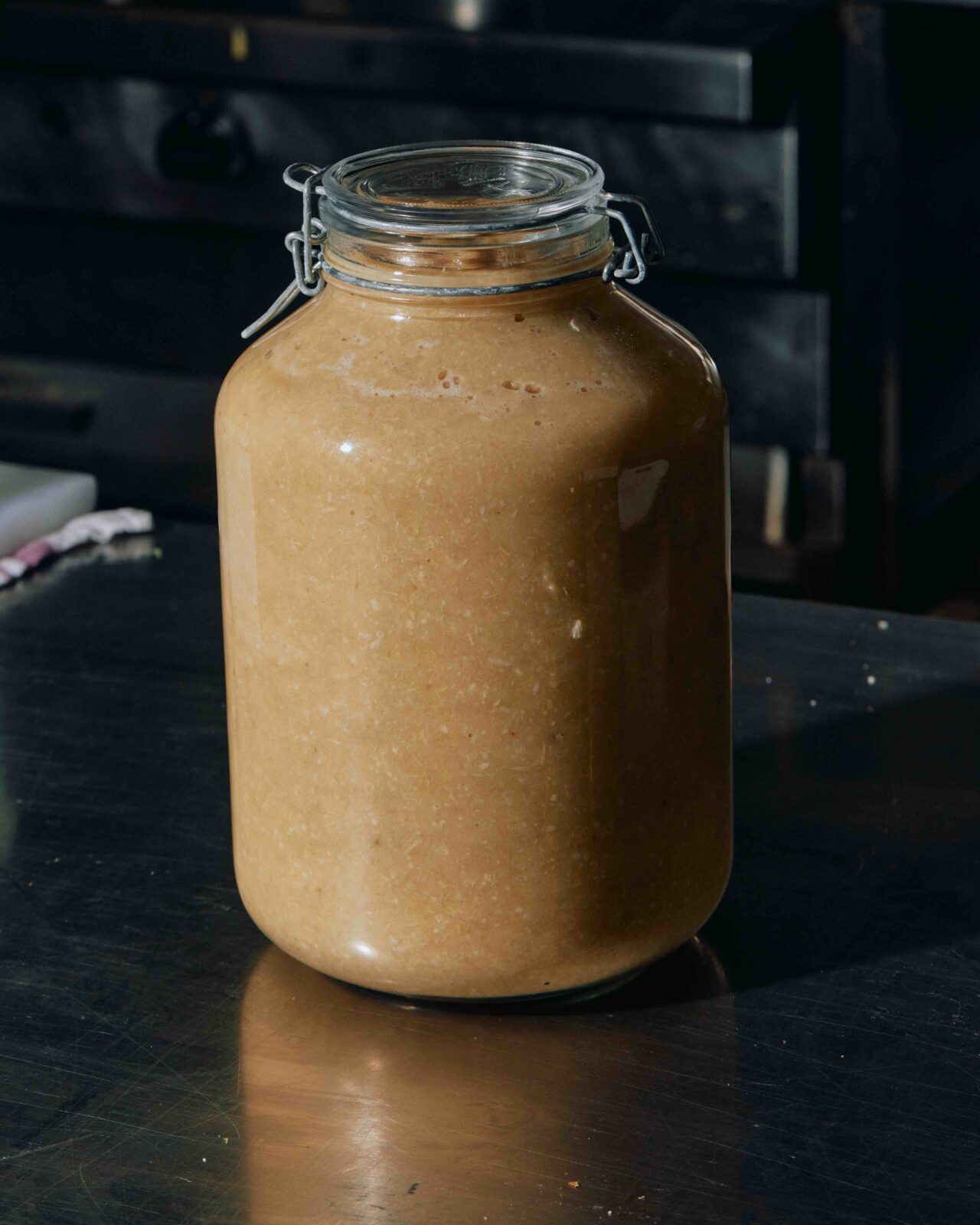 Tell us a bit about Melbourne, and what keeps you there?
It's a great city, I haven't been to New York or Berlin but maybe people that have been there always told me that they're very similar to Melbourne in terms of food and creative scene and the people most importantly. I feel people here in Melbourne are so open to new things and super supportive in every way. I am forever grateful for that. Oh and definitely the weather, I'm not a big fan of hot weather though I can confirm that the hot weather here in Melbourne is way worse than in Malaysia for sure.
If we were to spend a day with you in Melbourne, where would you take us?
I am the worst person to be answering this question but I would start off with toasties at Falco Bakery in Collingwood then visit the Footscray Market just looking at things, just what I like to do kind of relaxing. After we'd head back to the city, have lunch at Ikkoryu Fukuoka Ramen get the classic bowl and thank me later and then get ice cream at Luther's Scoop. Have a couple of cocktails at Byrdi or Public Wine if you're into wine. To finish the day I would highly recommend heading over to Ferguson St Pier, Williamstown, you'll be able to see the entire city lights. Bring a couple of fishing rods if we get lucky we might get some snapper.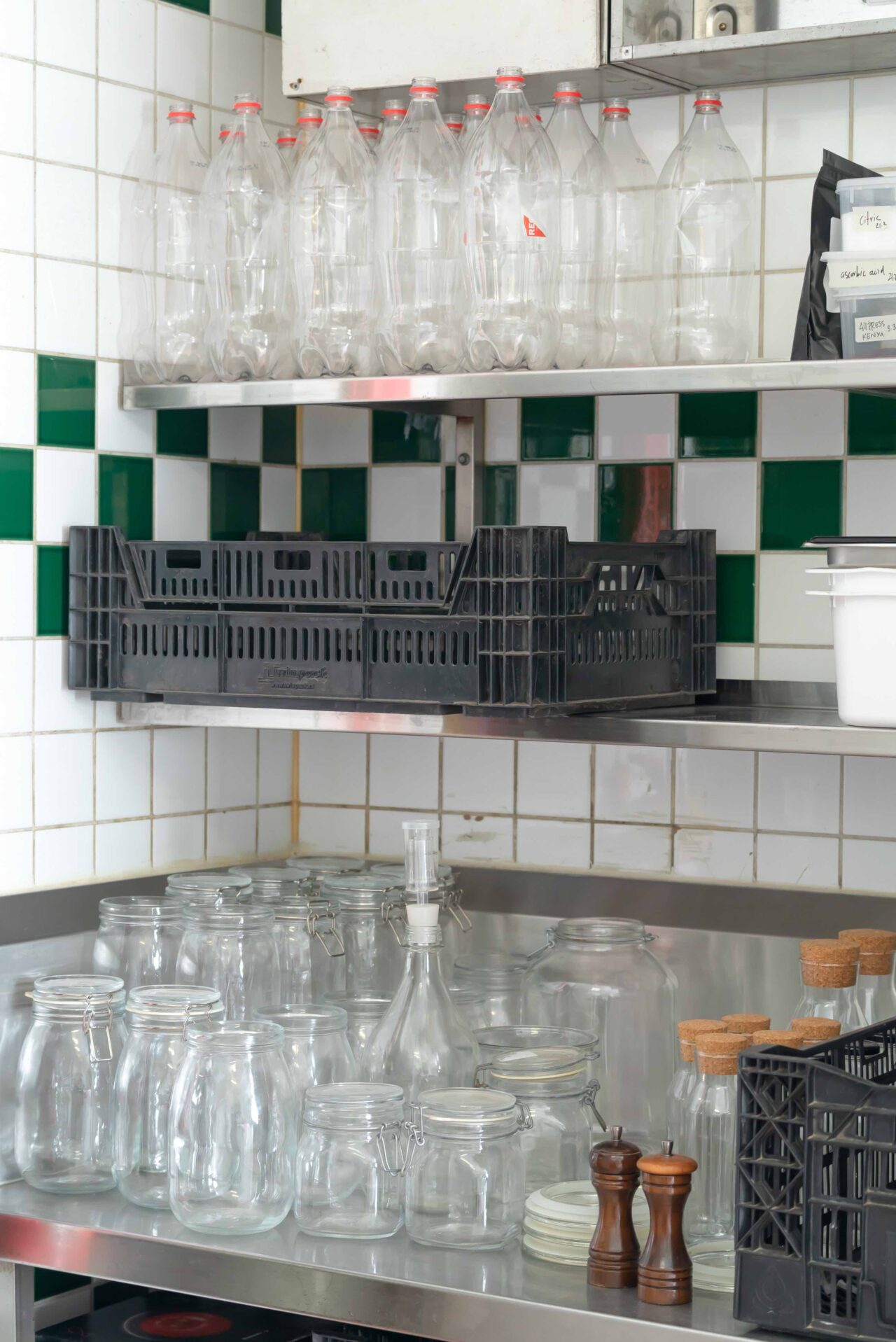 What are you plans and goals for the next 5 years?
Hopefully be able to have a mini mass production space for my ferments, definitely bringing the DALI event I was talking earlier to life. But I guess really the ultimate main goal is to be able to inspire more businesses into practicing what I do at Furrmien, not only in the F&B industry but also in other industries like furniture making and even fashion. I hope for chefs, coming up with a menu that make sense in the sense of being sustainable. For instance, rather just doing what they want to do which is fine but try utilising as much of the entire part of the produce rather than just going for specific part; for the public, don't over buy groceries and forget about them in the fridge and at the end of the day tip it in the bin. Try to only buy what you need. Or even every end of the week try "improvised cooking", try challenging yourself into making a dish from whatever is in the fridge. Make fried rice, soup, stuff it in a pie or hey! make a non traditional as f*ck kimchi with sriracha. (Sorry to all the Koreans for this.)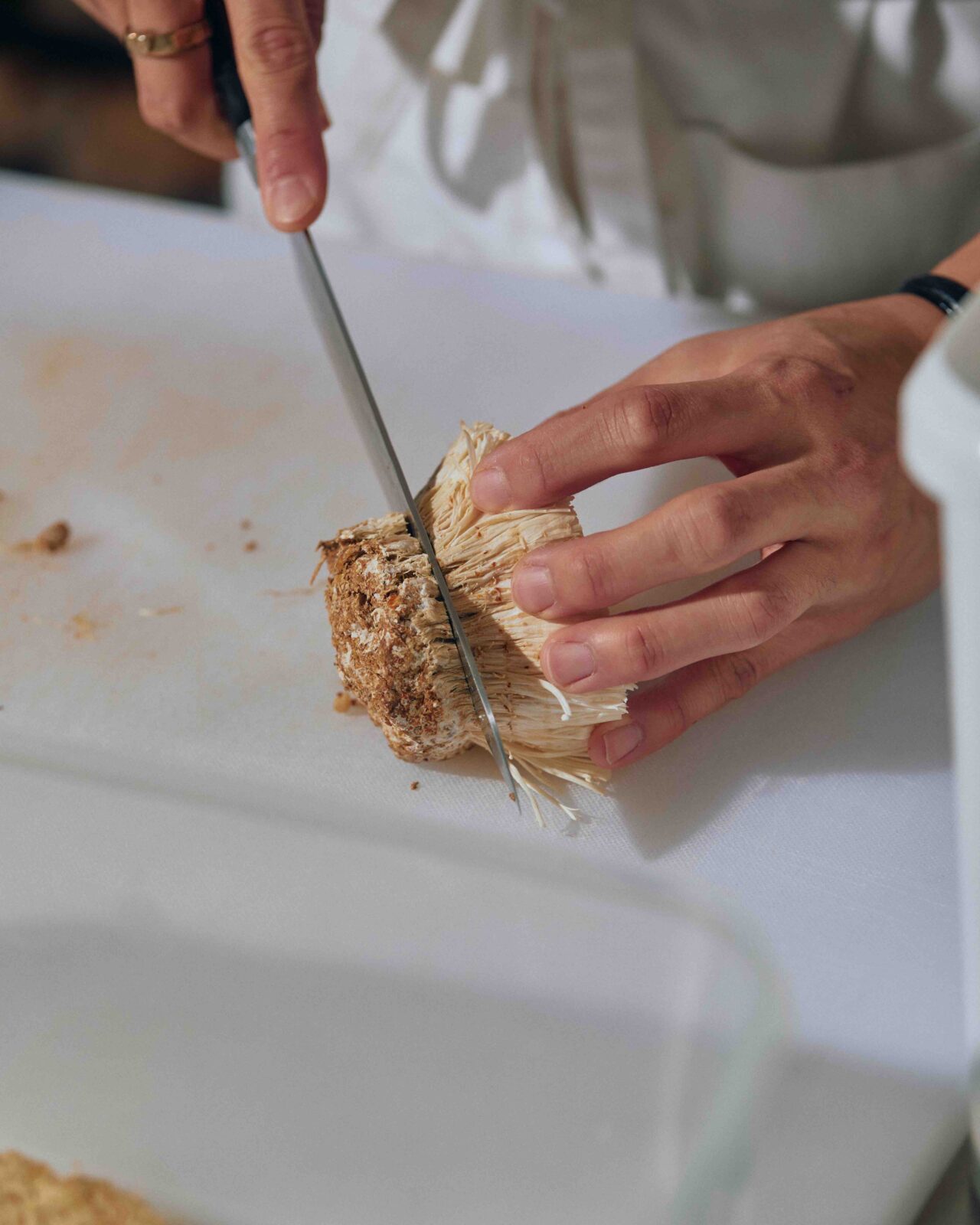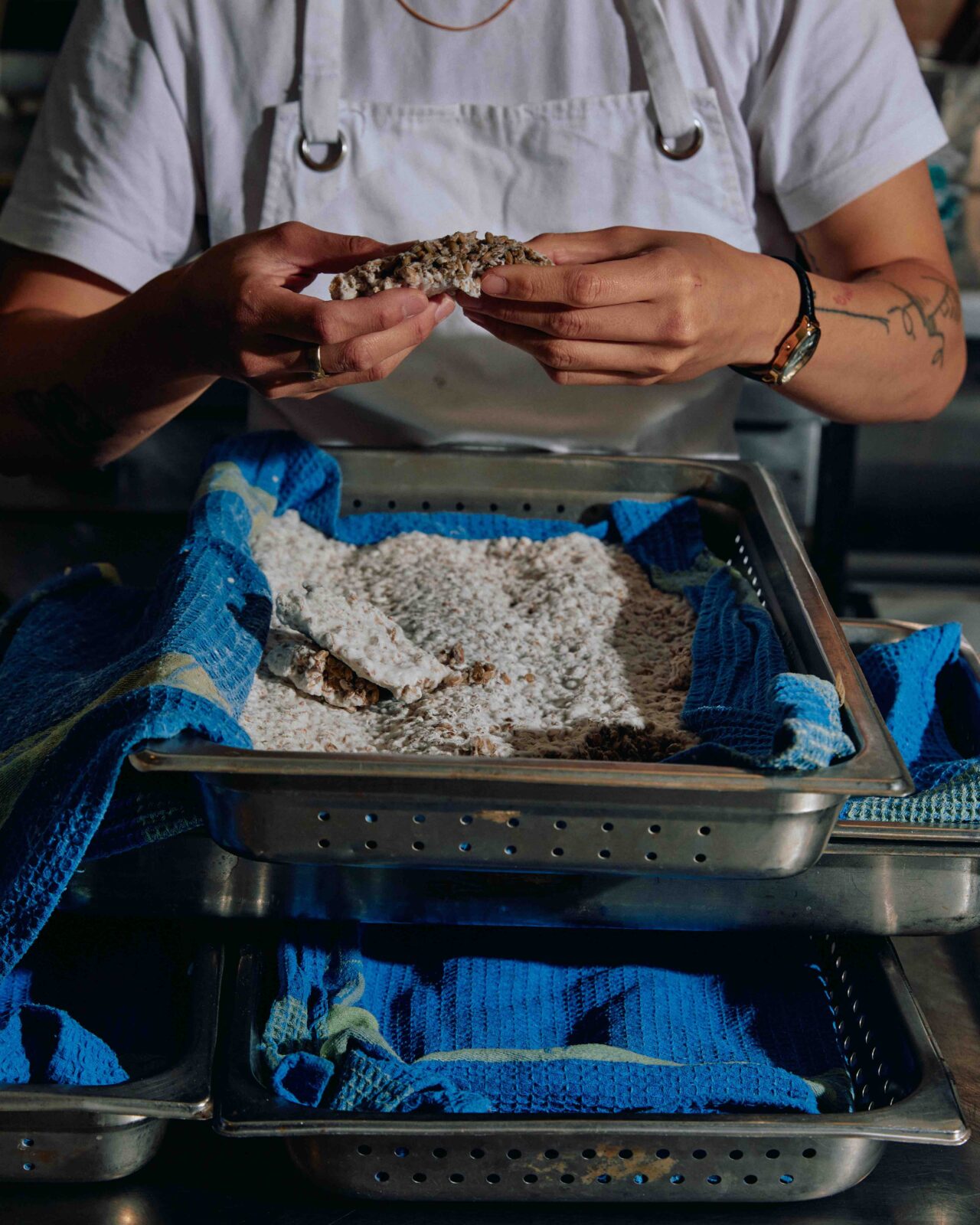 Interview: Monique Kawecki
Images: Ciat Lin and Annika Kafcaloudiis (as credited)
Dennis' upcoming wine bar is opening in Melbourne in April, 2022:
PARCS