COURTNEY MC
The Paris-based Artist Unravels Her Full Potential Through Erratic Existentialism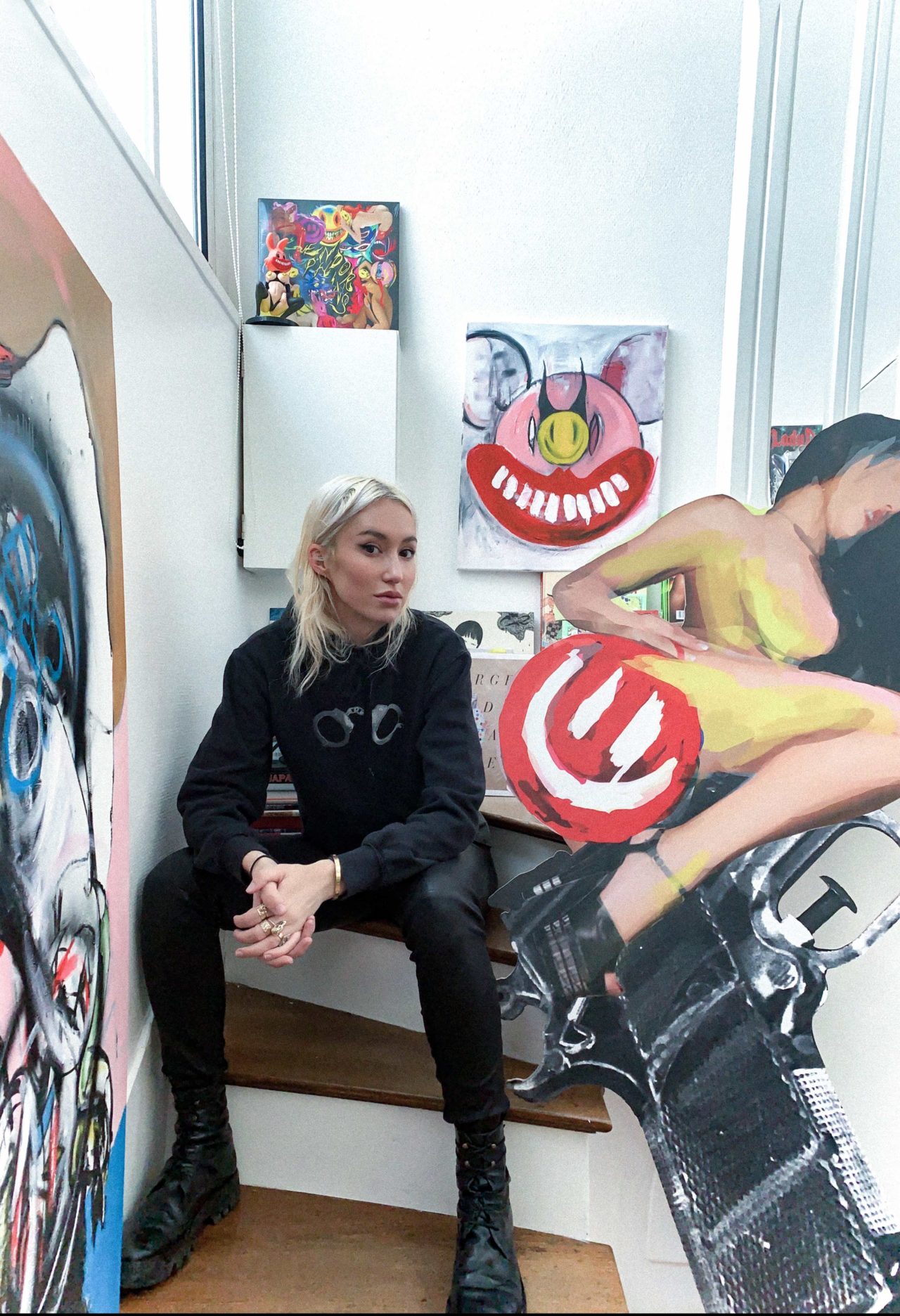 Artist and designer Courtney MC's work is instantly recognisable. From the popping colour palette used to bring her characters to life, her original expression presents a world where pleasure and sin are found in parallel.
Describing her works as "the sinful side of fun" by her musical collaborator Octavian, Courtney MC's world both twisted and joyful in expression.Her individual lens presents a world of extremes, both in colour and the characters she depicts. Bondage masks and smiley faces are found parallel in Courtney's paintings, sculptures, drawings, prints, film and digital. Drawing inspiration from her personal battles with life and her demons, Courtney's works are provocative and bold in execution. Strong and dynamic female characters are found amongst what seems to be a dark scenography, enriched in contrast with bold colours of the rainbow. Both light and dark are embraced in the artists world. 
Born in Nottingham United Kingdom, Courtney grew up in South East Asia, specifically Malaysia and Singapore. Later returning to the UK to study at London's Royal College of Art in 2010, Courtney found her first steps in the creative industry after graduation. Moving to Paris for a role at Givenchy, Courtney would spend the next 9 years at the intersection of fashion and art, first as junior designer, then as menswear designer, going on to lead as the luxury brand's Design Director for Print. Whilst working with Art Directors Riccardo Tisci and Clare Waight Keller respectively, her print directorial work extended to other key commissions (such as contributing to Jay Z and Kanye's 'Watch The Throne' album artwork under Art Directors, Riccardo Tisci and Virgil Abloh).
Heavily influenced by music, Courtney's passions are naturally found in her output. It's no wonder her first collaboration under her own guise, Studio Courtney MC, was with renowned musician Octavian. Creating his entire visual identity, it seemed their worlds of audio and visuals were a match made in heaven and hell. Exhibiting their work together at an exhibition during Paris Fashion Week, 'ENDORPHINS RESIDENCY' featured live performances by Octavian, Skepta and ABRA. 
Now with her art studio set up in Paris, Courtney MC's work is set to find new audiences with a solo exhibition coming up in London this year. At the age of 34, the artist is expanding to her full potential. With Courtney's world a balance of the sweet and the sour, her works encourage us all to embrace the inevitable constant of light and dark in life.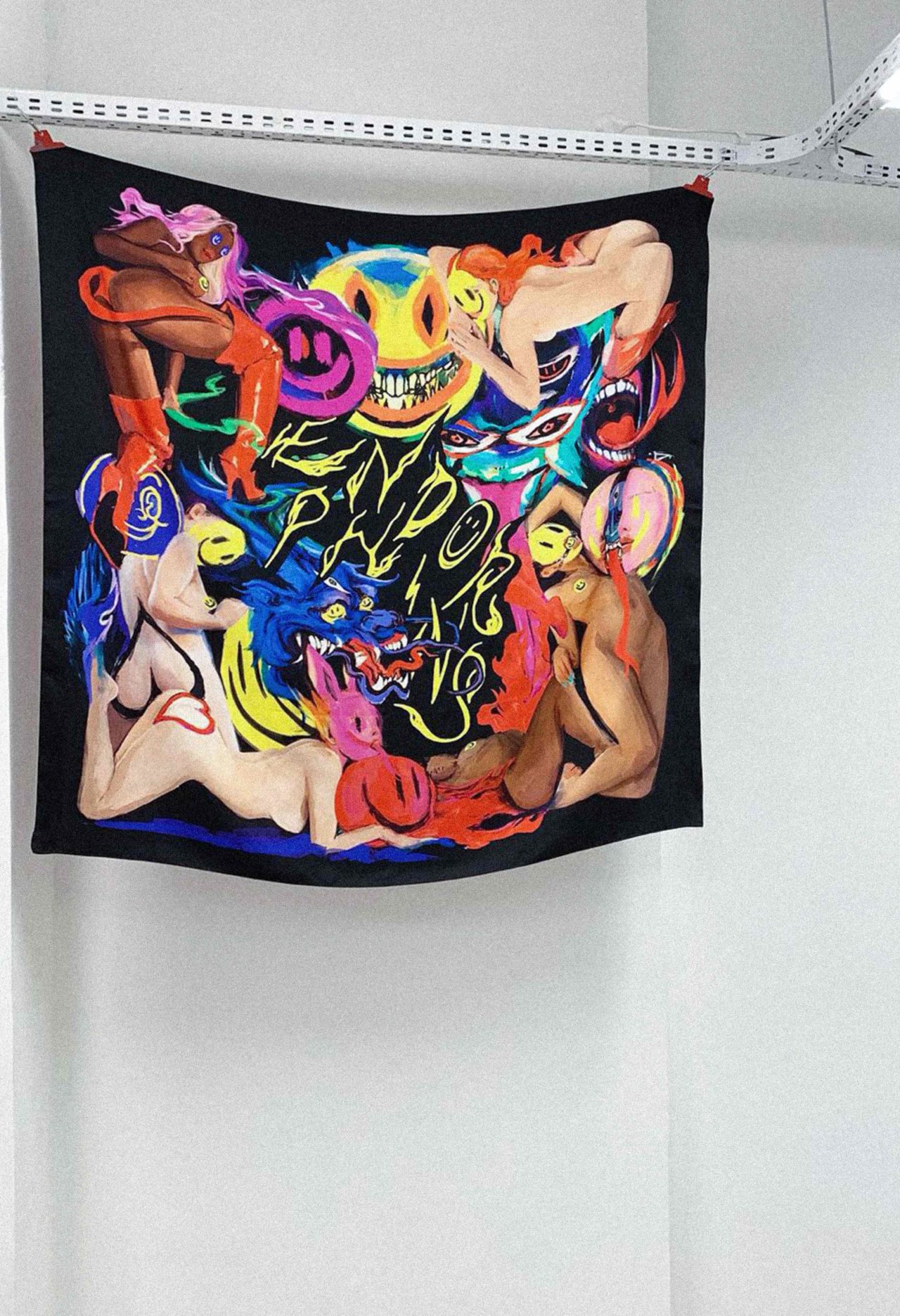 What is the best thing about living in Paris? What keeps you there, and keeps you motivated?  
I moved here for work 9 years ago and haven't left yet.  I have lived a very crazy, exciting, and stressful time in the tiny bubble of the Paris fashion world.  I'm only just starting to experience the calm aspects of this small city, which now allows me space to breathe and reflect on what's next and whats important.  And it's the idea of whats really important that keeps me motivated now.
What is the worst thing about living in Paris?
Parisian's are generally quite rude by English standards and it winds me up no end.
Tell us about your latest projects…
Since recently quitting the fashion industry all-together, I had quite a few realisations, so I've been heavily researching and educating myself.  A lot of my frustrations came from there being no purpose to what I was producing; no deep-rooted connection to the design.  So now I am essentially developing and writing the narrative for my visuals, based on very personal philosophies.  'Demonize', in Shanghai, was an exhibition in association with Soho House and Yeti Out, focusing on the demonisation of women… a subject that I am still unravelling through active research.
Last year I also collaborated with rapper Octavian on his mixtape; single and EP cover arts, custom clothing and LV bag, stage design, tour visuals, an exhibition/Boiler Room experience in Paris during fashion week, and a pop-up clothing line.  I'm basically contributing towards building his visual universe.  The narrative here was about endorphins, stimulation, the dark side of fun.
Currently, I'm working towards a 2020 exhibition in London.
Describe your style of painting.
Erratic/Existential
What were some of your early influences growing up? 
I grew up in South East Asia so there was a lot of cultural and religious iconography and sentiment that I was drawn to, and that holds a very real meaning for me.  And then of course artists like Tim Burton really shaped my childhood.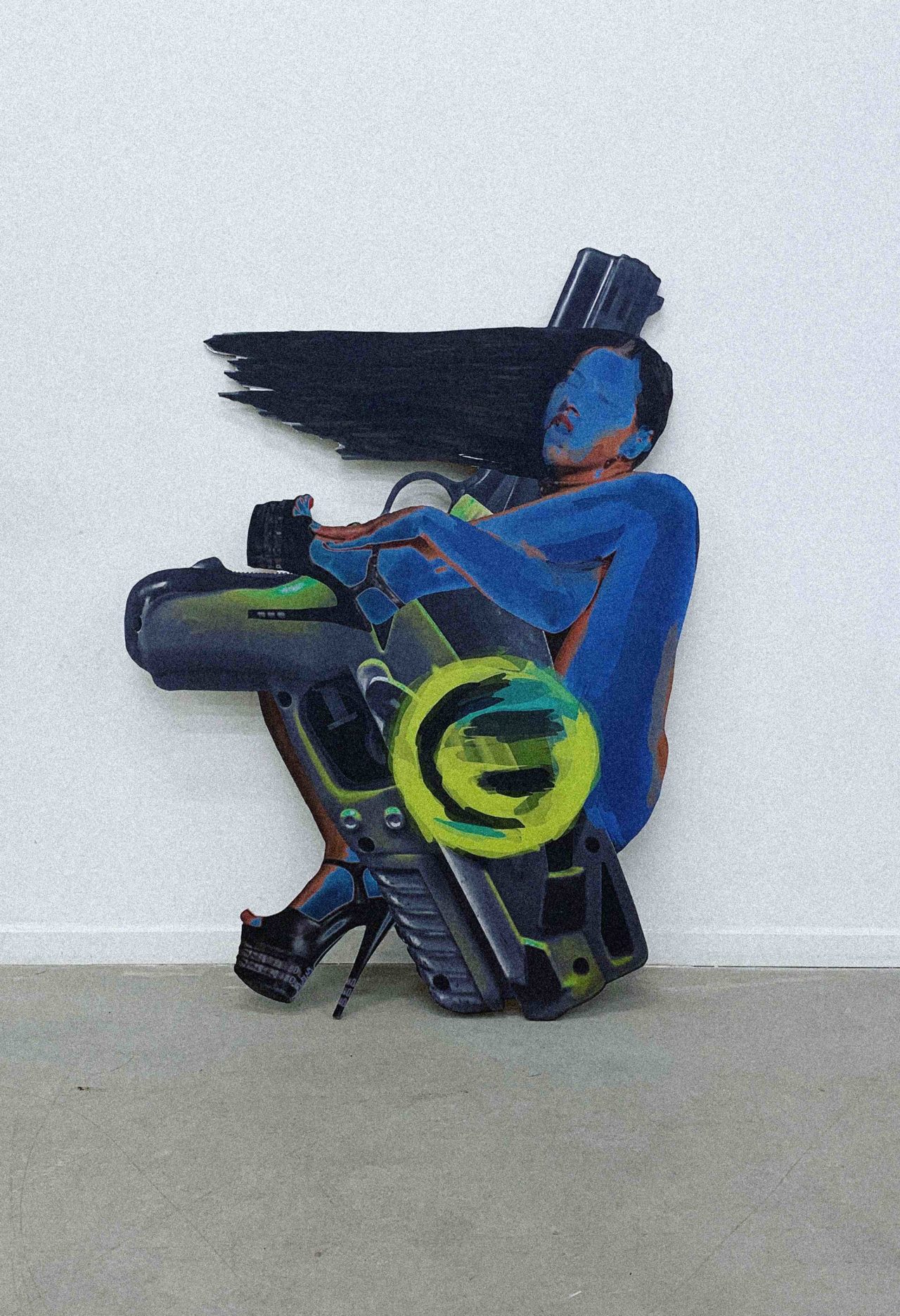 What was your upbringing like?
Incredibly varied from year to year.  I experienced a lot of change, and had to become very resilient.  I was privileged but it was drummed into me that I must be self-sufficient… so I've always been very determined, and very much in control of my career.
How did you know you wanted to be an artist?
Once you know the feeling of inspiration and drive, you know what you're doing the right thing.  Art just always felt like an exploration rather than a struggle.  So that was important to me, because so much about education can be painful.  I studied and then worked in fashion first because it felt like a strong calling, but I knew I had to leave and become an artist once commerce and politics had really killed me off.  And art and self-expression was the only thing left that made sense.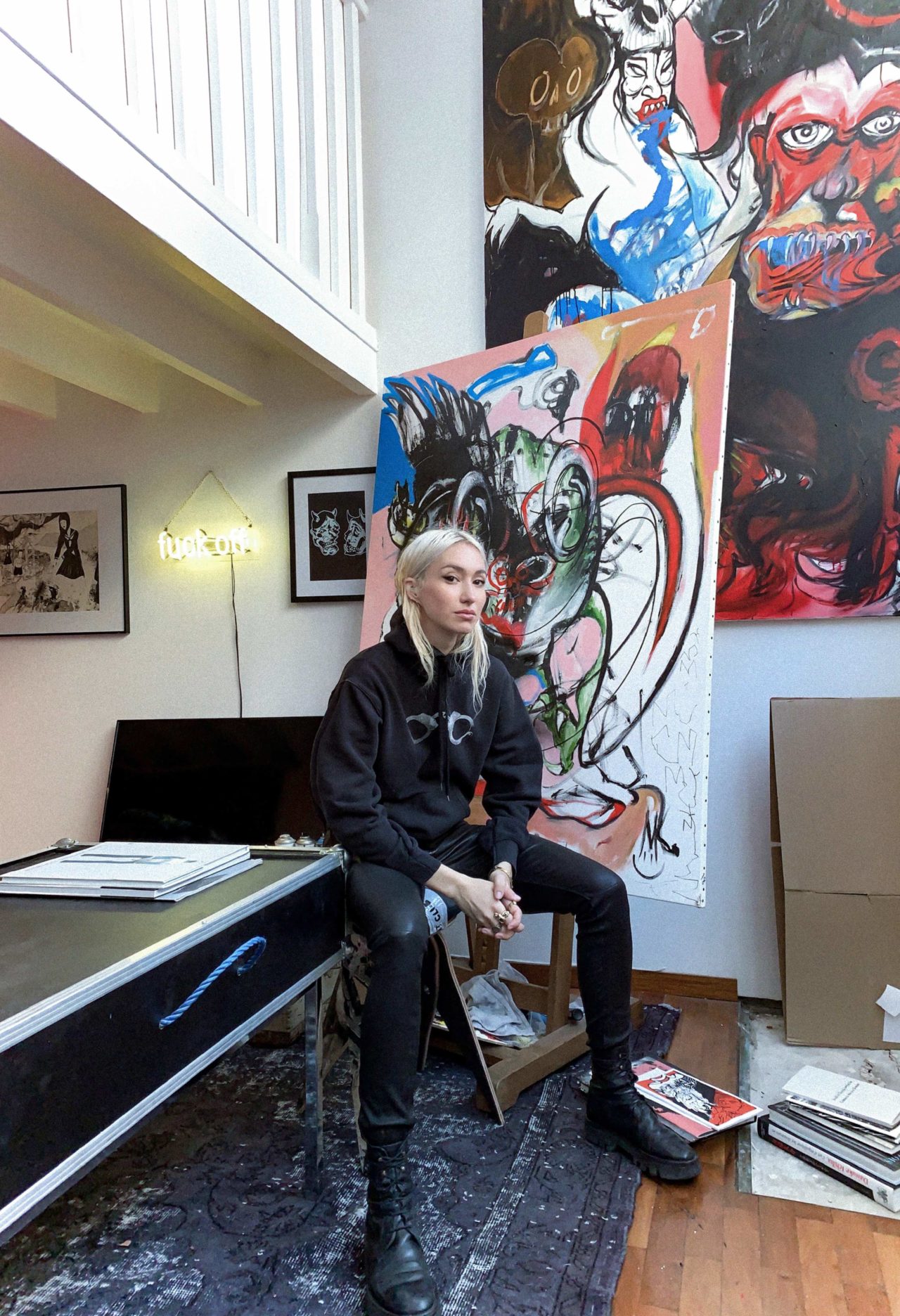 What is it about your work that we might not yet know?
I don't plan my paintings… I don't have preconceived ideas… I will just sit down at a canvas and see where my hand takes the brush.  Sometimes I think I'd like to paint very differently but I have to let my hand do its thing. Which is often why it's difficult for me to explain to anyone what one single artwork is about.  My favourite pieces have been painted following somewhat complex moments because the hand and the brain seem to talk faster to each other.
Where do you see yourself in 5 years time?
As long as I have maintained my integrity that's all that matters to me right now, and if I can find more relevant projects/collaborations for my visuals that's even better. After so many years in the commercial industry, my priority is just to live a more meaningful and happy existence.
∆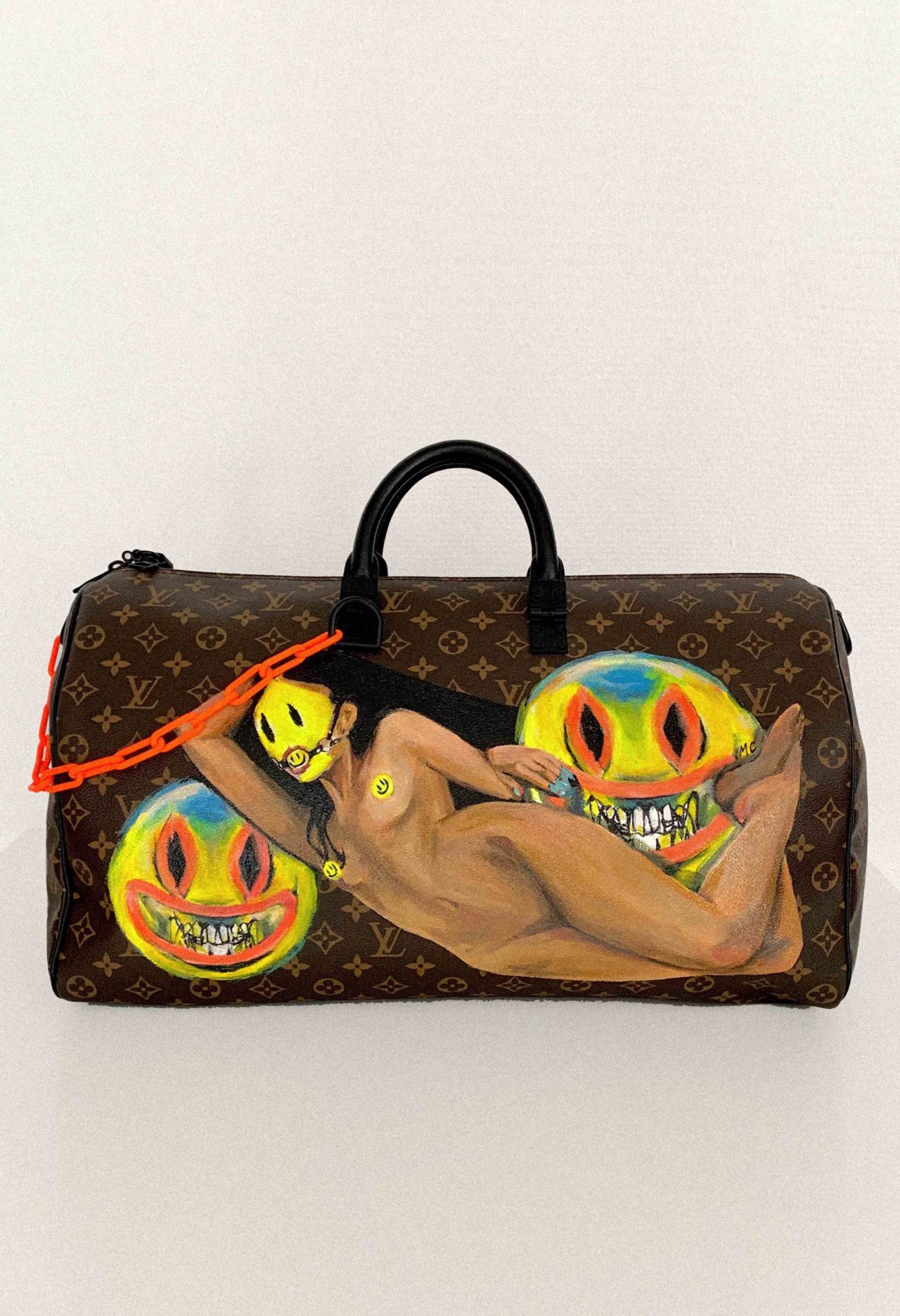 Images courtesy of Studio Courtney MC
City Portrait Series: Paris