Art Comes First
Artistic Expression & Cultural Craftsmanship For A Redefined Global Style
It's hard to define Art Comes First as just an artistic or fashion collective. Founders Sam Lambert and Shaka Maidoh ensure their creative expression extends beyond their base in London, and is found in the cultural craftsmanship in their designed garments, products and collaborative pieces worldwide.
Championing art in their creative expression above all first, they lead a movement of tailored and classic style-driven garments for gentlemen and gentlewomen. Think Saville Row and English sartorialism mixed with British punk and a D.I.Y philosophy. Find them at Pitti Uomo to United Arrows in Tokyo, from hosting events to DJing and bringing their effortlessly authentic energy to any space.
London Editor Monique Kawecki caught up with Sam and Shaka of Art Comes First in East London, shot by photographer Lukas Korschan.
Monique: Would you say there was a tipping point for the brand at any time?
Shaka: I would say there was a time Sam and I decided to give up our 9 – 5 jobs, and the secured and constant income to pursue our dreams and passion. In the beginning it was manageable to work 9-5 and then in the evening do ACF, although as the brand grew and the workload grew, it became harder to manage. We then decided to give 100% to ACF, as that's the only way we can get a 100 out of it.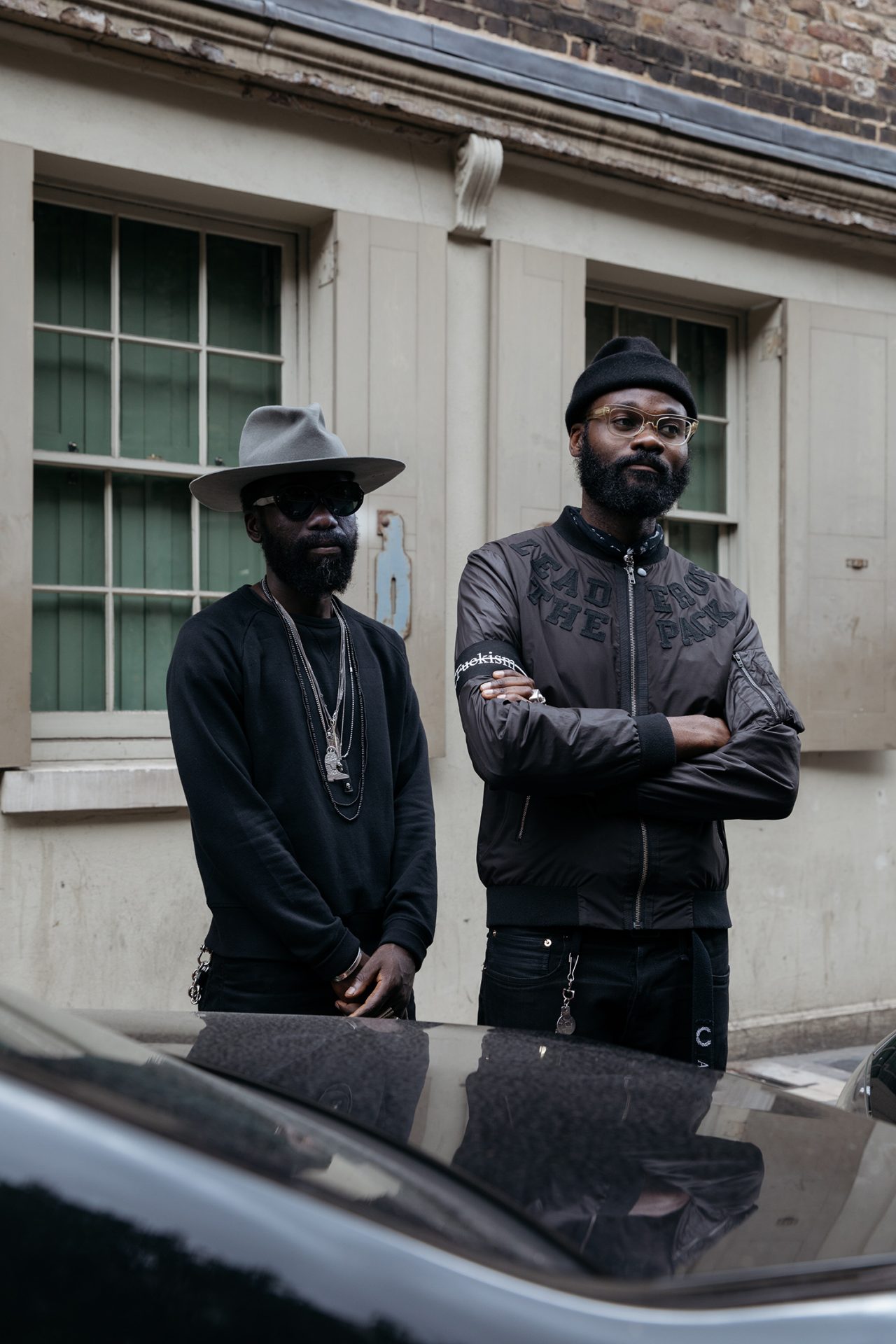 Art Comes First is helmed by you both. How do you define your roles?
We wear many hats within the set up, but creatively Sam heads the designs and I handle digital designs and styling.
Where do you see ACF in the future?
Working on opening our own concept store where everyone can have a full ACF experience, capturing what everyone sees online in one, physical space. We are also hoping to branch out into various key cities that we are already working in. An ACF experience is beyond a clothing brand and can be anything that falls under art.
You're constantly travelling, can you tell us more about how this intertwines or informs your work?
The use of traveling outside of learning and meeting new people and things is to regulate imagination with reality, and instead of thinking of how things may be, see them as they are and interpret it on everything we do within ACF.
What are some of the essentials your never travel without?
Phone. Leather jacket. Evening / Dinner suit.