SUBSPACE 2023
The 4-Day Event in Sydney Celebrates the Theme 'ON TRANSIT'
The power of running and its global community.
The four-day Subspace event in Sydney became a hub for runners and non runners alike. Held before and during the Sydney Marathon (14.09 – 17.09.23) the second edition of Subspace reframed what we think of running and mindfulness through a series of events bringing the extended community together. Their main mission? To connect the thread between running, art, lifestyle, hospitality, education and humanity.
Created by 3 running groups from 3 different cities AM:PM:RC in Melbourne, Graverunners in Auckland and Kings Cross Track Club in Sydney), the Subspace event is not your regular event. Each year it is on the move, and in its second iteration (supported by On running and Coffee Supreme), it was held in and around Sydney.
Under the theme of "ON TRANSIT", the event ran through the city of Sydney, calling Blank Gallery a home base for everything else.
On the Opening Night, Subspace celebrated a get-together at the Blank Gallery space. Come one, come all – and they did. New acquaintances and old connecting over a shared ethos for the coming days ahead. Over 4 days, Subspace presented a variety of daily offerings and one-off events. Flash Tattoos were available from Boogie with Satan, there was a Passport Booth on hand for visitors needing to update their photos and a Newsagent with the latest Good Sport Magazine (by AM:PM:RC founder Ben Clement) and OFF magazine from On running. Letter writing stations enabled guests to dig deep into their thoughts, with a 'Wall of Change' positioned to pin individual post-it notes from the mind. Of course, Coffee Supreme was on hand for all visitors.
On Day 2, meditation and breathwork sessions were held by REMiND from New Zealand, as she guided guests through the days sessions. In the evening, a group run led everyone through the streets of Sydney, a warm-up for the days events to come.
On Day 3, the morning began with Breakfast by Long Prawn, a duo from Melbourne, together with Sydney-based Soul of Chinatown, the local culture of the neighbourhood was the focus, presented in both experimental and traditional ways.
Day 4, the big day: Sydney Marathon. In the morning, the Cheer Zone gathers to support those running the hotly-anticipated Sydney Marathon. It was smiles all round, as the shine shined down on the city.
To wrap it all up, an after party was held with Jonti from Stones Throw, where everyone could really wind down and celebrate running the marathon, or their community, together.
Through very clever communication, the Subspace 2023 theme "ON TRANSIT", provided the founders great titles and visuals to communicate the event – all related to being on and in transit, with an added nod to the event partner, On running.
With a Cruise Control evening run, In-Flight Entertainment film screening, Running on Empty breakfast and so on… Subspace 2023 departed and landed brilliantly, especially with the founders' new ideas in putting together such an original event. We had to find out more, so we spoke with AM:PM:RC founder Ben Clement and crew Matt Willocks to learn more about the ethos behind Subspace.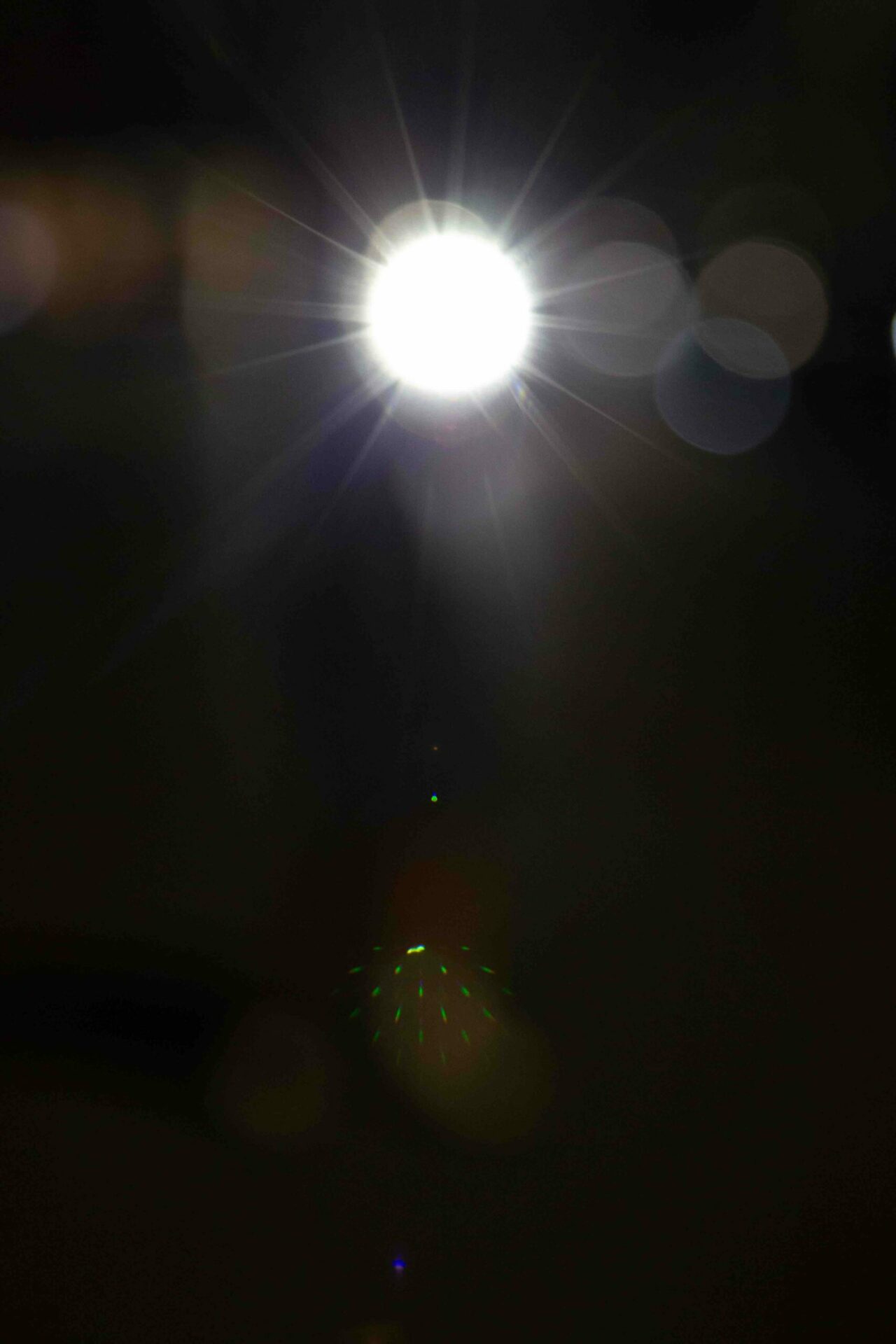 Subspace 2023 was a whirlwind of events, with the community really embracing them and coming together. Can you tell us about the energy and feeling at this year's Subspace?
BC: Embraced is a good word to describe this year's Subspace. For me there were a few things at play that created the specific energy. For one, we were so welcomed by Blank Gallery, Maillot and Outta Coffee, the culture and vibe coming out of these three places is really special and we felt at home straight away.
We were set up in Chinatown, an area of Sydney with such a rich and long culture of community. I like to believe that when people are in new or less familiar areas it creates a new energy. It's a coming together of all these things that set things in motion for what Subspace was.
MW: For our attendees, I felt Subspace enabled a full spectrum of feelings + energies throughout the four days. Each event was designed to embody its own self expression and our attendees embraced that. Whether you invited a sense of stillness or reflection in our breath work session, or were confronted with curiosity from an artwork, or pumped fill of adrenaline racing trams in our shake out run, Subspace was a place to ignite or embrace an array of energies. For me, it was a joy to watch our attendees interact and connect with each other. Creating a space where people learn, teach, or engage with experiences for the first time really gave me a sense of pride and connection.
Brought together by your running crew AM:PM:RC in Melbourne, Graverunners in Auckland (New Zealand) and Kings Cross Track Club in Sydney, can you tell us how you joined forces to create Subspace?
BC: For me the initial idea was about bringing all of the things I surround myself with and am a part of, from music, art, style, food and bringing those into the culture of running for a wider group of people. We've been friends with everyone from KXTC and Grave Runners for some time and are often travelling between cities and always hang out or go running together.
There is a natural synergy in our values and what we want to create in the world. We also know putting on an event of this scale needs a strong team, and also different perspectives. Having the three crews join together also can take away some of the intimidation around running and running crews. It's saying, hey, we're all coming together to celebrate and create this thing called running, you're welcome to come experience that and you don't even have to run at all.
MW: I've always thought good people meet good people, no matter where you are. The idea came from a mutual respect on how each crew was elevating their communities through running and expressing themselves off the pavement too. (Creativity, community events, music, food). With similar values, it was seamless to connect and explore how we could create something unique and bring our interests together through this medium called Subspace.
Can you tell us more about the Subspace community? We know it is global, could you tell us more about the different people that joined this year's event whom brought the energy even higher?
BC: Having collaborators like Blank Gallery, Maillot, Outta Coffee, Long Prawn, artists from around the world, Jonti from Stones Throw the team from Soul of Chinatown, and Ursula from REMiND is why the energy really lifted, these are all people who express themselves truly everyday and having them all part of the program allows those who attend to also express themselves and bring a good energy to the space.
MW: Subspace is for anyone (not just runners), this year, we collaborated with a number of beautiful community partners including; Maillot, Jonti from Stones Throw Records, Soul of Chinatown, Long Prawn, REMiND, Blank gallery, and Outta Coffee. We wanted to explore the idea of boundaries as a point of connection even further, and invite our attendees to connect to new communities they may not be familiar with.
What happened at this Subspace 2023 event that we couldn't see online? We will definitely be there in person next year!
BC: For me, it's always the new connections that are made, the conversations that are had, that can only be made or had because of how the events are designed or set up. We create subspace to be a hub and home for the days that it's on. It's not just turning up to an exhibition and looking at some art and leaving, we have blurred the lines of how an art based event can look and feel. Treating something like getting tattooed in the space like performance art, but never calling it that. Or having a cafe within the space so people feel like they can stay. Even at the breakfast we purposely sit people with people they do not know to aid in new connections.
There's a lot of detail and subtlety in Subspace, from how we install and fit out the space, there's a lot of thinking about how people enter in, how they interact with everything. Right down to the music, this year was Brian Eno's, music for airports and a mix by Jonti who also played on the Sunday after party. These things are felt but not seen.
MW: The connection between people. Last year, we had new relationships and run crews born out of Subspace. This year, I feel they'll be even more. It's a beautiful way to bring people together and watch new things begin.
You partnered with On running for this event, how does their ethos match Subspace and how were they involved?
BC: On are an interesting brand in the world of running. For me because they are new-ish they have a somewhat of a blank canvas to work with in terms of what and how they create things.
Their excitement for supporting things is also refreshing. I think a lot of other brands have a complacency or engrained formulas and it was great to have an energy and support from On that understood our vision and the care for our communities.
As founder and editor of Good Sport magazine, you have watched the run and wellness scene grow over the years, being much more inclusive and unscripted. What are your most recent thoughts and observations?
BC: Human wellbeing and health is a real thing. And you can't fake realness. My current observations are that while 'wellness etc' is being commodified and even more part of late stage capitalism.
There is and will always be a real need for the health and wellbeing of humanity. The things that truly help people positively will remain while other things that are selling ideas or products will likely fade out. I love that people are using their voices, particularly through sport and movement. There are tangible things, stories and experiences that people have and now have platforms to share them.
With your 2nd edition now wrapped up, what can we expect from Subspace 2024? Where will it be in the world?
BC: As with any marathon or running race, once you have finished it, it's all about the recovery, rest and a bit of reflection. We'll take some time to recover for sure. The ethos of subspace is to never repeat the same thing we've done. Although we might follow other major marathons around the world, we're also open to shifting how we bring things to life. Perhaps being one singular event, or working at different scales. Ultimately it's about being integral to the core of 'why' we do it but questioning and remaining open to possibilities.
MW: After some reflection and recovery, there's no doubt the Subspaceship will be orbiting again at a major marathon near you next year.