Stockton Hong Kong
A hidden speakeasy bar inspired by the Victorian Prohibition era
Hidden amongst Hong Kong's Central streets, lies Stockton, an otherworldly and old-worldly speakeasy bar. Unbeknownst to many, it is an homage to the late, revered writer Hunter S. Thompson where the name is derived from his middle name and where the S. so mysteriously remains.
Opening Stockton's black book of cocktails is an education in itself. From Raymond Chandler, to Edgar Allen Poe, Jack Kerouac, Dorothy Parker and Truman Capote, whilst pairing their own characteristics to that of a perfect cocktail concocted by Head Mixologist Suraj Gurung.
With a recently recreated cocktail menu inspired by various renowned authors and writers, the new menu aims to capture all five of the senses for guests from aroma, taste and visual impression. The Ernest Hemingway was smooth yet masculine with House Rum, Irish Whiskey, Lime and Malted Banana among the mix, whereas the Oscar Wilde nicknamed "Fizzy Rascal" with champagne, Martell Cognac, Falernum, absinthe, strawberry, lime and mint. Who knew that Oscar Wilde himself was an absinthe aficionado.
This twist on old classics is an extension of Stockton's DNA, inspired by the Prohibition era in Victorian England where the Temperance movement became more radical and soon challenged the period. There are small hidden elements inside the bar itself that encourage a hallucinatory moment for guests, perfectly unexpected. In the bathroom, find a one-way mirror where unsuspecting guests may not discover until they are seated. Inside, the wallpaper "Macabre" itself is a wild illustration that challenges the consciousness.  The aged European furniture and antique ornaments provide a feeling of 'a home away from home.' With some grandfather chairs and stools over 50-100 years old themselves and sourced globally. 
Sitting on our old-worldly leather stool by the bar, it was the Forty Four that was the stand-out cocktail for us, perfectly prepared for us by energetic and passionate Head Bartender Kshitiz Gurung. Presented in a fish-shaped glass mug, the Raymond Chandler-inspired cocktail was fruity yet nutty with Plantation Barbados Rum, Koko Kanu Rum, Marshmallow, Egg White and Fino Sherry amongst the mix of ingredients.
At Stockton, with stellar mixologists and cocktail concoctions, the accompanying bar snacks are equally impressive and nothing to be underestimated. Helmed by an equally talented kitchen staff we tried the bite-sized Black Truffle Risotto Balls with Green Pesto Aioli dip and a half dozen Terra Ostra Oysters; sourced from the French Mediterranean and tasting as though they had never travelled at all.
From its hallucinogen-inspired theme and old-worldly atmosphere courtesy of an in-house collaboration with the Maximal Concepts design team, owners Xuan Mu, Malcolm Wood and Matt Reid have ensured that Stockton remains a hidden secret amongst the plethora of entertainment in Hong Kong. After all, aren't the best places a shared secret and not as well-trodden as the rest?
This article comes in cross-collaboration with our friends at Melting Butter Dot Com. Images courtesy of Maximal Concepts.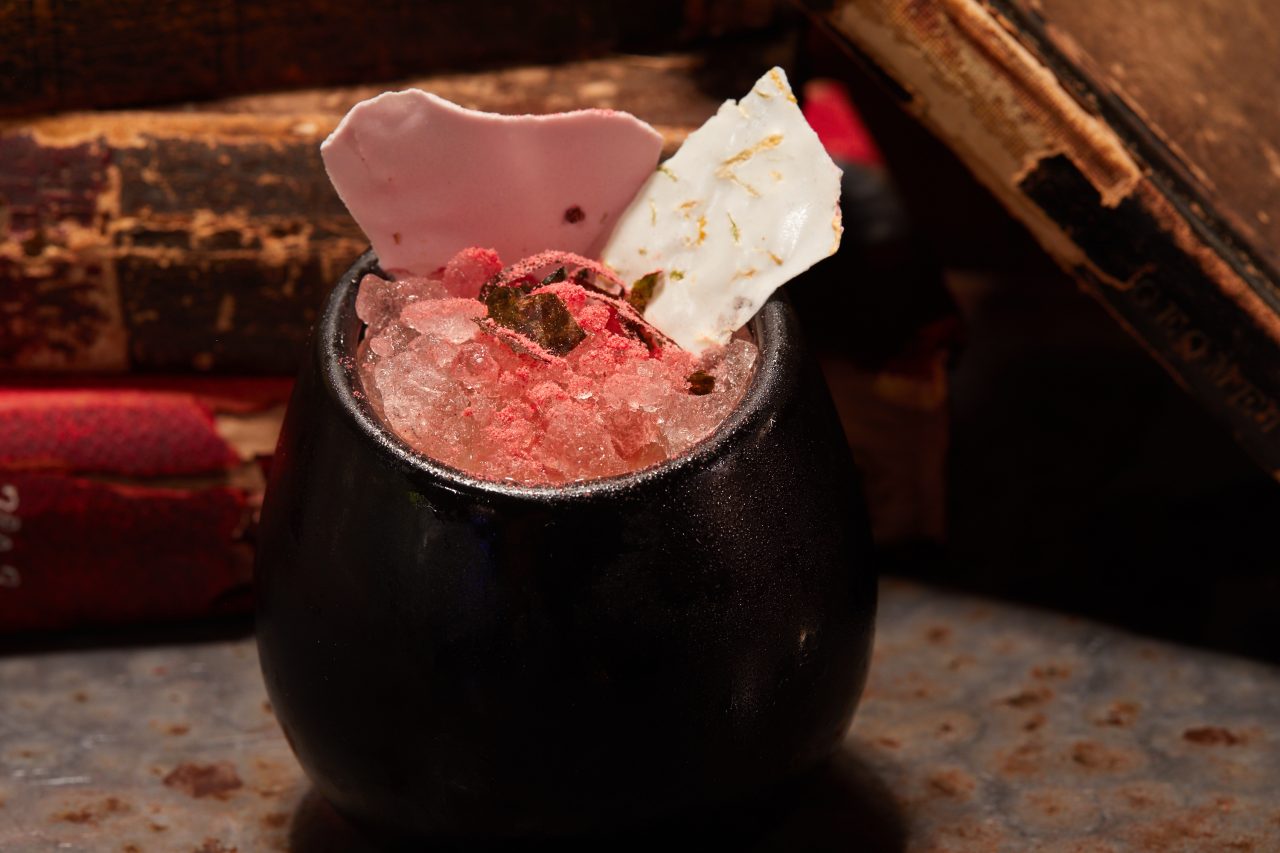 STOCKTON
32 Wyndham Street,
Central, Hong Kong