Goughs On Gough
Modern British Dining Turning Heads In Hong Kong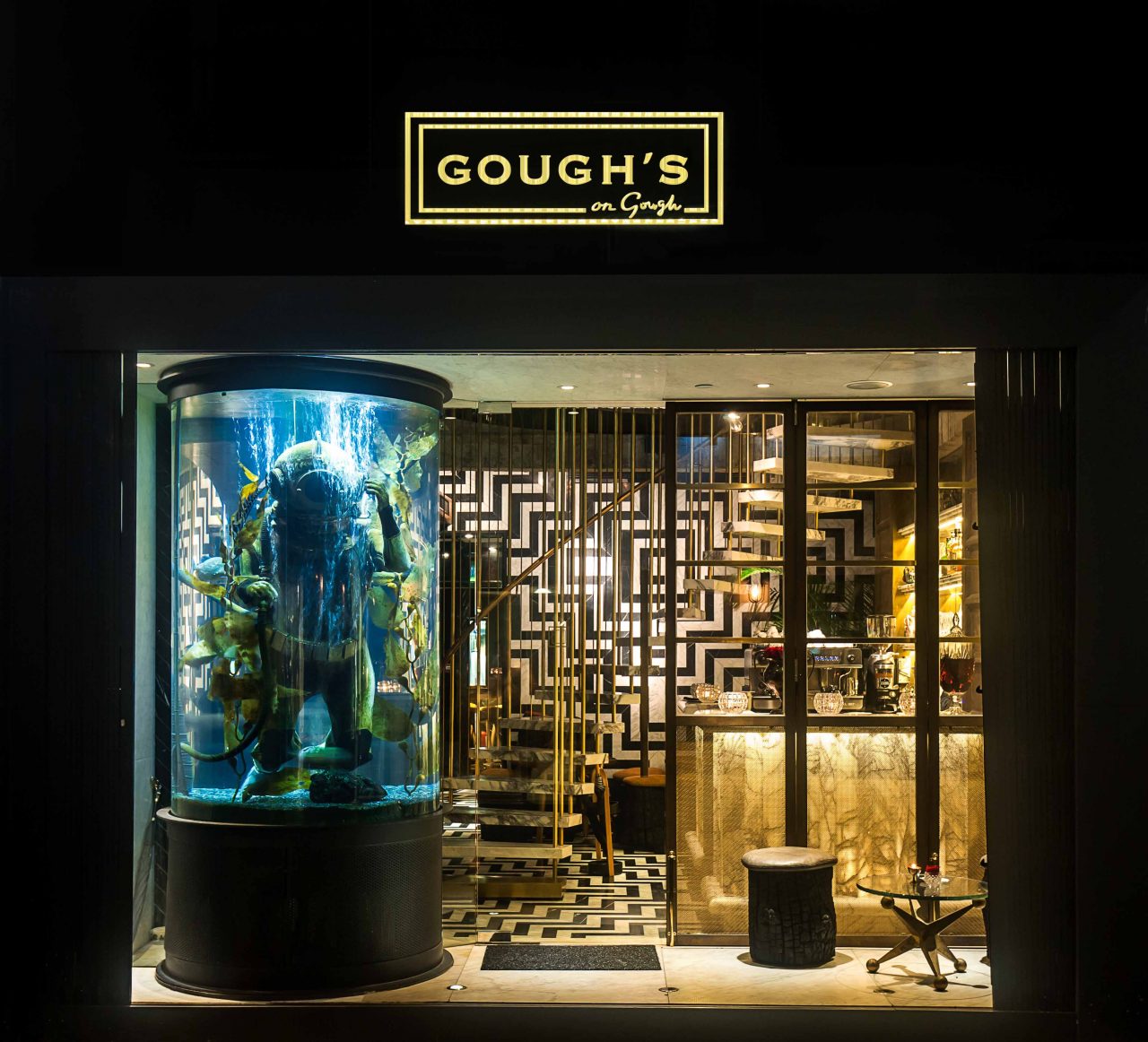 The first person that greets you upon entering Gough's On Gough, is the restaurant's resident diver Derek. Suspended in an original 1940 Russian diving suit and surrounded by real piranha's, the sculptural Derek, certainly sets the tone for an otherworldly restaurant interior.
Masterminded by furniture designer Timothy Oulton (who's own retail store and antique collection is found right next door), Gough's On Gough's concept was simple: to create a great restaurant created by the designer himself to showcase his furniture, and host friends and guests. As a considered designer, every element has equally been contemplated with every piece presenting their own story to tell. Look closely, and you'll find their front entrance charcoal stools are from a reclaimed tree trunk burnt in a fire. Instead of letting the burnt timber go to waste, Timothy Oulton created a new design and function for the discarded wood.
Recently established on Gough Street in Hong Kong's central area, Gough's On Gough champions modern British dining helmed by head chef Arron Rhodes, whose "modern British cooking philosophy explores an elemental Asian purism as well as other international influences." Here, find classic British flavours presented in a completely new experience. As no stone is left unturned, find yourself even armed with sterling silver Sheffield cutlery.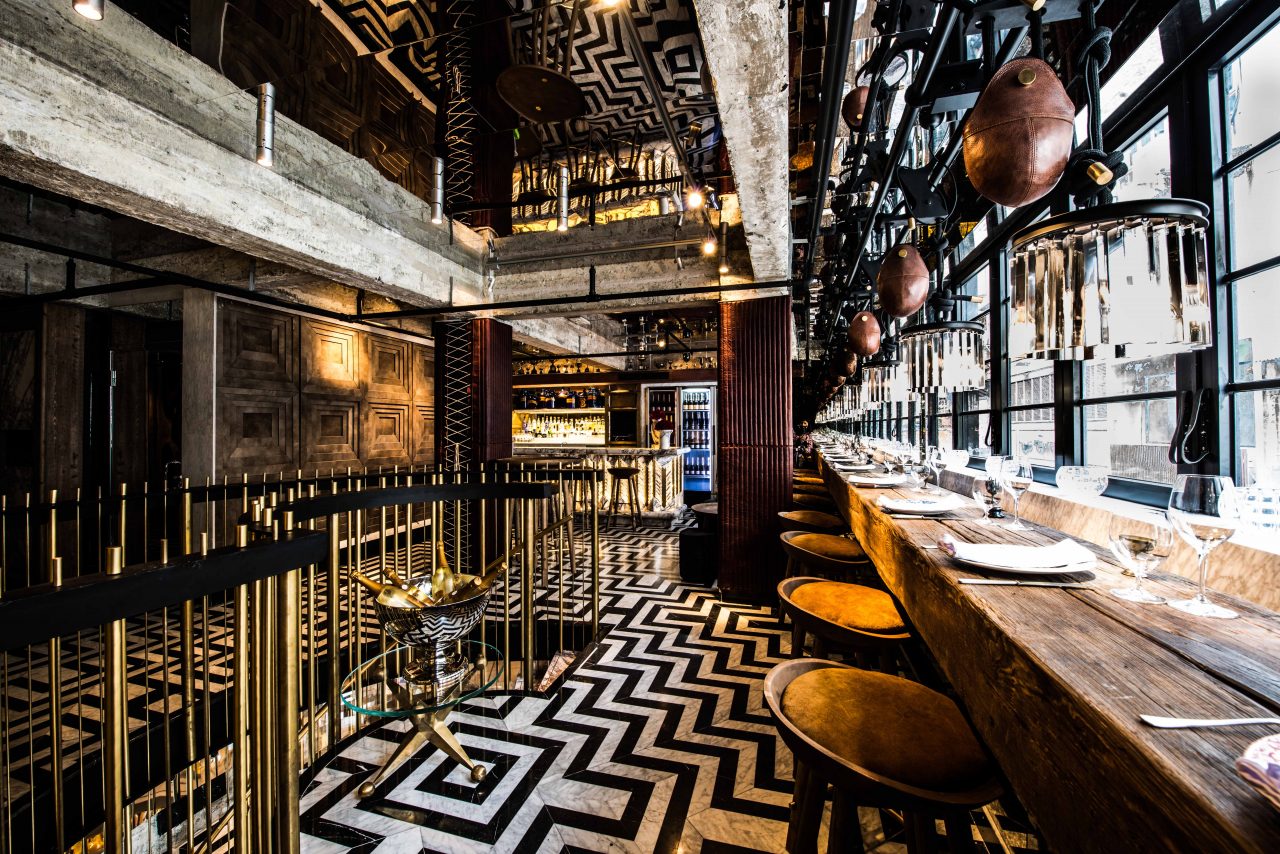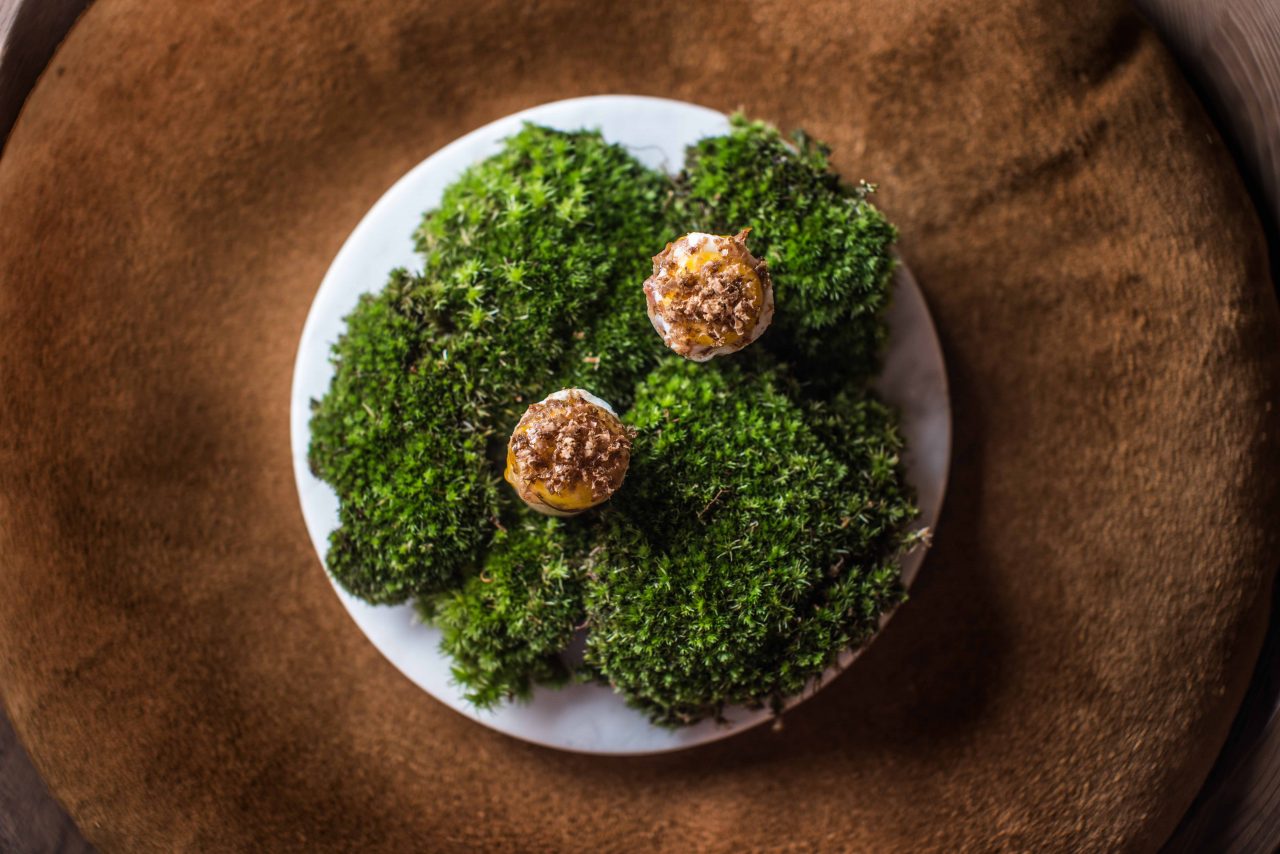 Sit by the bar for a bespoke crafted cocktail menu created by head mixologist Alexander Ko, while your table awaits. For evening diners, the Tasting Menu at Gough's on Gough offers a taste of everything, each paired with an exceptional wine. Beginning with a Beef Pop Shot and 'English Seaside', you are transported to England's Brighton or Kent with a vibrant seaside smell, with the dish presented beautifully on black seaside rocks with shells and seaweed.
Further stand-out dishes from Gough's On Gough A La Carte Menu included 'Scottish Brown Crab' (green apple, seaweed ewe's milk ricotta & charred cucumber salad) and 'Northies Langoustine' with cauliflower couscous, tarragon mayonnaise, sweet melon and puffed black rice.
Additional sides to mention are the 'Roast carrots with orange & ewe milk ricotta and gremolata' and a 'mixed leaf salad', reflecting the kitchen's dedication to superior quality in their selected produce.
To particularly note, were Gough's On Gough fresh oysters which range in origin due to seasonality and market availability. Our selection was from Ireland, presented with a squeeze of lemon and were an absolutely delicious addition, particularly considering how far they've travelled. It's an undisputed feat of quality ingredients offered in the freight hub of Hong Kong.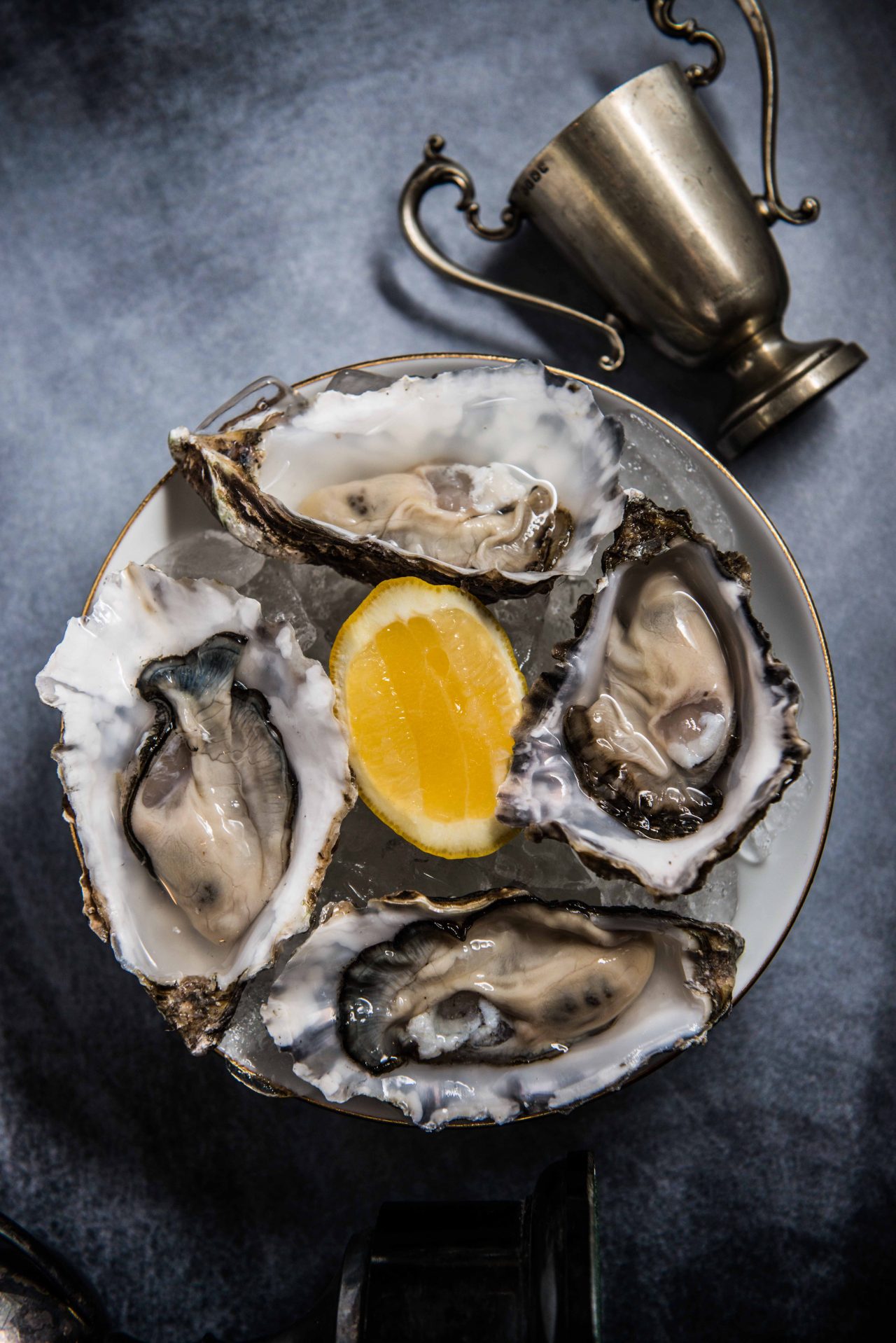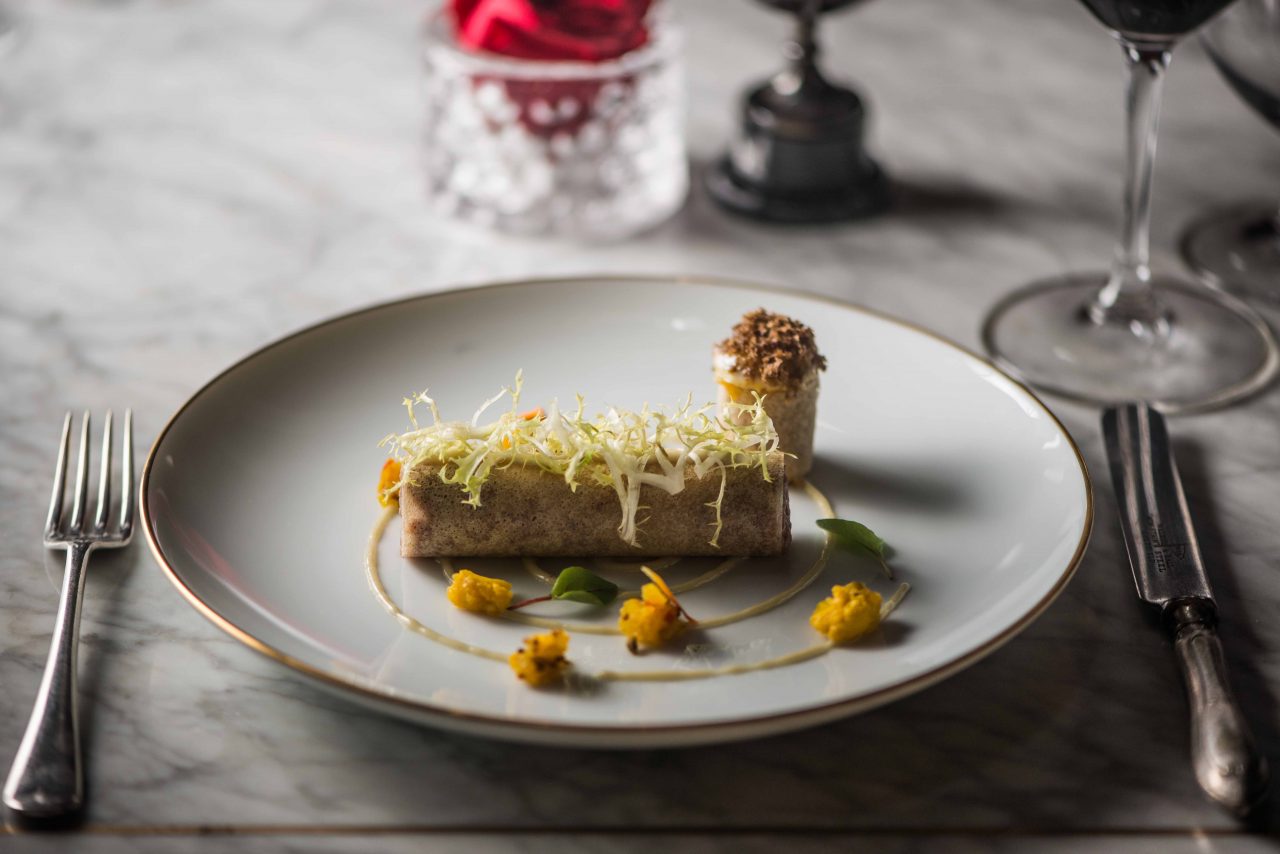 For dessert, the 'Clementine & Yoghurt' with Timut pepper & yoghurt mousse, clementine sorbet & candied kumquat, was equally a sculpture in itself, exploring textures of taste and shape. From the sorbet, to cream, to biscuit, the presentation presented shapes (tubular, rectangle, curvatures) in light yellow and beige colours. Paired with the subtle and clear dessert wine, Moscato D'Asti (2016), the sweet notes and a slight fragrance provided a perfect balance. A must-try is also Gough's On Gough 'Crème Brûlée', presenting a completely new take on the classic favourite that has found some diners at crossroads with opinion. Served on a royal blue curved bowl, find small dollops apricot, persimmon and vanilla, placed around a round caramelised, crisp disc. Not too overpowering and not too sweet, and certainly not your average dessert.
Upon reflection, each meal complemented the various dish plate colours, and almost provided a frame for each dish. Like a painting, the plate presentations are the frame to champion each dish. It wouldn't be a far stretch to consider them artworks themselves.
As Pretty Woman by Roy Orbison or I Got The Feelin' by James Brown played overhead, the industrial interior provided an intimate yet open space of sophisticated modern luxury. An exposed concrete structure is paired with gold detailed railing and mosaic marble flooring, with white marble dining tables with gold rim, and dark brown leather armchairs. Diners silhouettes are subtly reflected in the mirrors on the ceiling, providing the illusion of extended space.
At each point during the evening, presentation and experience plays a key role at Gough's On Gough. Chef Arron Rhodes has truly reinvented a modern and conceptual approach to British and Asian-inspired dining with an exceptional design as an 'experiential backdrop' for the equally dramatic flavours and food.