LONDON FASHION WEEK MEN'S SS20
We Highlight 6 of London's Most Progressive Menswear Designers for the Spring/Summer Season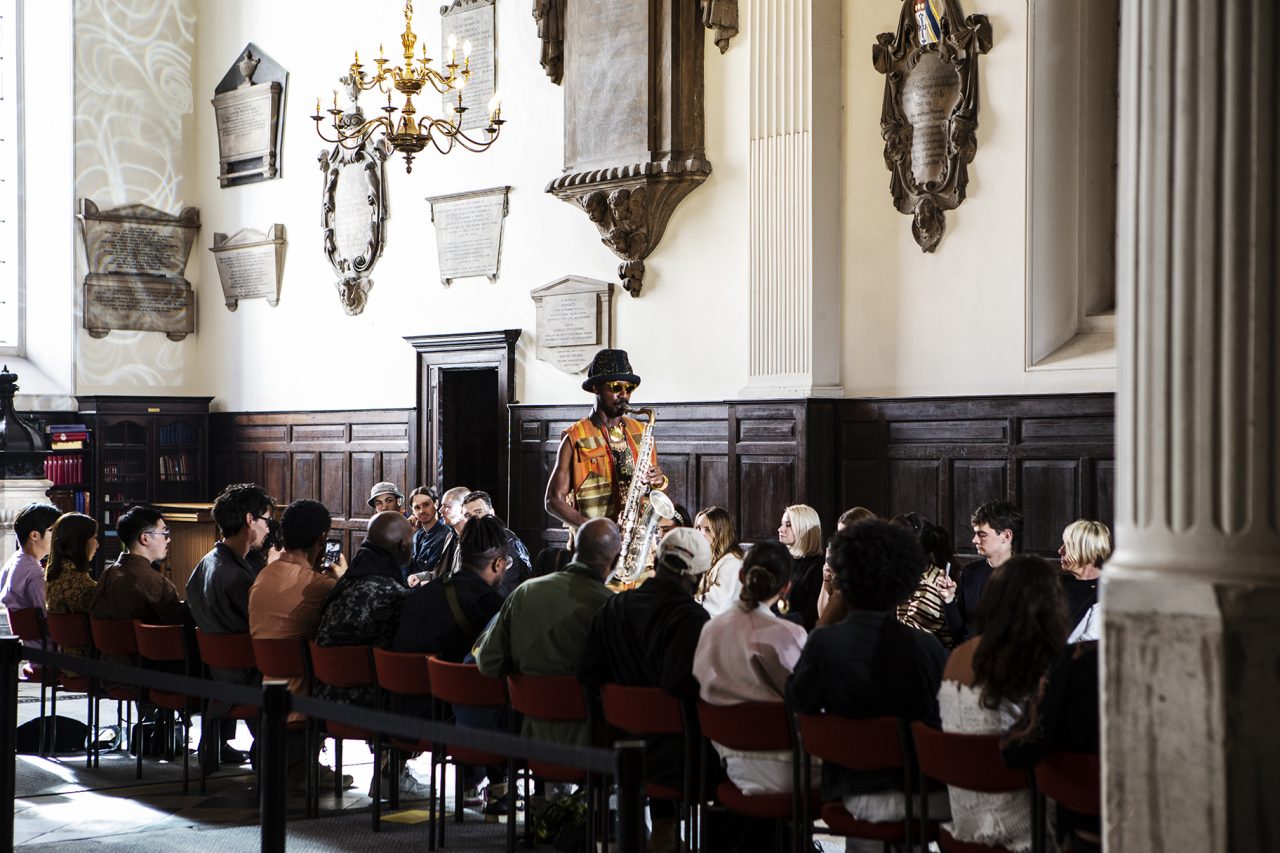 NICHOLAS DALEY
Music continues to be a big inspiration for Nicholas Daley and his work, and this season's collection proved to be no different. Inspired by Sun Ra Arkestra, the Free Jazz movement and Afrofuturism, the SS20 Astro Black show presented a free-flowing energy created through band Sons of Kemet's live performance.
Held at the Mary St Hill church, the live music provided the ultimate auditory experience, connecting emotionally. London-based Sons of Kemet, led by renowned saxophonist Shabaka Hutchings, the four band members (Theon Cross on tuba, Eddie Hick and Tom Skinner on drums) along with poet Joshua Idehen also walked the runway much to the audience's delight. The sound of a solo saxophone opened the show, as Hutchings walked down the runway. During the walk,  Daley's models joined the vibe and danced to Sons of Kemet's live music as the front row was later encouraged also to do so at the end of the runway show. The dancing continues as Sons of Kemet played an incredibly rare one-off 2-hour live set with Joshua's vocals, something to never be repeated again. You had to be there to experience the power and history in the making.
Daley's designs are always identifiable, with his signature found in each collection in various forms (pull-cord trousers, vests and hand-knitted garments and accessories). This time, hand-knitted sweaters were hand-tie-dyed and vests offered in two styles instead of one. Digitally-printed psychedelic scarves were a surprise this season, with the artwork of Studio Tilly Mint bringing additional colour to the Astro Black collection. Footwear with Adidas Originals was another surprise, this time accessorised with custom beadwork using beautiful cowry shells. Working with Adidas for the second time, their presence made us think we can potentially expect an official collaboration in the future. An official collaboration with Fred Perry however was presented: with two of Fred Perry's iconic designs re-interpreted by Daley, with the FP bowling bag celebrating the work of London-based Nepalese artist Gaurab Thakali's custom typography on the front. Daley continued his work with British craftsmen, this time working with Northampton shoe manufacturer Tricker's on a mens loafer with a specific command sole. The pairing is ideal and creates a sturdy silhouette.
To our delight, Daley also worked with craftsmen in Kyoto, Japan on hand-tie-dyed cotton t-shirts and shirts. This new connection creates a continued dialogue with the designer's London base and his main following in Japan.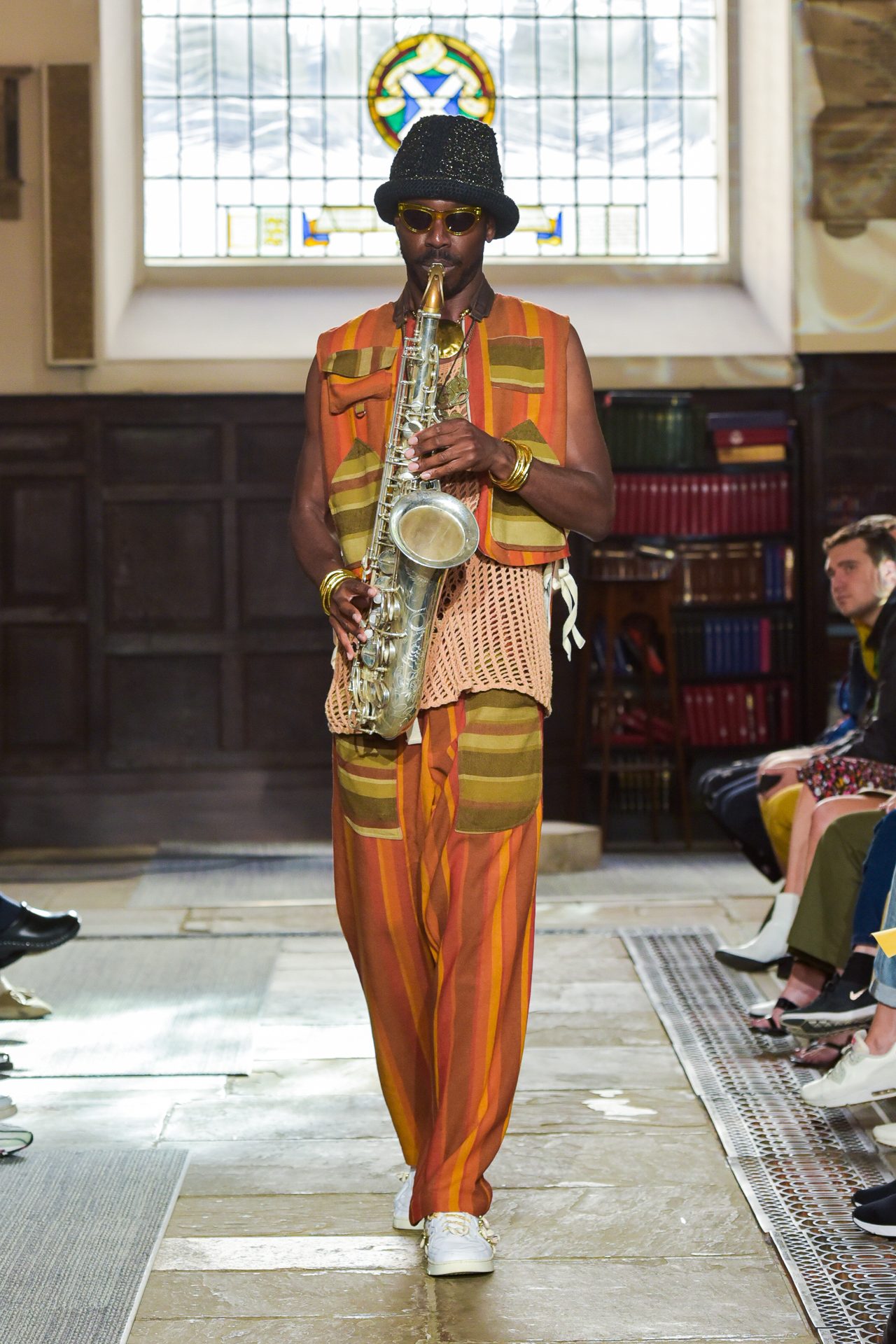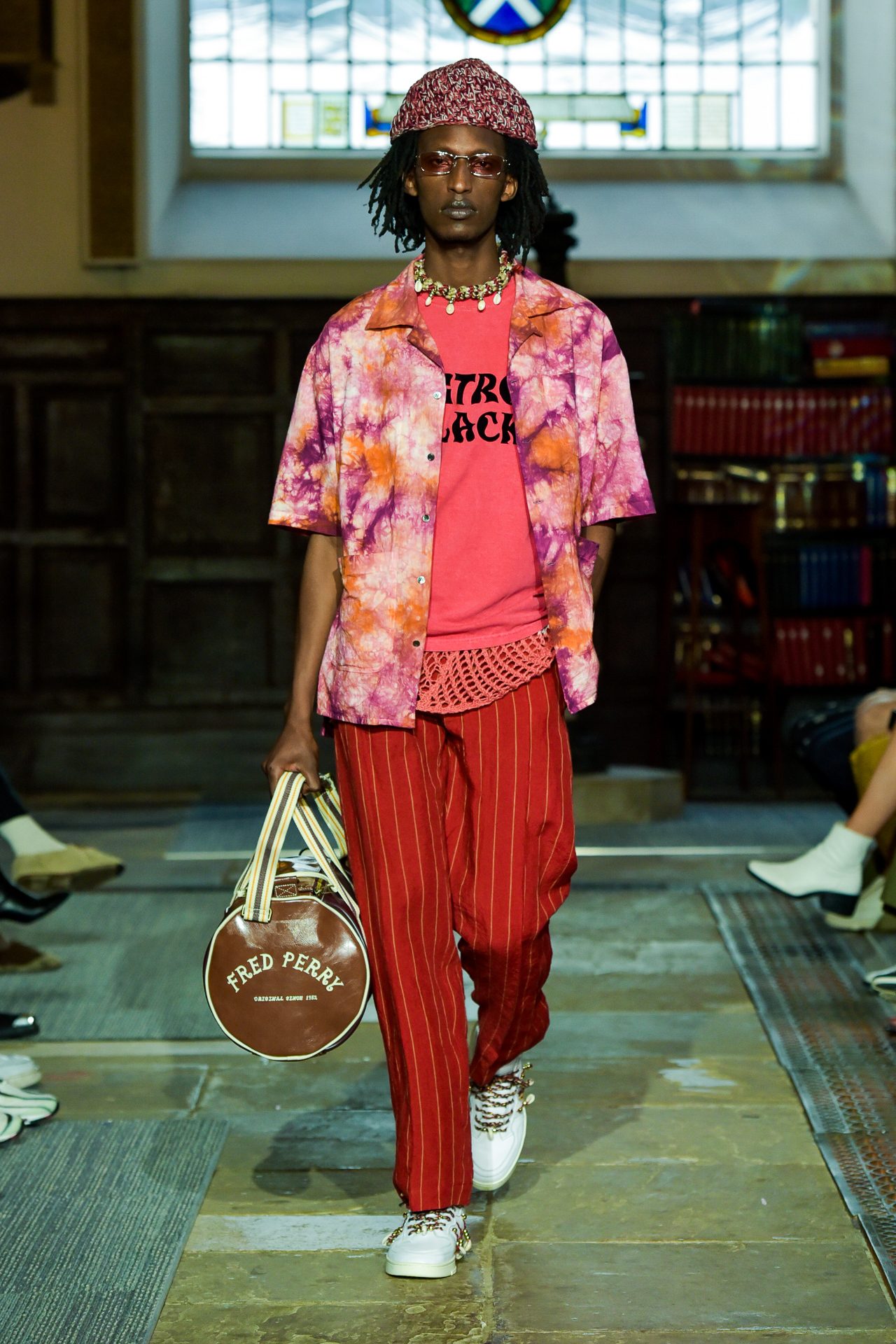 A-COLD-WALL*
With a collection title like Material Study For Social Architecture we're instantly interested in A-Cold-Wall's SS20 collection. Lead designer Samuel Ross' recent work with institutes the Architecture Association and Central Saint Martins in different capacities back up this theme, and its his interest and involvement with them that makes his work individual. We know creative fields – art, design and fashion – are all interlinked, but Samuel's strong inclusion of architecture is unique to him. Through that he sees the power of social sculpture in its many forms and activates it in the show too, inviting his ACW network of students and friends to watch from the Printworks balconies. Indeed the ACW community.  
The SS20 collection sees a turn away from strong ACW graphics as Ross highlights his interest in architectural forms and materials: clay, lead, water and glass with their tones found throughout the collection. This season includes collaborations with Diesel and the first time ACW are making their own footwear with boot, sneaker and loafer styles.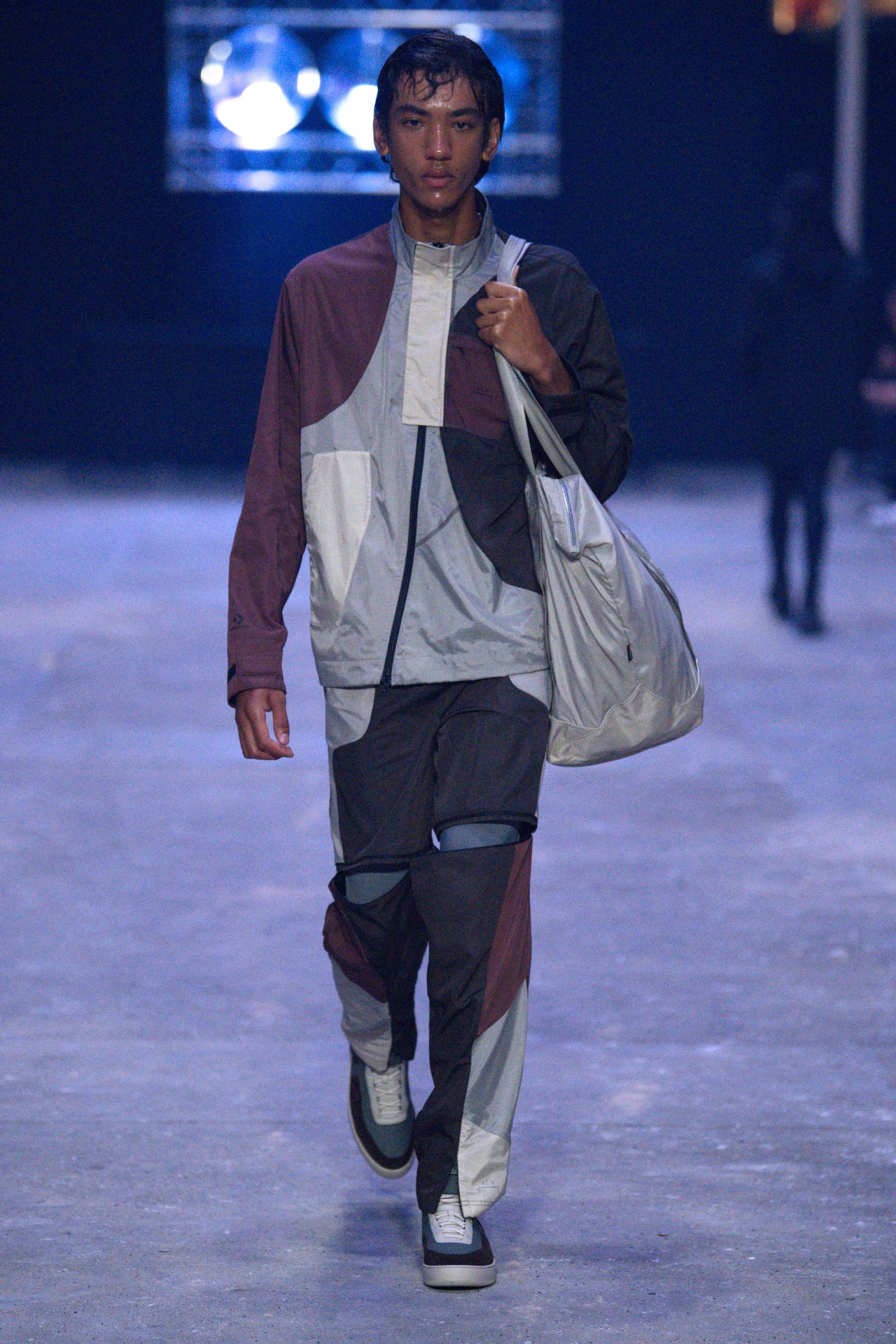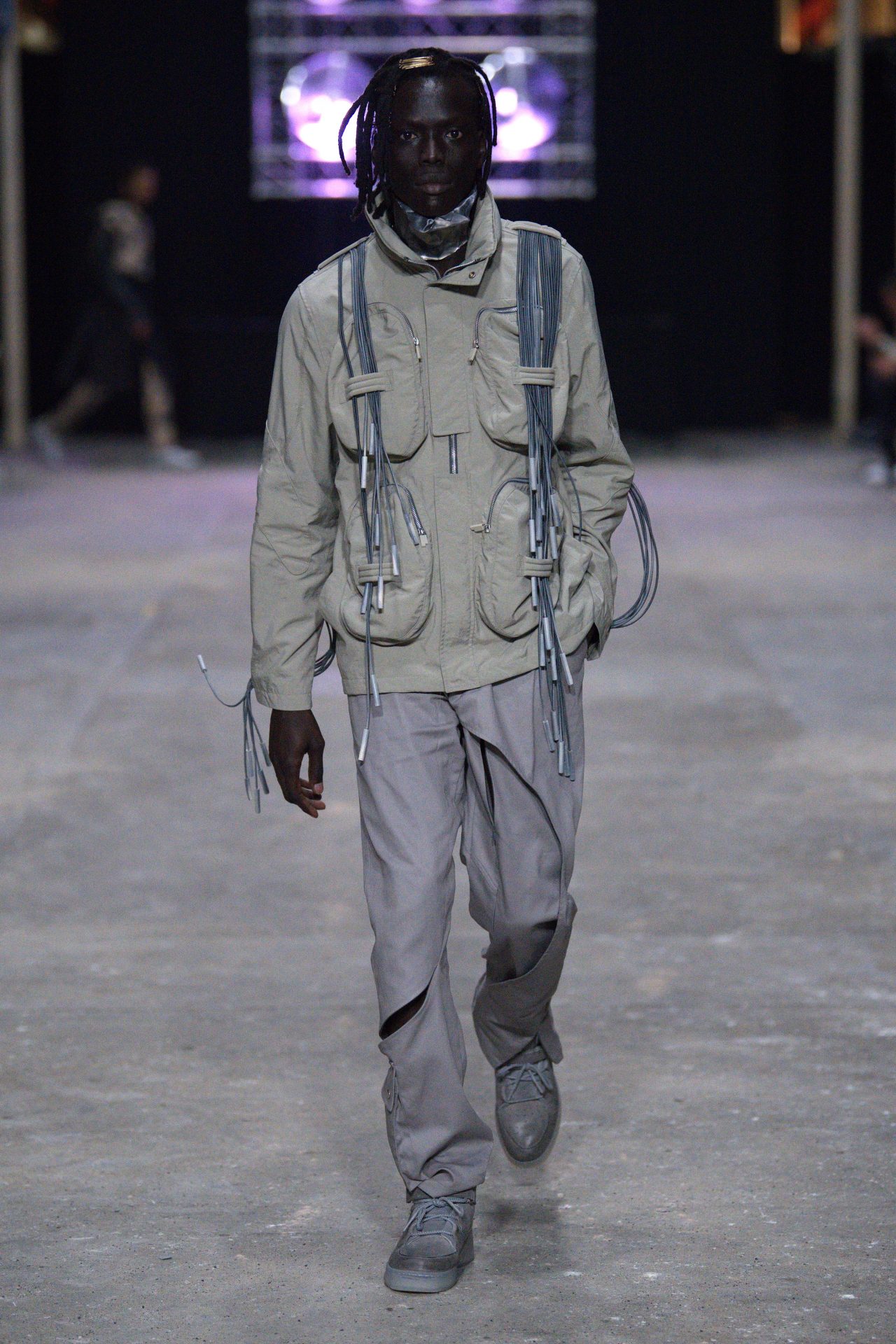 MOWALOLA
Nigerian-born, designer Mowalola Ogunlesi this season explored the 'horrific feeling of love' which we all know well in her Coming For Blood collection. An all-consuming complex dichotomy, and a perfect theme to reinterpret into physical form. Explaining more to Vogue, Mowalola states "I base it on what I'm going through—I've just fallen in love for the first time; I feel as if no one talks about the horrific side, the dangers of love, of losing control of your emotions and feeling like you're crazy. It's like how I see a horror movie!".
Presented with Fashion East for the second time at the Truman Brewery British Fashion Council space, models walked out with bloody hands and garments with printed bullet shot wounds. White leather suits with bullet shot wounds certainly turned heads, and the design can indeed represent a number of things. Graduating from Central Saint Martins, Mowalola's signature is working with leather – she has a deep understanding and skill with it. Nigerian-born model Adesuwa Aighewi closed the runway in a striking green leather cow-print garment. Powerful.
Hair, make-up and the talents could not have been chosen better, Mowalola's world is incredibly intriguing and we'll be seeing a lot more of it for sure.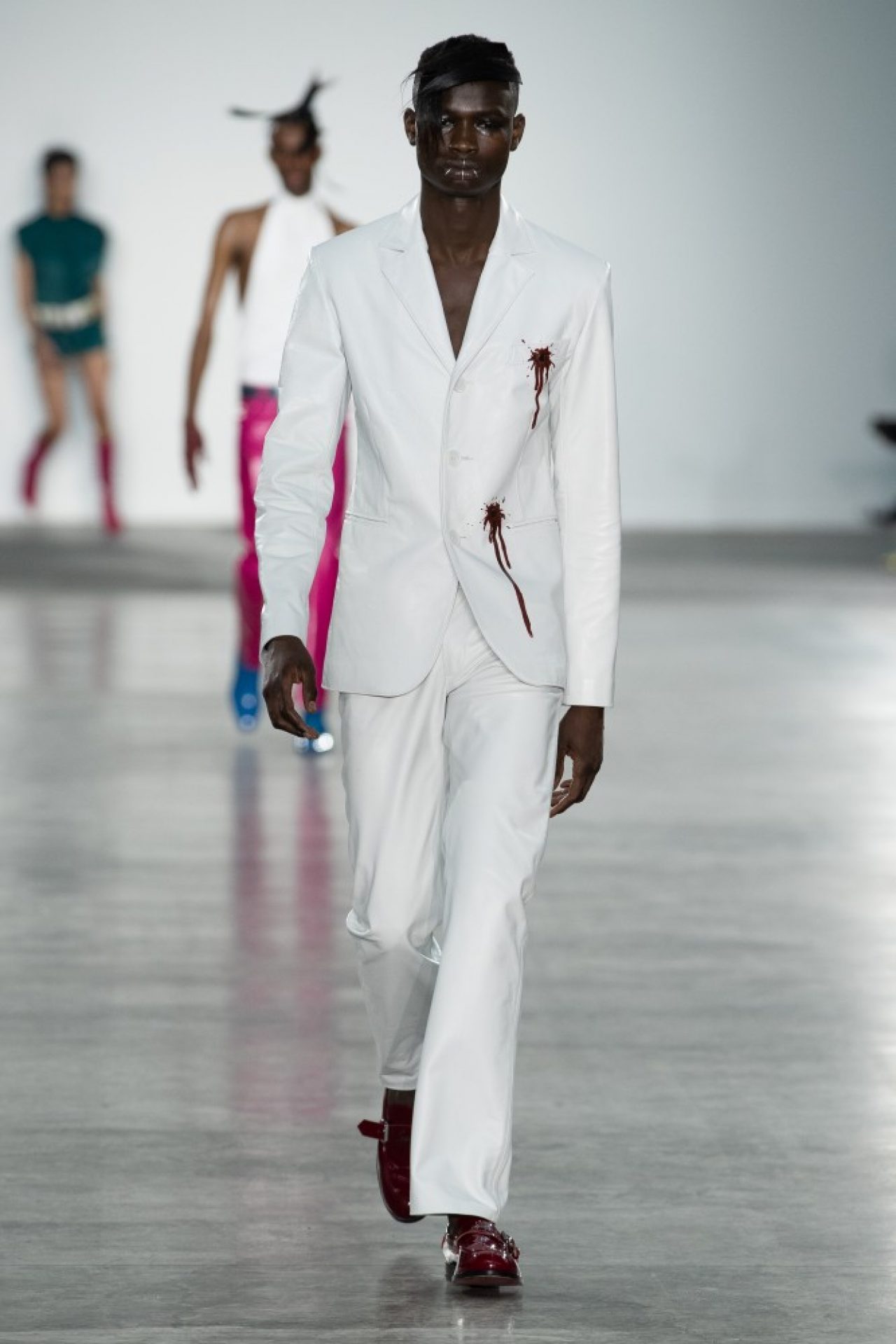 BIANCA SAUNDERS
Bianca Saunders' SS20 collection, Characters, explores male masculinity and its many layers. A graduate of the Royal College of Arts, Bianca's designs are abstractly sculptural, created through structured two-piece denim jackets and split-denim trousers, accompanied by the designers signature rouched garments elevated once again for this collection. 
Including DJ and experimental musician Eldon Somers in the show, an original soundscape was created by the musician through field recordings relaying these layers and frequencies found in West Africa, Jamaica, Harlem and London. 
A low-key draped set by George Lewin set the backdrop for the two-hour presentation, with casting by the fabulous Mischa Notcutt also showcasing this was a very 'London' show with a diverse cast of male models represented. Always modestly executed, Saunders' presentations achieve what they need and more. 
LABRUM LONDON
Labrum London continue to explore West Africa and its multitude of stories to tell. Labrum head designer Fode Dumbuya focusses on his Sierra Leone heritage in the brand, this season looking to the particular story of The Black Prince Naimbana. One of three sons born to King Naimbana, the last traditional Temne ruler of Koya (now known as Sierra Leone), Prince Naimbana was sent to England to study Protestantism in 1791. Labrum highlight this cultural exchange between Sierra Leone and the United Kingdom, which is long-standing and multi-layered.
Traditional West African formalwear is featured throughout the SS20 collection in tailoring with the addition of pleats and high collars. However it is in the printed garments that the story of Prince Naimbana is told visually, something which we haven't seen in other designer collections. A beautifully-illustrated print on tailored suiting is hard to beat. A collaboration with Converse was teased with high-top All Stars presented in the show.
The set for the presentation was designed by London-based designer Yinka Ilori (who also designed the Dulwich Gallery Pavilion this year), whilst musician Obongjayar performed spoken word which set the tone for the collection.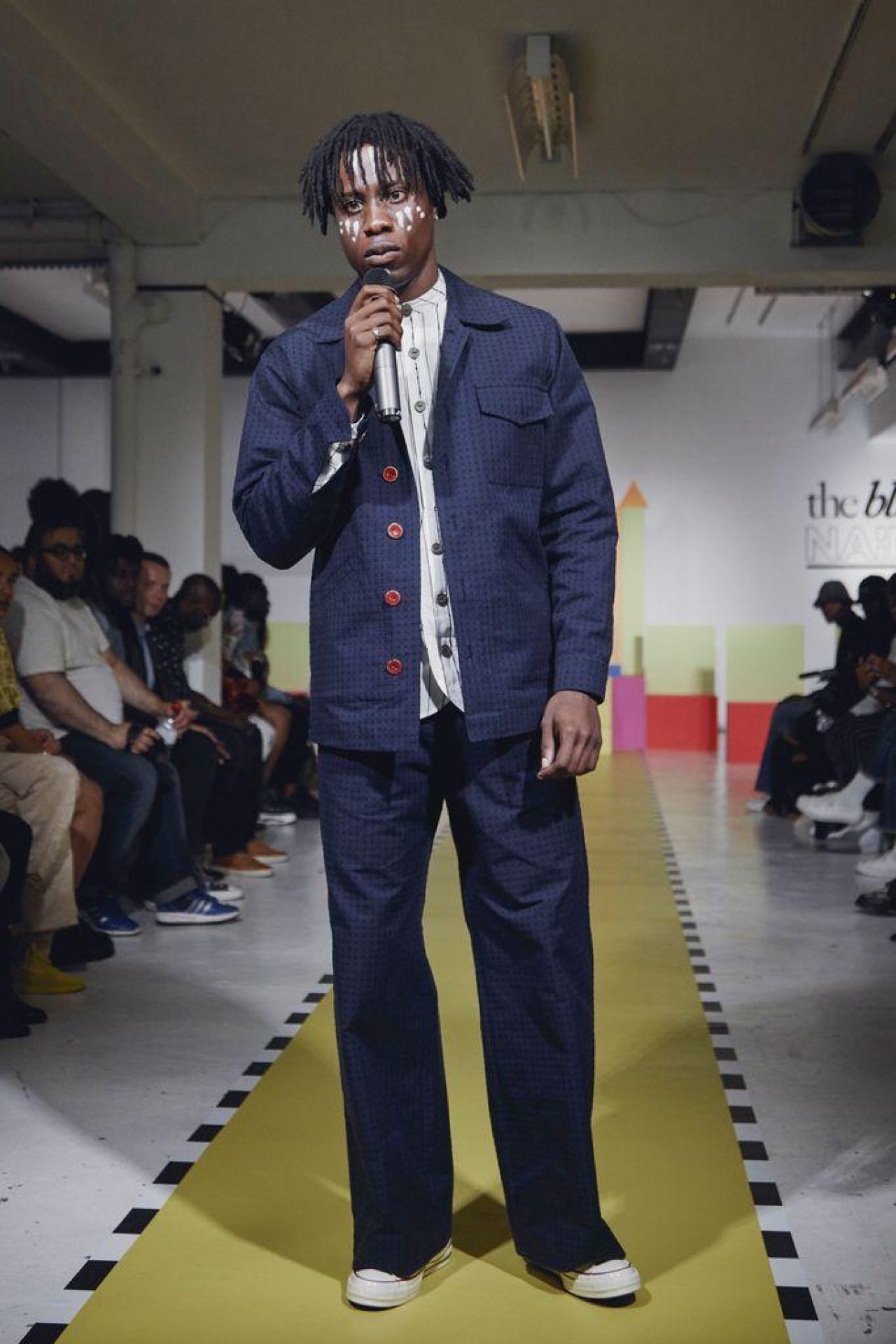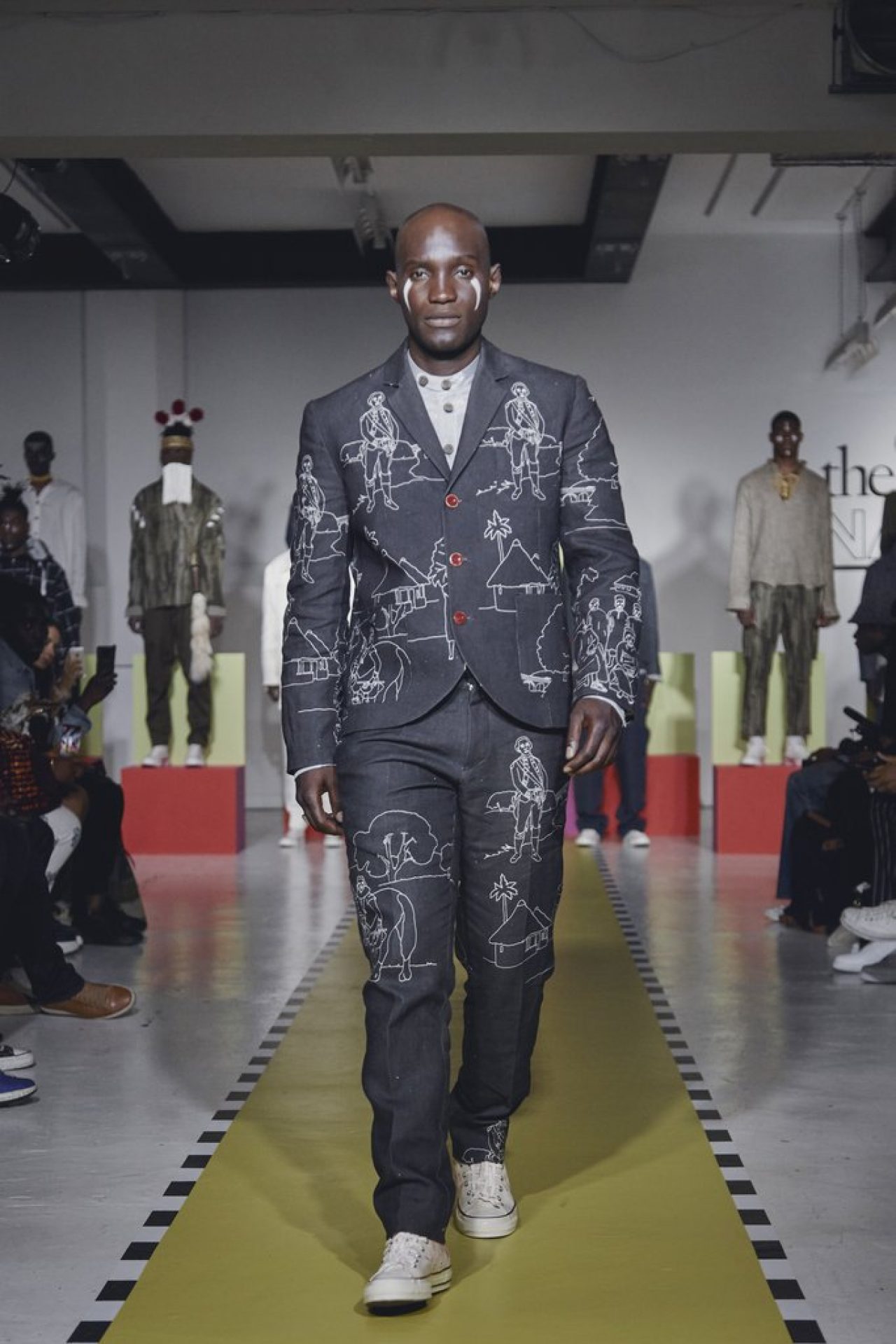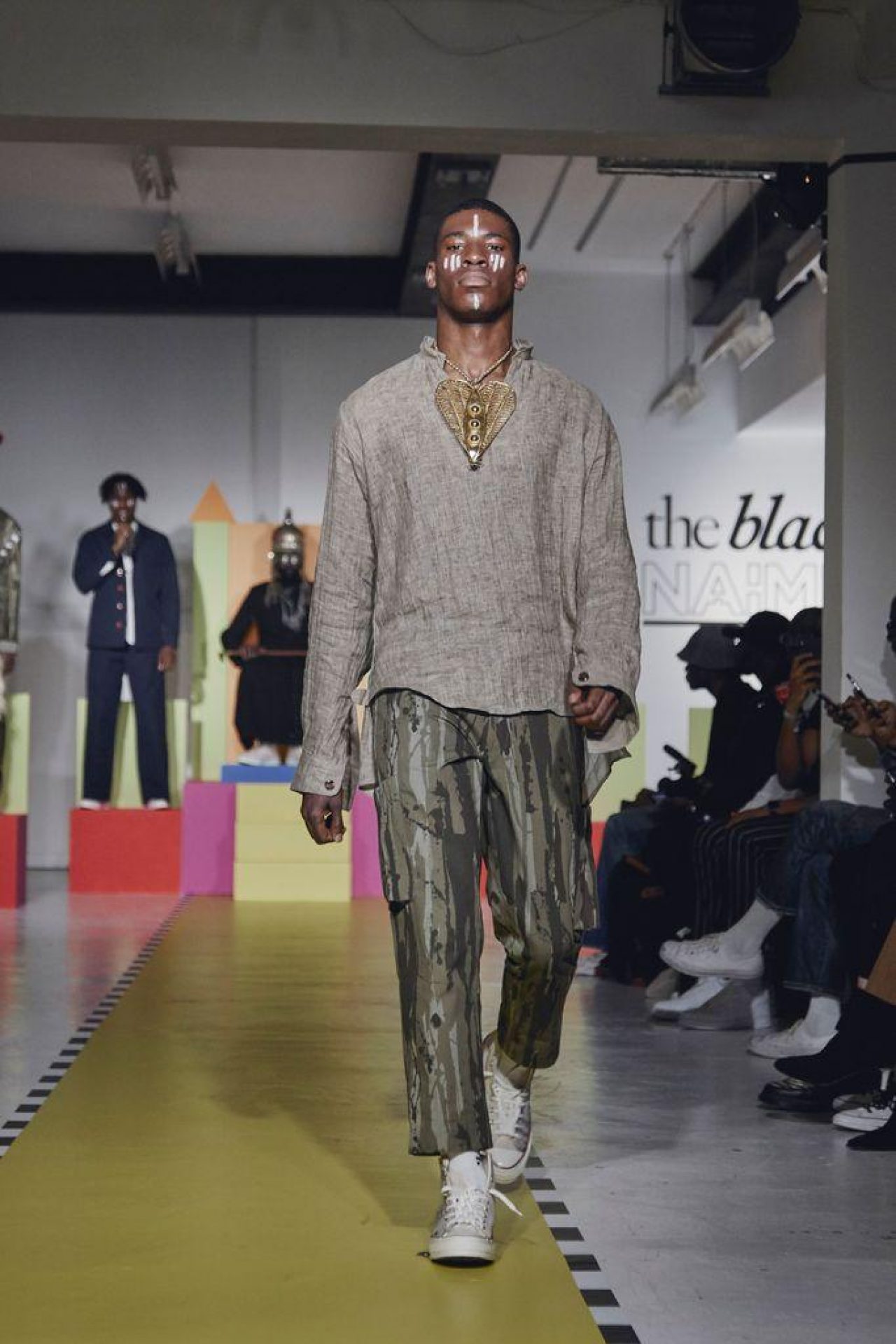 KIKO KOSTADINOV
Kiko Kostadinov brought us to Plaisterers Hall in London, situated right next to London Wall. The new location was indeed refreshing to see a show, and we sat underneath stunning glass chandeliers as a classical music playlist, by long-term collaborator Paride Calvia, accompanied the runway walk.
Citing the Netflix show 7 Days Out on the American horse race The Kentucky Derby as an influence for the designers eight collection 00082020, Kostadinov was interested in "how the jockeys prepare 12 months for a race that lasts just two minutes" telling Highsnobiety. (Side editor's note: this makes us think more about the Netflix-infuenced current collective conscience). He compared it to the fashion industry and the reference was found throughout the collection. 
This season geometric prints were plentiful, found together with contrast panelling (which we felt were a nod to the Fanning twins' signature work). Jockey silks and jerseys were found in the collection also with some in collaboration with ASICS. Striking. Yes. But will they be snapped up in stores? Maybe not. However to our delight, a new Asics FlyteFoam prototype was shown for the first time presenting the company's new technology for the upcoming season. Kostadinov didn't shy away from contrasting geometric patterns here either, but the shoes pleasantly have an incredibly strong visual identity. Tall Camper riding boots were certainly a surprise too, reflecting the theme yet again (styling by Stephen Mann). Hair by Kiyoko Odo was once again pure fire with models sporting wigs with Regency-era curls, bringing a twist to the equestrian-themed collection. We can't help but ask, was this reference another comparison to the fashion industry?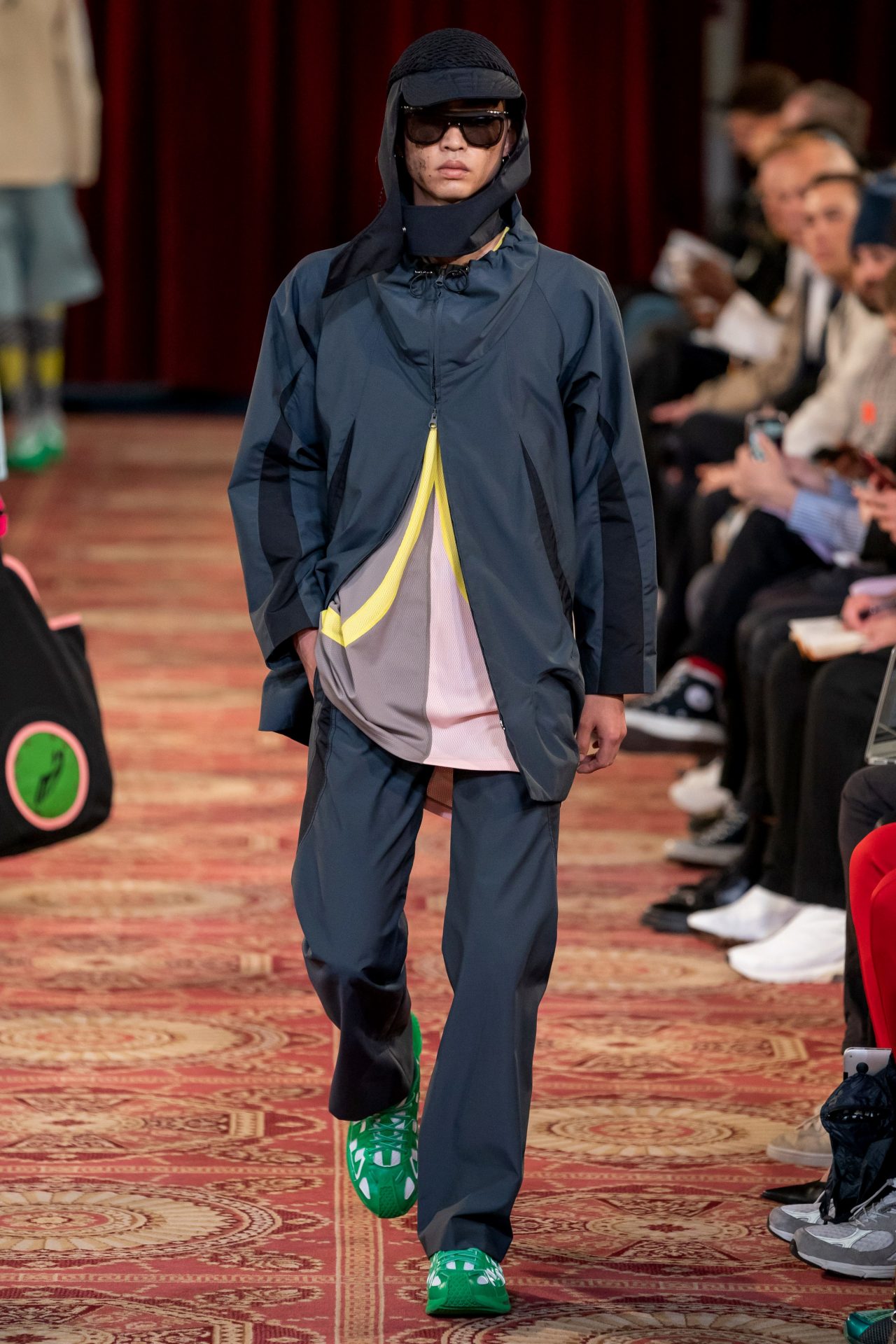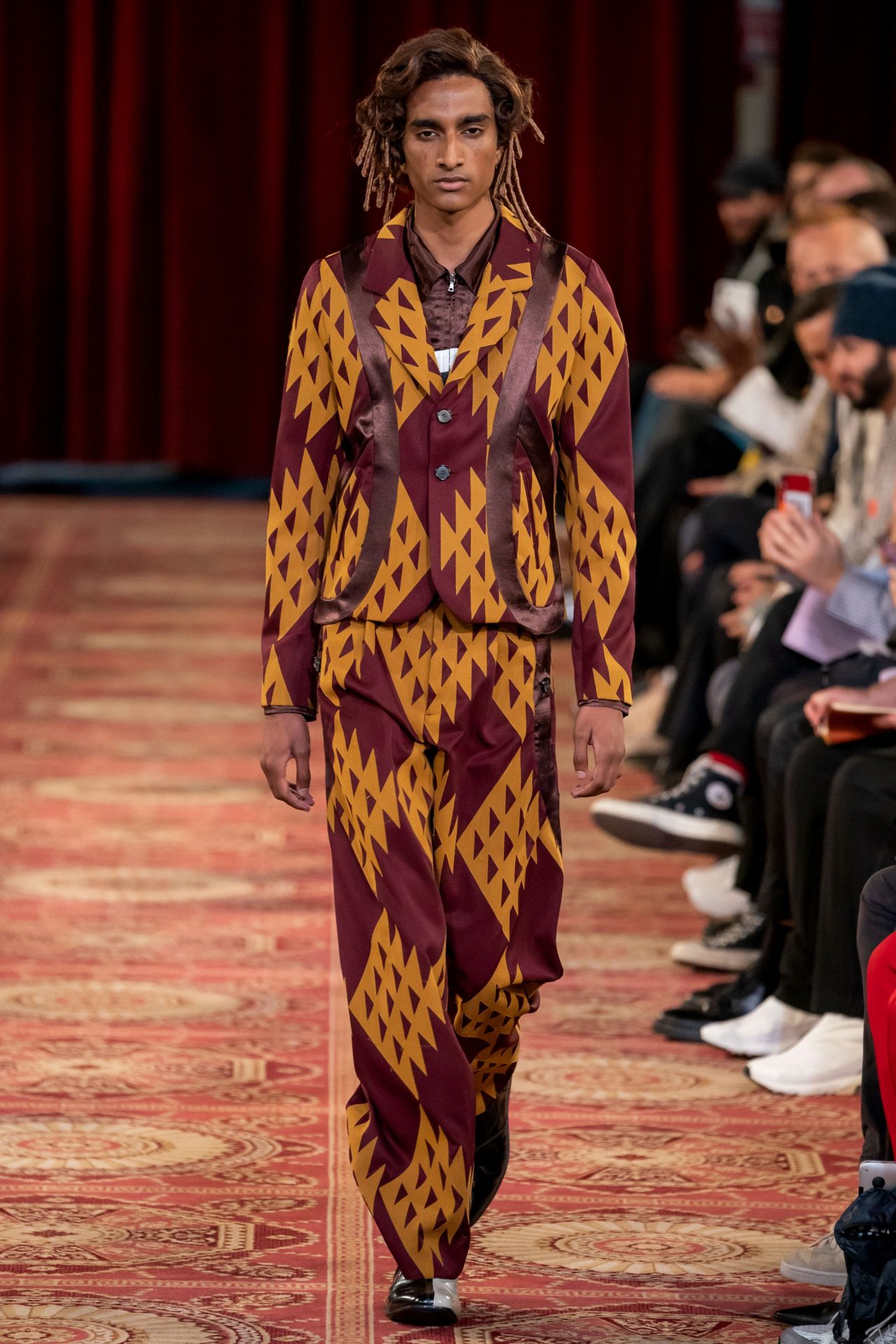 LONDON FASHION WEEK MEN'S Spring/Summer 20
June 08 – 10, 2019
Photos as credited | Written by Editor-in-Chief Monique Kawecki