Fashion in Motion: Phoebe English
London's V&A Museum Celebrates The Work Of the Innovative British Designer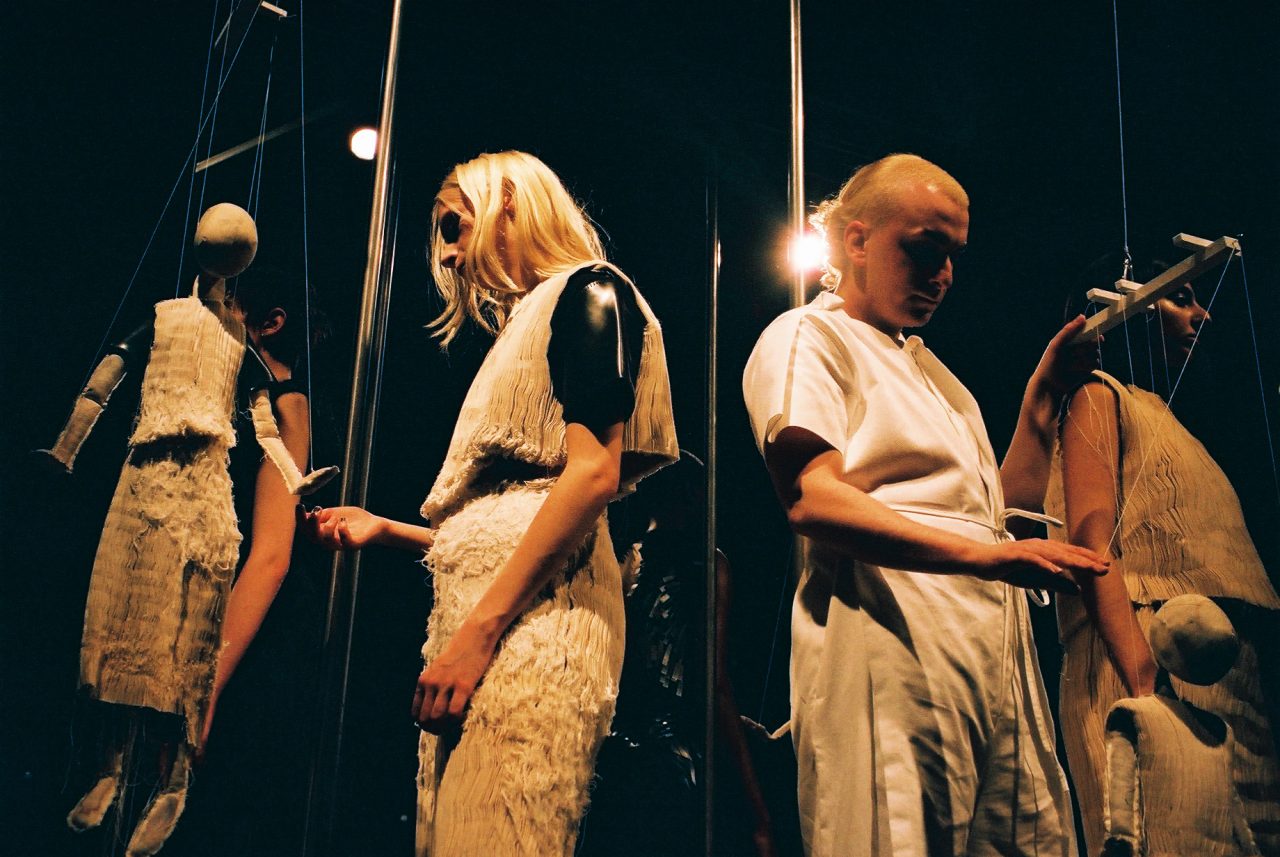 Held in October, London's V&A celebrated the work of British designer Phoebe English for their Fashion In Motion program, as a one-day installation and almost performance-like event in the museums Raphael Gallery. Showcasing the past 6 years of the luxury womenswear and menswear designers innovative and inventive approach to fashion design and craft. Phoebe is creating some of the most exciting work of this generation, known for her sculptural designs and exploration of materials, regularly referencing lost or little-used fabrication techniques with a respect for construction and trend-defying collections with a solid concept. For this mini retrospective, she presented a theatrical installation with her ever-diverse models accompanied by mini puppets, captured by photographer Takako Noel. 
To us, Phoebe is constantly reimagining the status quo of the fashion design landscape. We asked Phoebe to explain the initial concept and the theatrical aspect of the installation. Who else better to describe the atmosphere and emotions that arose than the designer herself…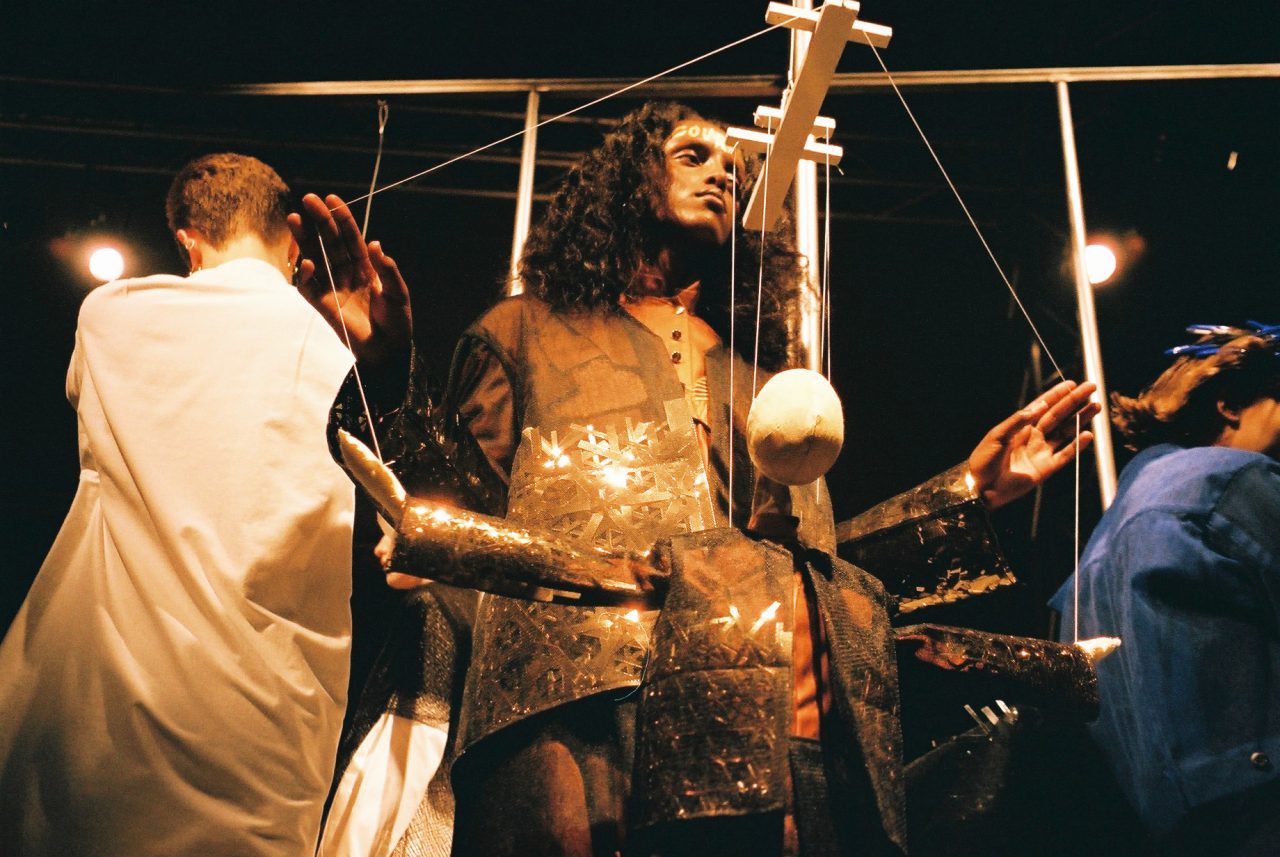 "The Raphael Gallery is a vast space and which I found quite challenging to design for due to it's size. Much of my work is detail based and consists of intricate time consuming textile techniques which I feared would get completely lost in it. In the end I decided to tackle this design issue by problem solving with doing the opposite."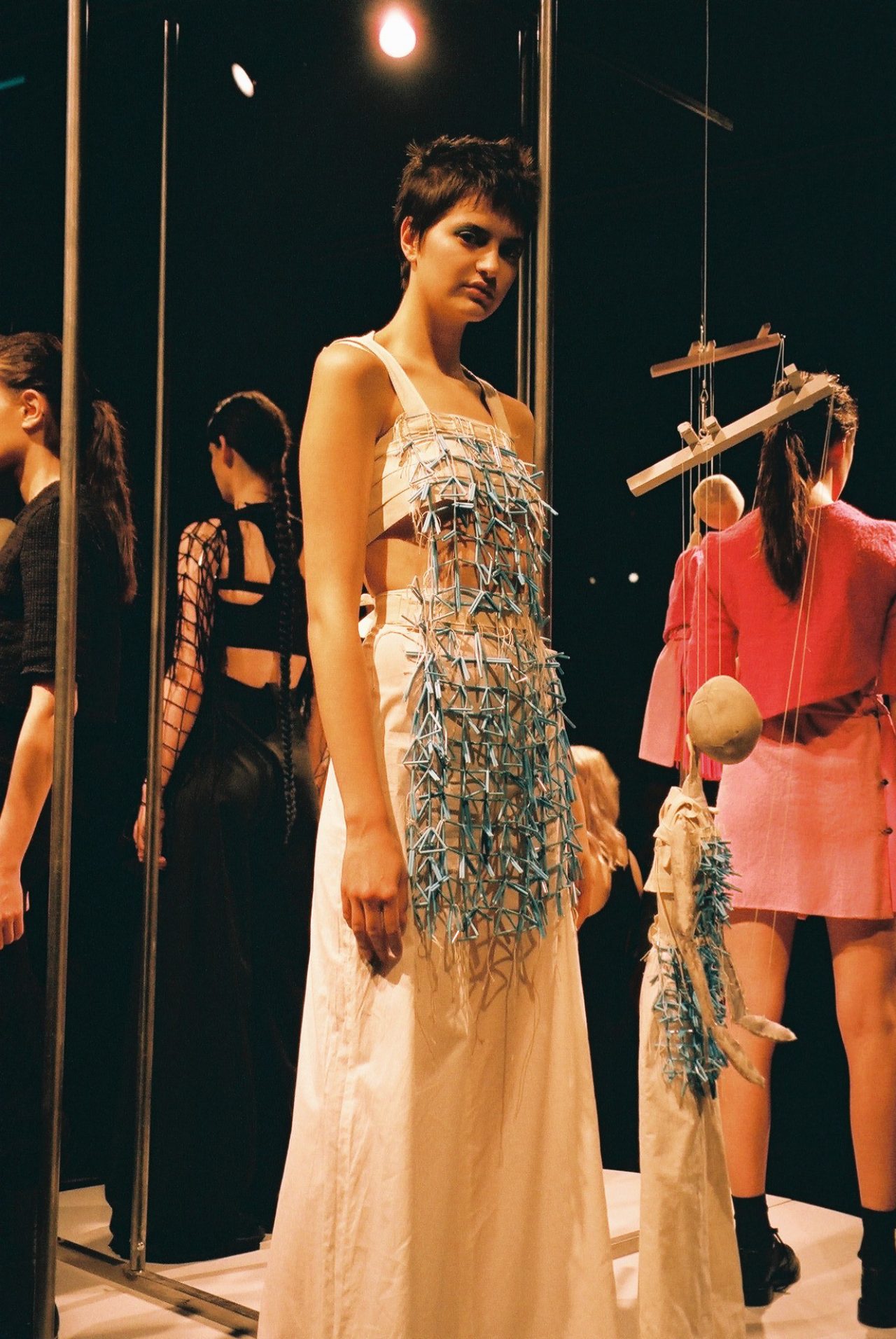 "Instead of trying to make the work look bigger and flashier in a such a large room in order to fill it, I would make it even smaller. We selected two outfits from each of my collections, there are 14 collections in total, and then we remade each outfit in miniature, 3/4 scale to be precise, to fit onto small puppets. We designed the room into smaller sections, making 7 large circular platform directly down the centre of the room and built stands on which to display the puppets. So in the end we had 28 models and 28 identical miniature puppets all on display."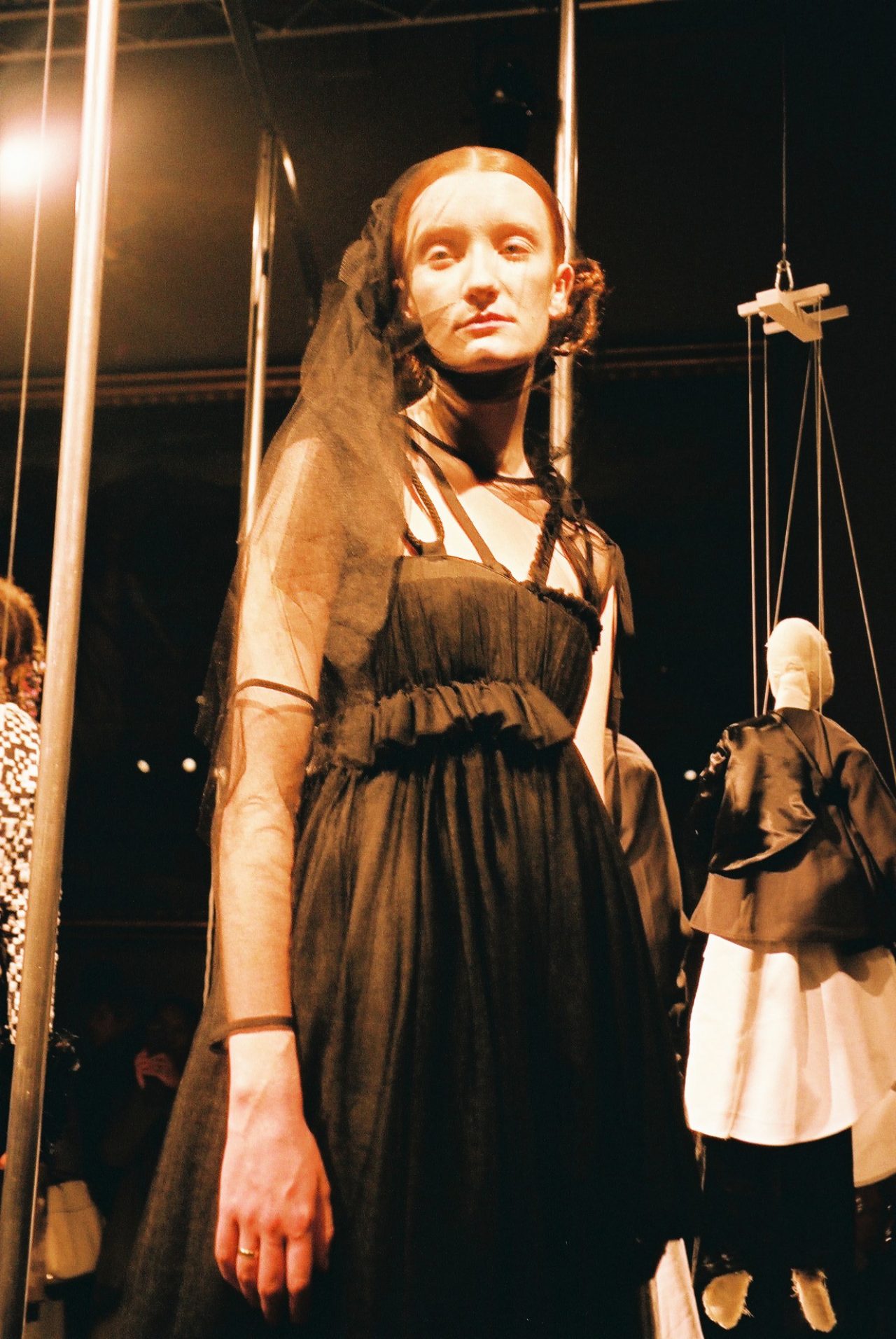 What I wanted to do more than anything was to portray visually that feeling of when you first walk though the doors of the V&A, that fizzling anticipation and excitement of what you will find behind those incredible doors all the artifacts waiting to be discovered, just how I had felt that first time I visited as 15 year old.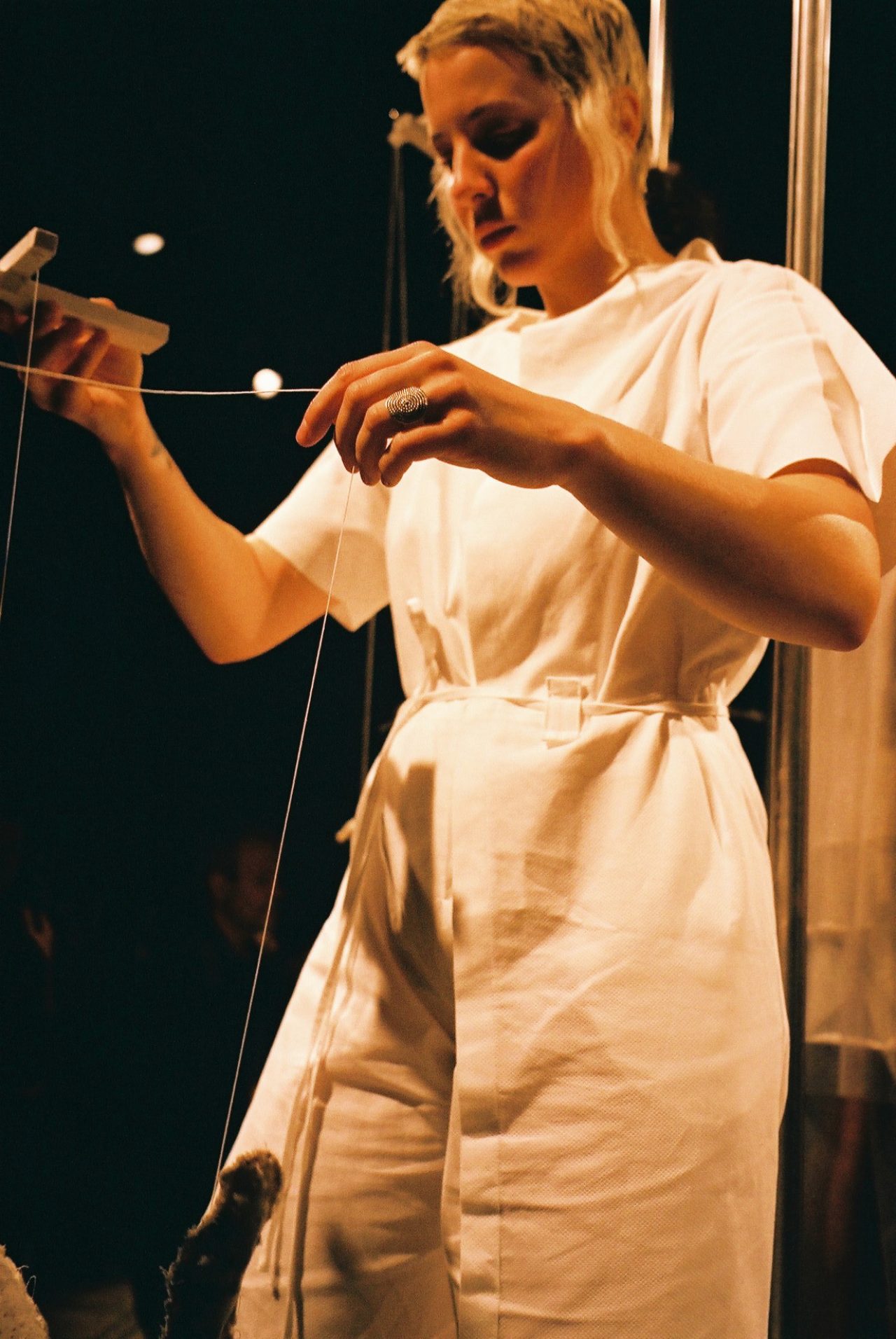 "A friend of mine mentioned that it felt like the hall of mirrors in Versailles because the puppets became a mirror image of each model. It was interesting to see how the small puppets actually had such a magnitude of presence in that big space and it was quite magical on the day, especially as the show was accompanied by a liver harp music which echoed around the ceiling. What I wanted to do more than anything was to portray visually that feeling of when you first walk though the doors of the V&A, that fizzling anticipation and excitement of what you will find behind those incredible doors all the artefacts waiting to be discovered, just how I had felt that first time I visited as 15 year old. I really wanted the show to feel magical and intriguing to the audience."