Aitor Throup
We Speak with The Designer On His First Ever Womenswear Collection, Unveiled Alongside The Menswear In His Third RAW RESEARCH Collection
Presented during Paris Fashion Week Men's in June, Aitor Throup unveiled his first ever womenswear collection alongside the mens in his third G-Star Raw Research presentation. The collection came as an anticipated debut for the 37-year-old designer who has been guided by his inherent interest in the human anatomy from an early age, Throup has an instilled practical approach to his instinctive design work.
A master of designing to aid the human body's movement, Throup perfects his approach constantly to create innovative design solutions, now, for both men and women. He explains, "We are coming out of an age when technical and functional design is considered inherently masculine. We believe that our obsession with product design principles such as ergonomics and concinnity is as relevant for women as it is for men", Throup explains.
Designers often prioritise aesthetic appeal and compromise function, with garment design separated into 'either/or' categories; Throup's approach is the opposite. When designing the English football team 'Away' and 'Home' kits with Umbro earlier in his career, his work emphasised an obsession for precision, with practical performance a priority. Precisely studying the body's movement to create garments with a design which worked together with the body, not against it, highlighted again Throup's commitment to his design approach. The Umbro garments were indeed specifically engineered for football performance and curated for lifestyle, there was no compromise.
Now, as Executive Creative Director for the renowned denim brand G-Star RAW, Throup has introduced his innovative design philosophy to the Amsterdam-based company. When speaking to Vogue, Throup went further to explain his anatomical work as not just physical, but psychological also. "It's extremely interesting to me that the idea of an anatomical approach to product design is a true connecting factor between my own approach as a designer and G-Star's approach as a brand. I really believe that this sense of respect and focus on the human body, and a three-dimensional approach to design – particularly in denim innovation – is what has defined G-Star since the beginning and it is indeed that essence that attracted me to the brand in the first place. It doesn't only mean anatomy in a physical sense where we are constructing things anatomically and ergonomically (for and around the human body), but also that we're doing so in a way that strives to create products that are inherently human, that almost have a soul. That is my ongoing obsession, to create pieces that we have a connection with, because as human beings we sense that these pieces, like us, are anatomical beings. They have been constructed anatomically from the inside out, they have complexities, they have systems, they have layers and they aren't just surface designs from the outside in – they are intricately constructed objects".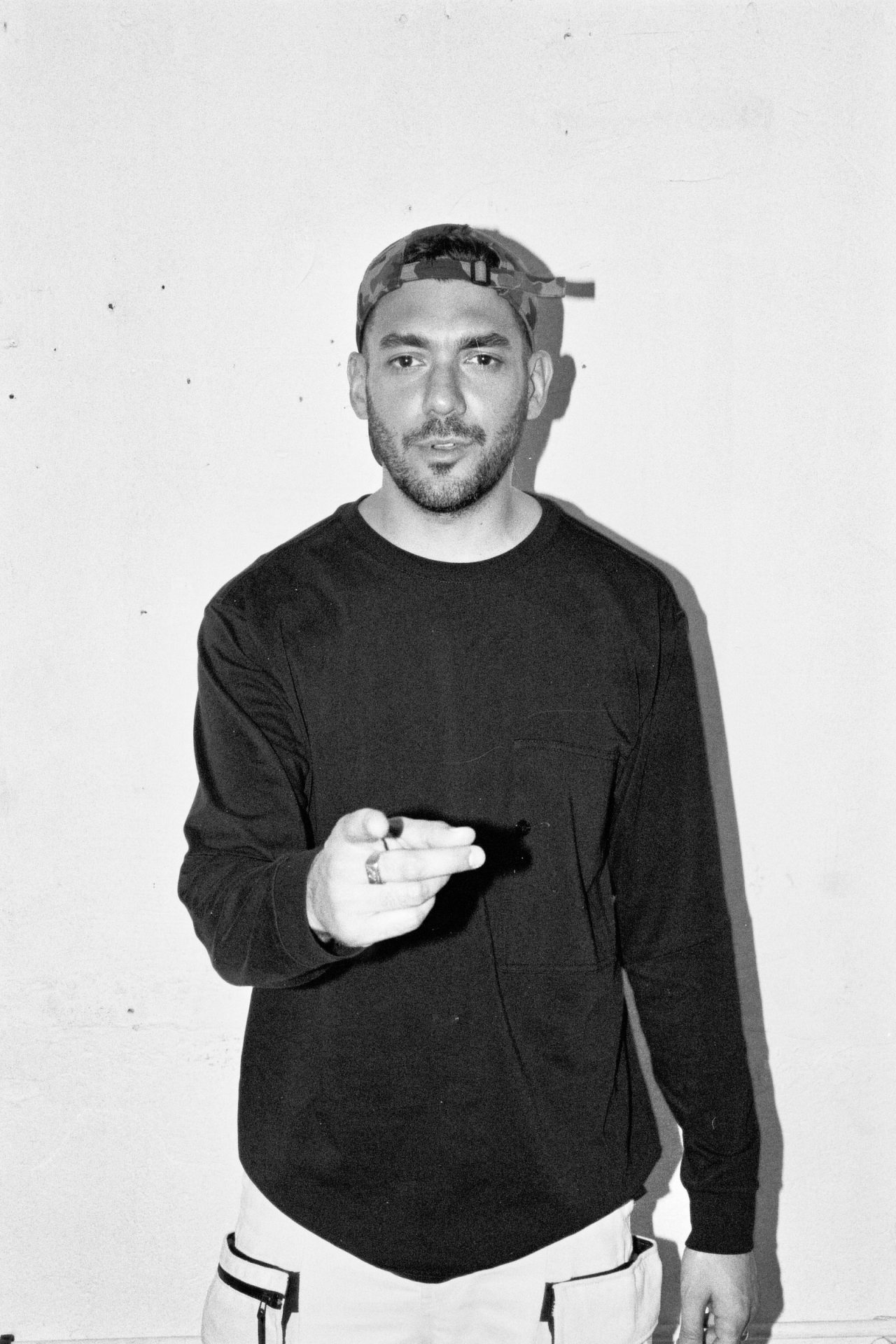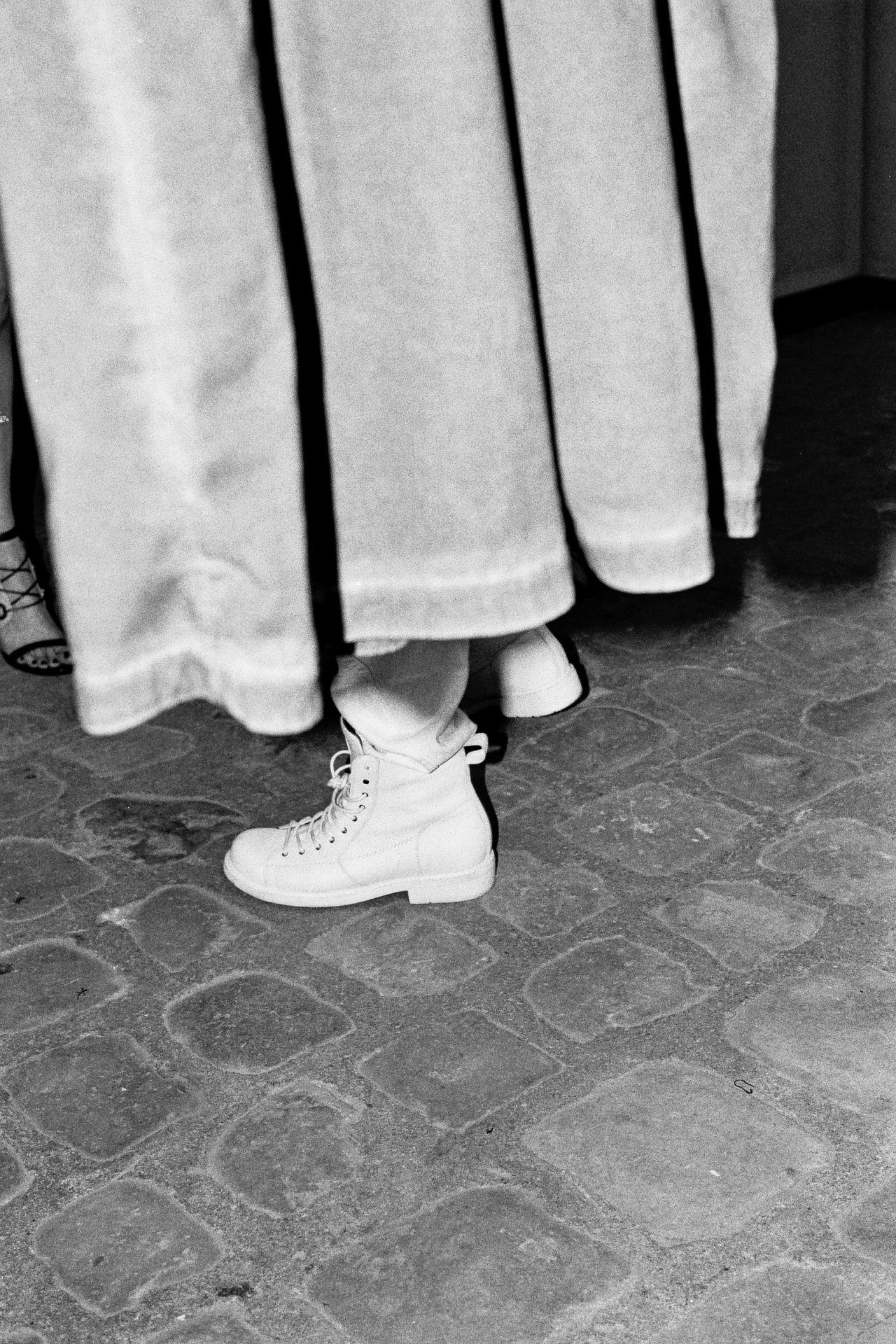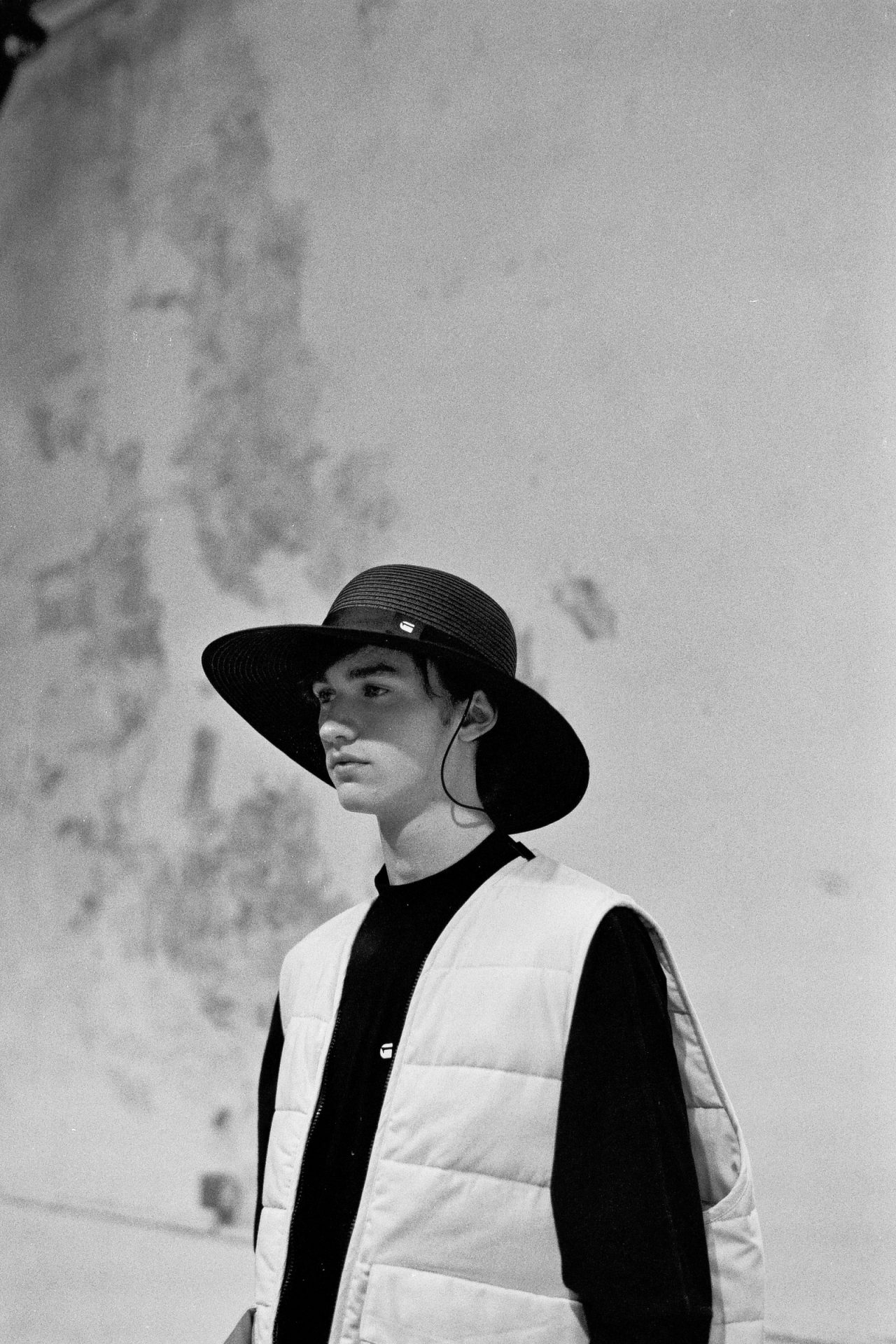 Now working with denim in its various states (raw, bleached, dyed), Throup's work at G-Star RAW has ensured that the fabric has been challenged to its extremes. Initial explorations happen in the Raw Research innovation lab based in the G-Star RAW HQ, where Throup works with the design team to create prototypes that serve as blueprints for the main G-Star RAW collections, under the title of the Raw Research collection. Throup and his team deconstruct denim and explore its capabilities, pushing the boundaries of previous designs and possibilities.
For the Raw Research III collection, the innovation lab analysed the core elements of denim – the raw fabric and the indigo dye. With half of the collection in un-dyed, untreated and unwashed raw denim, and the other half hand-dyed in indigo, the meaning of RAW was redefined in the clearest literal sense. Also launched in the collection was the Spiraq jean, created through a new 3D pattern-cutting technique with a single continuous fabric piece spiralling around the leg.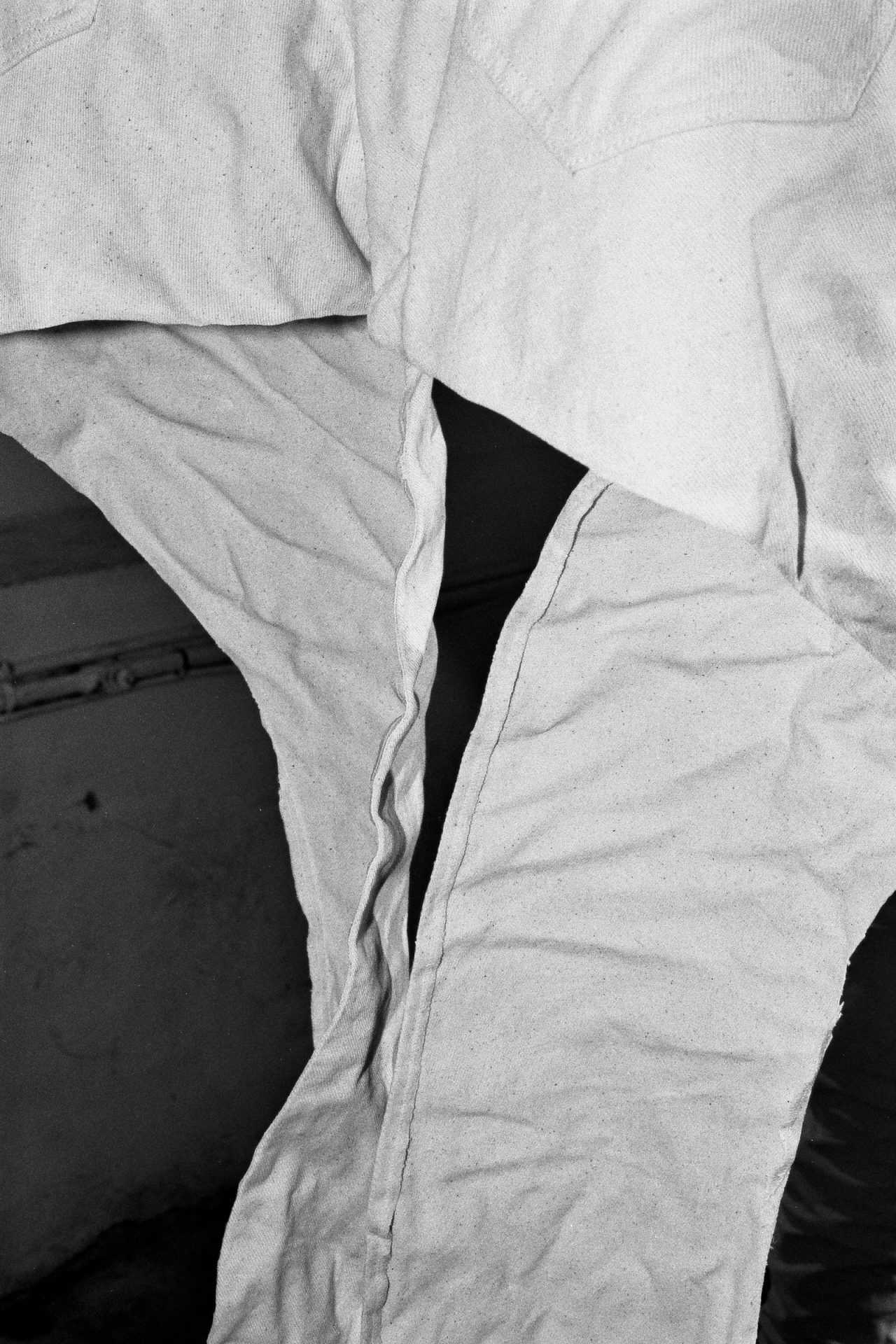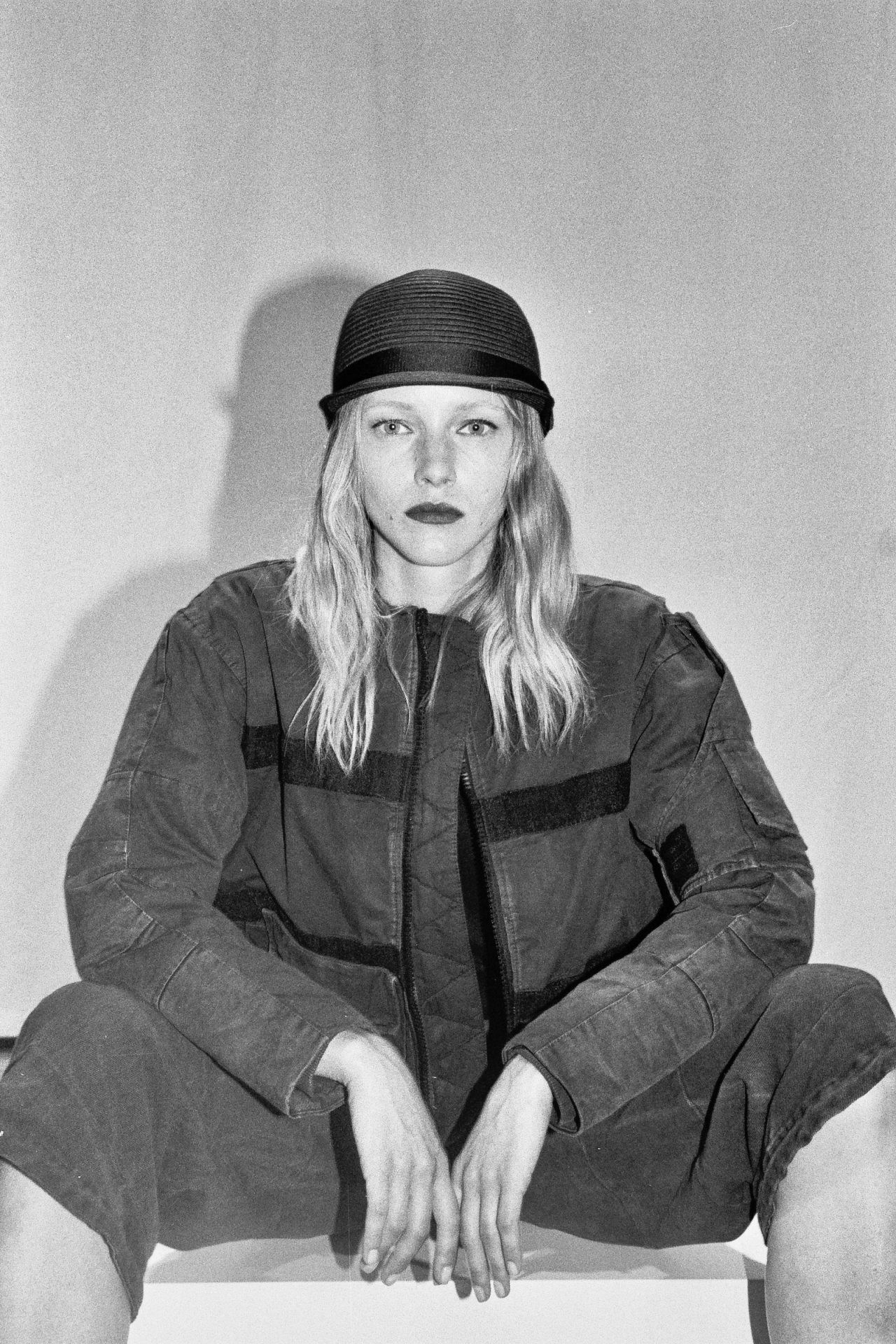 Raw Research III was presented in the Garage Lübeck space in the 16th arrondissement in Paris with Woodgrain Vicious, the music collective from London, creating the soundscape for the presentation. With three different experimental instrumentals covering three different rooms whilst still working in time with one another to engulf the garage space, the collective's exploration in sound matched the collection and raw setting. Under the guidance of Throup, Woodgrain Vicious' recorded industrial sounds were sampled from factory machinery juxtaposed with electronic instrumentals, which were contrasting yet complimentary when combined.
For another 'first' in the presentation, Throup used models to present the looks, with their sculpture-like presence showcasing his artistic aspirations but not the practicality of his designs.
Throup's signature approach is still a rarity in garment design, a continuing endeavour solidified by the demand for his works.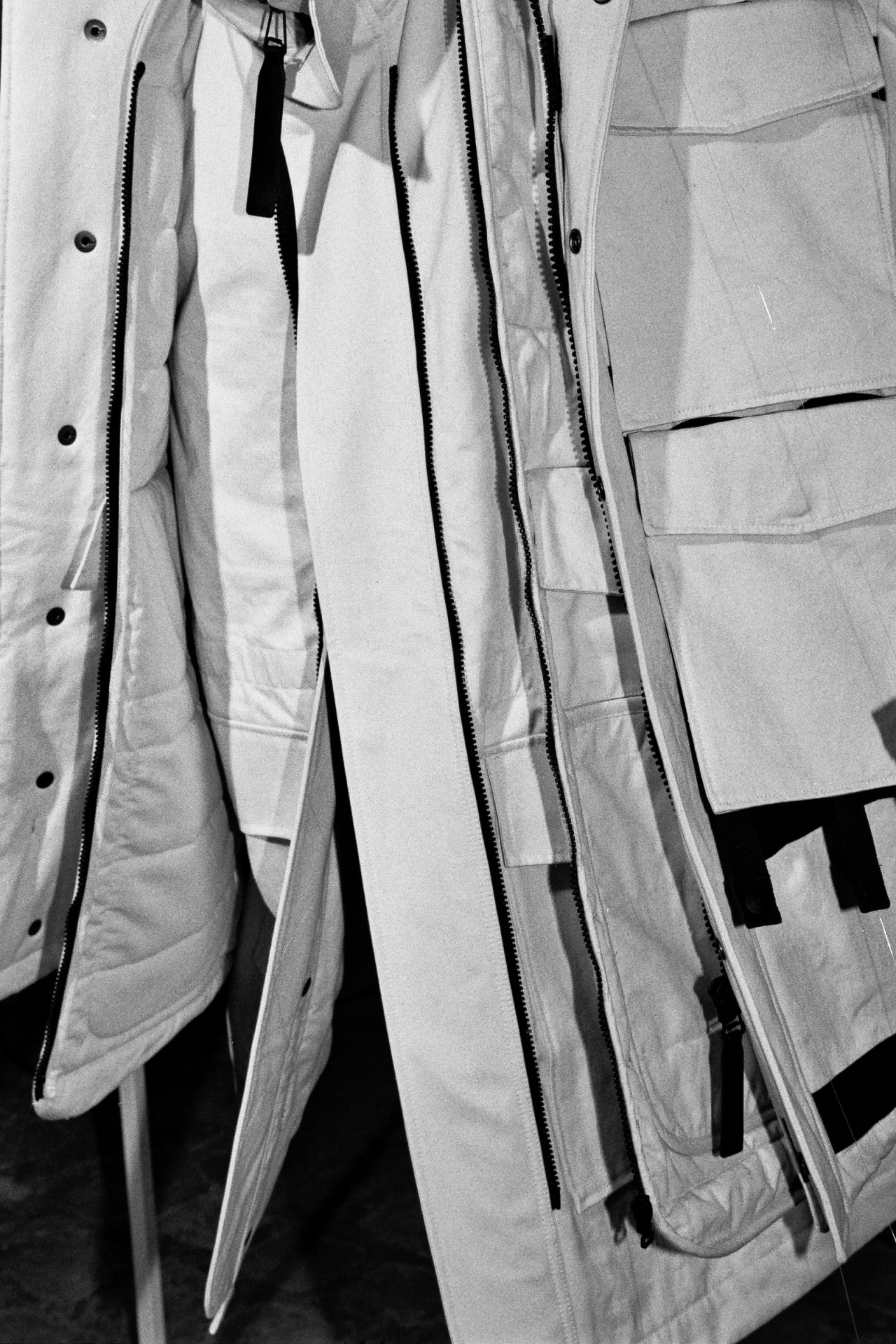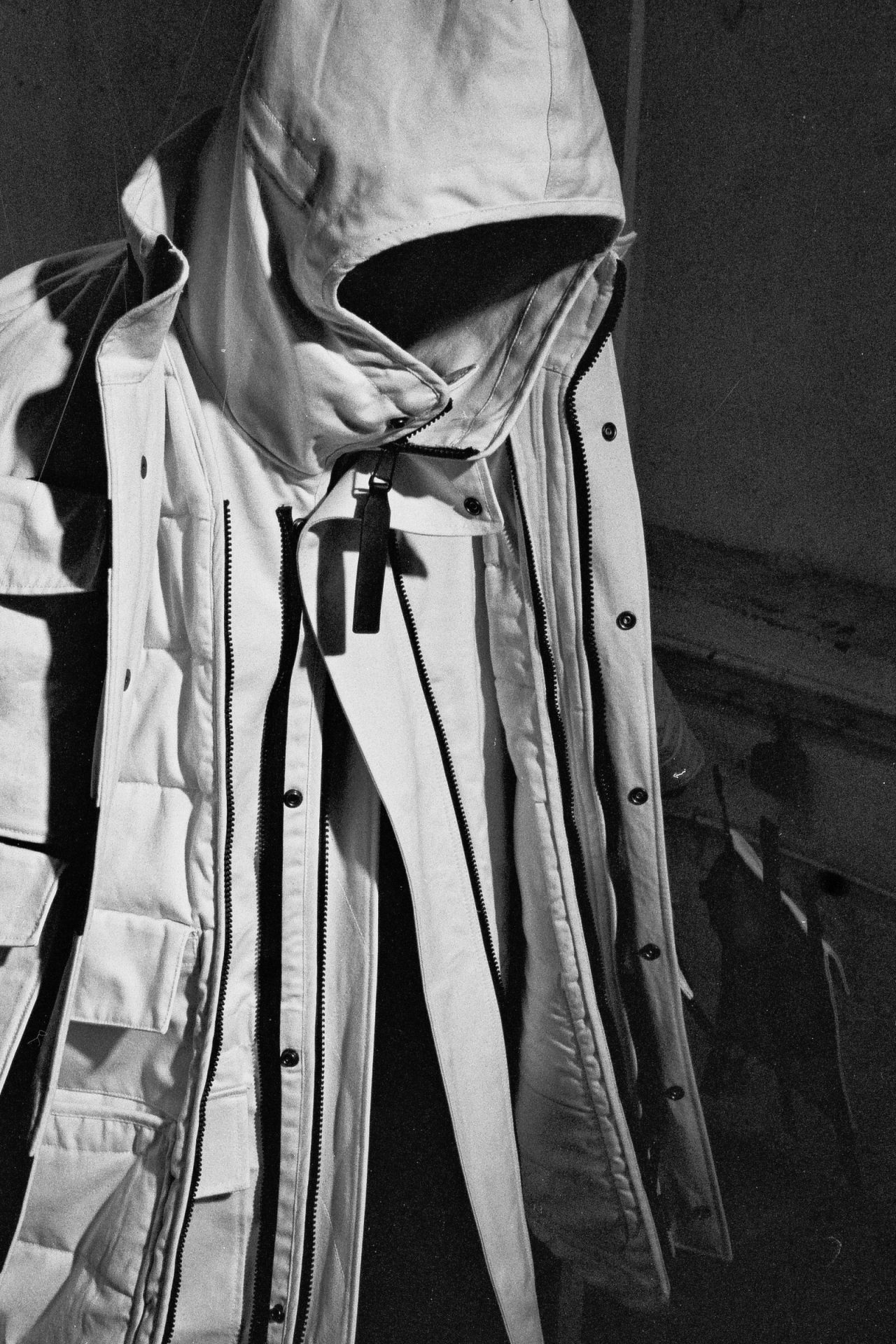 Raw Research II is available now in select concept stores worldwide.
Raw Research III will be available from early December 2017.