The Curated Guide to Milan Design Week 2023
Our Top 15 Highlights from Salone Del Mobile
It was a brilliant return to form for Salone del Mobile – Milan Design Week – in its 61st edition where the city of Milan comes alive through the celebration of design.
After all, it is about the design community conversing and connecting. Seeing friends and associates are all part of the busy week; designers, distributors, gallerists, directors, editors and observers from around the world all come to participate in this pivotal week for design, where ideas are strategically launched to set the tone in the forthcoming year for the industry.
Our Champ editors and correspondents have been making the design week pilgrimage for over 8 years now to Salone del Mobile – albeit during the pandemic – and this year we were delighted to see that the vibrant energy was back in full force. The people, the projects, and the places – there is something for everyone in the design industry to discover and learn. Business is still at the core of it all, where design brands allocate big budgets for displays, and smaller brands get witty with their wares. There's pavilions filled with activations in Rho Fiera, but we always prefer to curate our explorations of the Fuori Salone (meaning 'Outside Salone') exhibitions around the city; from the independent presentations to Alcova, DropCity, Rossana Orlandi, Dopo?, Nilufar Depot and Capsule.
With so many designs, how to choose the most innovative? Together with our Editor-in-Chief Monique Kawecki, the Champ team picks the Top 15 projects which showcase either craft technique, originality, innovation or circularity.
Objects of Common Interest 'Poikilos'
Curated by Studio Vedèt, the launch of Poikilos by Greek duo Objects of Common Interest is a sight to see.
Exhibited at Nilufar Depot, the large open space makes way for all the designs in the collection, framed by space and light. Iridescent shapes and forms made of resin have been handed down by a master of the craft – in secret – to Eleni and Leonidas of Objects of Common Interest.
The story of this collection's conception is rare and its production even mores unique. Many years ago in New York when Eleni was working in the art world, she met Ovidiu Colea, a Romanian man who was the master of a workshop on Long Island entirely dedicated to producing and experimenting with resin. Ovidiu and his wife Adriana would create one-off pieces for artists and commissions, developing and elevating possibilities with resin, creating new and secret recipes.
In 2019 Ovidiu was ready to retire and when Eleni and Leonidas of Objects of Common Interest gracefully accepted to continue producing his innovation, with his miraculous machinery and recipes. They transported everything to their base in Athens, and all of Ovidiu's knowledge was reactivated through the lens of Eleni and Leonidas.
Most importantly, this secret recipe and way of working with resin means it can be re-recycled. The resin material can be melted over and over again, resulting in a circular cycle with no-waste.
Daisuke Yamamoto 'FLOW' collection
As an architect and designer, Daisuke Yamamoto saw firsthand the continuous single-use of materials in building construction. LGS (Lightweight Gauge Steel), was one of those, a practical material which often was used and discarded just as quickly.
Looking at solutions to not only fix this problem but highlight the ongoing issue of material waste in the building industry, he developed the FLOW collection entirely made of repurposed LGS steel. With a light coating of zinc, LGS does not rust, and can be re-recycled endless amounts of time. However, it is still the most used and discarded material in the building industry.
The FLOW collection by Yamamoto sees a series of chairs, stool and table, all unique in their design, made from LGS steel. The designs are able to be reconfigured and reconstructed to a different design at any time, highlighting the re-use of the material, creating a sustainable, circular flow.
Now, Yamamoto has also been tapped by the LGS manufacturer in Japan to design sustainable emergency housing for those affected by earthquakes in the country, utilising his ideas for circular design for temporary shelter design that can be constructed and de-constructed multiple times as needed. As both an architect and designer, Yamamoto's circular design thinking is exactly what we love to see at Milan Design Week. Presenting at Dropcity, it is his first time exhibiting in Milan.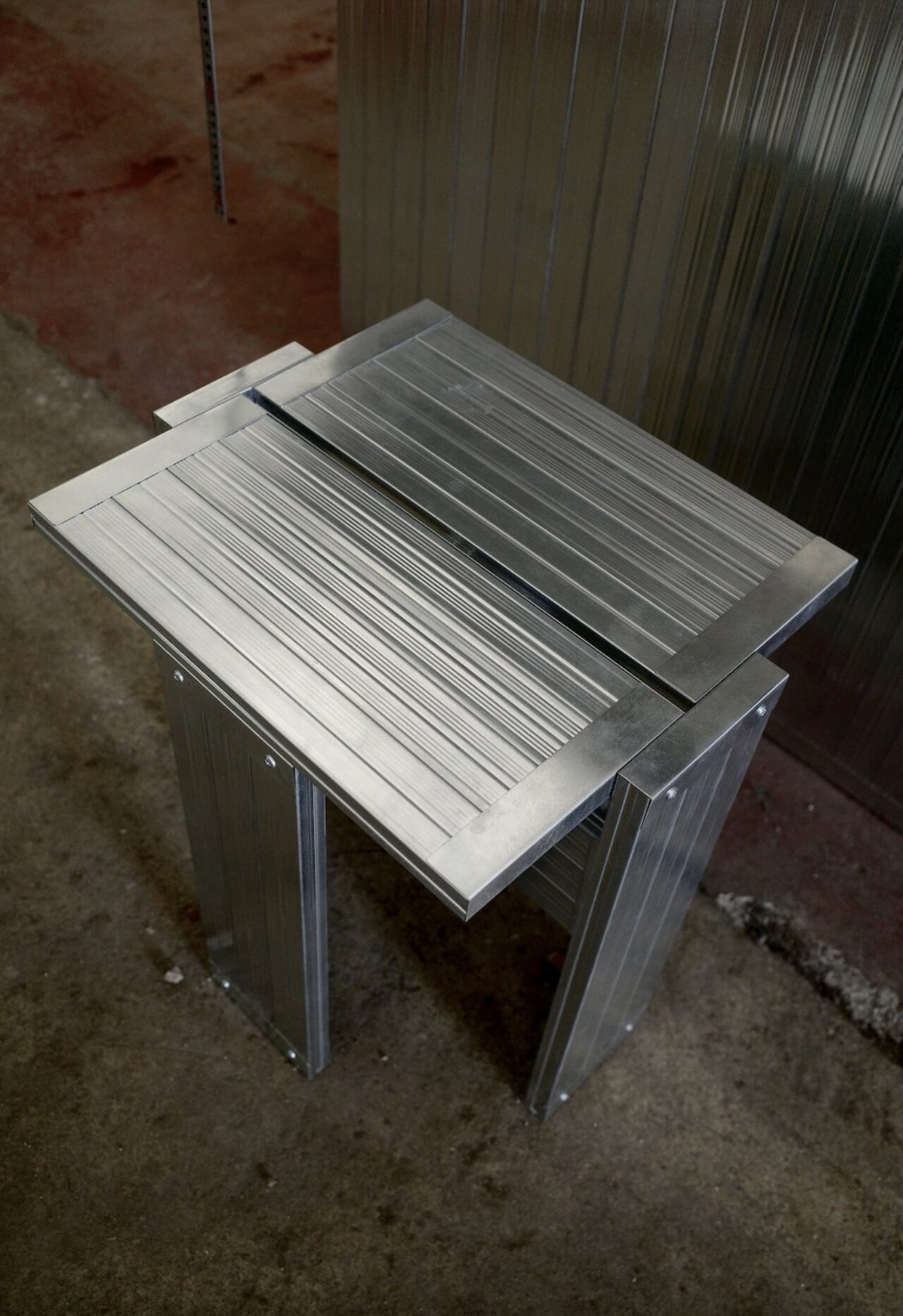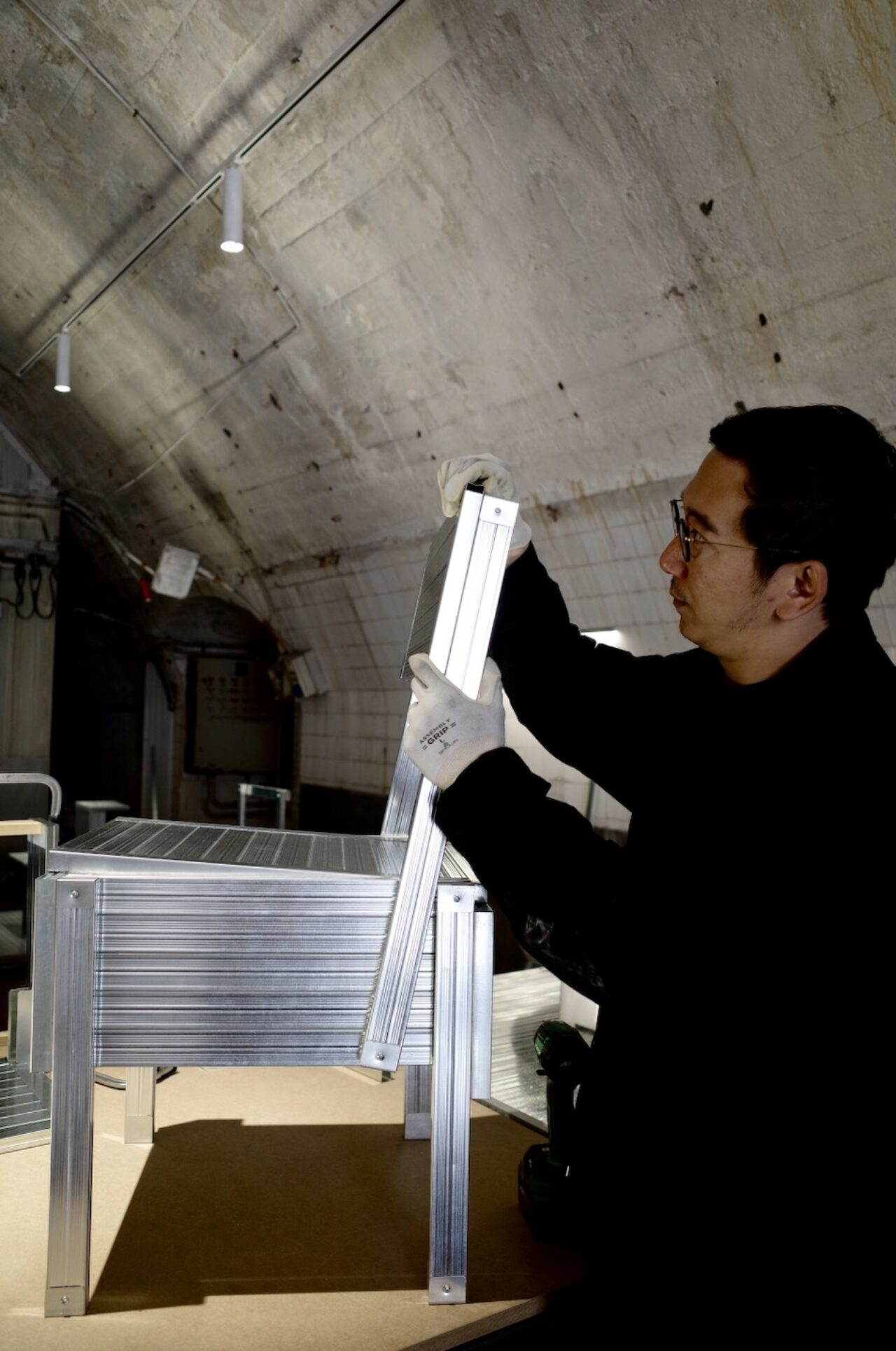 Alexander Lotersztain 'Tsukiko' light
Craftsmanship and innovative design is what we are always seeking to find at Milan Design Week.
For the Tsukiko light, Australian-based Argentinian designer Alexander Lotersztain collaborated with Kyoto-based lantern makers Kojima Shōten. The collaboration was curated and facilitated by our very own in-house studio, Champ Creative.
For years, Alexander has worked with craftspeople in Africa and Australia on special design projects, this time looking to Japan. Uniquely, Kojima Shōten is a 10th generation studio making handmade lanterns with the jibari-shiki method, which involves using thicker bamboo strips for the frame and paper for the lantern. Tsukiko is a testament to Shun Kojima & Ryo Kojima for their exceptional skill and artistry, reflecting the company's commitment to preserving the traditional craft for future generations.
Combing the ancient and modern, the Tsukiko light is a new, timeless design to suit modern needs. Launched at Spazio Rossana Orlandi, the radiant light is also modular – much like Alexander's designs for his company Derlot – as the base of the light can be changed from wood to metal. As a homage to the lamp's soft and warm glow and a comparison to the gentle light of the moon, the name Tsukiko directly translates to 'moon child'.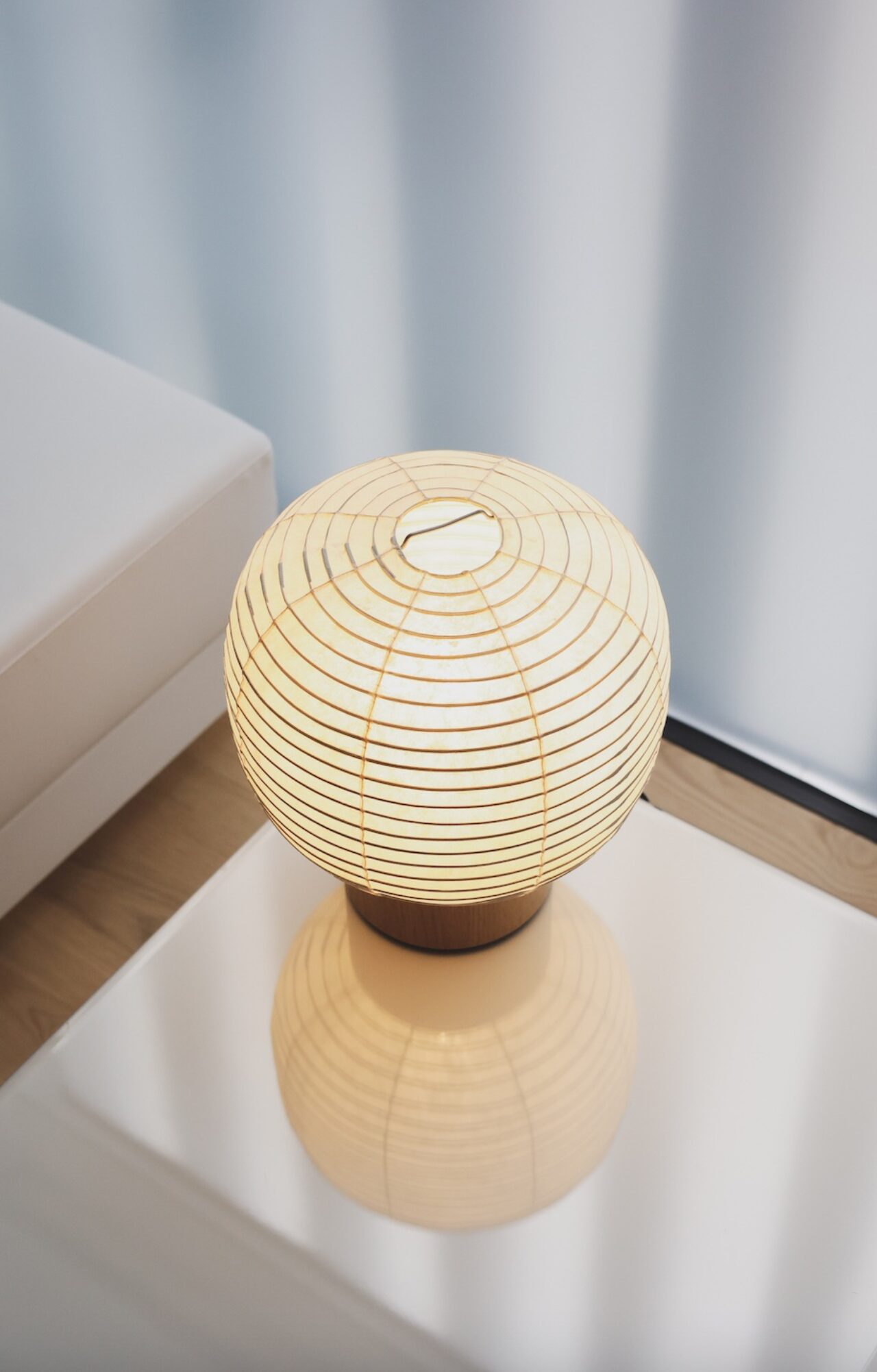 Rio Kobayashi 'Shima Uma' for Dolce & Gabbana Casa
Craftsmanship is at the forefront of London-based Japanese-Austrian designer Rio Kobayashi latest design, Shima Uma. Working with an Italian master of arts and crafts, Giordano Vigano, this haute crafted cabinetry project has been immaculately produced and cleverly designed.
Vigano is well experienced working on one-of-a-kind pieces, but for the Shima Uma dresser, Rio pushed the craftsman to further heights. Combining two different timbers (maple and tinted oak), and crafting intricate pieces such as handles and gold-plated detailing, Shima Uma is a design that would be impossible to replicate. A one-of-a-kind indeed.
The dresser reflects Rio's own memories of youth and passion, growing up in Japan amongst rebellious teenage tribes. He has multiple references in the design, reflecting his culture and heritage, with Shima Uma also aiming to reflect the culture of all the multiple designers and craftspeople paired together for the Dolce & Gabbana Casa project for this year.  Each work was incredible, with Rio's a particular standout.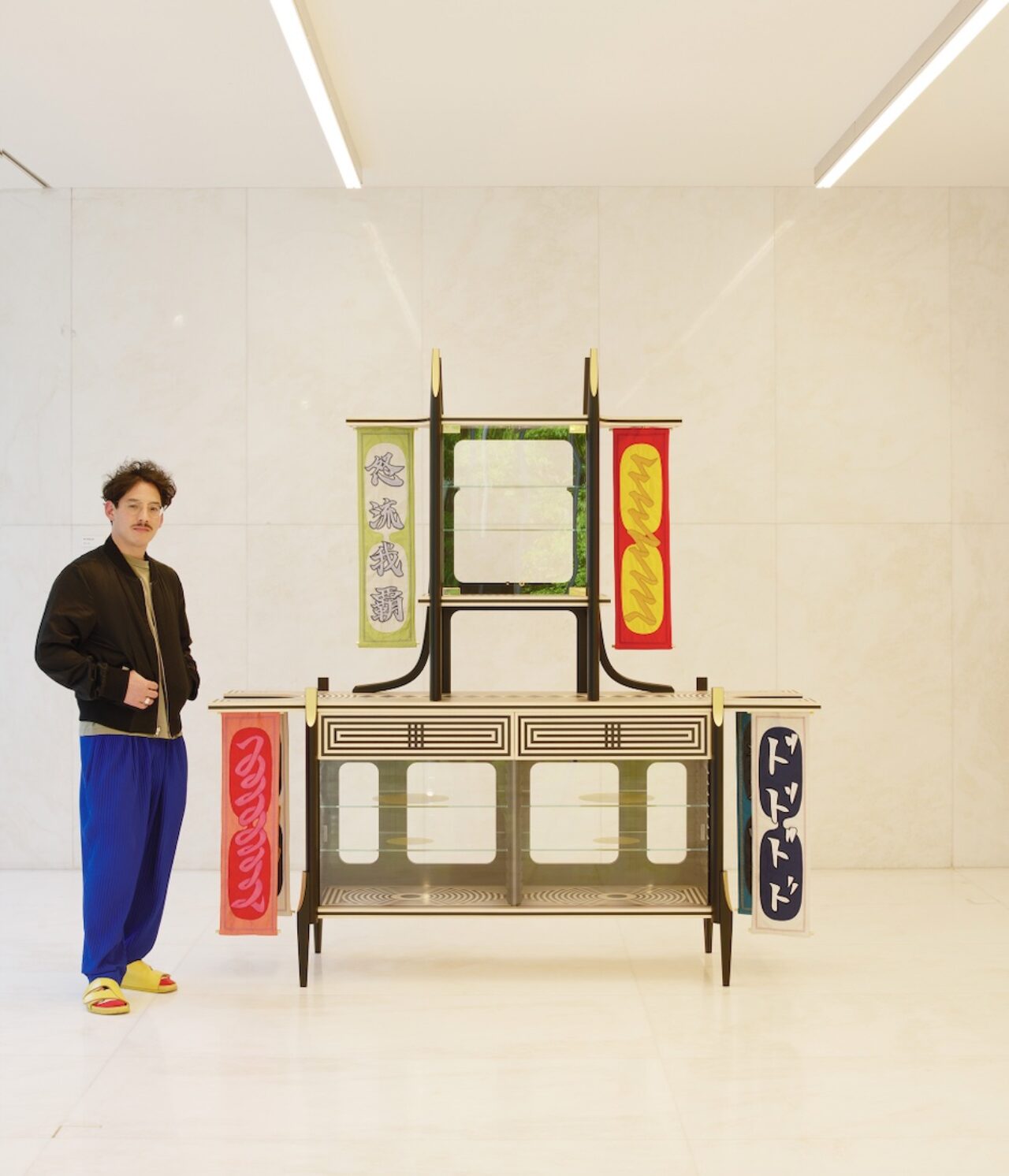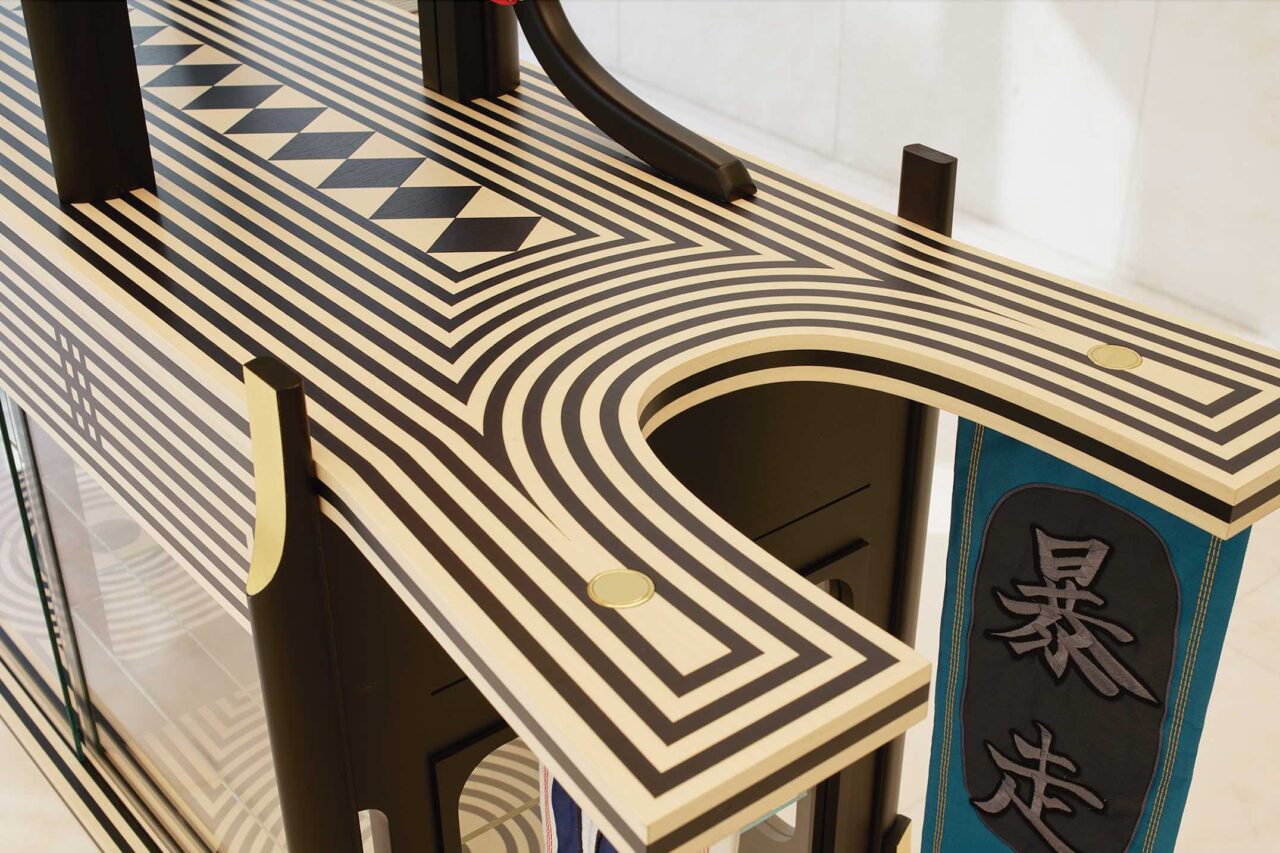 A-POC ABLE ISSEY MIYAKE 'Thinking Design, Making Design: Type-V Nature Architects Project'
Launched in 2021 by Japanese brand Issey Miyake and led by designer Yoshiyuki Miyamae, Issey Miyake's A-POC ABLE line (an acronym for A Piece of Cloth) is the experimental, innovative line of the iconic and imcomparable brand.
Miyamae joined Miyake Design Studio in 2011 and has since been a lead designer in the company. For this Milan Design Week, the brand launches yet another innovative project with Nature Architects.
Looking at at design's role in structure, materiality, and production and how they constitute an all-in-one manufacturing process—revealing the possibilities of the brand's developing technology. By integrating Nature Architects' latest design solutions with A-POC ABLE ISSEY MIYAKE's design and manufacturing system, this project explores in a series of prototypes the potential as well as possible innovations of a piece of cloth.
Nature Architects, Inc. is a design company that develops original, function-oriented design algorithms called DFM*1 (Direct Functional ModelingTM) based on metamaterials*2. This project adapts the framework derived from Nature Architects' DFM—its unprecedented approach to product design—for A-POC ABLE ISSEY MIYAKE's original technology "Steam Stretch" to further streamline the design process. Compared with the conventional way of clothes-making, where a garment is made by cutting out separate parts that constitute the garment and sewing them together, the integration of metamaterials into the A-POC system allows for a variety of more complex pleating techniques that cannot be realized before. One of the prototypes developed from this project is an item of jacket that requires minimal sewing to finish—transforming from a flat fabric into a three-dimensional form in high-temperature steam.
What we really loved about the exhibition was the display of prototypes and ideas, all made from one piece of fabric. A jacket, a dress, concepts for furniture, lighting and architecture. Their design ideas are limitless!
Stone Archive by Studio davidpompa 
Walking through Alcova's vast new industrial site, it's always a wonderful exploration of both existing architecture (this time, a former abattoir) and a multitude of designers exhibiting new works. It's a whirlwind of projects, but some of the them are able to stand out.
All the way from Mexico, Studio davidpompa was one of those studios. Completing re-designing their space in a deep earthy red, the backdrop highlighted their display of volcanic stones used in their designs. The space, titled Stone Archive, presented their Ambra Toba lighting collection comprised of ancient stones and aluminium.
Stone Archive by Studio davidpompa highlights the beautiful materials of volcanic origin found specifically in their home country. Research-based, Studio davidpompa specifically analyse and highlight the history of the materials they use, presented in tall archival shelves in their exhibition space, filled with folders of research and information and prototype designs and materials. Andrea of Studio davidpompa shared her studio's Guide to Mexico City with us (1 of 50 only), a booklet for their global community to connect with their home city. Andrea was pivotal to our understanding of the studio's work!
Connecting culture, materiality and good design, Studio davidpompa are a design studio we can't wait to see more of.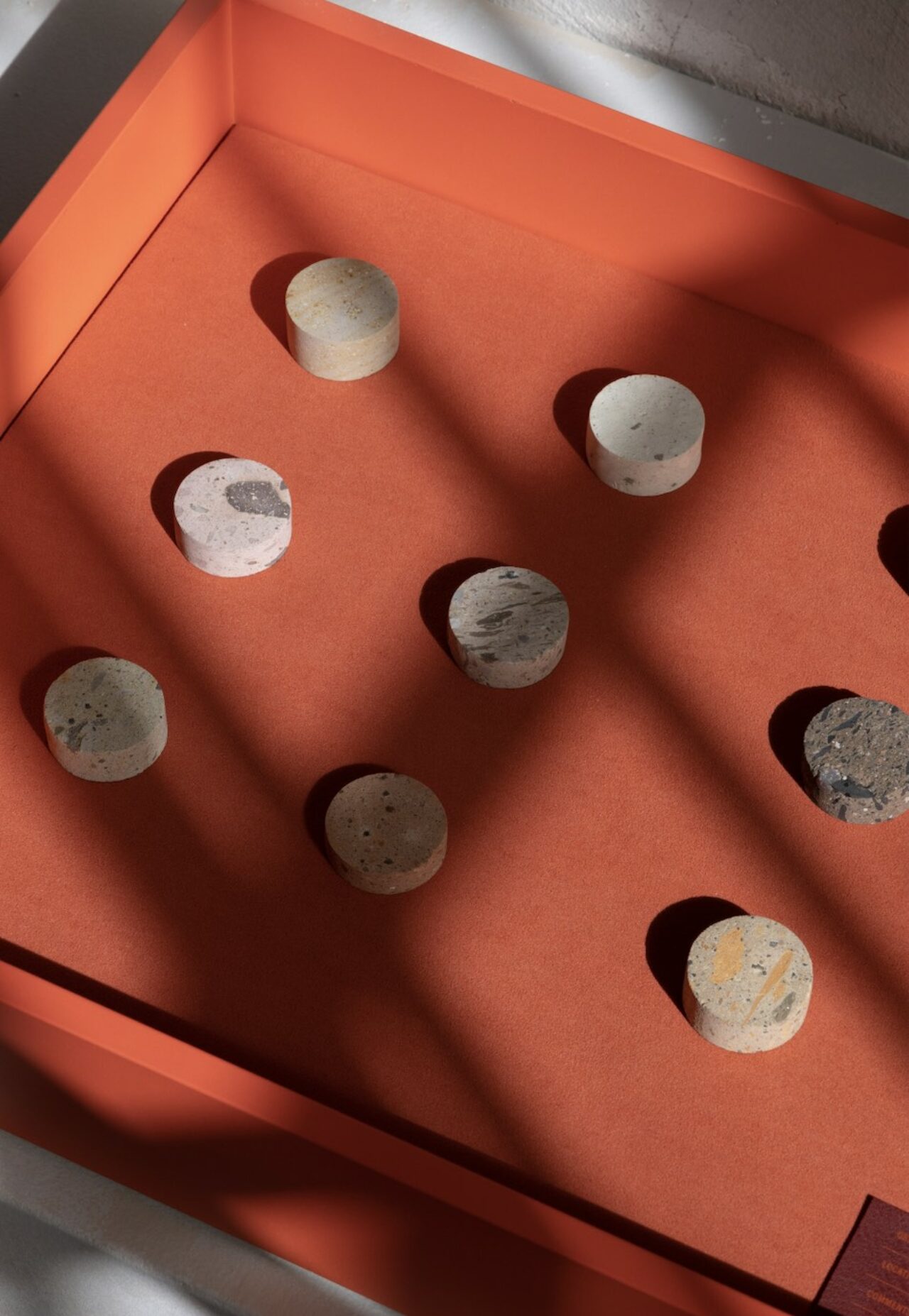 Arthur Vandergucht 'Frans Collection' at Alcova
Belgian designer and tig welder Arthur Vandergucht quietly stood by his stall at Alcova, but his work was able to shout as it stood out from the rest of the surrounding projects in the large industrial space.
Immaculately constructed, Arthur's aluminium furniture seems brutal, yet soft, due to the aluminium's shade. His designs create a striking balance between the two. The rivets create a strong visual identity for the collection, and the way Arthur's been able to curve the corners of each design in the collection – table FR02, stool FR01, chair FR04 – is admirable. Also to note, the cross rivet mirror in this collection is equally as cleverly mastered. A designer-maker on the rise.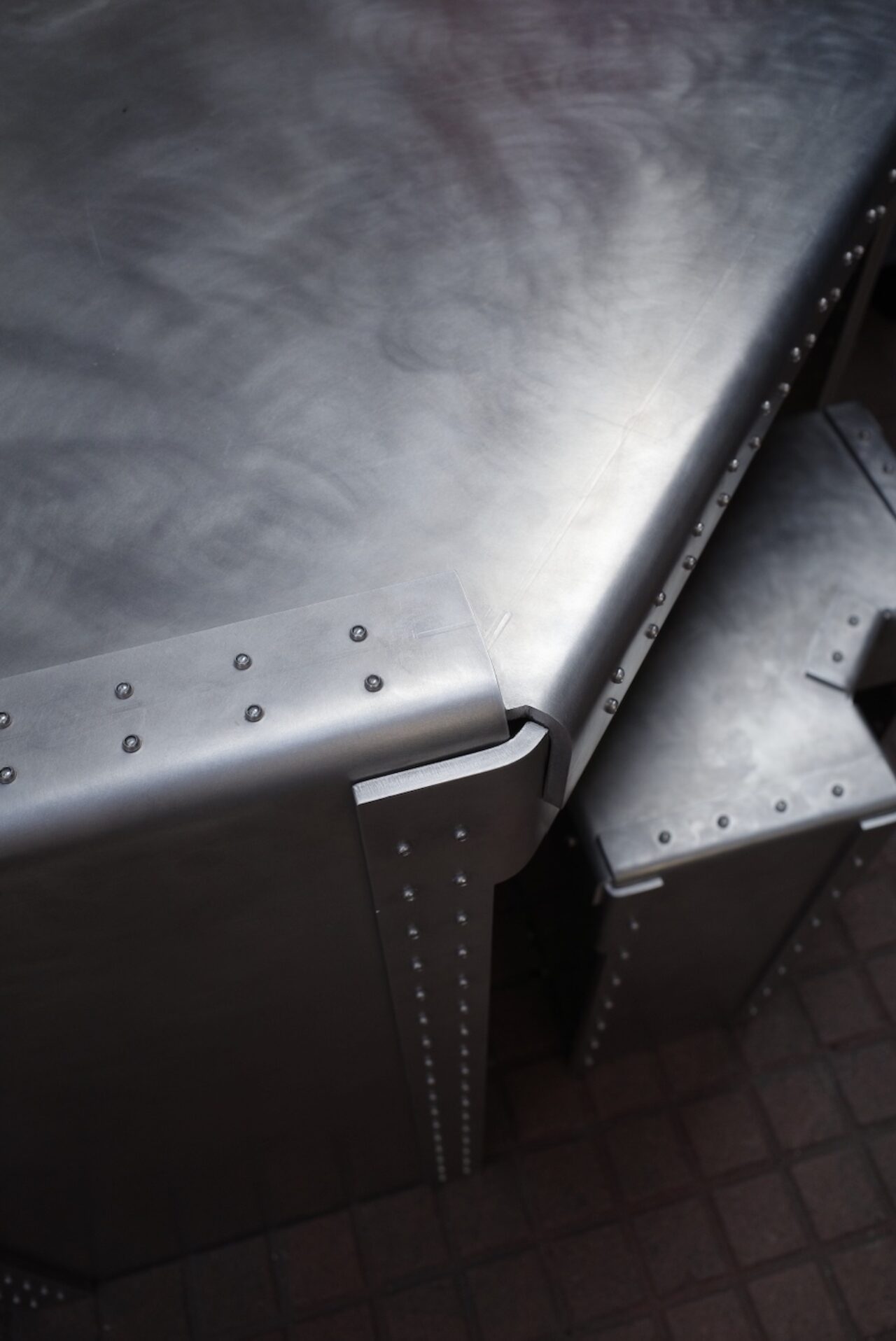 REDDUO at Convey 
Working with artisans around Venice, new Italian homewares brand REDDUO aims to highlight the artisans of Italy through their modern designs, including their latest textiles and ceramics collection.
This is REDDUO's first presentation during Milan Design Week since its founding in 2020 by partners in work and life Fabiola di Virgilio and Andrea Rosso, who conceived the homewares brand as an opportunity to combine their strengths in sustainability, design and art direction, along with their passion for craftsmanship.
Presented at the Milan's newest repurposed ex-industrial space Convey, the brand also designed their own modular installation space. Made up of modules of cubic units in wood and Mutina bricks, the design can be changed as needed for any home or space. Working with expert carpenters to create the raw wood coloured D-shape inserts for the units, the bookcase can be re-designed and re-installed for any occasion. Sustainable and practical.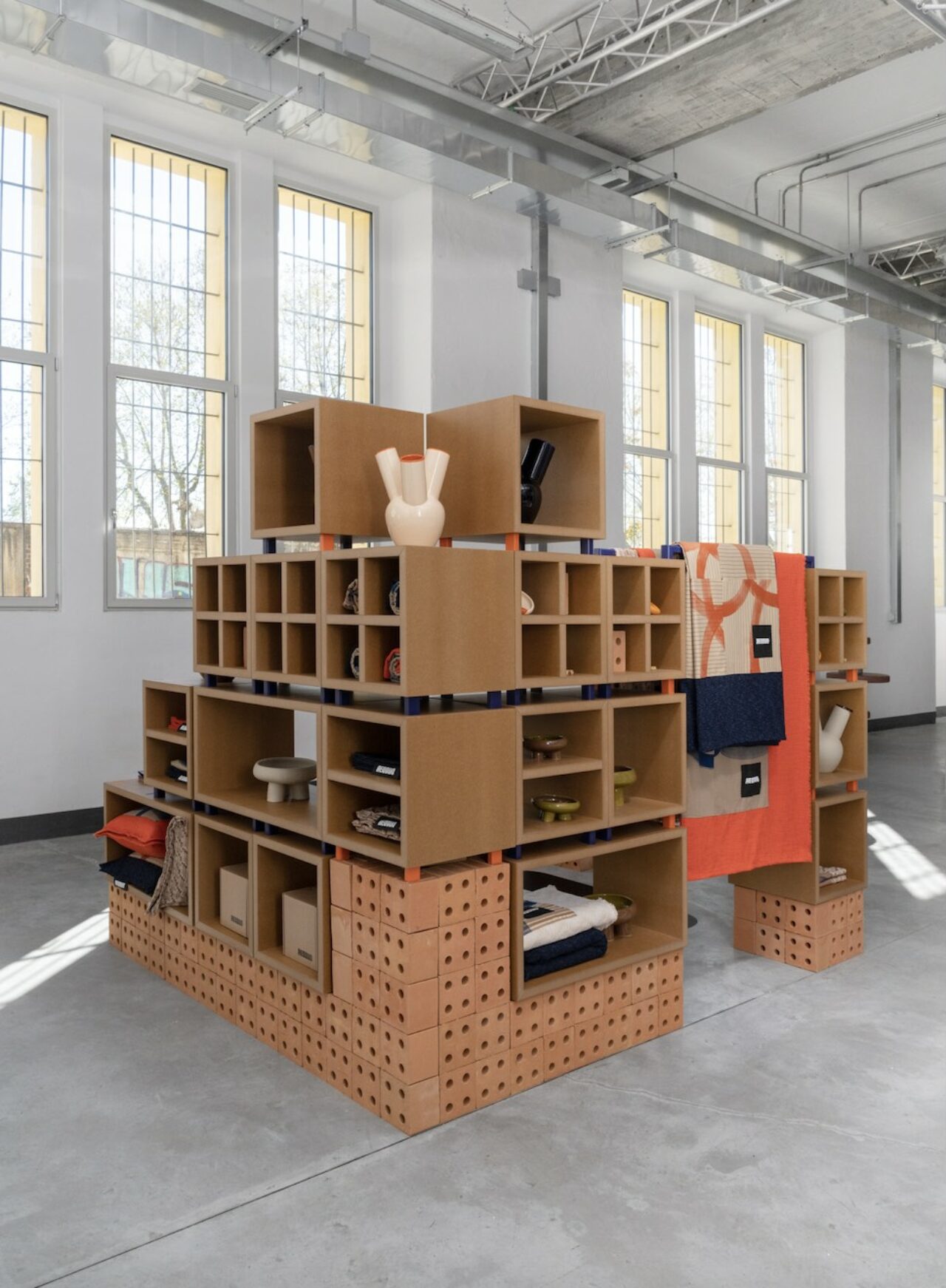 Sabine Marcelis for SolidNature
Made from natural stone from Iran, SolidNature work with collaborators who can elevate the natural materials they source for both longevity and practicality.
Designer Sabine Marcelis' large communal table for the brand has highlighted the beauty of the natural materials in not only colour but in form also, creating a multiple-layered table with volumes and different heights. She's managed to make a colour gradient with the stone, making the table both aesthetically pleasing and practical at the same time. Together with the travertine, she's added her signature coloured glass to bring it all together.
For SolidNature's Beyond The Surface exhibition during Milan Design Week, Sabine brought on board food artist Laila Gohar to adorn the table with natural, edible decorations.
Capsule Plaza
Design magazine CAPSULE launched their second issue and their first installation 'Capsule Plaza' at Spazio Maiocchi, bringing together design talents and brands to activate a space for conversation, connecting and learning.
Panter Tourron created a large-scale seating for Italian materials company XL EXTRALIGHT, Sabine Marcelis created a table for Swiss skincare brand LaPrairie, Snarkitecture presented their latest collaboration with Gufram and Devon Turnbull of Ojas (speakers) created a listening room with artistic director Willo Perron. An array of creatives brought their energy to the space, curated by CAPSULE artistic director Paul Cournet and magazine founder Alessio Ascari.
Our favourite place to be during the design week, where the creative community could come together in one place and connect over a shared curiosity.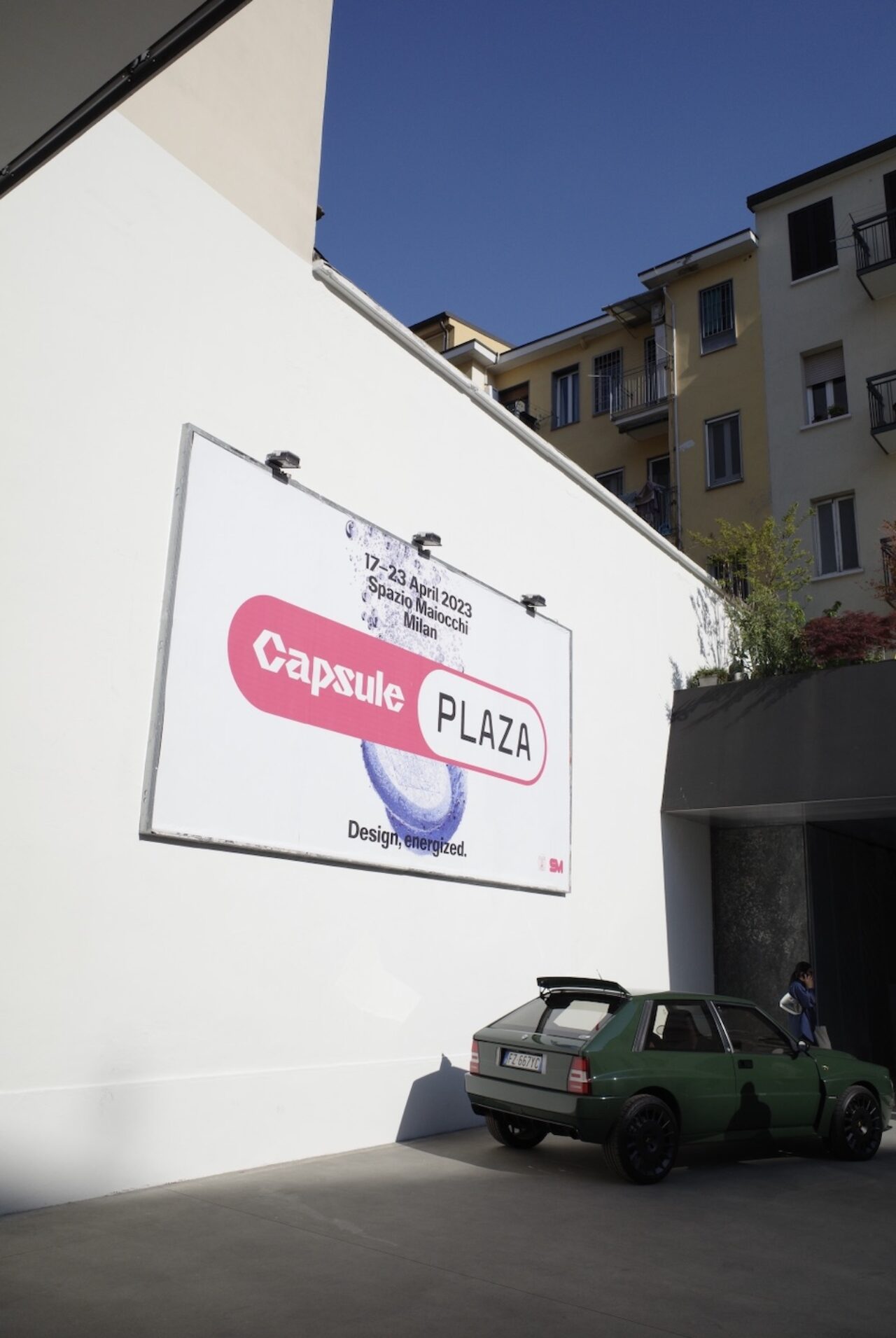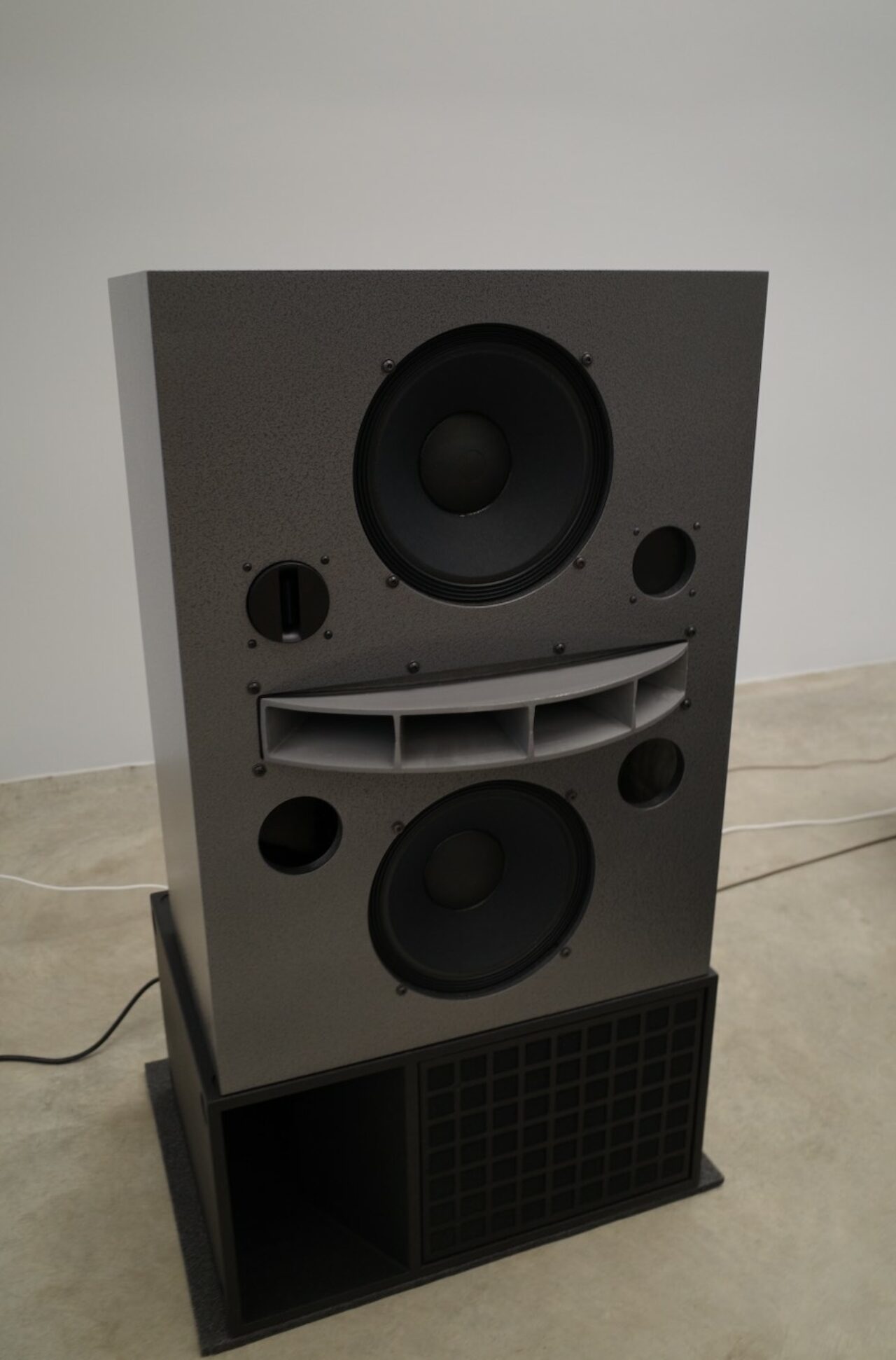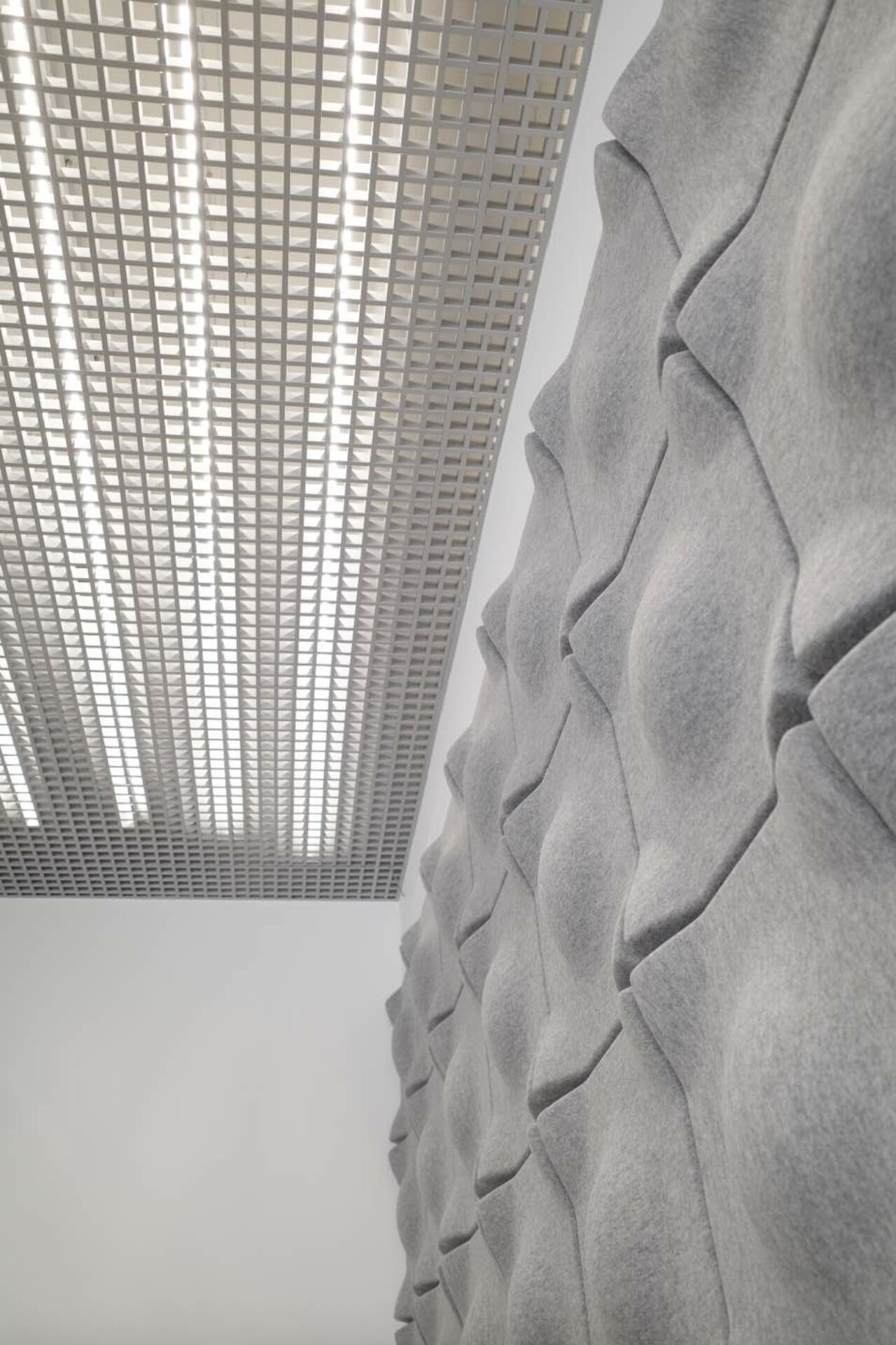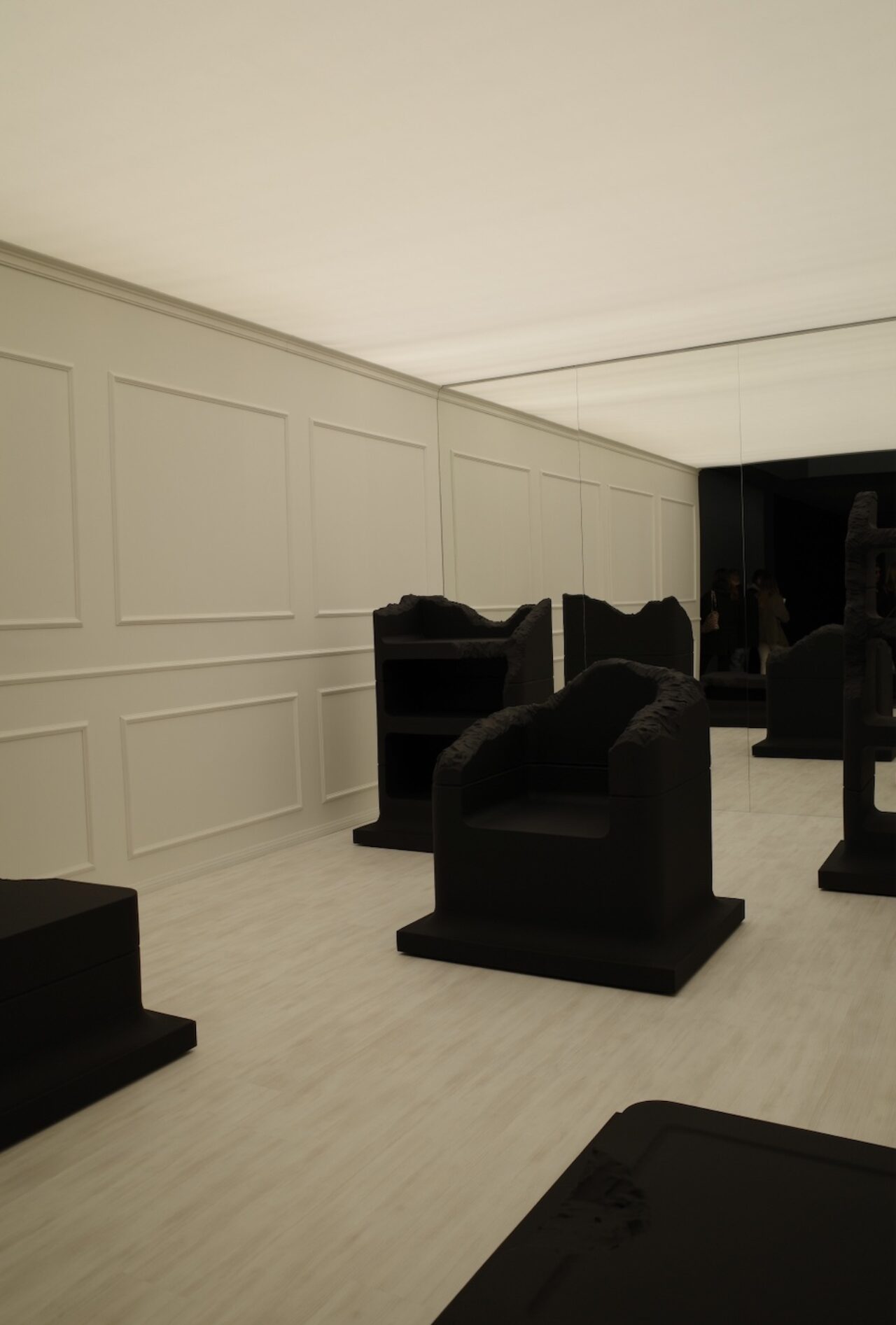 Loehr 'The Archive of Thoughts' at DOPO? 
Based in Berlin and run by brothers David, Leon and Julian Loehr, design label Loehr is known for precision in their minimalist furniture. They have a holistic, sustainable perspective on architecture and space, creating works that give justice to their materials. What seem simple has been meticulously refined and constructed.
Presenting their new designs at the Archive of Thoughts exhibition, it is a joint initiative by Loehr with newly-launched form magazine, supported with lighting by Swedish brand Wästberg.
The launch at DOPO? – which is a former workshop in the south-eastern district of Corvetto – is held in a space converted into a collaborative melting pot of Milan's creatives whom inhabit the studio (such as architecture researcher Bianca Felicori and architects Fosbury Architecture whom are presenting in the Italian Pavilion in Venice this year).
Loehr launched their new shelving system Stack, designed by Dirk Winkel for Loehr, engineered from steel and aluminium sheets and TRABA, the solid wood dining table by David and Julian Loehr.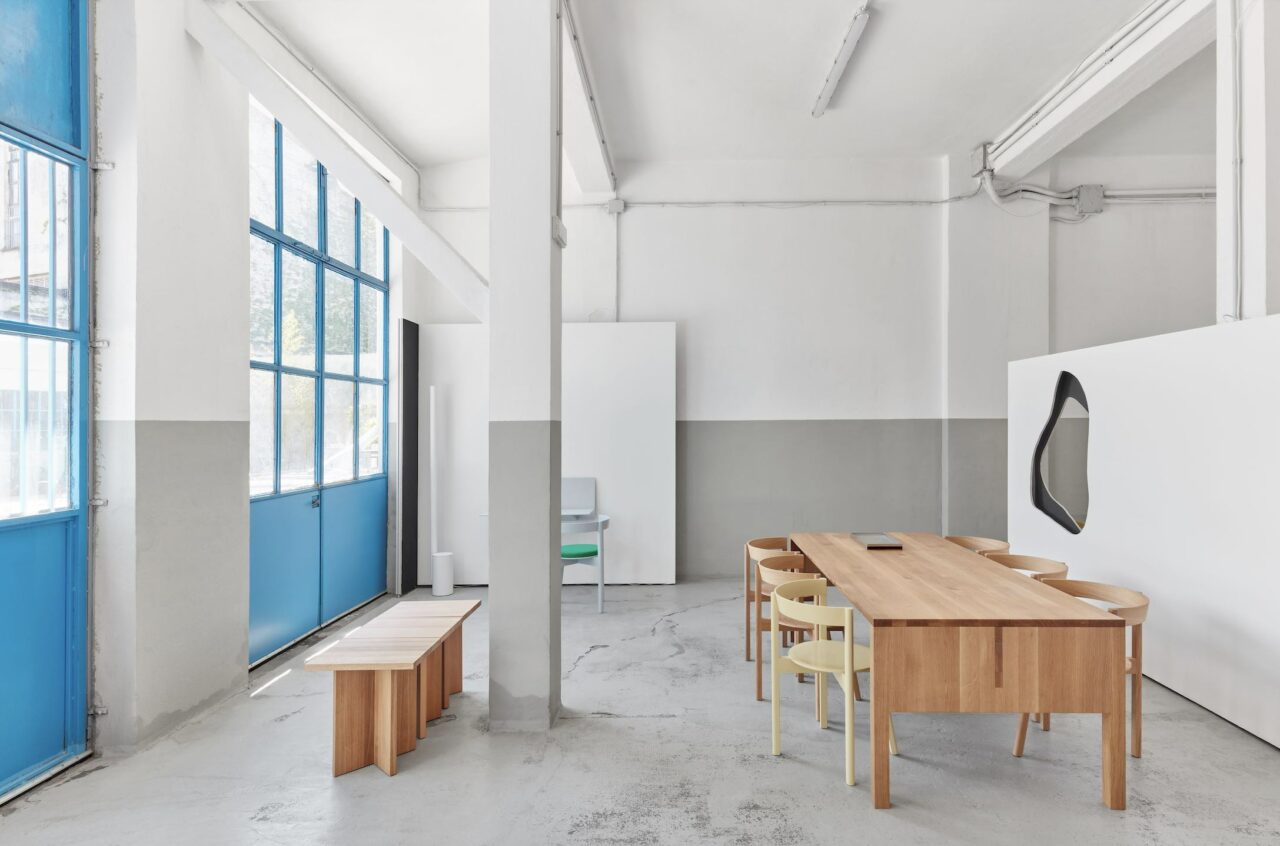 Habitarematerials curated by NEMO architects
Habitare, the largest furniture, design and interior decoration event in Finland, launched Habitarematerials, a specially curated materials library at the industrial grounds of Alcova.
Found at the entrance of Alcova, visitors were able to scour through various materials swatches to examine and explore their production or natural form. Curated and designed by Helsinki-based NEMO architects, the experiential materials library presented samples of all kinds – fabric, wood and metal to ceramics and composites such as terrazzo, and more – to inspire and inform. Experimental materials and swatches from established brands (such as Cover Story, CWP, Durat, Johanna Gullichsen, Karava, Nordic Copper, Novo Wood, Pihlgren & Ritola, Sera Helsinki, Stala, Luonnonbetoni, Laatupaneeli, Tulikivi and VM Carpet). With an ever-expanding library of resources, Habitare are always on the lookout for new and innovative materials.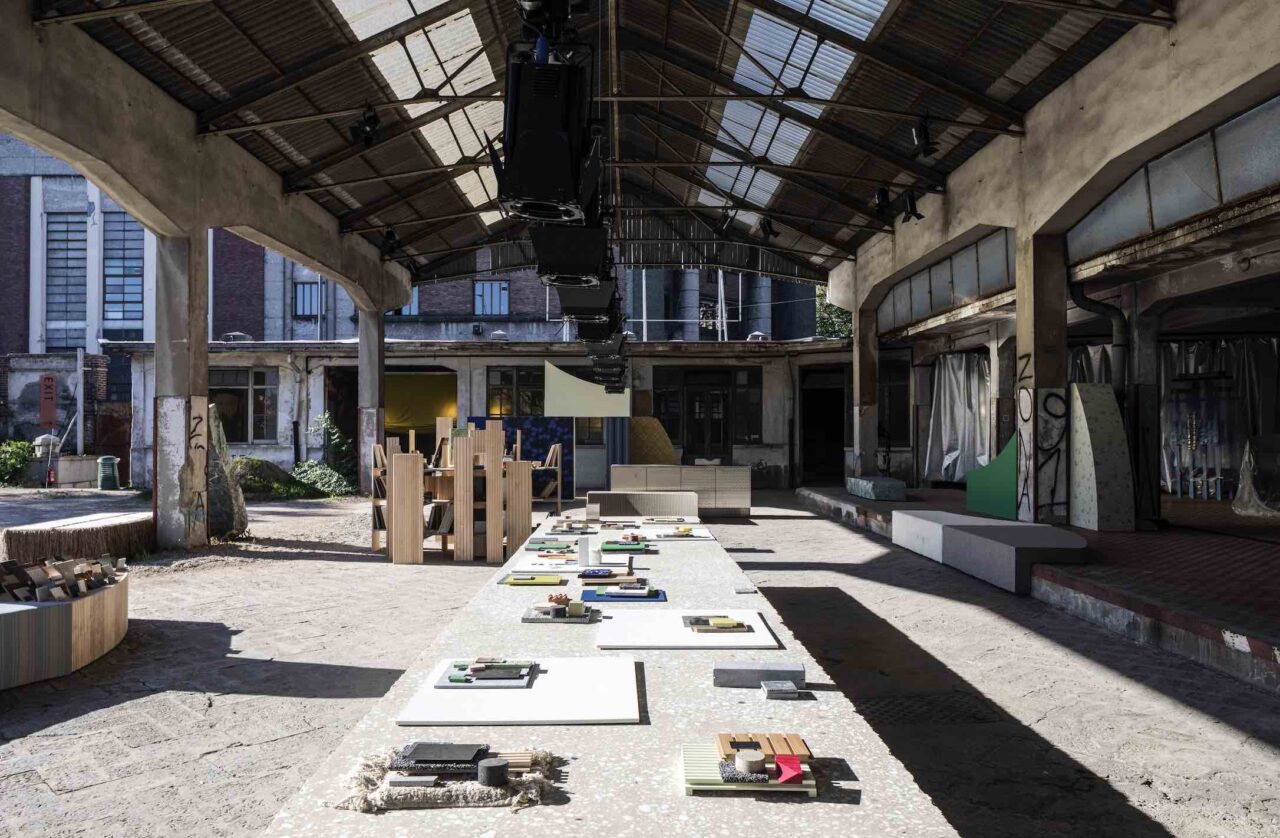 Tom Fereday 'Cor' for Agglomerati
Australian designer Tom Fereday presents 'Cor' a collection of illuminated travertine sculptures for London-based studio Agglomerati. Named after the Latin word for 'heart', 'Cor' is the synthesis of material innovation and natural stone machining. The towering sculptures have their inner core machined out, but the stone is not discarded, but kept for future Agglomerati projects.
Founded by Sam Henley, Agglomerati are passionate about stone – in particular, Roman travertine. Crafted from Roman travertine sourced from Tivoli, the 'Cor' collection was produced in the renowned Italian marble region of Pietrasanta in a limited-edition series. Each sculptural light is accompanied by a sonic intervention by Italian composer Federic Bisozzi, highlighting the millions of years that the stone has resonated within Earth's core.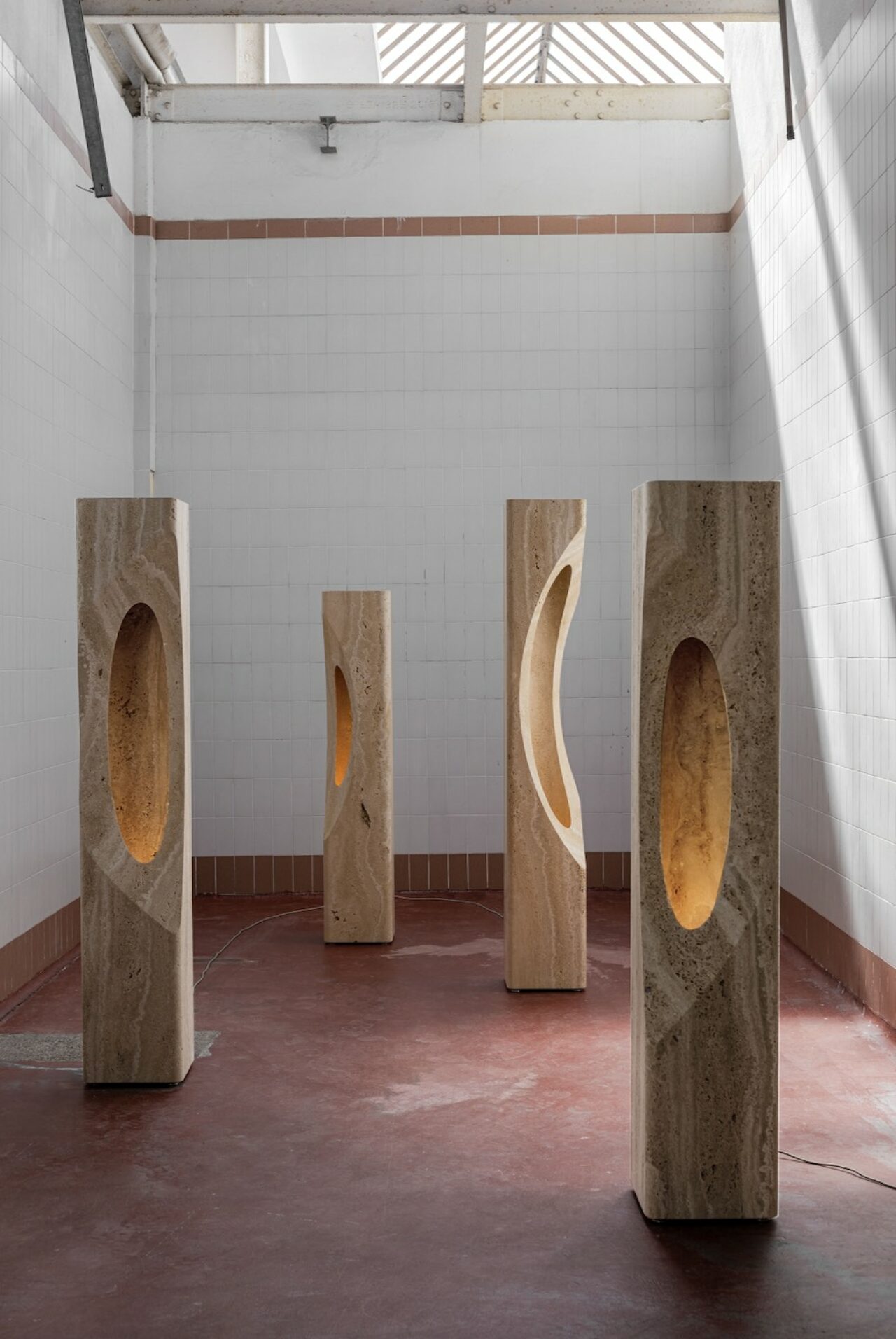 Fog-X by Pavel Hedström
Exploring the highlighted designs for the Lexus Design Award is always fascinating. Projects touching on different categories and industries are selected, for their social impact and innovation.
This year, Denmark-based Swedish designer Pavel Hedström's Fog-X project turned heads for its solutions-based design. A multi-function jacket that can convert into a one-person shelter and simultaneously capture water from an environment with fog. This design could provide a much needed water source for harsh or remote locations.
Hedström was one of four winners in the Lexus Design Award 2023, with Fog-X winning the peoples vote. His design highlights our rapidly evolving environment, and looks to create modular solutions with minimal materials and waste.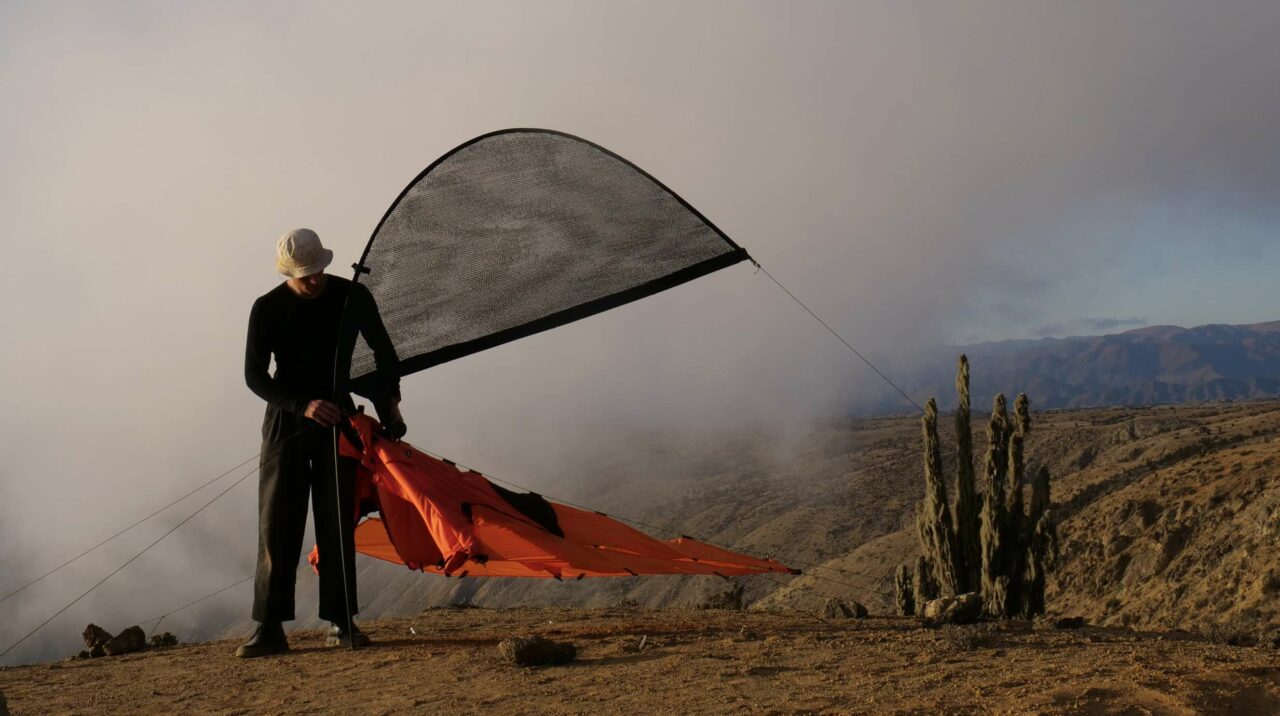 ARS METALLICA by Alessi
It's no secret we love Italian design brand Alessi. For this Salone, they created quite a storm – launching four new projects at their ARS METALLICA exhibition space.
The first, Conversational Objects by Virgil Abloh is a cutlery set and candle holder for reimagining the dining table as a theatre for dialogue. Cleverly titled, the set is certainly a conversation starter.
Next, the brand launched their new brand Il Tornitore Matto (The Mad Turner), led by Alberto Alessi and coordinated by Giulio Iacchetti, celebrating the company's passion for using metal and demonstrating the unique versatility of the material. Together with hand-picked collaborators such as Naoto Fukusawa, they explore the future possibilities of metal.
Surprisingly, the third launched project is artistic. A sculpture by Salvador Dalí in 925 silver with brass combo and a 24-carat gold finish, the object highlights metal in an artistic sense. Designed for Alessi in 1973, it is the first time this has been produced in a limited run of 99.
Last but not least, Alessi launched their first furniture collection! Together with long-term collaborator Philippe Starck, the Poêle collection includes a chair, a coat hanger and a stool, and has been appropriately inspired by Alessi's tongue-in-cheek style which resides below the surface. Alessi's sleek shining metal of a frying pan has been the inspiration, but of course! ("Poêle" is French for "pan"). A pan with legs, the chair and items in the collection are made using the Alessi cold-press metal technology.
Salone del Mobile
Multiple locations across Milan during April 16 to 23, 2023
Text: Champ Magazine Editor-in-Chief Monique Kawecki
Images: © Champ Magazine and as credited