PIERRE PAULIN PROGRAM
Design Liberation: Rethinking The Potential of Domestic Spaces
Renowned French designer Pierre Paulin's contribution to design has inspired a wave of radical thinking that challenges the potential of design itself. It's no surprise then, to consider that Paulin's works were so progressive that today they are often recognised as individual pieces of art.
Most notably are the series of geometric white wave formations that blend the boundaries of furniture as architecture, transforming the way we see, and use, space for living. 
The late designer's archive and production remains a family-run business, overseeing the production of re-releases or unreleased classics, led by Paulin's own son Benjamin Paulin, wife Alice Lemoine, and mother. It's no coincidence then that their worlds are able to collide to present the Pierre Paulin Program at Villa Lemoine (also known as Maison à  Bordeaux), a former residence located in the south of France.
Designed by Dutch architecture firm OMA in 1998 for French publisher Jean-Francois Lemoine, Villa Lemoine is an equally radical and undefinable structure, as it proposed a 3-floored residence that was still functional and comfortable enough for those living with a physical disability.
It was through a conversation between the late designer and OMA's founder Rem Koolhaas, that the Pierre Paulin Program was born.
Architect Koolhaas explains: "to experimentation in a domain almost beyond furniture: furniture not as the design of specific pieces, but as the invention of an additional layer of possibility, extending across any architecture, offering a vast spectrum of new and unexpected potentials, to lounge, talk, eat, sleep and, obviously, any other interaction that might occur between the inhabitants, liberated from the unwelcome limitations that any specific piece of furniture inevitably imposes. To see Paulin's utopia realised in Bordeaux, offers a real opportunity to judge the interaction of two kinds of liberation."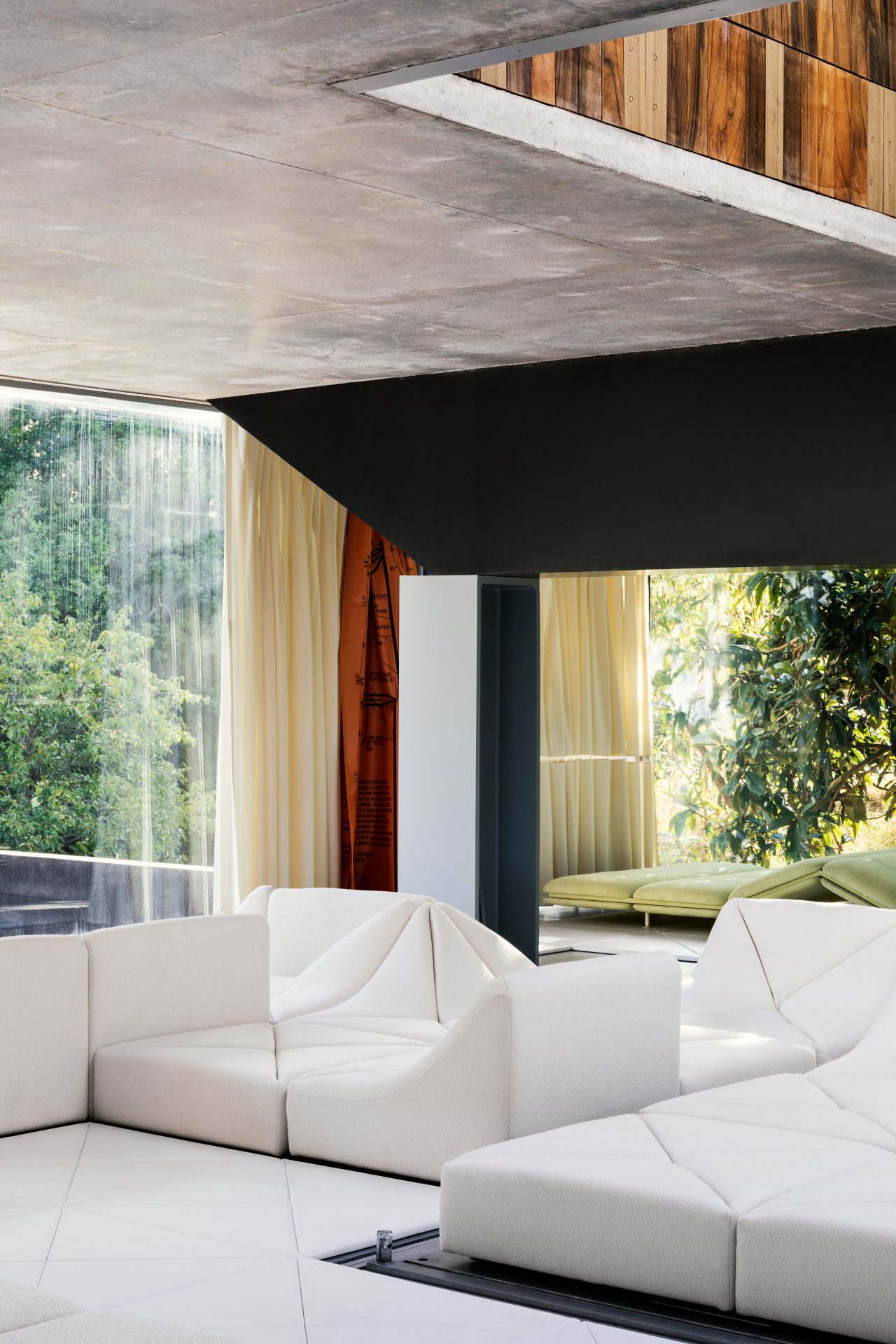 Leading the interior renovation project, OMA architect Paul Cournet offers further insight into the project; "Exhibiting the Pierre Paulin Program in Villa Lemoine was first of all trying to rethink the potential of domestic spaces today. Pierre Paulin belongs to a generation of designer who tried to liberate us from the traditional values of design. He redefined the codes. It was a social project. Today, however, if we look back at this period – the 60s and 70s – it is important to realise that most of these important ideas have remained unbuilt.
Specifically in the design sphere and paradoxically probably more than for the architecture where some examples of this era have been realised and are today considered important master pieces- most of these design projects have remained abandoned or left as short lived experiments. They were then considered industrial utopias. With this exhibition, it is the chance of a lifetime to give life to a program that now can be judged, by the future generations."
∆
Pierre Paulin Program is currently on view at Villa Lemoine
Bordeaux, France, until 29 November, 2019
Words: Joanna Kawecki Champ Editor-in-Chief | Images: Courtesy Marco Cappelletti
#champ_bordeaux