M/M (Paris)
Creating Their Own Visual Algorithm in Design
Photography - Karl Hab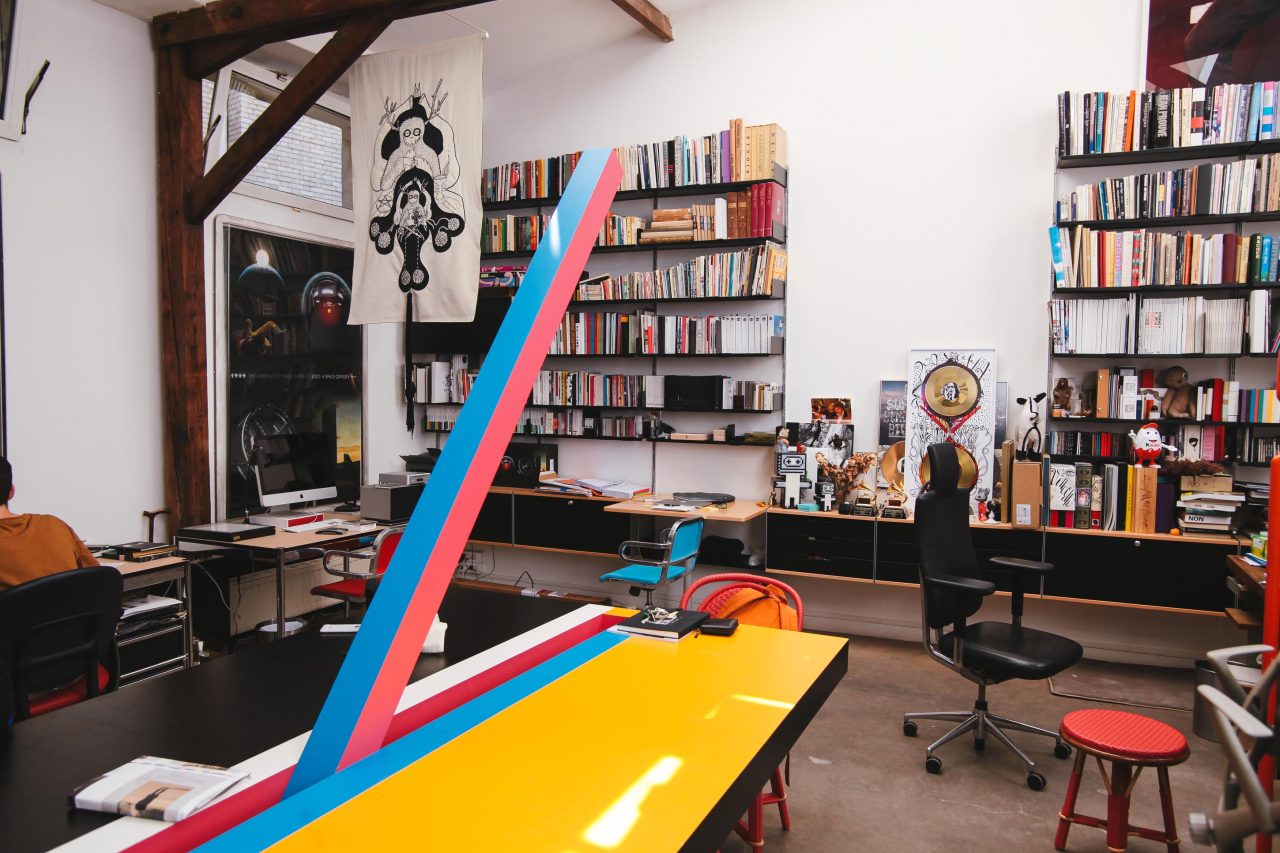 The M/M (Paris) studio is set past a quiet courtyard in the 10th arrondissement. A one room studio, ceilings are tall with a skylight inviting natural light in, creating a particularly unique setting. A pleasantly colourful space, desks line the studio with 4 team members quietly working away on projects, busy completing assignments.
Mathias Augustyniak and Michaël Amzalag are the duo behind the Paris-based, and internationally celebrated, art and design studio M/M (Paris).
The two have worked together for 21 years, a partnership of two opposites, sharing the same language of design. The duo themselves are exactly as I expected, frank about their approach towards their work, typical Parisians whom don't waste any time getting straight to the point.
World-renowned for their aesthetic utilising Augustyniak's hand-drawn illustrations, along with the hands-on approach of chopping up images and collaging them, their work does not just stay in 2D. They produce sculptures and works in 3D, turning some into moving image, and in respect to some projects, placing these all together to create an experience to be explored and utilised.
Since founding their studio in 1992, the M/M (Paris) body of work is vast, and continues from it's beginnings in music, to fashion, art and all of the above: culture. They have worked with Musée d'Art Moderne and the Pompidou Center, but it is their legendary iconic work creating the posters for the small-town theatre, Théâtre de Lorient in Brittany, that is most memorable and referenced continuously.
This strong aesthetic and attitude is M/M (Paris)' own identity, and has attracted many collaborators into what could be described as their own world. It is not a service that they provide, they work together with collaborators, specifically describing them not as clients. Their collaborators, such as Bjork, Riccardo Tisci, Inez van Lamsweerde and Vinoodh Matadin, Nicolas Ghesquière, Stella McCartney and Kanye West, are all visionaries and leaders in their own fields of work, yet are drawn to M/M (Paris) to explore new territories of creation. M/M (Paris) approach these works like so: "It's about feeling that what we do is right for the context and that we can bring something to the plate, and create a successful experiment".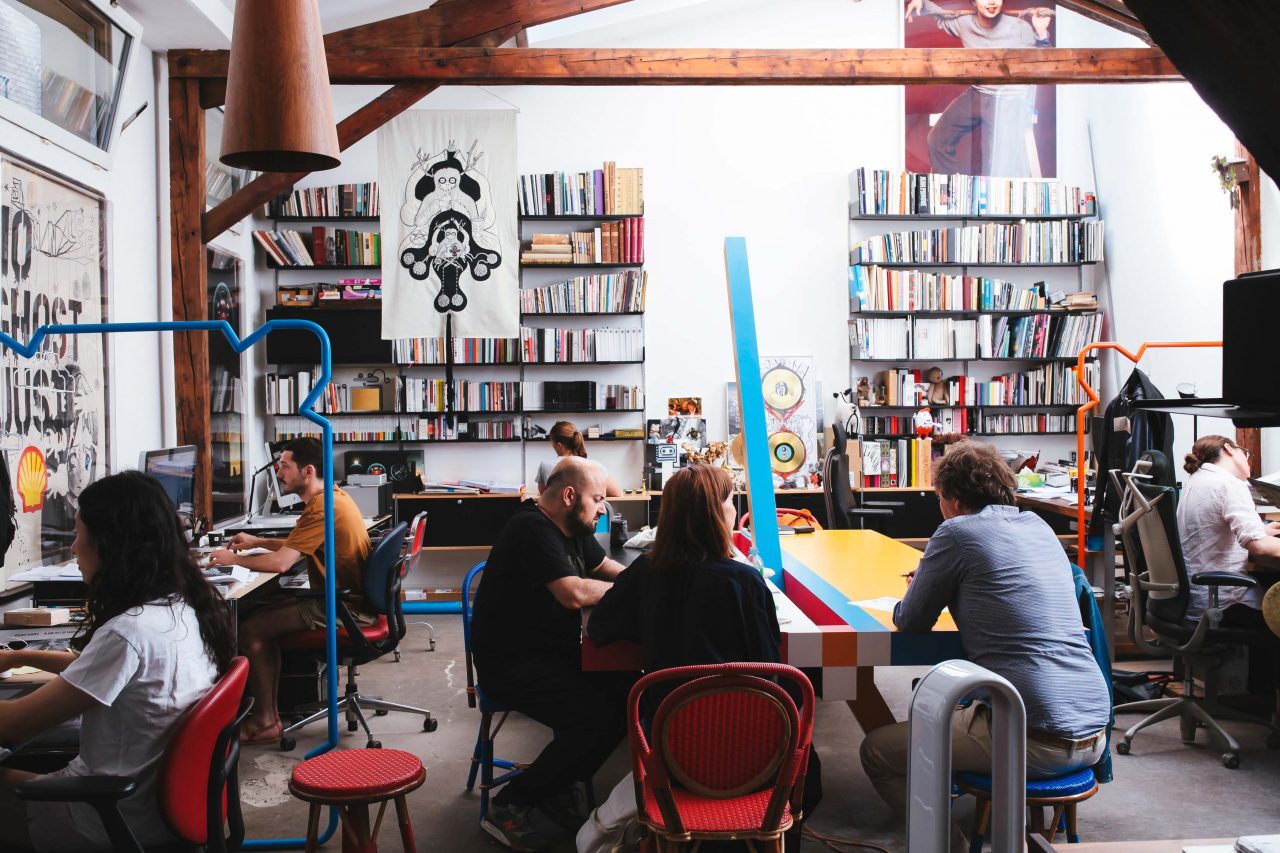 In Augustyniak and Amzalag's world, art and culture are interwoven. They have previously mentioned one of their collaborators' recognition of the times, by remarking "signs of richness is now art and culture". M/M (Paris) have worked with the curator Hans Ulrich Obrist on many occasions, creating books and catalogues together since the mid-90s, and most recently creating the website for the Serpentine Galleries. Previously serving as art directors for French Vogue, creative directors for Arena Homme + and Interview magazine, and spending six years teaching in the school of École cantonale d'art de Lausanne in Switzerland, there has not be a moments rest for M/M (Paris).
In conjunction with their 20 year anniversary, they launched the book, M to M of M/M (Paris) in 2013. The book is not a retrospective approach, but part of their ongoing work. They are unconsciously compiling a body of work bigger than anything in the foreseeable future. It is this forward-thinking approach they work with daily, that continues to move the wheels of the M/M (Paris) machine.
M to M of M/M (Paris) is a journey not through A to Z, but an around-the-world loop literally from M to M. Commissioning London-based design studio Graphic Thought Facility (GTF) to design the book, instead of designing it themselves, an overall perspective of the designers and their work is conveyed in print.
With leading designs, their outlook is exactly this, "we are trying to make, slowly but surely, a rule of not describing the future…[We would] rather talk about the present". One thing is for sure, their pace doesn't seem to be slowing down, as the M/M world expands to a universe of progressive approach.
The MM (PARIS) studio has been very busy this year with various collaborations. Would you agree that when you're busy, you keep the momentum?
Mathias: Yes, I would agree. I think it's always difficult to control the pace of things. As you say, there is a momentum, you know. The more you ride, the faster you ride. I mean it's kind of difficult to keep the pace. So somehow it's self- regulated, but because now we've been working for so long, I mean for long enough, people know our work.Before there was a kind of a natural selection before people were coming to see us, but because maybe they understand better what we do, the natural selection is bigger, I would say, and they have started to understand the process of our work.
As a studio, do you have responsibilities to do a certain amount of work? Do you need a certain amount of work coming in?
Mathias: When I was saying there is a natural selection, there is an organic kind of way or working, because this is why we kept it [the studio] small. So this has kind of a human scale, in the sense where your head is on your shoulder and you know what's good or bad for you. There is the part of intuition. So as we are not a big, big team, we don't have to do big, big plans. It's a mix of intuition and a logical decision. So there are things that we decided to do because we thought it was important to do them, and then there are the things that we are accidentally bumping into. Recently, very recently, we worked for a big department store in Tokyo, called Parco. When we were students we were always thinking "Oh, this is good. This could be a good job to do in Japan" but it relates to the people that we met during one of the first trips to Japan, and them saying "Oh, if one day you would like to work for a Japanese client, would you like us to be involved? It took around ten years for that commission to happen.
It happened at the right time and at the right moment because, especially to work for a country like Japan, you need to be strongly-connected to it. Why? Because…
You need to understand their structure.
Yes, to understand their structure, to understand the way they think, to understand what feels right here.
Michaël: And what we think is experimental is not experimental for them.
It is just this idea of planning and un-planning. Just keeping the idea of 'what will happen will happen', but still being very consistent in the choice we are making.
In reality. is this 10-year-long dream to work in Japan with Parco, what you thought it would be?
Yes, it is not a disappointment. I think it has the weight it should have. We received a comment from the head of Parco today, saying our work is a "strong feature in the history of Parco". It is a great compliment because their campaigns have always been done by very incredible Japanese designers. It is a country where I think they are the best designers or, like what we do, they are very good at doing it. Maybe even better. But somehow, allowing us to be part of that kind of competition, because it is a competition, and accepting the fact that we are just as competitive or alike in conversation.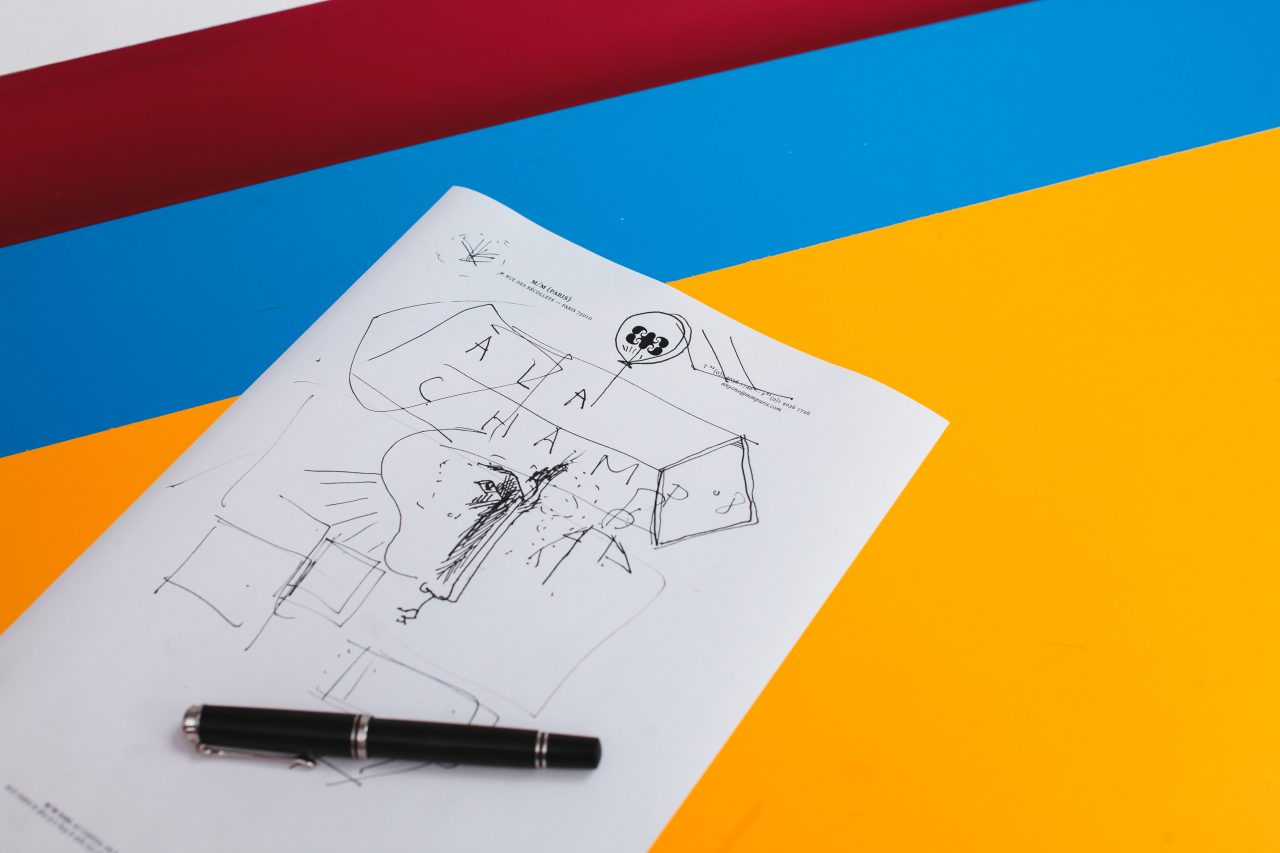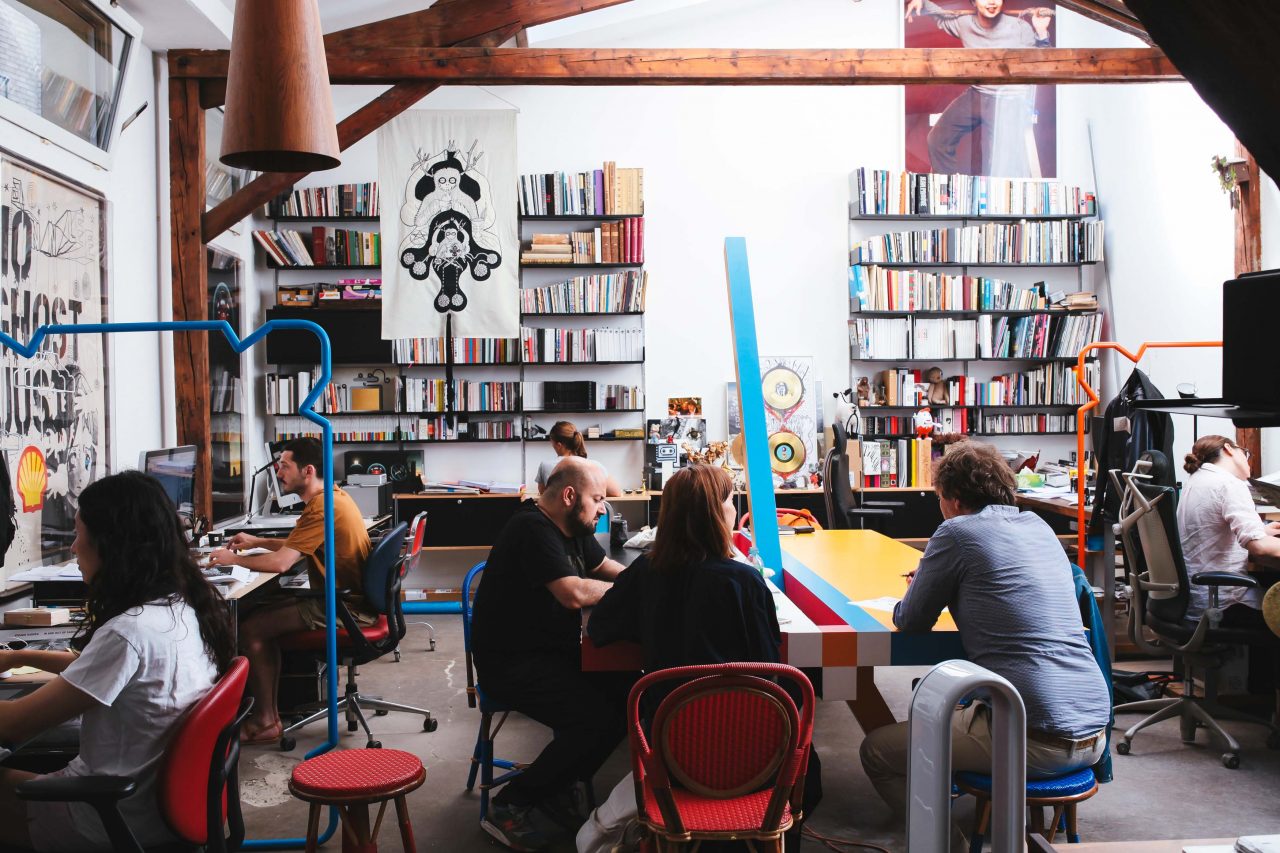 You work with various clients, big and small, do you think you opt for the projects with more freedom? Or do you find each as a new challenge?
Yes, we know how to get around it. So the thing is, when we started, we were young and with more experience, we are more upfront instead of it being a waste of time for everybody. This we have learned now.
Sometimes a very small project could be a pain in the arse. I think there are no rules. There are some patterns that we have started doing…
You have been working together for over 21 and a half years, how can you reflect on your time and how is the team expanding in your studio?
It is more of a basketball team than a rugby team in size, it's not like an army. We try to keep it so we are hands-on so it is more of a unit, rather than a big battalion. I'm not going to say the word 'family' because it's the wrong thing, I would say more of a unit. So as any unit, sometimes it's perfect and sometimes it's…
It's more like a lab.
Yes, it's lab. This is where we expect every- one to be kind of a specialist in their own field. That's why the people I hire, they should be compatible with everyone, they should be able to do everything, but still we hope that there is something that they have where they're the best at. Since we started, we were two, and we were doing everything. Since then it is shifting. We're still doing many things but there are roles that are now different.
How did you both find your path to this line of work? For instance, you both met as students at the École Nationale Supérieure des Arts Decoratifs in Paris in 1988, but chose different paths after this initial study. Michael you left and continued your work outside of the educational system, and Matthias, in contrast you continued your studies at the Royal College of Arts in London. Do you recommend for others to follow the path of university or follow their intuition?
I would recommend that they should do as many study years as they could, but as a counter example, Michaël was working but he was still kind of studying. He managed to find a way where he was working, but still have to some space to play. What I recommend is just to spend as much time as possible to think and figure out what you really want or what you really are, because after, as soon as you start to work, this is finished, you don't have time to do this anymore. Especially if you're good.
Yes, when you have your clear goals, it's full steam ahead.
Yeah, think it's a luxury if you have the time. If you have the luxury to spend time to study or just to be curious about things, it's very important; just do it. I see what we do as if we were engineers.
Just as you ask an engineer or an architect or a specialist to spend at least six years of time studying, it's very important. Whether I finish school or not, whether you graduate, whether you have the best, you are the first… that's something else.
It's personal.
Yeah, that's personal. Each time we have people that are starting [at the studio or ECAL], we always keep repeating certain things, so that the more time you spend figuring out your faith and trajectory, the better it is for you. Then, you can invent your way of studying. If someone says to me, the best study is to meet the ten best designers in the world or the ten best artists or the ten best musicians, then do it and share some conversation. That's fine.
So in a sense you're your own teacher. You set your deadlines and…
Well, yes. It's just what I'm saying is education is very, very important. It's been left too much on the side for too many years. I think it's important that it is still kept as a zone, free from the market. That's very, very important. This is a resisting, for me, this is a resisting limit. Like the relationship to education, this is where people can at least construct and imagine the way they will be free to express what they feel is right within our world.
And then that sets up the foundations for future use.
Yeah, and then that's why we are strong- minded about this. We're with students more in a kind of adult way. We spent six years teaching in the school of École cantonele d'art de Lausanne in Switzerland. We were teaching the graphic design course, but many of the different students have ended up being very successful in their own field. One is a great photographer, the other one is a great jeweller, some became more classic graphic designers, and this is what we're like in our approach. Graphic design is just like an…
Like an umbrella?
Yeah, exactly. And the idea is just formed there, but anything can happen.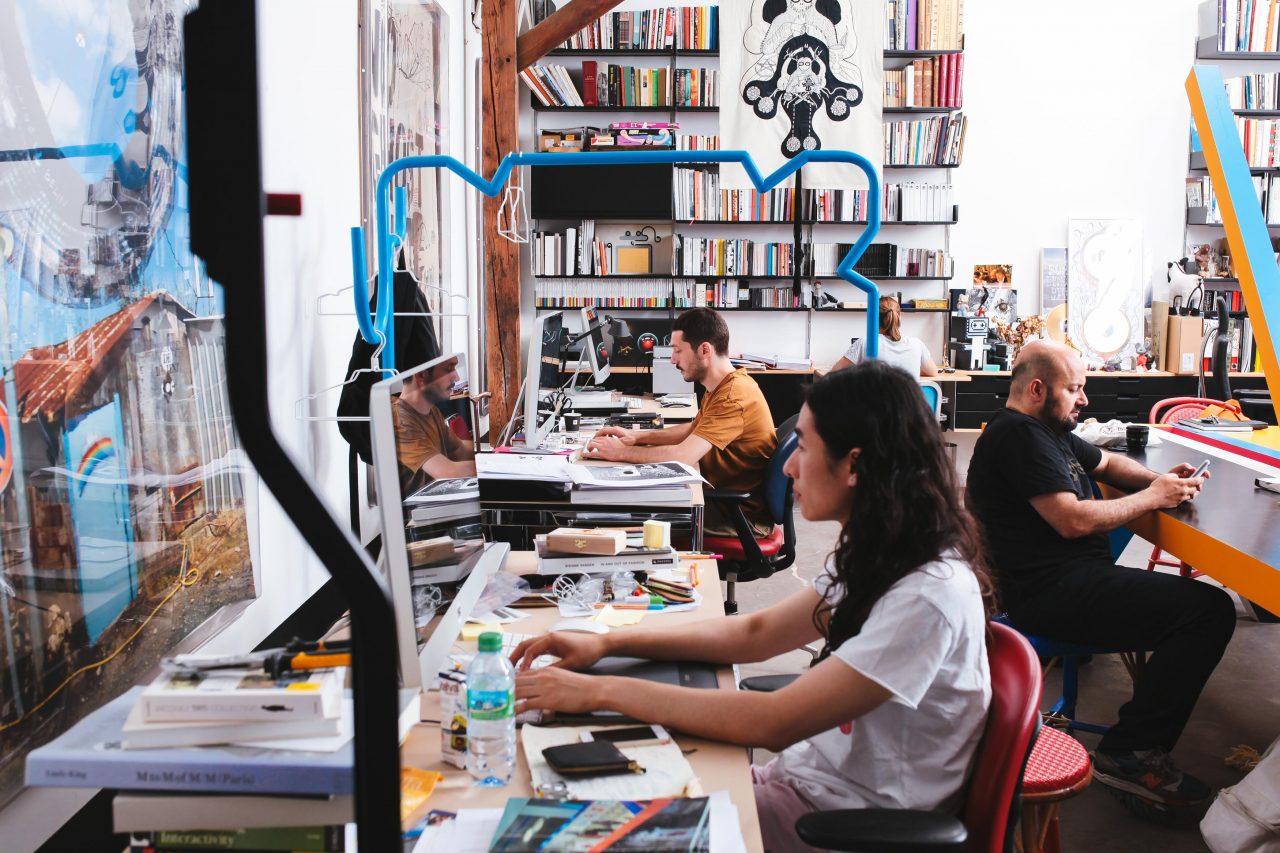 "It's true that when we do a project, we make it or build it, so it can last longer.
Just like a chess player.

The way we work, is we have maybe three or four moves in our head before we even make one move…" 
How did you find being teachers? Was it a lot of pressure to create the programmes?
Yeah, it's exhausting and it is really very complicated to complete professional work in our studio, and then teach at the same time. It's a very complicated kind of thing, but it's very important.
It is a new generation learning from another generations experience, and why communication of knowledge is important. Your list of collaborators is very extensive. Which has been the most memorable to you and which made the biggest imprint on your life?
All of them. It is…
It's about feeling that what we do is right for the context and that we can bring something to the plate, and create a successful experiment. If we go back to the metaphor, the laboratory, we are doing lots of experiments at the same time, and when we see that there is no chain reaction, then we have to stop.
Is there something you have not yet explored? You have worked with 2D, 3D, physical objects.
There's plenty of stuff we haven't explored yet, sure.
I mean we are trying to make, slowly but surely, a rule of not describing the future. The thing is, the tendency, if you start to describe a project you are working on, you are finishing it by describing it. You're kind of cutting the roles. So I'd rather talk about the present.
Is there something that you would like to one day create or execute that you have not yet done?
We have done a café, we have done a restaurant, we created this table. Maybe one day it would be good to do a more complete world, like a house that's just as if the owners had just left it. It's just like of course, the idea is that is developing. There are some signs. The development has been 2D for a long time and then we dealt a bit with some moving images, and then of course the 3D. So eventually all these things make the whole world, you know. Like a…
M/M world?
Yes, something like this. What could happen in it, you know, everything is possible.
I ask about the future because Paul Neale from Graphic Thought Facility first observed that you have a long term vision in terms of developing a body of work. Do you agree and is this done subconsciously? Can you tell us in your own words your long term vision, without relaying any projects.
To say I can see in 20 years' time is just very pretentious, but it's true that is the way we've been setting things up – and that's why there are two entities – it's just at least to put the two intuitions in common. We are grounded in the world, so we have kind of foreseen it. It's true that when we do a project, we make it or build it, so it can last longer. Just like a chess player. The way we work, is we have maybe three or four moves in our head before we even make one move…
Yes, two steps ahead or…
Exactly. Even if we sell one move or one step, at least we know how to make it, and to push it further. For instance, when we worked with Parco they asked, "Would you like to do two images for two seasons?" and we suggested that it may be better to do four images for the whole year. Again, it's a precise example because it's just something we've finished. At the end we kind of wrote a concept that could work and it could be applied maybe for two or three years. They don't have to do it. I'm just saying this is the way we work. Our approach is to say okay, if we can make something within the world, it'd better make sense rather than just be something that's wasted. That's why, for instance, just like the Theatre de Lorient we have been working with, now it's almost 70 posters [that have been created]. We've been working for this for 16 years so it's a big chunk of work. Did we know it would work for this poster and this theatre for so long? No, but the way we set it up was good. The decisions we made were the right ones, and were functional enough to be able to continue for that amount of time. Are we shifting or are we designing the place itself? It's not about designing just a new logo or just a new identity. That's what we did it very simply, very fluidly, but it created stability. Then from there we said okay, you need a way to write the theatre name and we set up a very simple rule of producing posters.
With the Parco project complete, have you visited Japan? Do you have any plans to travel, and additionally, how important is this for your work?
We've been travelling a lot. We don't have to travel, but there is also this point of seeing your work in different aspects. So it's good to be anchored here in Paris which is a kind of a very historical city, but, I feel that maybe London, Berlin or Amsterdam is a bit more down towards the contemporary world.
But you call Paris home because it is a great place for the studio?
It became a choice for the moment. Whether it is a good choice or not, I don't know.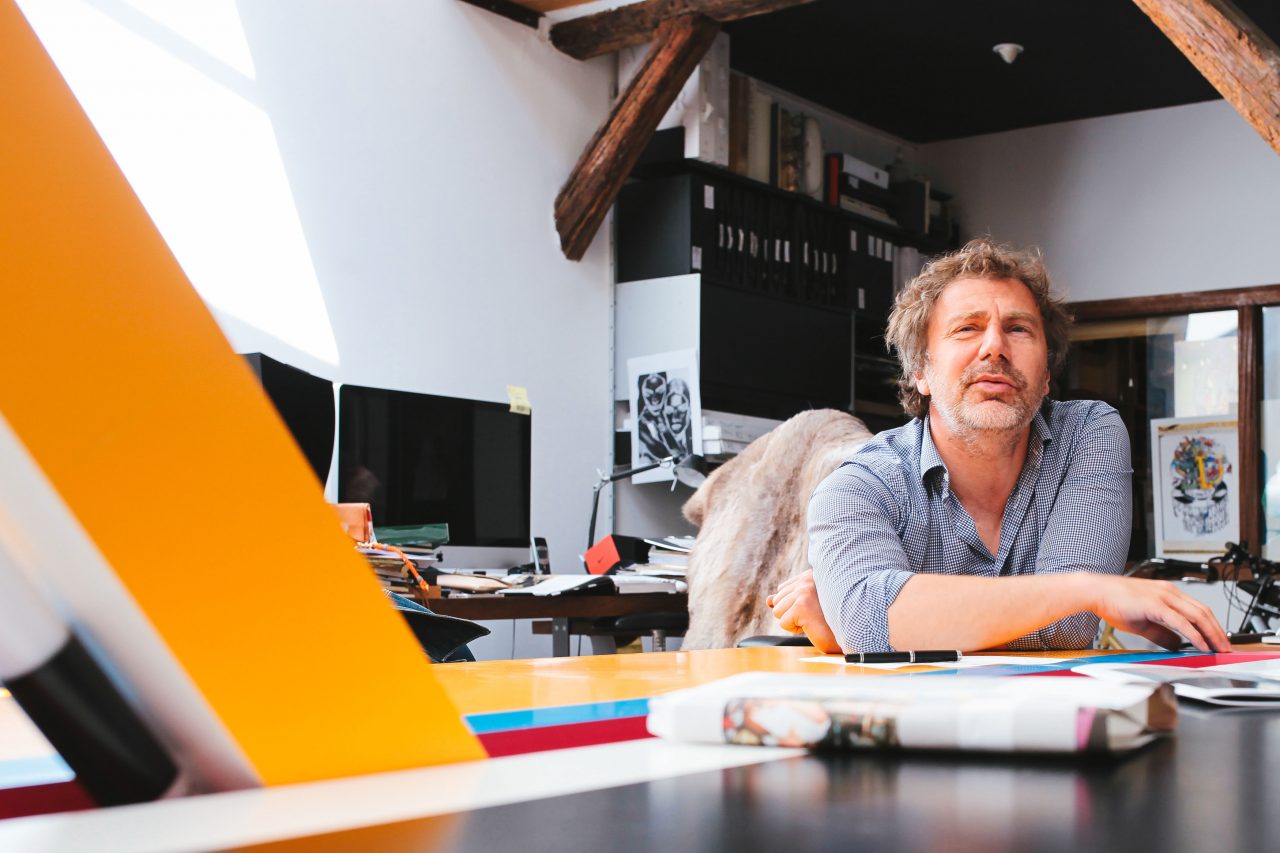 You have published nearly as many books as Hans Ulrich Obrist who wrote the fore- word for your book M to M of M/M (Paris), published by Thames & Hudson in 2012. Do you think this is an everlasting format to document your work, and hence a fitting way to archive your diverse work?
Books are naturally a way to archive some experience. This was a kind of logic. It was not an invention. It's like if you were in the world of what we were, it's kind of natural to document an experience. The good thing is by working with Hans Ulrich, we had the chance to experiment many different book formats. From very complex and very dense, and very cheap to very expensive. We decided to do this catalogue and we didn't really foresee that it would be as complex as building a house, and then sort of living round this kind of big mountain, and not knowing how to deal with it. It's true that, yes, the book is still a relevant format to archive a certain kind of experience. So that's why we created many books, because it's a way to say okay, if it is a well-designed book, some people will have a memory about this. I think another way to archive things or to store them is via moving images and films. It's a documentary about an experience. For instance when we worked on the set for an opera in which we were very involved intimately.
Yes, the Italian Baroque opera Antigona by Tommasso Traetta. You were capturing the experience.
Yes, intimately. It's not that we just filmed the opera, but we created a little movie. It's a short, a 20 minute movie, which in itself is an object. So it is the memory of that experience. Now the only way to see this opera was just to see this movie.
It is up to the filmmaker to capture the feelings of the experience.
Yes, this is why intimately we build the set and then we build also the way this film will be recorded. So this is the whole object.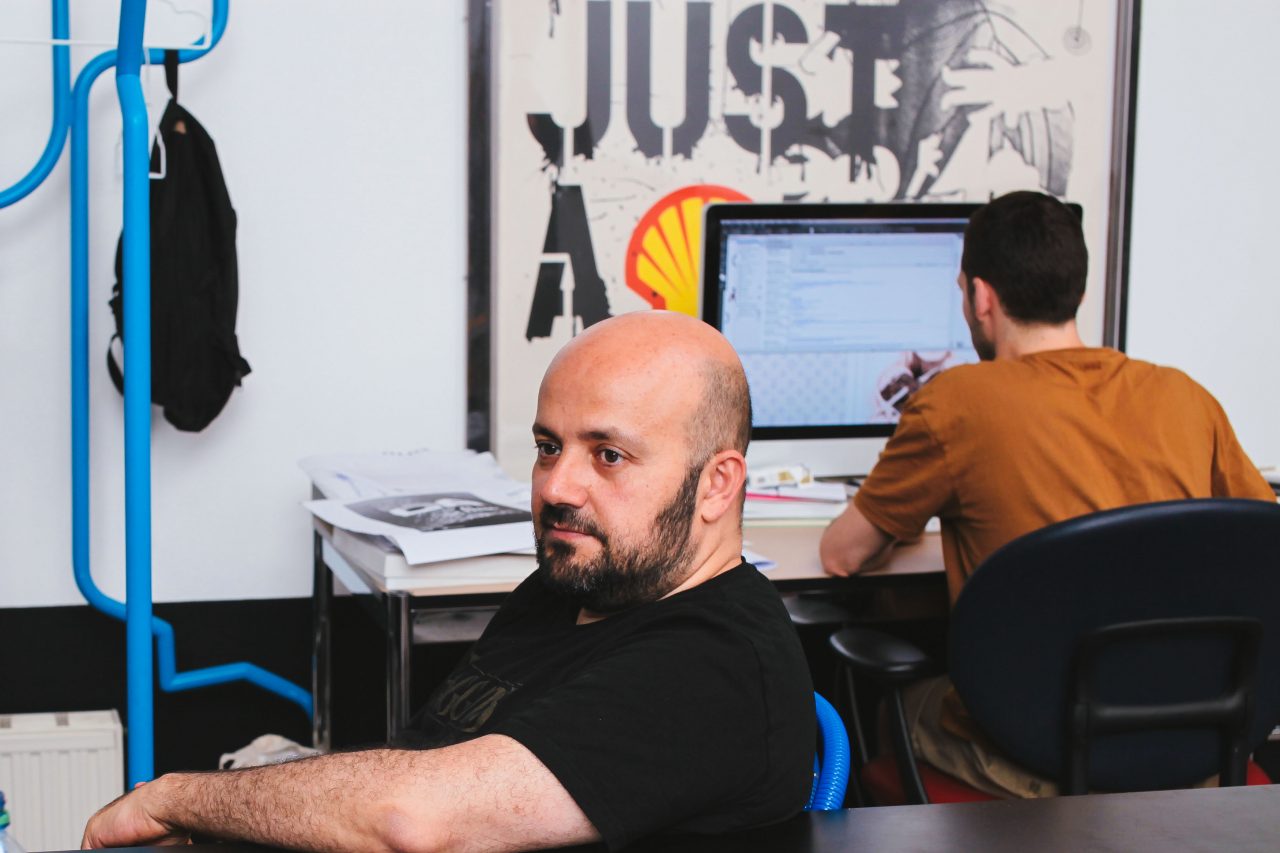 With your art direction of certain publications, do you have to compromise with the other contributing visions?
We give others space so they can express their personality or they can express what they are within these parameters. That's maybe made the difference, and that's why those books, were very interesting in the sense that you could feel everyone. It feels like a crowd instead of just a very, simplis- tic system or shelving system, that just puts everyone in a kind of a corner. So this is why some of those books or publications were successful, because you could hear many different voices and they make sense all together.
Do you like doing interviews?
[PAUSE] Yes, I like doing interviews. It took us a long time to find people understanding our work in our own country. I think we were more international. Right away when you meet someone coming from England, Germany, Japan or even further away, Korea or Russia, it does make sense. The thing is, people here are maybe more critical, it's more a country of writers, you know. So when people write they…
Share their own thoughts.
Yes. Interviews I think, are an important exercise. It's important just to say what you are doing. I also read things from time to time, and sometimes I read things about the work of someone that I know very well. It gives me another perspective, something I didn't see myself and it's part of the work.