EDITORS PICKS | SALONE DEL MILANO 2018
Ahead Of The Upcoming Pivotal Design Week in Milan, We Select The Events Not To Miss
The 2018 edition of Salone del Mobile is again a pivotal event on the yearly design calendar with events not-to-miss.
International designers, brands and enthusiasts descend upon the city of Milan, making their way through the various showrooms, boutiques and event spaces all exhibiting the latest product designs, manufacturing processes or talents in both fields. Design at its best is exhibited, alongside design at its worst. It's an international playing fields and here everyone gets involved; it's up to the expert veterans to sift through the numerous product launches and find the original, innovative gems.
Spazio Rossana Orlandi (via Matteo Bandello) always has some new talent discover (last year for us it was one of the students' work from SAIC). Curating what she personally feels is the most pivotal new design work, mixed together with some brand partners' offerings, the space itself has a constant flow of people in it every day. Noted to see for the upcoming Salone del Mobile is Jo Nagasaka's new design of Flat Table Dining, WE+'s Swarm, Ini Archibong's 'Below The Heavens' first furniture collection, and Google Software's project with trend-forecaster Lidewij Edelkoort.
Partnerships between brand, manufacturer and designer are always explored with enthusiasm. The Valextra showroom (via Manzoni 3) opens its doors everyone year, this time inviting Kengo Kuma to create an Enchanted Forest. The Issey Miyake store presents an exhibition by Masahiko Sato, (via Bagutta) with interactive installations using technology to induce new sensations.  Relais & Châteaux will have a pop-up installation by London-based experimental design studio Bompas and Parr, titled The Joy of Bees, highlighting the importance of this very fine substance with daily tastings everyday for guests (via San Marco). Caesarstone partner with NY-based Snarkitecture for the new work Altered States presented in the previously closed Palazzo Dell'Ufficio Elettorale di Porta Romana. MINI Living partner with London architecture firm Studiomama to create a micro neighbourhood (via Tortona) and Vitra work with Austrian designer Robert Stadler on their Typecasting exhibition (via La Pelota) in a former sports hall in Milan.
Japanese brand Nagami will present 3D printed furniture in their exhibition 'Brave New World' (Spazio Theca, Piazzo Castello), but what we want to really see is 3D with sustainable materials.
PUBLISHING
Vogue Italia open their doors this week to their new offices, showcasing newly-commissioned works from Faye Toogood, Sabine Marcelis, Mario Bellini, Michael Bargo, Antonio Citterio Patricia Viel, Patricia Urquiola, Muller Van Severen and Quincoces–Dragó (Piazzale Cadorna 5). Design bi-annual Disegno also launch their next issue in the Palazzo Clerici where there is always various printed matter to discover, whilst Milan-based Kaleidoscope partner with luggage brand and Rimowa to present American furniture designer Dozie Kanu's works in Spazio Maiocchi. One of the most talked about projects so far is certainly The Diner by American magazine Surface and New York architect David Rockwell. Creating a fully-functioning American diner, the space has been created with various manufacturer's such as Italian tiling company Bisazza, and will be activated during the week with events. The public can book a dining experience here too via their website (Ventura Centrale, via Ferrante Aporti).
FASHION
International fashion brands such as COS and Nike also migrate and take advantage of the design week, with COS consistently pulling off their installations working with the most promising design talent. This year they have commissioned Phillip K. Smith III from the US who are creating an immersive outdoor installation titled Open Sky. With those residing in the worlds of both fashion and design, Italian brands such as Stone Island authentically presenting their latest projects. Visiting the Stone Island showroom is always a highlight, with installations always well-executed (last year the company worked with Berlin-based Ken-Tonio Yamamoto) and material innovations always taking the brand further. This year Stone Island present their Prototype Research Series 03 – Extreme Compacting Process on Nylon Base.
ARCHITECTURE
On an architectural note, Zaha Hadid Architect's celebrate the opening of the Generali Tower. Part of the CityLife complex, the former fairgrounds will hold a public plaza, shops and restaurants form the base of the tower. Engineered by Arup, it is the third tallest building in Milan, and in Italy. (We've included the opening of Fondazione Prada's final building which is now complete, titled torre).
ART
India Mahdavi casts her magic wand on Nilufar Gallery (via Della Spiga), creating Chez Nina. Named after Nina Yashar, the found of Nilufar Gallery, Mahdavi has created works specifically for the space, such as coloured velvet banquettes and acid candy glass tables (also during Salone, Mahdavi presents The Mahdavi Collection: A Playful Bathroom Concept for iconic Italian tiling company Bisazza Bagno). There are also a selection of stools by Martino Gamper. Also presented at Nilufar Gallery is the exhibition 'Lina Bo Bardi Giancarlo Palanti, Studio d'arte Palma, 1948- 1951'. This is the first exhibition on the work of the two Italo-Brazilian designers, with Nina Yashar doing extensive research on Bo Bardi's work on interiors.
OUR MUST-SEE CHAMP HIGHLIGHTS BELOW: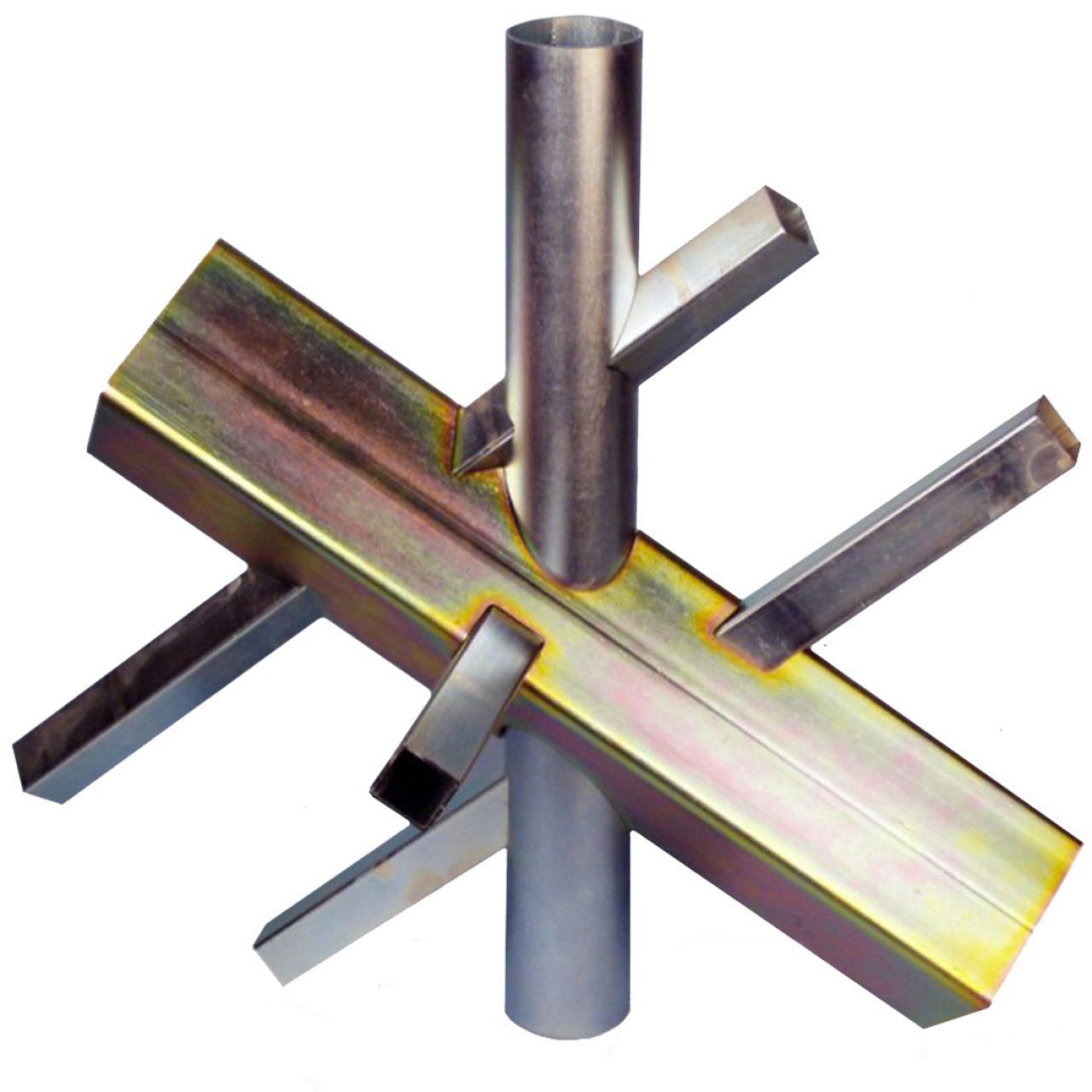 U-JOINTS
Equations of Universal Lifestyle Exhibition
Location: Plusdesign, via Archimede 26, Milan
A joint exhibition exploring the theme of connections in design, more than 50 internationally-renowned designers are presenting works in this thought-provoking group exhibition. Presented by PlusDesign Gallery and curated by Andrea Caputo (architect and designer) and Anniina Koivu (Head of Theory Master Product Design and Art Direction), the exhibition looks at the multi-faceted world of joints through the eyes of designers such as Peter Saville, Aldo Bakkar, Max Lamb, Alvar Aalto, Self-Assembly Lab MIT and Kohei Kojima.
Over 1,340 square meters of exhibition space, new products, prototypes and conceptual pieces are displayed, with most especially conceived for the show. In addition, joints which have had the greatest influence on contemporary design are explored, and the exhibition presents private collections of knots and fasteners; and masterpieces of traditional Japanese and Chinese wooden joinery.
OPENING OF TORRE
FONDAZIONE PRADA
Location: Largo Isarco l, 2, 20139
Never a disappoint to visit on any given day, for the 2018 Salone del Mobile, Fondazione Prada announce the opening of their Torre building as the last building addition to be completed in the revered art and design Milan venue.
One of the three new buildings designed by Rem Koolhaas with Chris van Duijn and Federico Pompignoli of architecture firm OMA, the Torre tower develops over nine levels. Six of these are exhibition spaces to present new works and works held in the Prada Collection, mostly by 20th and 21st century Italian and international artists.
The remaining three levels present a restaurant and visitor facilities. Completed with a panoramic terrace and rooftop bar, the Torre tower is celebrated for its irregular geometry. Various observation points can be found and explored.
REALLY: Circular by Design Present New Artist Collaborations
Jo Nagasaka, Benjamin Hubert | LAYER, Christien Meindertsma, Claesson Koivisto Rune, Front, Jonathan Olivares and Raw-Edges Design Studio
Location: via Palermo 1, Brera
Kvadrat and upcycled textiles company Really are inviting seven designers; Benjamin Hubert | LAYER, Christien Meindertsma, Claesson Koivisto Rune, Front, Jo Nagasaka, Jonathan Olivares and Raw-Edges Design Studio, to reinterpret Really's first two products made from upcycled end-of-life textiles into new functional objects. The Danish company Kvadrat maintain their position as a leading European textile provider, and together with Really (founded in 2013) respond to the urgent global issue of waste. In their immediate capacity but also exploring it further to influence their consumers' daily lives.
Curated by Jane Withers and Njusja de Gier, the seven commissioned designers, from Europe, the United States and Japan, have been invited to reimagine the game-changing recycled materials The Solid Textile Board and Acoustic Textile Felt. Challenged to make functional new products (furniture and interior), the overall aim is to create designs for a circular economy. Waste in every industry is becoming more apparent, so brands and manufacturers' which are working toward an economically-sustainable and responsible output are high on our must-see list.
MANDAI ARCHITECTS
CREATE SOUNDSCAPES GLASS INSTALLATION WITH AGC ASAHI GLASS
Location: Ventura Centrale
Japanese architect Motosuke Mandai creates new work with AGC Asahi Glass's sound-generating glass, presented at Ventura Centrale. An intermediary layer sandwiched between two layers, enabling a clearer sound over high and low frequencies equally.
An invisible element, the possibilities of sound hold endless possibilities to be enhanced through material and tool advancement. Glass itself is well known for its needed used for windows and lighting, and AGC aim to push the material further with their auditory space with Mandai Architects.
WE+
'SWARM'
Location: Spazio Rossana Orlandi
Tokyo-based designers WE+ present their new project Swarm, creating a chair and vases from an organic form from numerous short steel wires, made from their created structure, an outcome of being absorbed by magnetic force.
Presented at Spazio Rossana Orlandi, the contemporary design studio run by designers Hokuto Ando and Toshiya Hayashi always approach their product design, installations and graphic design with an experimental and universal outlook. Both designers hold a diverse background, and perhaps it is this range which provides them with their wide perspective and approach to design. Ones to watch!
INI ARCHIBONG
"Below The Heavens"
Location: Spazio Rossana Orlandi
Switzerland-based designer Ini Archibong presents his first furniture collection Below The Heavens for London-based company Sé, at Spazio Rossana Orlandi.