BRUT-AL
Argentinian-Australian Designer Alexander Lotersztain's Ode to Brutalism
Materiality and a minimalist construction is at the core of Argentinian-Australian industrial designer Alexander Lotersztain's latest collection, BRUT-AL. 
Manufactured in Australia out of 70% recycled aluminium, BRUT-AL is an ode to the Brutalist movement of the early 20th century and its rigid, geometric forms. The collection's laser-cut components are meticulously welded together with a distinct TIG pattern, exposing the craftsmanship of this laborious metal working technique.
Producing expressive welds through a consistent rhythm made with precision and accuracy, BRUT-AL's exposed construction presents the beauty of materiality in the most purest form.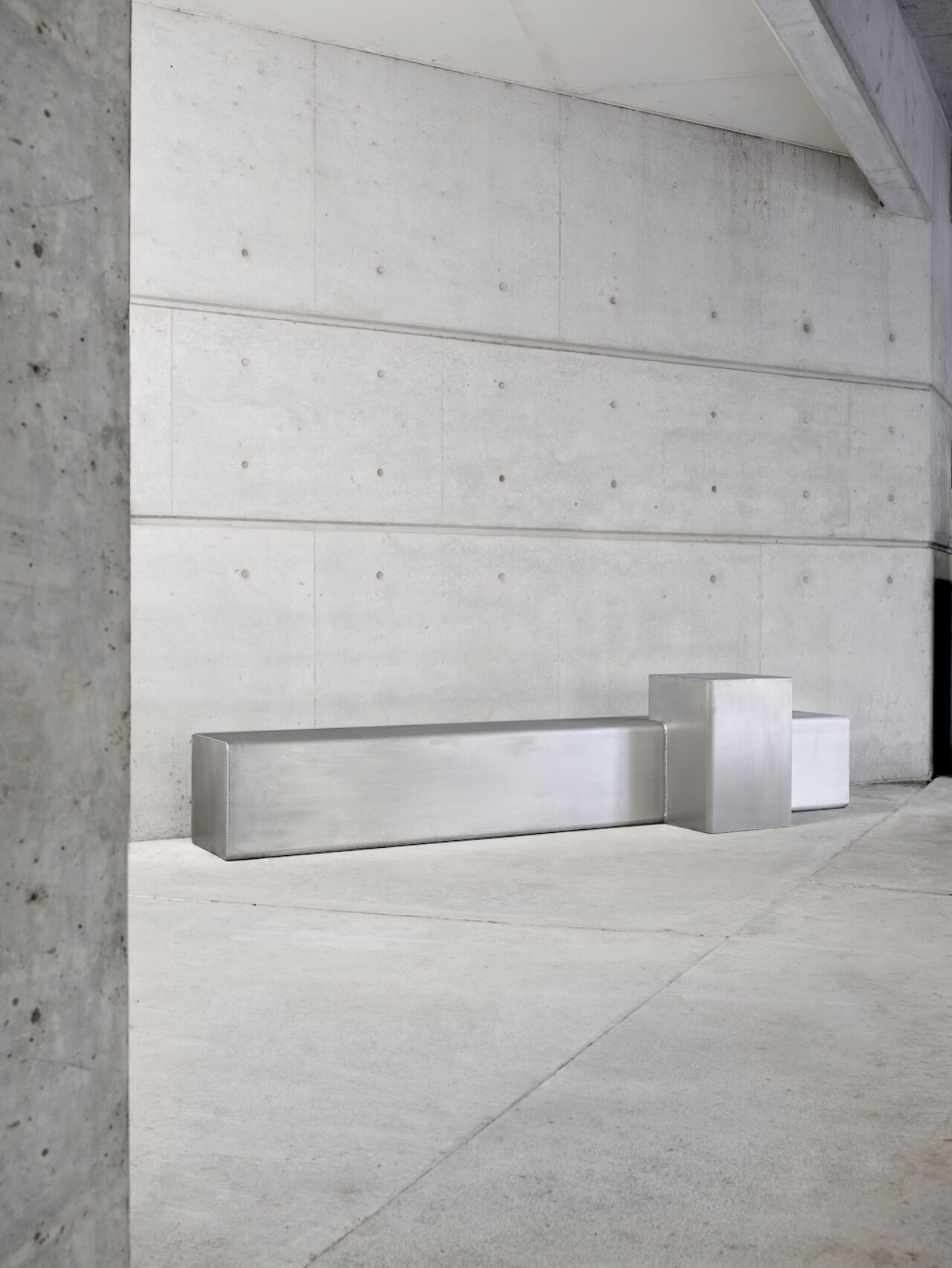 Industrial design and craftsmanship are at the core of Lotersztain's work.
Graduating from Industrial Design at Griffith University's Queensland College of Art, the designer has a passion for innovation and craft and how the two can work together to create design solutions for better everyday life. Continued his learnings in Tokyo, Lotersztain went on to work with highly respected studios GK Design Group and IDÉE, honing his skills in product and furniture design, learning the complexity and simplicity of craftsmanship along with the subtly of Japanese sensibility during his time in Japan. Moving on to live and work in Europe's design capitals of Milan and Barcelona, their undeniable history in design, innovation and tradition was what Lotersztain intended to learn from.
Born in Buenos Aires to Polish parents, creativity runs in Lotersztain's family. His parents both ran their own fashion brand for years, whilst his twin sister, Roxana Lotersztain continues to run her ever-expanding interior designer firm RO in Buenas Aires.
BRUT-AL is the latest collection of limited edition designs under Lotersztain's own namesake, but the designer is not new to production. Founding and directing Derlot – Australia's leading design and furniture company – 15 years ago, the brand proudly manufacturers in Australia, Italy and USA. The brand creates modular and versatile furniture and lighting, whilst the in-house Alexander Lotersztain Studio works on multi-disciplinary design projects for custom builds, branding, interior and architectural solutions. Highlighting the materials and craftsmanship behind the production has been central to Lotersztain's ethos.
For BRUT-AL, material, texture and construction is at the forefront, showcasing the artistic qualities of all three. For this Milan Design Week, the limited-edition collection launches at Galleria Rossana Orlandi's RO Collectible. We speak to Lotersztain ahead of the launch, finding out more about growing up in Buenos Aires, his design studio and the ideology behind the BRUT-AL collection.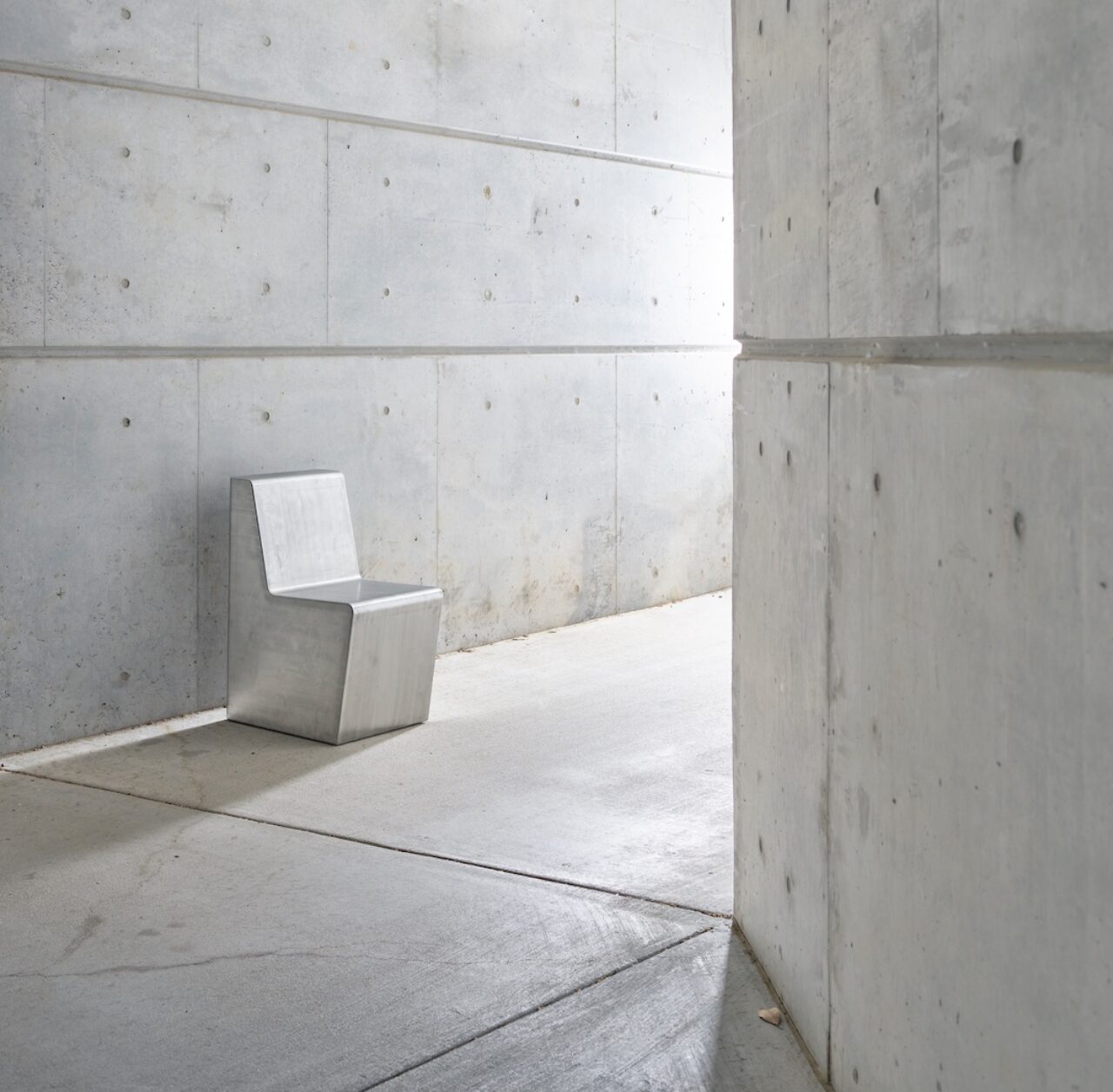 CHAMP MAGAZINE: The beauty of construction and material is evident in BRUT-AL, can you tell us more about the ideology behind the form of the collection?
ALEXANDER LOTERSZTAIN: Brutalist architecture was a big influence on BRUT-AL, the minimalist construction of that movement directly informed BRUT-AL's design. There is beauty in simplicity. I learnt this also during my time in Japan, to choose material and construction processes that can speak for themselves; they shouldn't be hidden, they should be celebrated. For BRUT-AL I've exposed both, the single-sheet aluminium in all its glory, combined with the exposed tig construction. Even tig-welding is a craft, it requires precision and patience, something that can only be learned over time.
Timeless design by default is sustainable, but for the BRUT-AL collection you also worked with recycled aluminium. Can you tell us more about why you chose this material?
Now, as designers we have a responsibility to work with existing materials, we can't keep using new resources. Aluminium has a beautiful tone and texture just by nature, especially highlighted also in the construction method of tig-welding for BRUT-AL. It's a meticulous method which requires alot of precision, I felt this was the best way to showcase the beauty of the material in the simplest way.
Launching at Milan Design Week at Rossana Orlandi's space, can you tell us more about why you chose this time to present BRUT-AL?
It's one of the best times in the year when the global design community comes together to share ideas and designs for the public. Launching these ideas in one place, where together conversations and exchange of ideas can be had – it's a melting pot of creativity mixed with business which is essential to realise those ideas. Essentially, what we do as designers is for others, to better everyday lives and the society we live in. 
Graduating in Industrial Design, would you recommend this path for other designers and was this pivotal for your career to attend university study? In terms of your career, would you say there was a particular tipping point for you
I have mixed feelings about the whole education system, although I did study and graduated in design, travel, curiosity and passion I feel has taken me further than any graduation diploma.. so to anyone out there that is thinking on studying I won't stop you, but stay curious and humble.
I can not pinpoint a specific tipping point as such, it's been more like a journey. I often reflect on my life and there is very little I would change or would have prefer to avoid… all the dots connect almost magically and all my experiences and decisions have led me to where I am, I feel very fortunate.
In your 2011 TED talk you proclaimed "I want the developing world to leapfrog from our mistakes". Could you expand on this and update us to where you are with this mission a decade later?
It's a view that I still hold very close to my heart, I am very passionate about it and something that I take personally. As designers we can do so much to change the way people think and act, how they consume, we have the ability to change behaviour for the better, but unfortunately the tipping point hasn't occur and its imperative we take action.
As designers we have a huge responsibility not only on designing but also convincing our clients on a more responsible approach. When I speak about the developing world, I do knowing first hand what is to be part of it. Although I was raised in Argentina and was in a very fortunate position, I saw poverty first hand, but also so how resilient and inventive people are, recycling as an example is part of life a necessity. But also observed that as soon as people start coming out of a difficult situation into a prosperous one, their view points change and aspirations change, and you cant blame them. But those aspirations are shaped by a culture of consumerism which is dangerous in a world that's almost at break point. We in the developed world are starting to make changes, lifestyle changes we see this in the way we live, a positive shift in values, but unfortunately we are the minority and the reality is that we need to start inspiring the developing world with a new consciousness, so they don't commit the mistakes we did as a society.
Born in Buenos Aires to Polish parents, are there any of their traits you may have adopted in your approach to life from your parents and environment there?
I owe it all to my parents and upbringing, looking back, I have inherited so much from my childhood, spirit of adventure, creativity from my mum (fashion designer) business acumen from my dad and just good working ethics. They both migrated to Argentina and built their lives there, and I have done pretty much the same here in Australia. I'm very proud of them.
You have a twin sister who lives in Buenos Aires with her own interior design studio, can you tell us more about her and her work?
She is a powerhouse. Roxana worked for many years in the US, after a stint in a Miami architectural firm, she led the interior design team for Starbucks for all Central and South America and has done some great projects. She now has set up her own studio in BA, she just loves Buenos Aires and is doing some insane residential and hospitality projects.
Argentina has an imports ban which we find so interesting since your sister is not able to import Derlot furniture in for her clients, can you tell us more about this ban?
For a few years now, Argentina has put in place a hold on imports of furniture and other goods to try to kick start that industry locally, I think the intentions are great, but also, I don't think it's so straight forward as that, as you need to back it up with the raw materials and skilled required to be able to make it, so it's double-edged sword. I feel there needs to be a balance, I haven't been able to find a reliable local manufacturer to be able to produce our collections there, but I am hopeful soon!
Working with craftsmen and manufacturers in Australia (Queensland for BRUT-AL and Melbourne for Derlot) in addition to Italy and USA, can you tell us more about your manufacturing model and its benefits? How do you ensure ultimate quality of product with different material availabilities in different regions? You also have a satellite office in LA, too?
The equation is a simple one, we strive to look at models that makes us as responsible as possible, both from a sustainable but also community approach, we value or clients and manufacturers and making / producing local was a non negotiable. It has taken us a long time to set the standards in place and more importantly the relationships with our manufacturers, time, it takes time, you can have a lot of handbook but at the end of the day we need to communicate the importance of making a product with care, a product that will last and be cherished. The LA office was a strategic move, America's knowledge and desire for good design has been growing steadily in the past 10 years, so I decided to focus my attention in that market. We established Derlot Group North America approximately 5 years ago and the business has been slowly growing, it's a very big country and with limited resources (my entire business is self founded) we have seen great results. We have initially operated out of NYC and now since 2019 from Los Angeles.
With your base in Brisbane, why do you choose to operate out of this city in particular?
I studied in Brisbane many years ago and liked it then, so when I came back to Australia to establish my studio Brisbane was the choice. It's an easy city close to some great surf and nature destinations like Noosa and Byron Bay.
I travel extensively both nationally and internationally so being based in a city like Brisbane allows me to just focus on work while I'm here and enjoy the best part of living in Australia, its nature and beaches. Brisbane is one of the fastest growing cities in Australia and now nominated as the host of the 2032 Olympics, there are alot of exciting things on the pipeline.
∆