BROACHED GOULDER
Timeless Originality: Australian Design and Craftsmanship at its Finest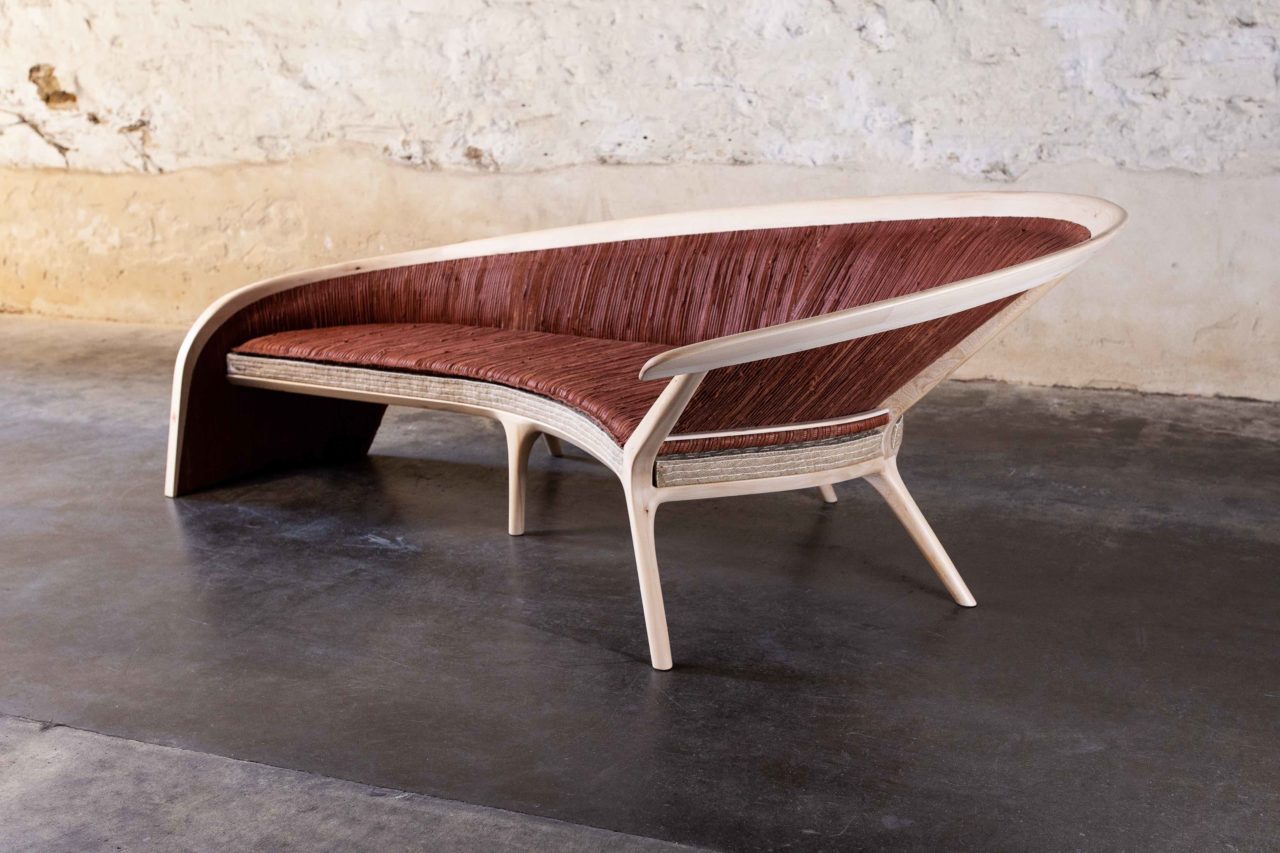 Craftsmanship in contemporary design has been reinvented thanks to one Adelaide-based furniture designer-maker pushing boundaries and ensuring those he collaborates with do too. 
Presented in Broached Goulder, a furniture collection by Australia's leading designer-maker and fourth-generation woodworker Jon Goulder and edition design-house Broached Commissions, the displayed works highlight the best of Australian design, materials and craftsmanship, encapsulating the country's history of furniture production.
Comprised of five hand-crafted designs, the Broached Goulder collection is narrative-driven, presenting a broader view on the evolution of Australia's furniture manufacturing industry in the 20th to 21st century. Jon's personal and professional relationship to it presents a decisive road map as the designer-maker has, through his own initiative and instincts, navigated the ever-changing landscape. It's important to note here that the description for Jon as a designer-maker is exactly that; he both designs and creates each piece himself by hand. Laborious and technical, yet they both go hand in hand as his practice.
Jon's expertise cannot be compared, with every state museum (bar the AGSA) acquiring his designs for their permanent collection, highlighting the fact that his name and work is a valuable piece of Australian history. Both designing and hand-crafting materials, Jon is one of the few artisans overseeing and realising every element of his work. From the sourcing of the finest Australian materials, to collaborating with other craftspeople who hold unparalleled expertise and knowledge in their field, the Broached Goulder collection is a unique time capsule not to be underestimated.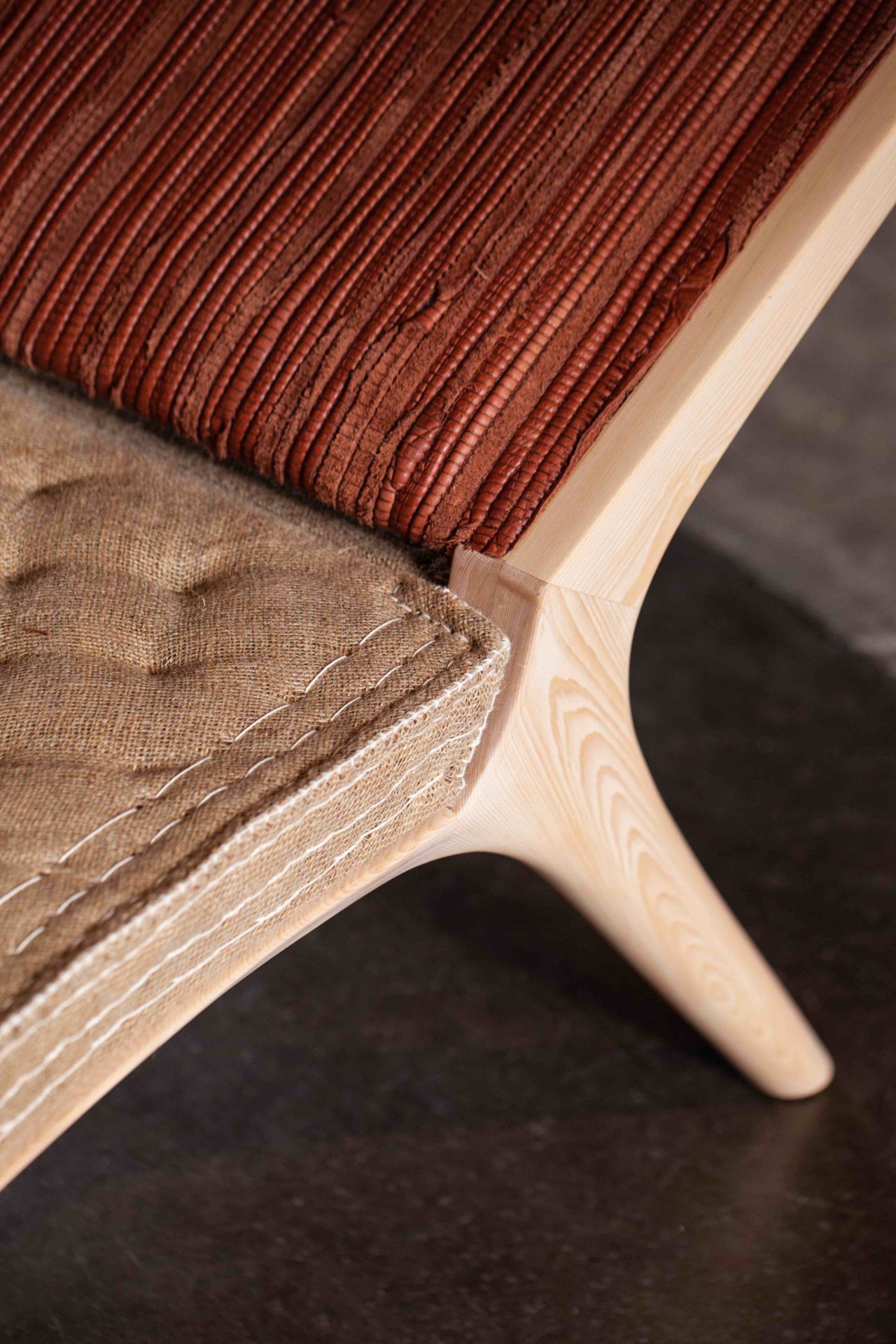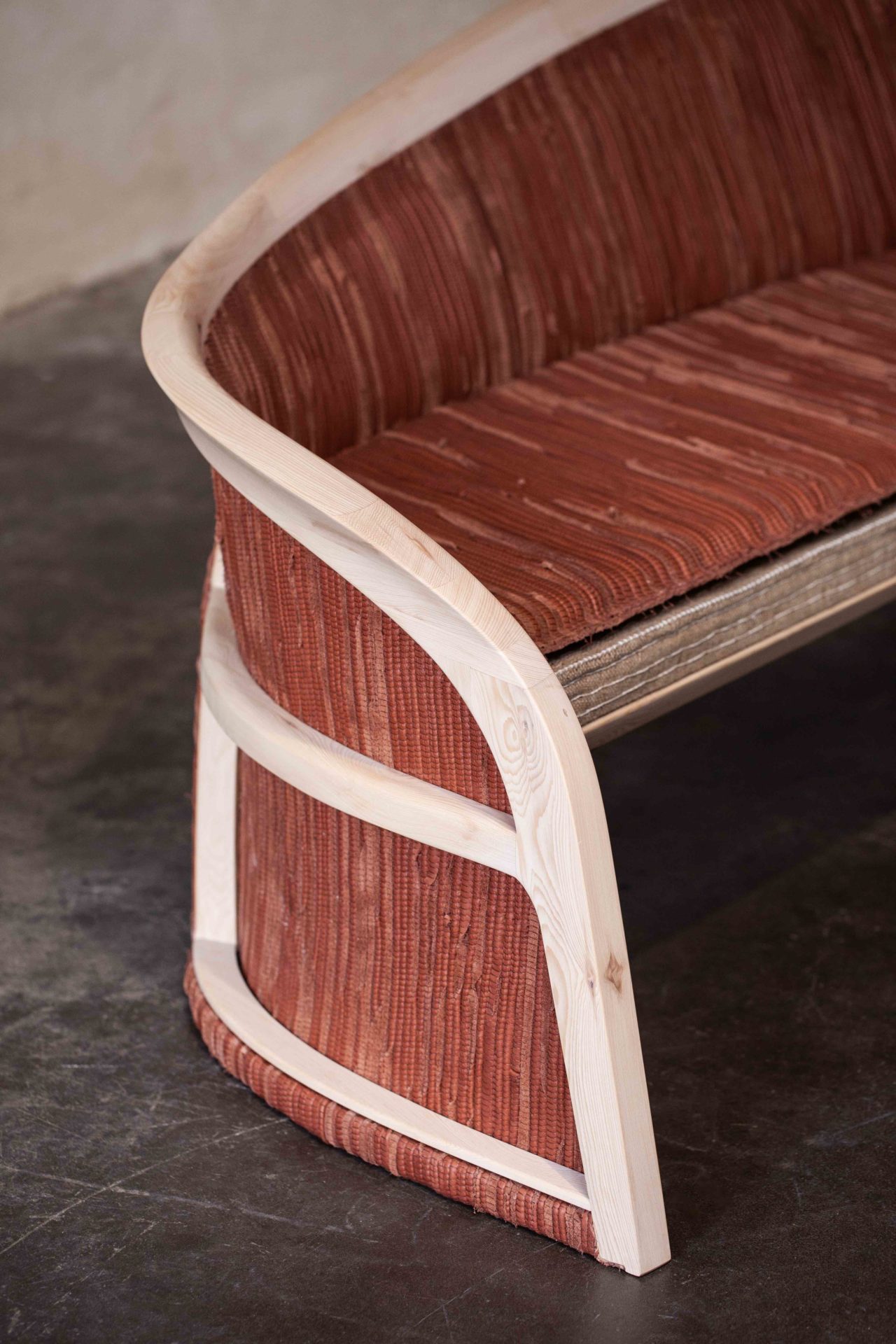 Approaching revered independent design commissioner Broached Commissions to create a memoir in the form of furniture objects, the Broached Goulder collection is a dedication to three generations of Goulder furniture makers and Jon's journey of inheriting the tradition. Each piece in the collection references a different design period covered by one or another member of the Goulder family, with Jon inflicting his modern view and approach to the final designs.
"I never would have made a collection like this if I wasn't paired with Broached Commissions, because I feel I would have taken a more commercial approach". Jon's approach to his work is practical and progressive, reactive in an industry which is rapidly diminishing. Dedication to the investment of time, money and resources is a rarity, with cheaper offshore production commonly prevailing – "a dilemma of accessible craftsmanship" states Jon. Naturally reactive, Jon instinctively modernised to continually develop his practise further.
Joining his family's workshop as a teenager, Jon sought to find an intellectual purpose for his practise and with his mother's guidance, went on to study at the Canberra School of Art. Training under the late George Ingham, he was taught new techniques which would remain with him until this day. From upholstering using coconut fibre and hessian, a centuries-old tradition he learnt in the Goulder workshop, to technical innovations acquired in his later life, Jon's toolkit of expertise was what would ensure he always remained original and modern.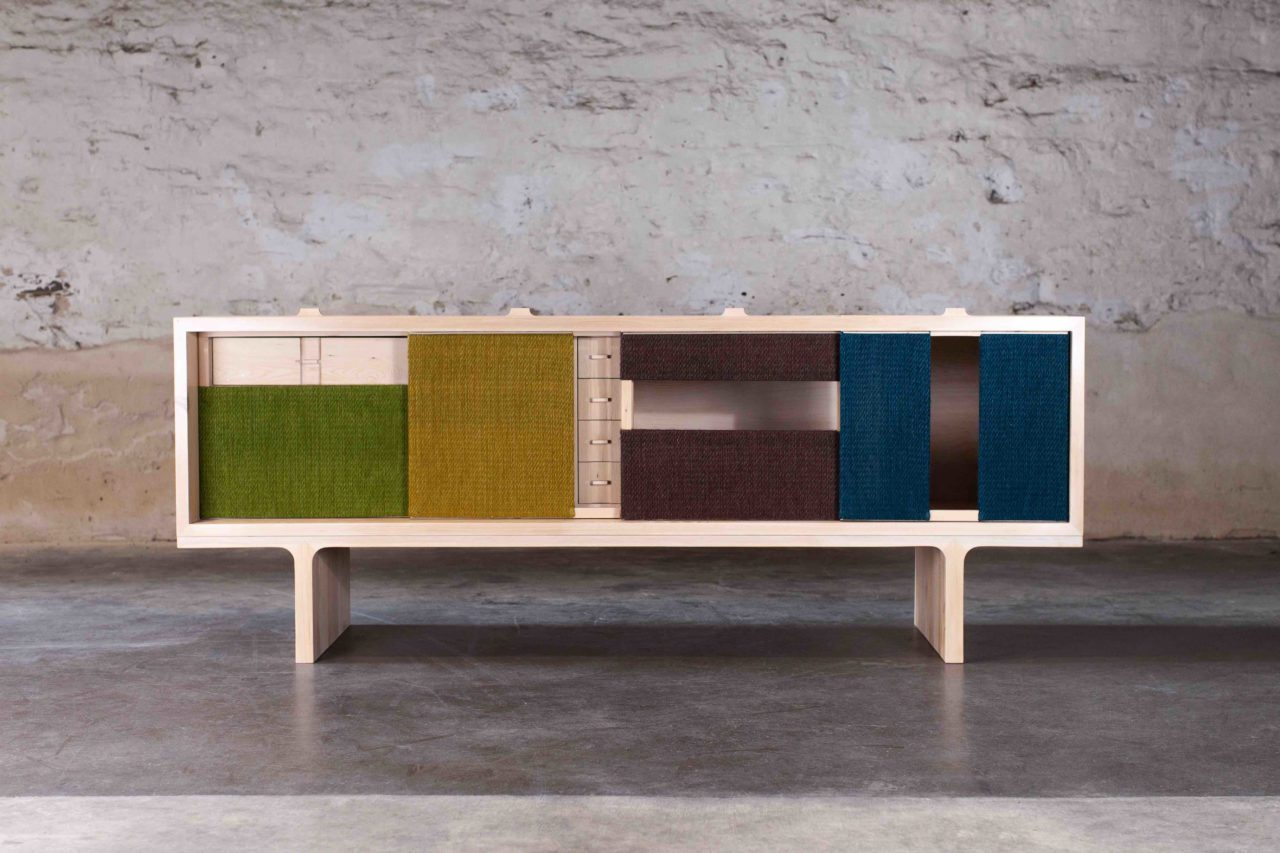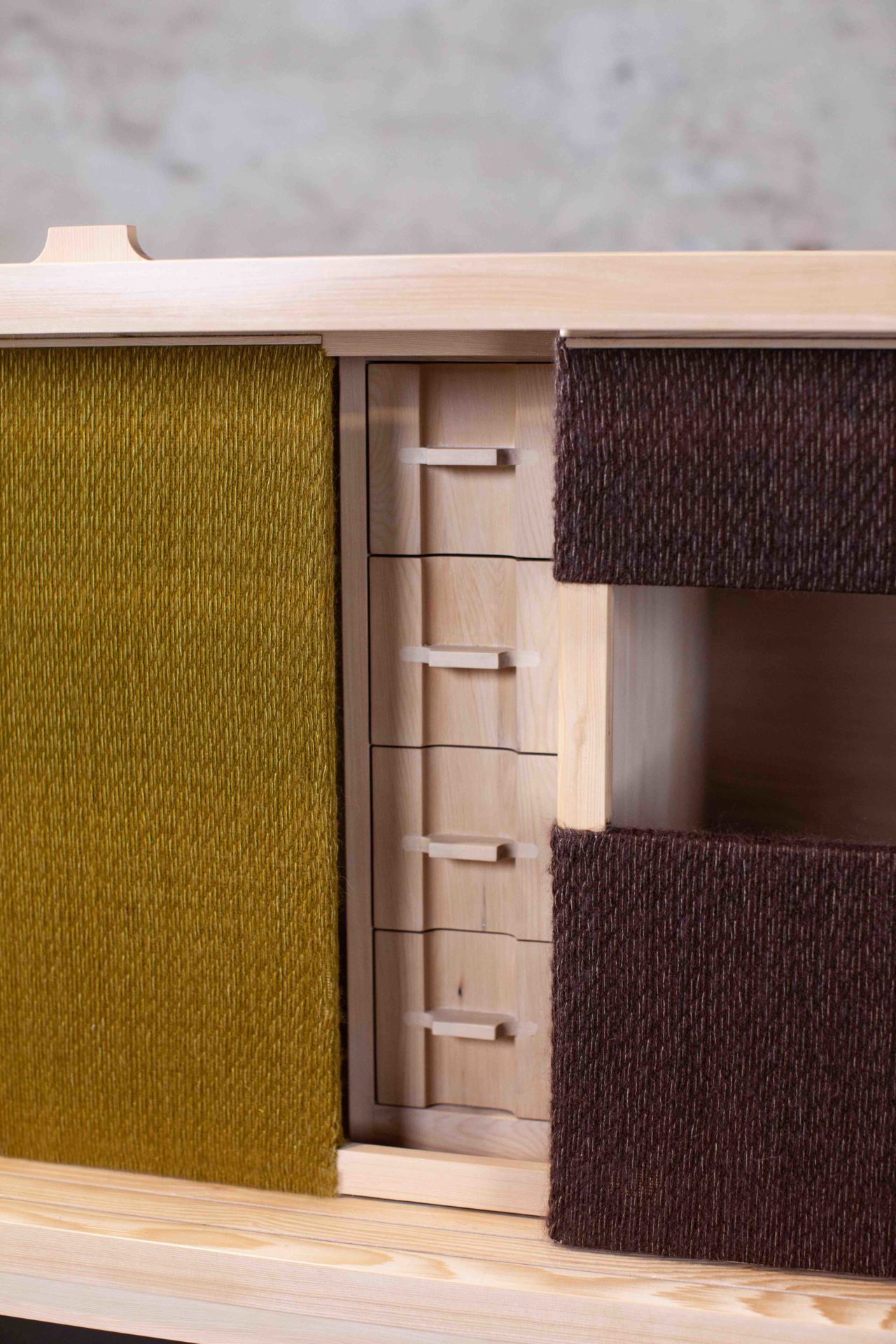 Partnering with Tasmanian Timber for Broached Goulder, Jon selected sustainably sourced Hydrowood timbers from Lake Pieman near Hobart. A former dam, timber in the water was essentially left to its own devices and created an underwater forest. Now harvested by Hydrowood in one of the world's first underwater forestry operations, Tasmania's rarest and most sought-after timbers are available. Each individual in their own way, it is the blackwood and celery top pine species Jon selected for the Broached Goulder collection. Both hand-crafted in his studio, the salvaged timbers also bear a strong narrative and connection to one of Australia's key natural resources and industries.
Calling upon established Australian textile artist Liz Williamson to craft the woven leather on the Broached Goulder Chaise Lounge and sliding panels of the Credenza, Liz created a woven fabric representing the fabrics that hung in the Goulder family workshop. A master craftsmen herself, Liz used strips of Maharam leather and ran them through her loom and shuttle to create an intricate weave. Also working with fine mohair on the Credenza sliding panels, like Jon, Liz also brings innovation and newness to her craft _remove comma making her an ideal partner on the project.
"I absolutely love extinct typologies," states Lou Weis, founder and creative director of Broached Commissions. This passion is found in the Broached Goulder Freestanding Mirror, where Melbourne-based designer John Warwicker was brought on board to reimagine antiquated typologies in the design. Using pre-water formed and pressed Maharam leather, the work features an embossed quote from the late William Morris, a leading figure in the British Arts and Crafts Movement, with John's select typography using the Caslon font. A striking feat of engineering, the black leather is pressed to perfection, justly conveying William Morris' discerning notes "warning that man's labours were (and remain) engaged relentlessly in the creation of useless items". Here they highlight the importance of Jon's work even more, from his immaculate joinery on the Tasmanian black wood and subtle brass components.
For the exhibition, Broached specifically commissioned Jesse Draxler to create the accompanying visual materials for the show. A Los Angeles-based artist and illustrator, Jesse used archival materials supplied by the Goulder family for the work, creating a collage that visually – albeit abstractly – represented four generations of Goulder furniture making.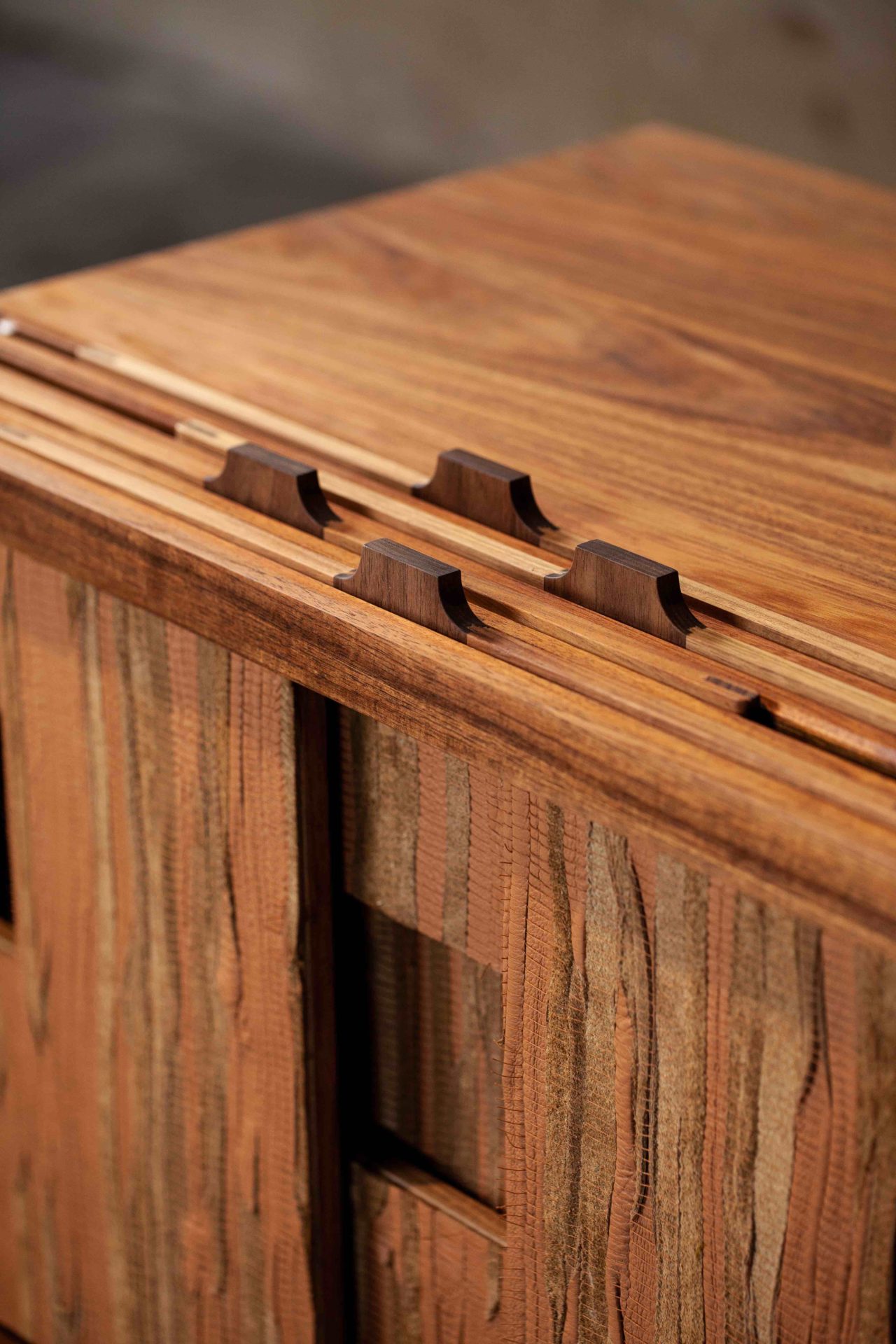 Jon's works can technically reside in all three genres – art, design and craft – with the work primarily now "populating a place in the design world, but hopefully they appreciate the craft" as Jon reflects.
As former creative director of the Furniture Studio in the Jam Factory in Adelaide, South Australia, Jon's Broached Goulder collection finds a fitting audience in the gallery exhibition space at the crafts-focussed institution. The Jam Factory, which champions forms of craft such as furniture making, glass blowing, metalwork, jewellery-making and ceramics, claims international recognition for its unbridled quality of both teaching and curation of exhibited shows.
Broached Goulder, a collection designed by Jon Goulder for Broached Commissions is presented at the Jam Factory until May 3.
BROACHED GOULDER
JamFactory
19 Morphett Street
Adelaide, 5000
South Australia
#champ_adelaide