In Conversation with teamLab's Toshiyuki Inoko
Delving Into The Japanese Digital Art Collective's Greater Meaning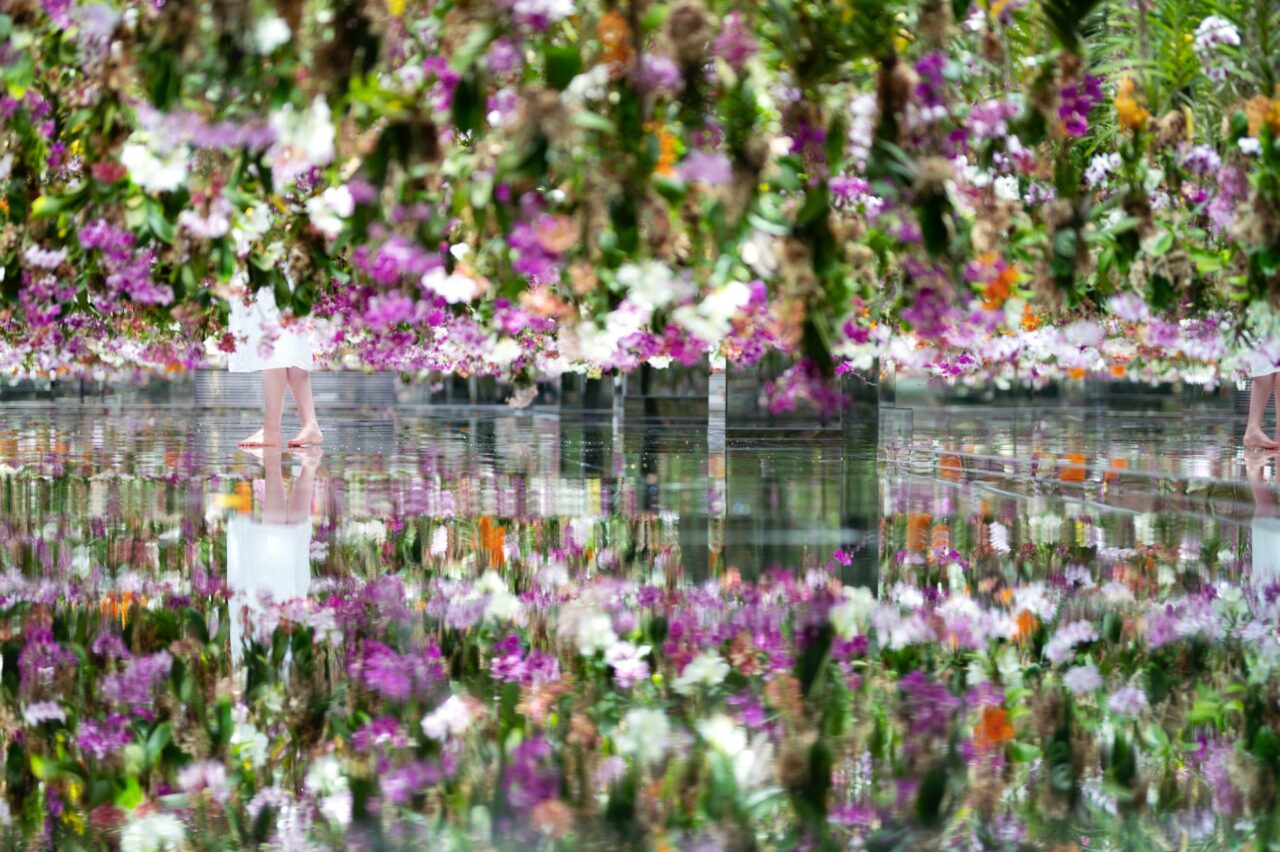 Recently named as the Most Visited Single-Artist Museum in the World by Guiness World Records, teamLab's Borderless is an unprecedented digital art museum that in 2019, saw over 2,194,284 visitors. Spanning over 107,000 square feet, it features a multi-faceted world of spaces filled with immersive and interactive artworks. It's impressive to see that only after opening the exhibition in 2018, it has reached such acclaim since the digital art collective's founding in 2001. Now with several hundred skilled ultra-technologists, their complex and digitally-engineered artworks include projection-mapped imagery, to human-reactive illuminations and even the all-encompassing sounds and fragrances produced for each space. Aiming to create "a new relationship between humans and nature, and between oneself and the world through art", teamLab — whether viewed as an art collective or entertainment company — have staged artworks in various locations around the world and opened two new spaces in Tokyo; PLANETS and sauna.
We arrive at teamLab PLANETS presenting two brand new spaces and artworks, one of which is a Floating Flower Garden comprised of 13,000 orchids of varying varieties suspended in a naturally-lit room, grown in mid-air with a lifespan of around three weeks. In this work, the orchids are carefully suspended by a programmed format that reacts to a viewers presence. Once you step closer towards the orchids, their hangars raise and slowly create a dome-shaped space around you, immersing you in amongst the artwork.
Ala Champ Editor in Chief Joanna Kawecki meets with Toshiyuki Inoko, one of teamLab's founders inside the new Floating Flower Garden. Born in Japan's Tokushima prefecture within the Shikoku Islands — known as some of Japan's most revered natural landscapes and scenery — Inoko's heavy accent and boyish way of speaking is a warm reminder of his countryside upbringing and background. He is a gregarious character that finds pure inspiration by the wonders of the world — an inspiration he translates into technically-programmed artworks that come in various immersive forms, from kinetic installation to projection-mapping and calculated illuminations. It is a surprise to hear his casual yet direct approach when describing them — there is nothing to be over conceptualised and over-analysed here — yet if you look closely, the works reference meanings that cross history, the cosmos and natural phenomena. Inoko is heavily fascinated by the history of the world, understanding our own place as one small fragment in a vast timeline. Without delving into the corporate side of his art collective, his intention for his artwork is ultimately democratic — he would like their existence to simply be experienced by all types of individuals from young and old, across cultures and varying experiences.
Inside teamLab PLANET's new space title Floating Flower Garden: You And I are of the Same Root, The Garden and I are One, in amongst the orchids, Joanna speaks with teamLab's Toshiyuki Inoko about the new installation, and touches on teamLab's VR development to thoughts on NFT's, to his recent visit to the terraced field of the Hani Tribe in China, that, like his artworks, left a lasting impression.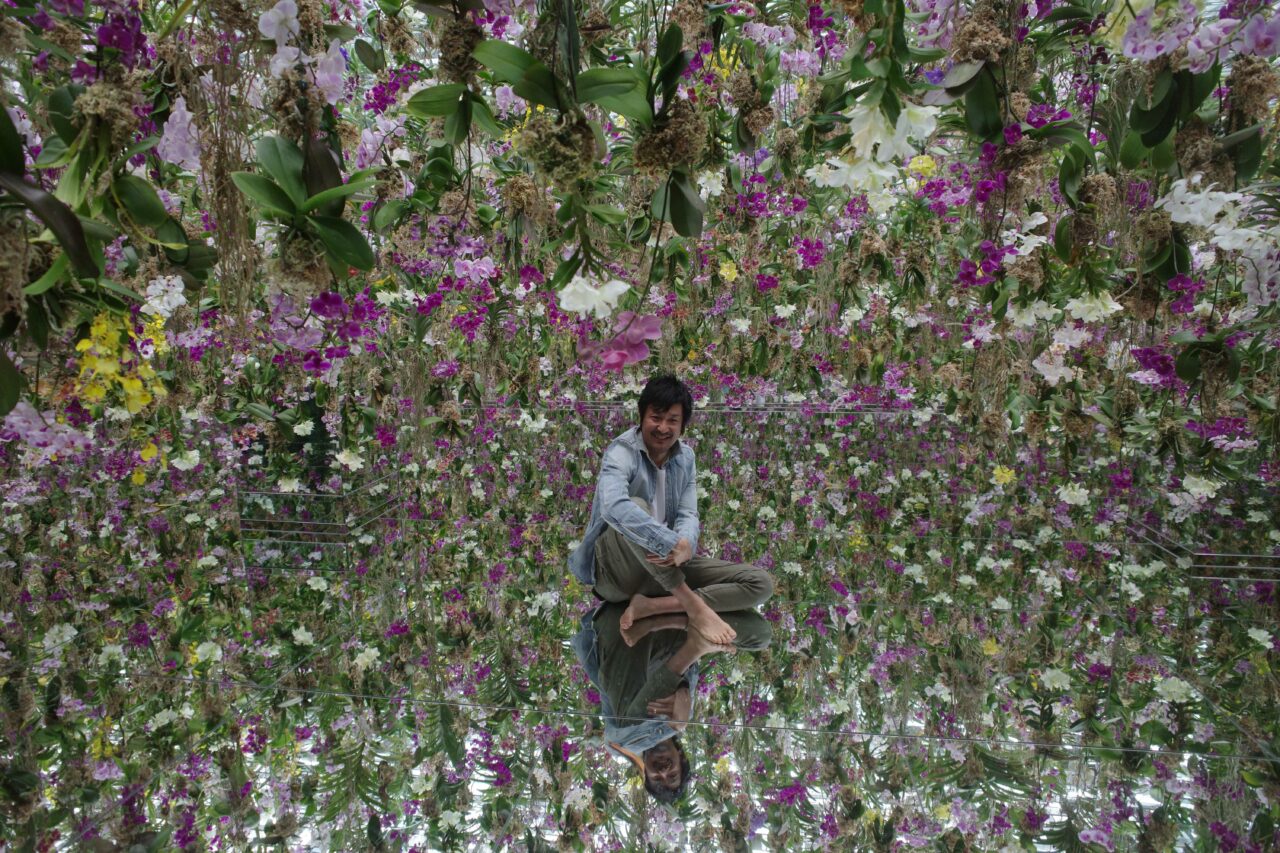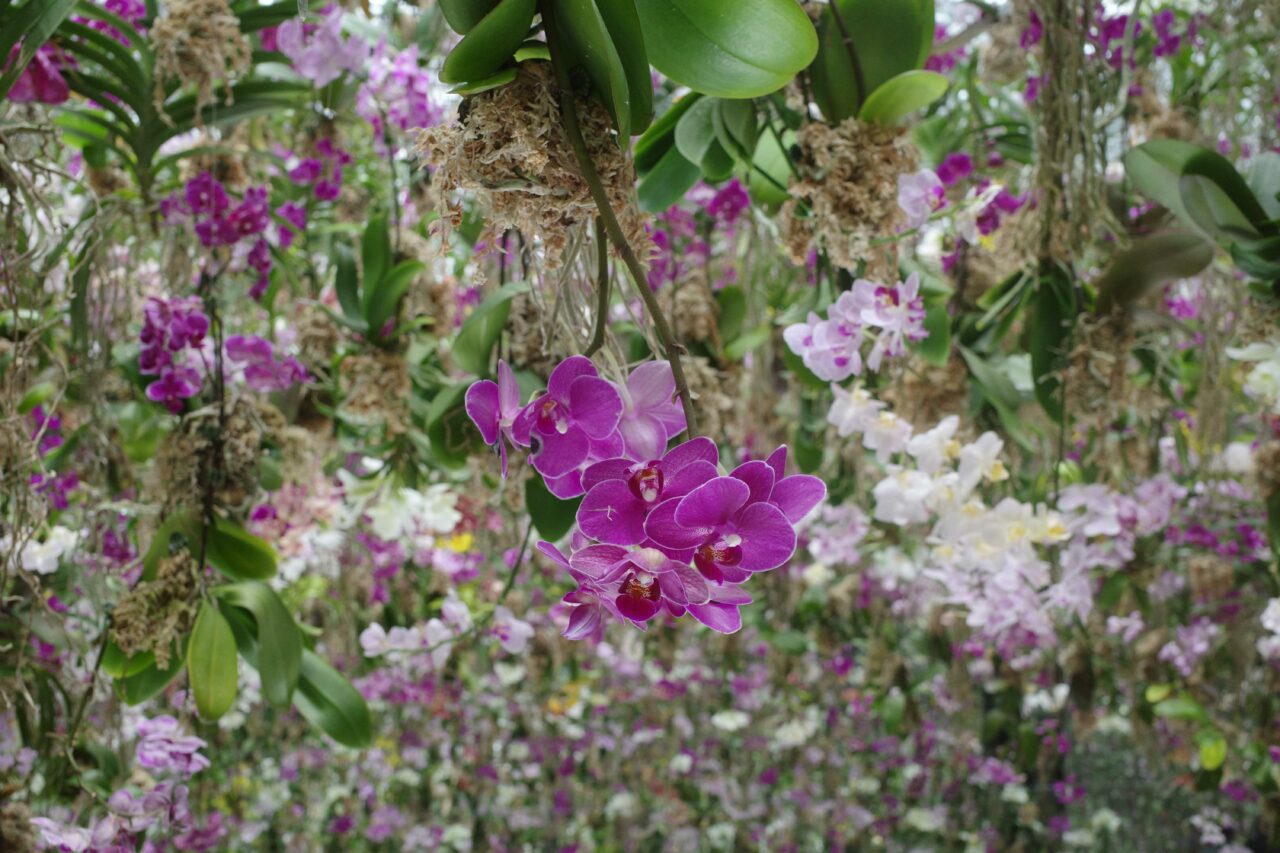 Joanna Kawecki: Firstly, I am surprised to see this artwork is in natural light, as many of your other works within teamlab PLANETS are in enclosed spaces with artificial light.
Toshiyuki Inoko: Yes, that was the intention as this is a garden with living flowers. These are not cut flowers, not ikebana, but living flowers at the roots. These flowers actually grow and bloom mid-air, so that's why natural light definitely is needed. These flowers don't need soil, all of them are live orchids. Of all the plants, orchids are said to be the very last flowering plants that appeared. When they appeared on the earth for the very first time, all of the land and soil was already covered by other plants, so orchids had to evolve in order to live without soil.
teamLab in fact celebrates its 20th anniversary this year, since starting in 2001. How do you feel about how it has grown, and how do you envision your works in the future?
Twenty years ago, we didn't know how to financially maintain ourselves and keep the team — we couldn't even picture ourselves to be able to manage ourselves. It was back in 2016 that we did a summer-only event called PLANETS in Odaiba that had ten hours of long queues! After the exhibit ended, the financial founders DMM came to us saying that they wanted to create something permanent. After 20 years, we are very very lucky and fortunate to be able to create these many works all over the world.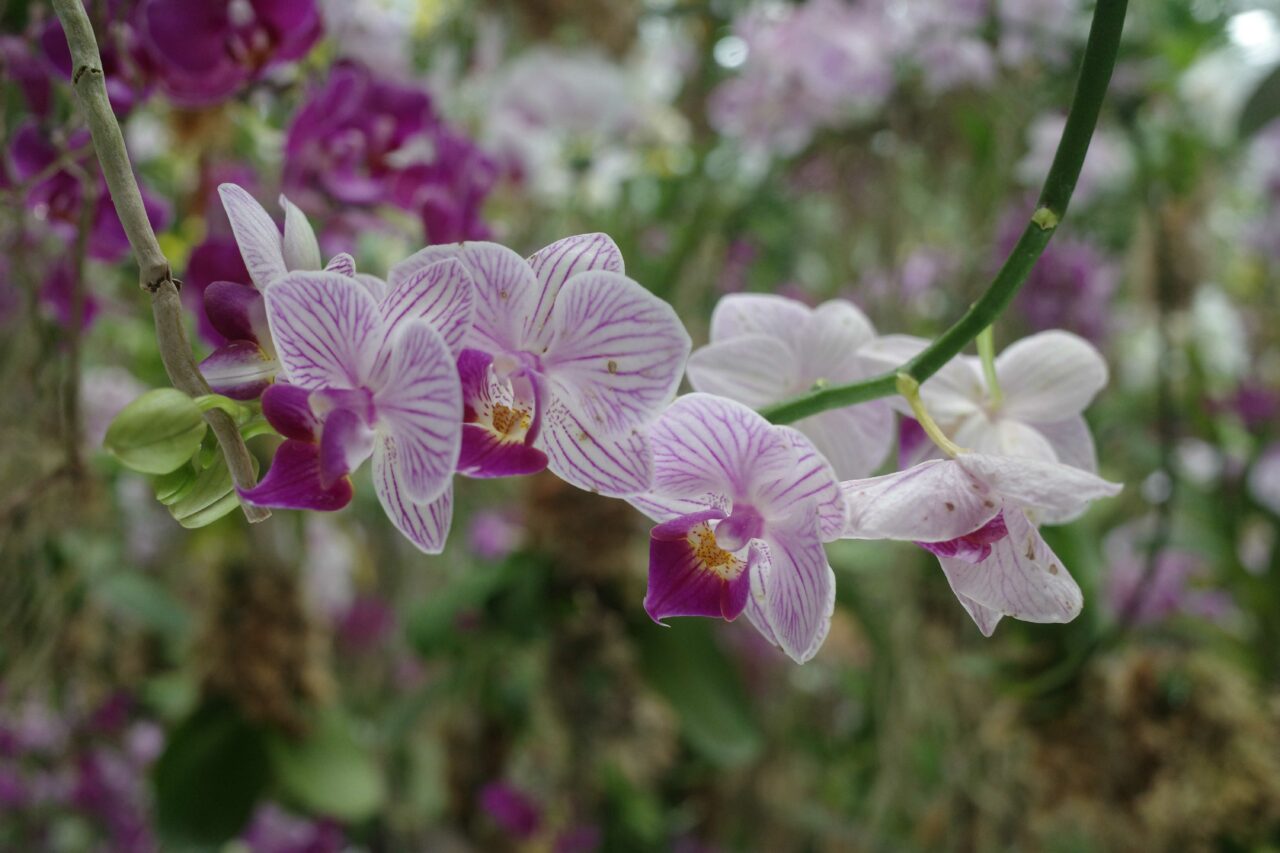 Were you always interested in computers or technology from a young age?
I was 18 years old when I first even used a computer! I grew up in the countryside in Tokushima. When I came to Tokyo for university, that was the first time I ever bought a computer and used the internet. It was also the first time I went to a big bookstore, and didn't even know that this many books could exist — as I really came from such a small countryside area. I majored in physics, more focussing between physics and mathematics. When I entered university, a computer was more of a tool so already my research and study rooms were already surrounded by computers. That was the natural setting that I had when I entered university, so for me to be surrounded by computers was a very normal situation. Back in 1996, it was when the world started to have the internet, it was the start of a new era. That is when I thought about creating something using digital as a tool. That's how my idea of creating digital art was triggered.
Your landscapes and artworks reflect nature, however what is the reason behind your fantastical and hyper-realised expression of nature? How do you find the balance of creating something close to reality with technology?
Before the era of technology, everything was based on materialism. During that era, humanity was always ignored. Materialism, meaning that it doesn't really matter whether you run, or sit down, or exist or presented in a space, because everything was based on a materialistic value. But what technology allows us to do, is to create a relationship between the artwork and the visitors and people themselves. For teamLab, technology allows us to establish this relationship that otherwise wouldn't be possible with the use of technology — between the artwork and the viewer.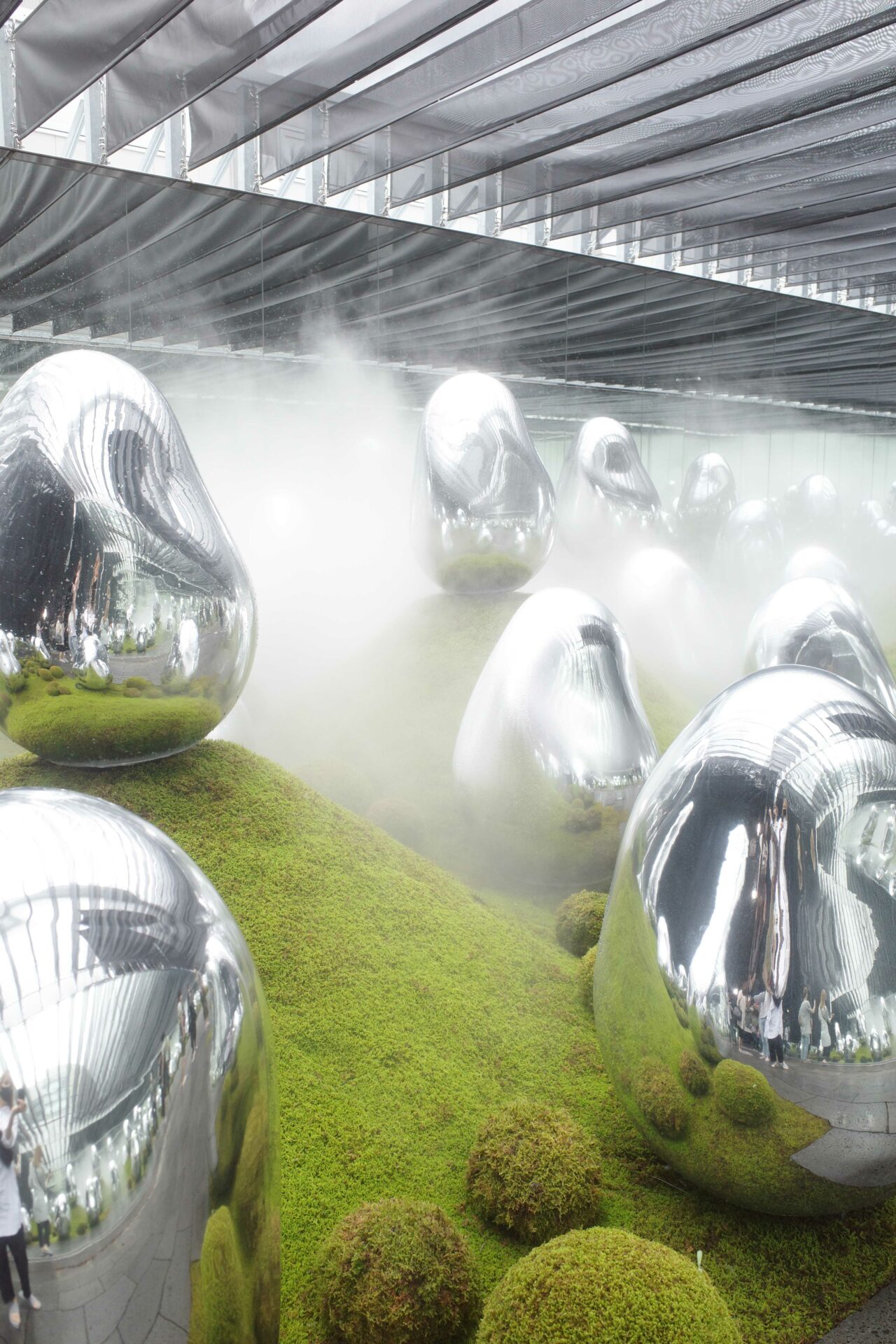 Are there ways you specifically arrange the direction or colour of works to encourage heightened emotion or human experience? (When you look at data for each of your spaces, aside from the statistics of traffic and engagement, do you also monitor emotions or behaviour of people in the spaces?)
Not at all, and actually I'm not even interested in it. Once it opens and once we complete creating the artworks, we don't come to the museum to check what's going on. The way we create the artworks is based on our own interests. It's based on the experience that we want to explore. So we're not really creating based on peoples behaviours or data that we collect.
What is the influence of physically experiencing the artworks?
Humans are supposed to think with their entire body, they are supposed to recognise the world and all it's spaces through your body. I want to recognise the world through my body as well. teamLab truly believe that it is the art experience that really alters and changes your perception — that it really is something that changes humans' sense of values. The virtue for teamLab is to change your perception through the physical experience of the artworks.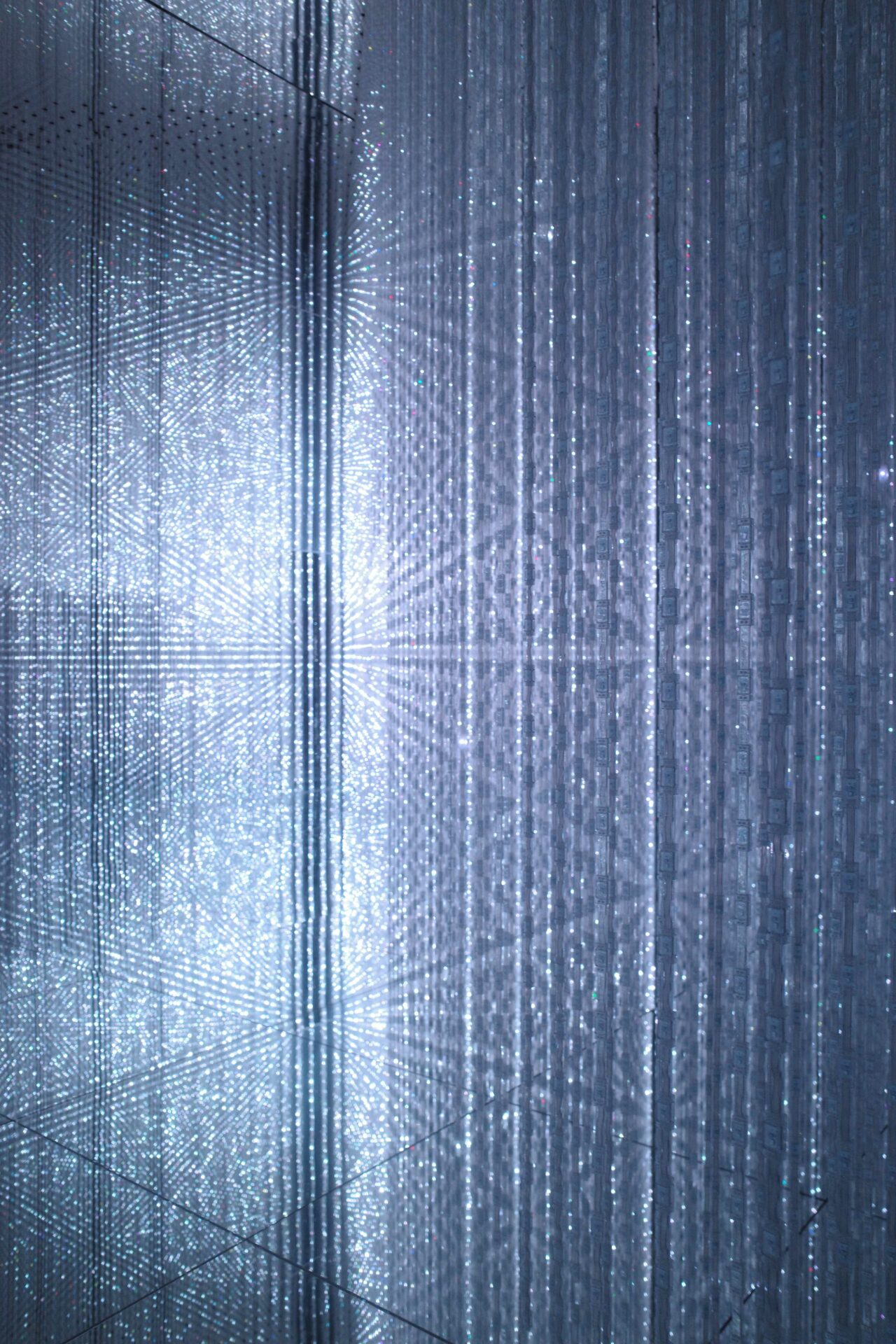 Are you experimenting/ looking into teamLab artworks into the VR for individual use/ private space rather than your specific-built experiential landscapes?
We actually started a VR project last April. Initially, teamLab never intended to create something using VR technology, however last year due to Covid-19 I saw some news about New York and Europe about people having to stay home. I was shocked by the news. I wanted to create something you can experience, even by staying home. That's how we started the project and it is still in progress. Nonetheless, the priority for us is still physical spaces.
With the rise of NFTs and digital artworks, how do you see technology and contemporary art popularised and experienced in the future?
Our priority is not to sell expensive artworks to privileged to socially or financially-advantaged people, that is not our interest to begin with. Selling is not our utmost interest, but to rather let as many people to come and experience the spaces. Our priority is not for some to have the art piece, but more that we want them to have the physical experience in the art.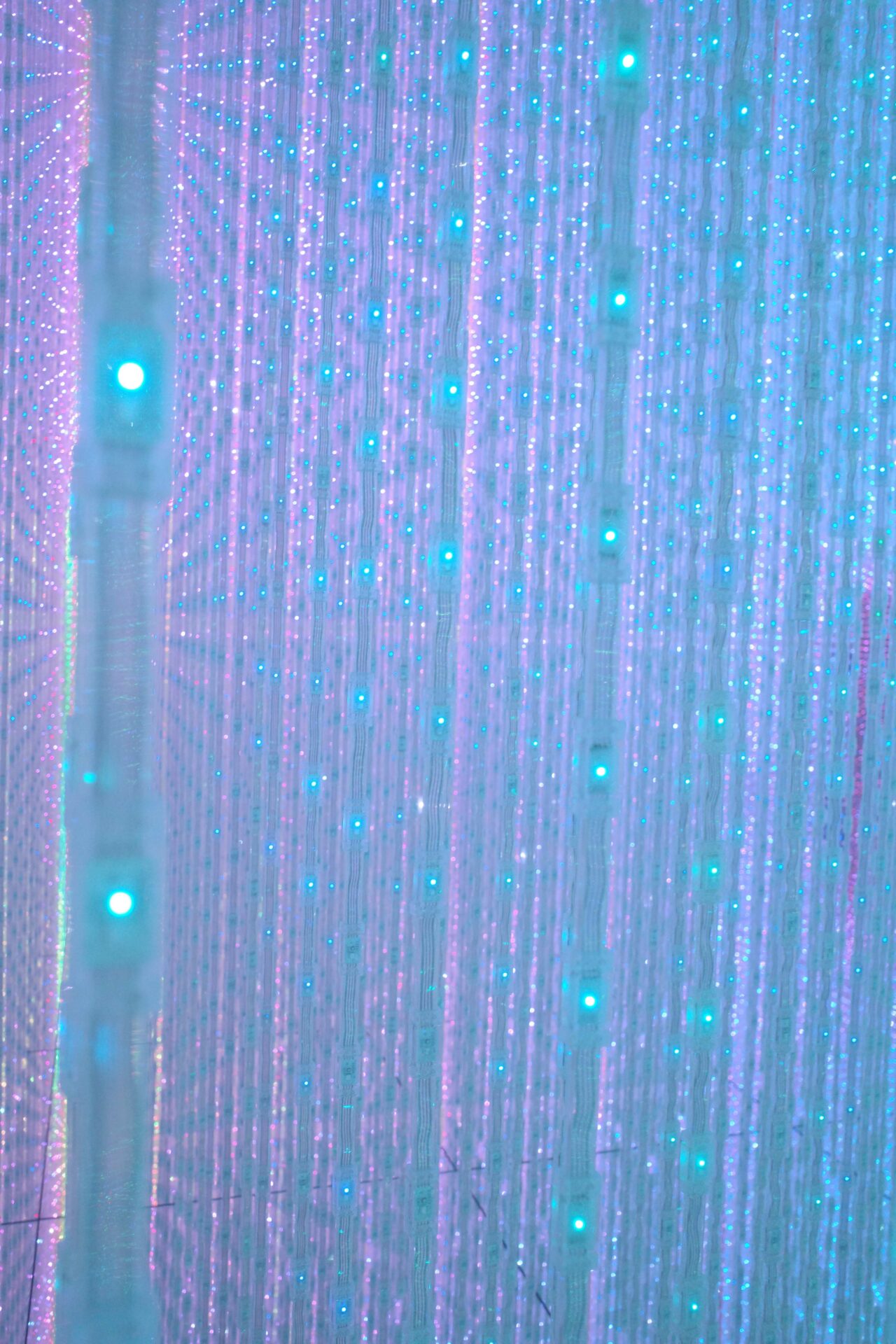 What was a recent experience that left a big impact on you?
Back in the end of 2019 I travelled to South China, right around the border between China and Vietnam. I saw a terraced field of the Hani Tribe. It is a terraced field that has been there for 1600 years. You can't even grasp the entirety because it's so vast. That entire living world includes humanity — humanity is just a part of it. I was very much impressed by the vastness and entirety of it."
[Editors note: the Hani People are a Lolo-speaking ethnic group in Southern China and Northern Laos and Vietnam, one of China's 56 officially recognised ethnic groups and one of the 54 in Vietnam, with most residing in the Province of Yunnan in southern China, located across the Ailao Mountains, between the Mekong River and the Red River.]
Just like this 1600-year-old terraced field, do you also envision teamLab to also continue after you are no longer here on this planet?
Instead of hoping that teamLab will continue after I depart, it's the next generation that decides what type of artworks will be needed.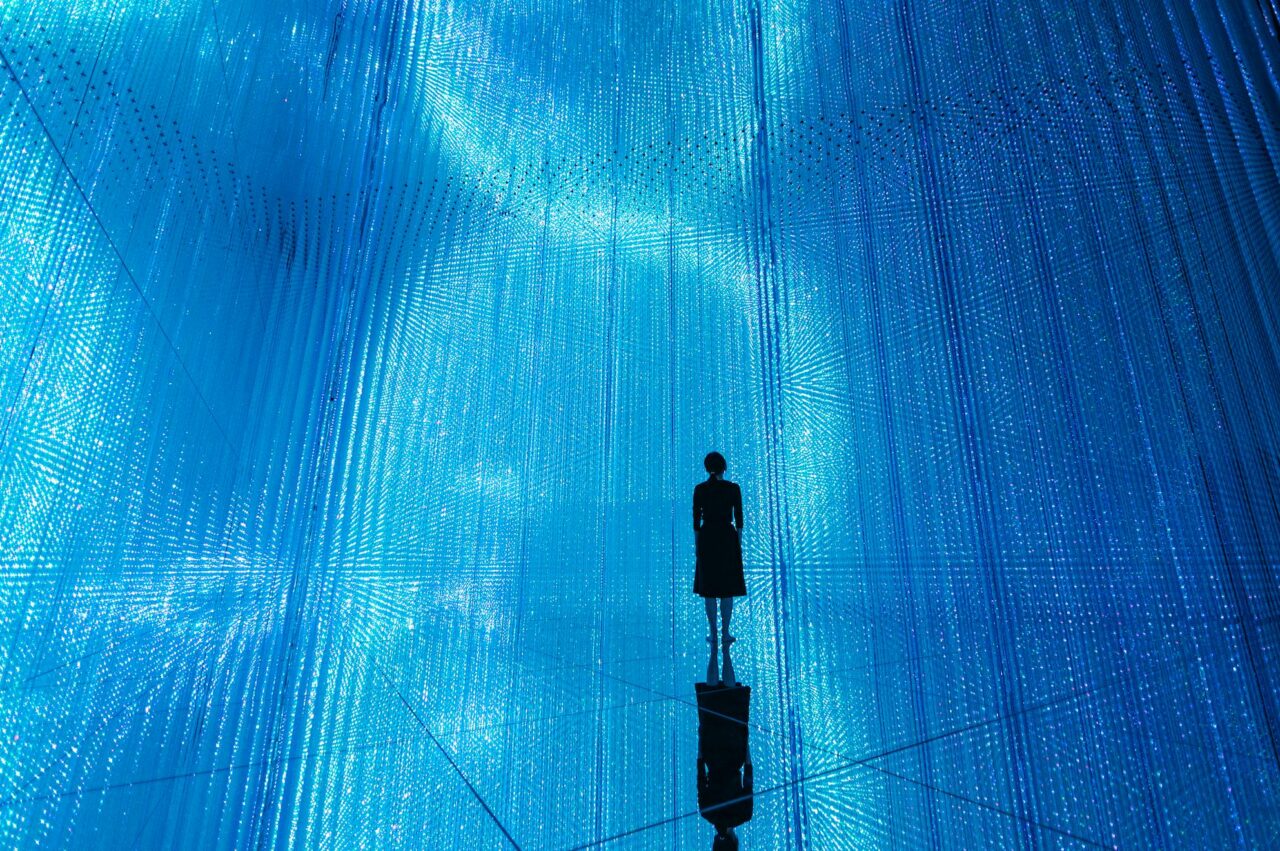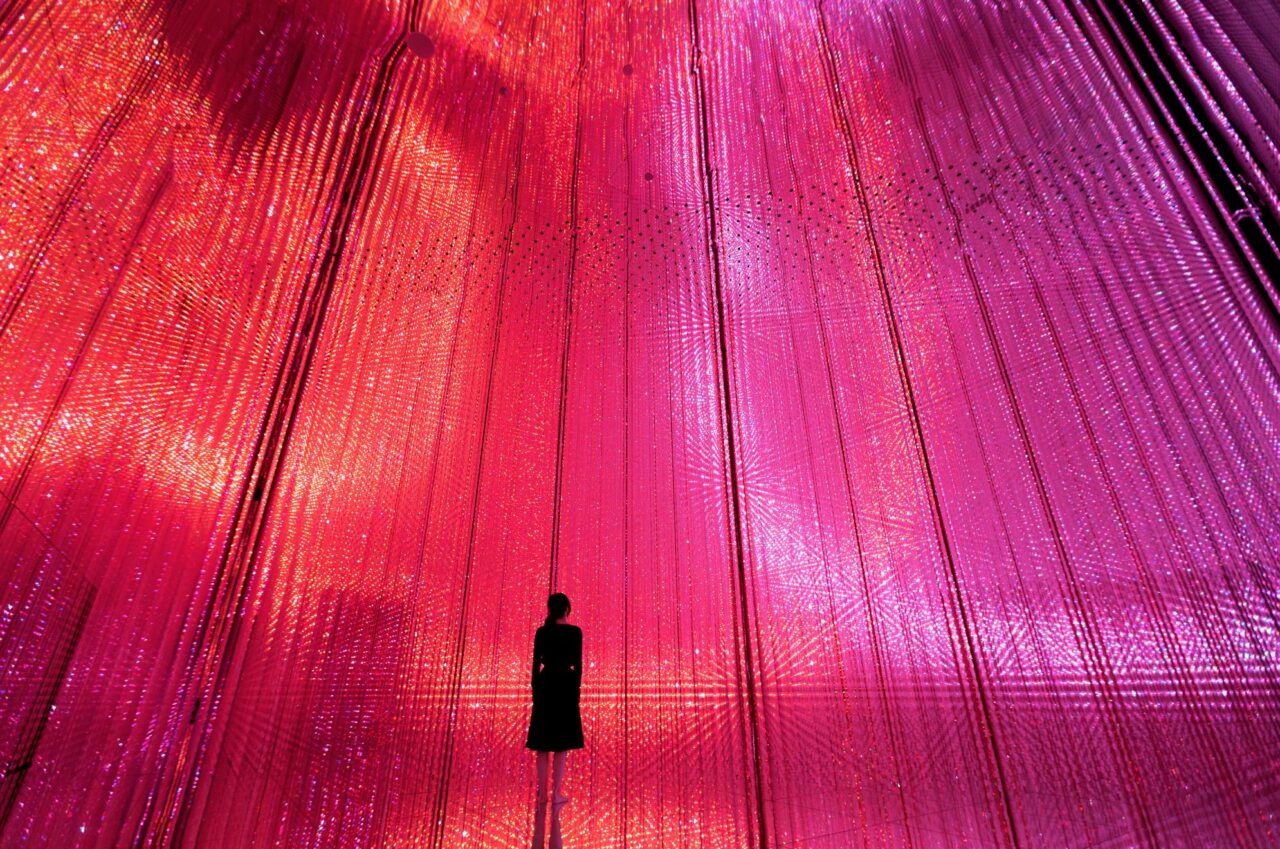 Interview: Joanna Kawecki
Photography: Yuki Matsui & Courtesy TEAMLAB