Serpentine Pavilion 2017
Architect Diébédo Francis Kéré creates a playful, latticed wooden circular structure for this year's Serpentine Summer Pavilion
Photography - Ana Sheveleva
London's Serpentine Gallery welcomes their 2017 Summer Pavilion, designed by Burkina Faso-born architect Diébédo Francis Kéré. Inspired by the tree that acts as a central meeting point for life in Gando (his hometown), with Kéré's intention being to connect visitors with one another and the nature around them. Air circulates freely through this design, with use of natural light (a signature focus for Kéré), and a central steel and polycarbonate sheet structure creating a waterfall for London's typical weather consisting of rain. When standing inside the structure, the smell of timber fills the air while the sun reflects off of the polycarbonate upper roofing. For his design for the Pavilion, he explains, "As an architect, it is an honour to work in such a grand park, especially knowing the long history of how the gardens evolved and changed into what we see today….I was interested in how my contribution to this Royal Park could not only enhance the visitors experience of nature, but also provoke a new way for people to connect with each other." Serpentine Galleries CEO Yana Peel and Artistic Director Hans Ulrich Obrist selected the Kéré for this years Pavilion, along with advisors such as David Adjaye and Richard Rogers. Kéré explains that the late Zaha Hadid was also a strong source inspiration, including his admiration for the architecture of London; finding it a place where he can express his ideas.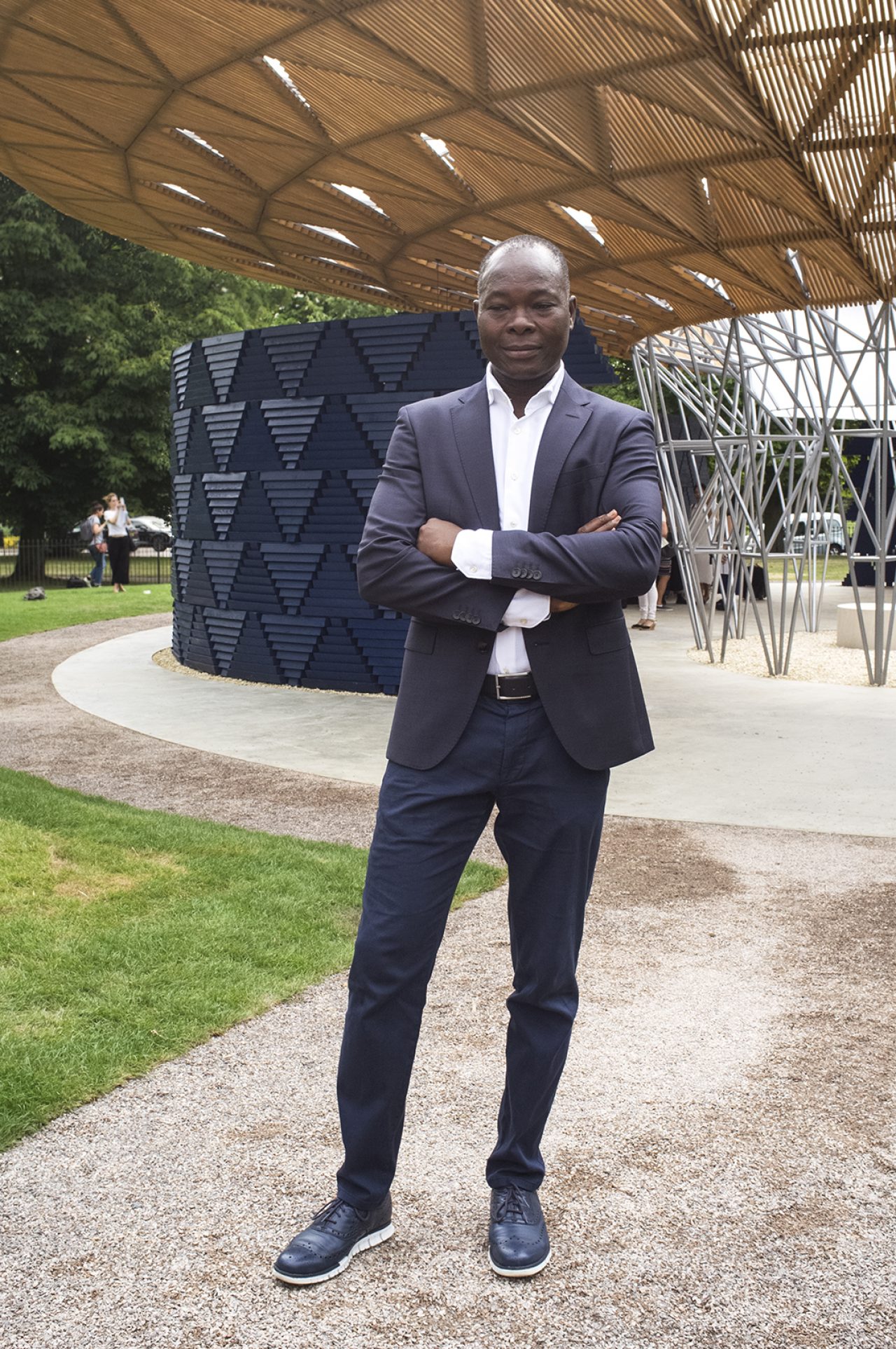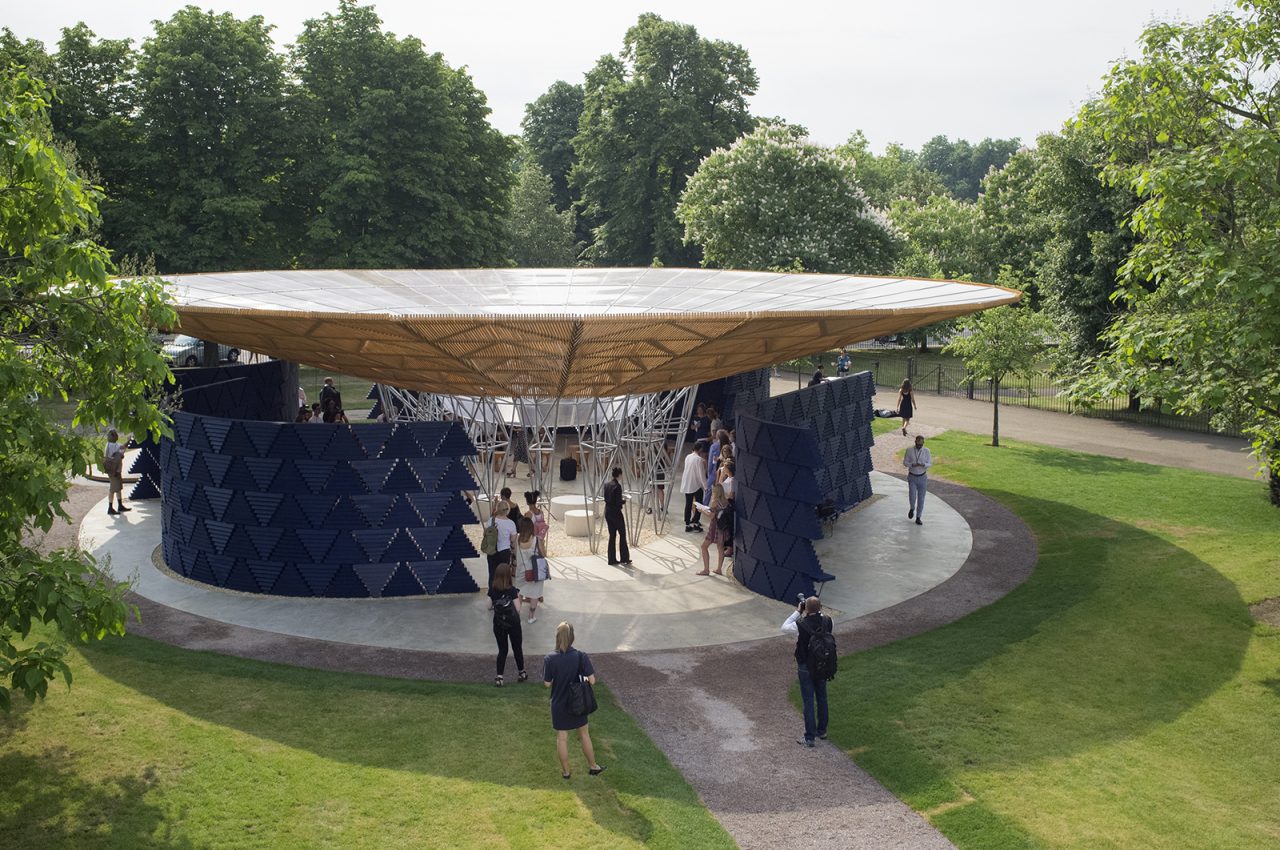 The walls of the 2017 Serpentine Pavilion by architect Francis Kéré are made up of triangular sections of wood, inviting in light through the spaces made through their particular placement. The indigo walls are a striking contrast to the natural timber ceiling, with Kéré explaining, "In my culture, blue is an important colour. For a young man, when you're going to meet the dream of your life for the first time, you wear your best clothes. I wanted to present myself, my architecture, in blue. It is a great place, and if you have the chance to do something…here…you show yourself from your best side."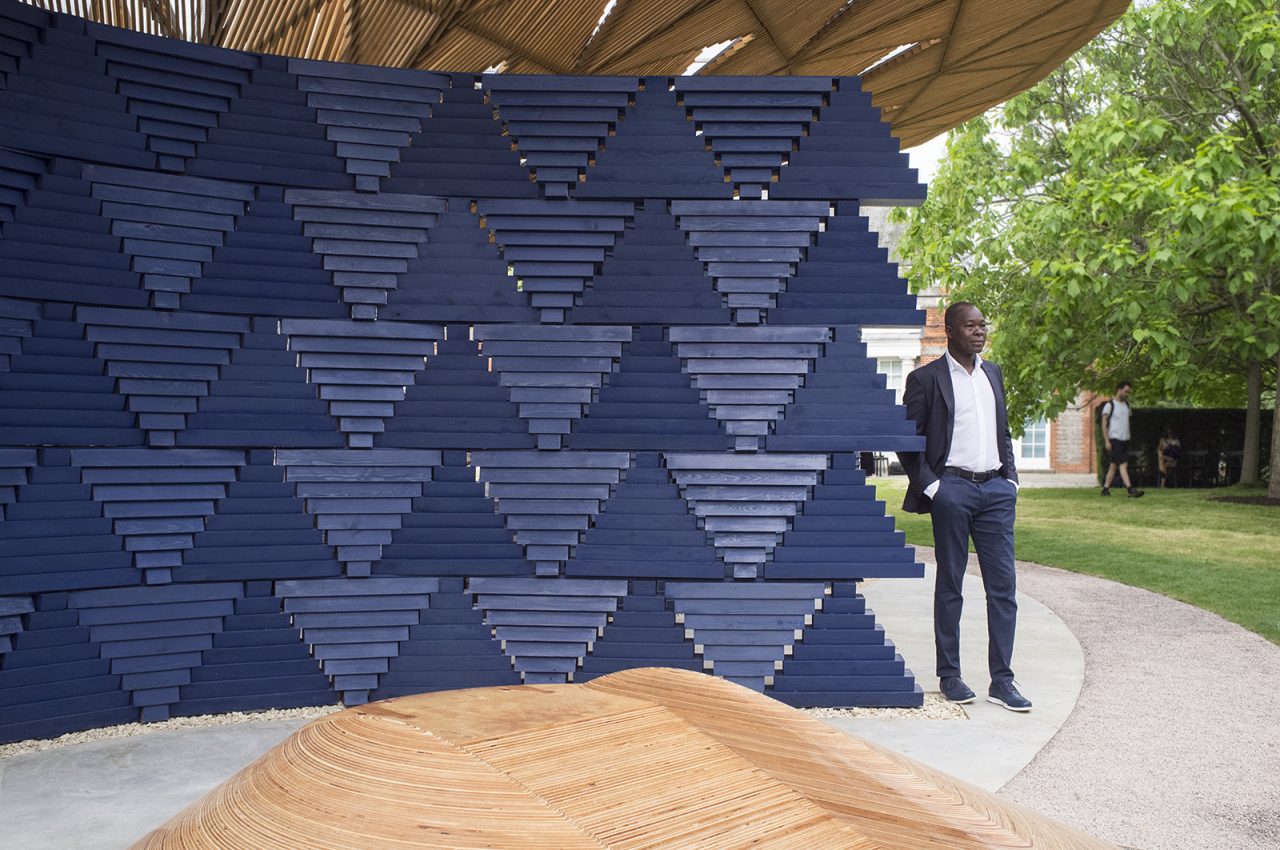 Kéré explains the Pavilion's spacious design, "Fundamental to my architecture is a sense of openness. In the Pavilion this is achieved by the wall system, which is comprised of prefabricated wooden blocks assembled into triangular modules with slight gaps, or apertures, between them. This gives a lightness and transparency to the building enclosure. The composition of the curved walls is split into four elements, creating four different access points to the Pavilion. Detached from the roof canopy, these elements allow air to circulate freely throughout."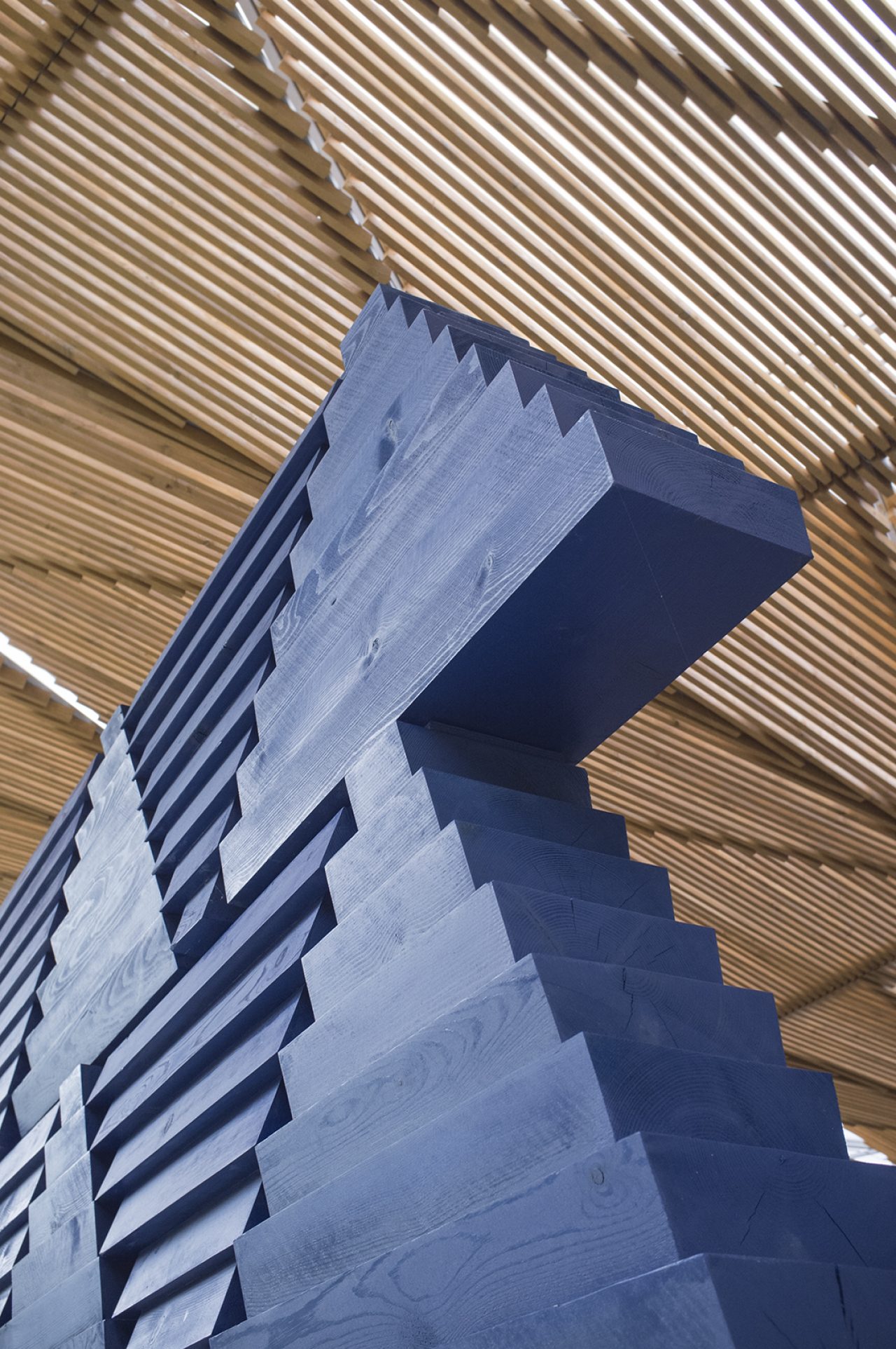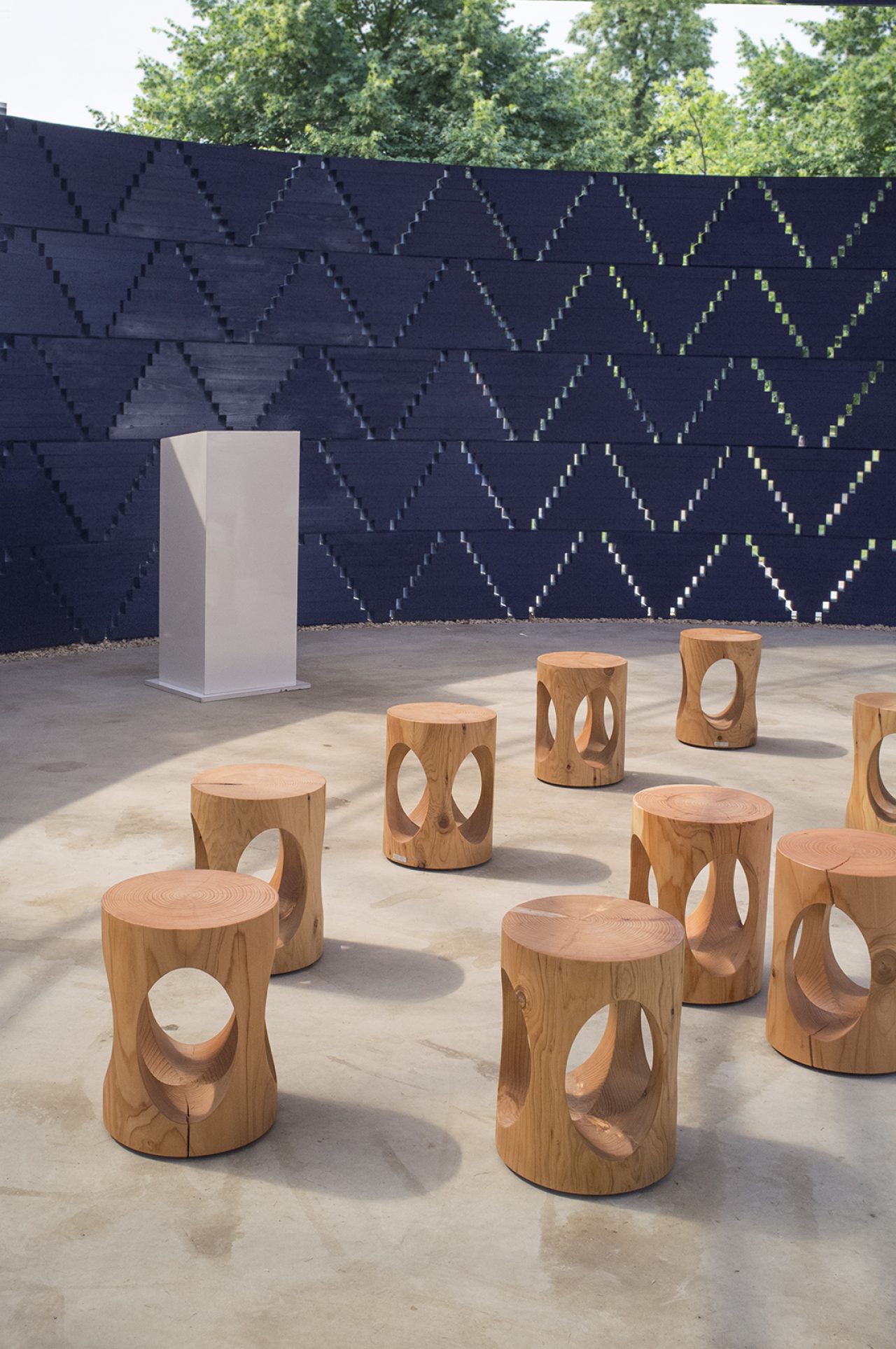 Architect Diébédo Francis Kéré was born in a village in Burkina Faso in West Africa, with his background influencing his work; committed to socially engaged and ecological design in his practice. The community he grew up in live in small mud huts with tin or straw roofs, and as a village of 3000 inhabitants, Kéré was one of the first children to be sent to school (as he was the first son of the head of the village). Through a scholarship to study in Germany, Kéré completed his studies in architecture and engineering. His architecture studio, Kéré Architecture is based in Berlin and has been designing award-winning projects in all parts of the world (Mali, Yemen, China and his hometown of Gando). Also a professor at Harvard, Kéré founded the Kéré Foundation which was pivotal in the funding and construction of the Gando Primary School (which earned him the Aga Khan Award in 2011). Working with local communities, local knowledge and materials is a signature of Kéré's work, his focus on sustainability and longevity a priority. Another important part of of Kéré's work to note is that he believes architecture can be a vehicle for collective expression and empowerment, highlighting the importance of working with communities from the design to planning and construction. Not only this, Kéré continues to develop innovative construction methods through a combination of combining traditional materials and building techniques with modern processes or tools.
SERPENTINE PAVILION 2017
23 June – 8 October