Masamichi Katayama
GET TO KNOW JAPAN'S MOST PROLIFIC INTERIOR DESIGNER EMBEDDED IN CREATIVE CULTURE
Tokyo-based interior designer Masamichi Katayama has an incredible story to tell, one of hard work and perseverance. His journey has been a long and rigorous one, with a successful progression seeing his designs now celebrated worldwide. His own firm Wonderwall, founded in 2000, has created spaces for Colette, Original Fake, A Bathing Ape and Uniqlo's worldwide. The Tokyo-based design office execute projects in interior design, architectural design direction, product design and installation.
Katayama-san's beginnings began when he was asked by friend Nigo® to design their first store NOWHERE(BUSY WORK SHOP ® HARAJUKU), based in Harajuku. Now, the likes of UNIQLO, Thom Browne and Nike are commissioning him for his work, along with the stellar team he has put together at WONDERWALL.
One of the world's most innovative designers, his style is almost instantly recognisable due to his clean and practical aesthetic. Embracing design and utilising to benefit both the client and consumer, Wonderwall are at the forefront of the future of spatial design and consideration. Their forward-thinking concepts cleverly combine a deep understanding of client personality and character, and the integral cohesion with a surrounding environment.
In addition to his unique perspective for design, Katayama-san has an incredible eye for contemporary art and photography with a truly remarkable collection held on the walls of Wonderwall Office. Following his instinct and eye for talent, his personal taste is energetic and conceptual – there are pieces from Ryan Gander, On Kawara, Takashi Murakami, Simon Fujiwara and KAWS (to name only a few!) held over the equally captivating buildings 5 floors. More so, there are custom-designed bookcase reaching wall to wall filled with art and photography books that could perhaps only compare with MOMA. We were completely overwhelmed and impressed to say the least.
Whilst his book and art collection is simply a humble passion, Champ Editor Joanna Kawecki was delighted to meet with Katayama-san and ask him more about his fascinating taste for art and design.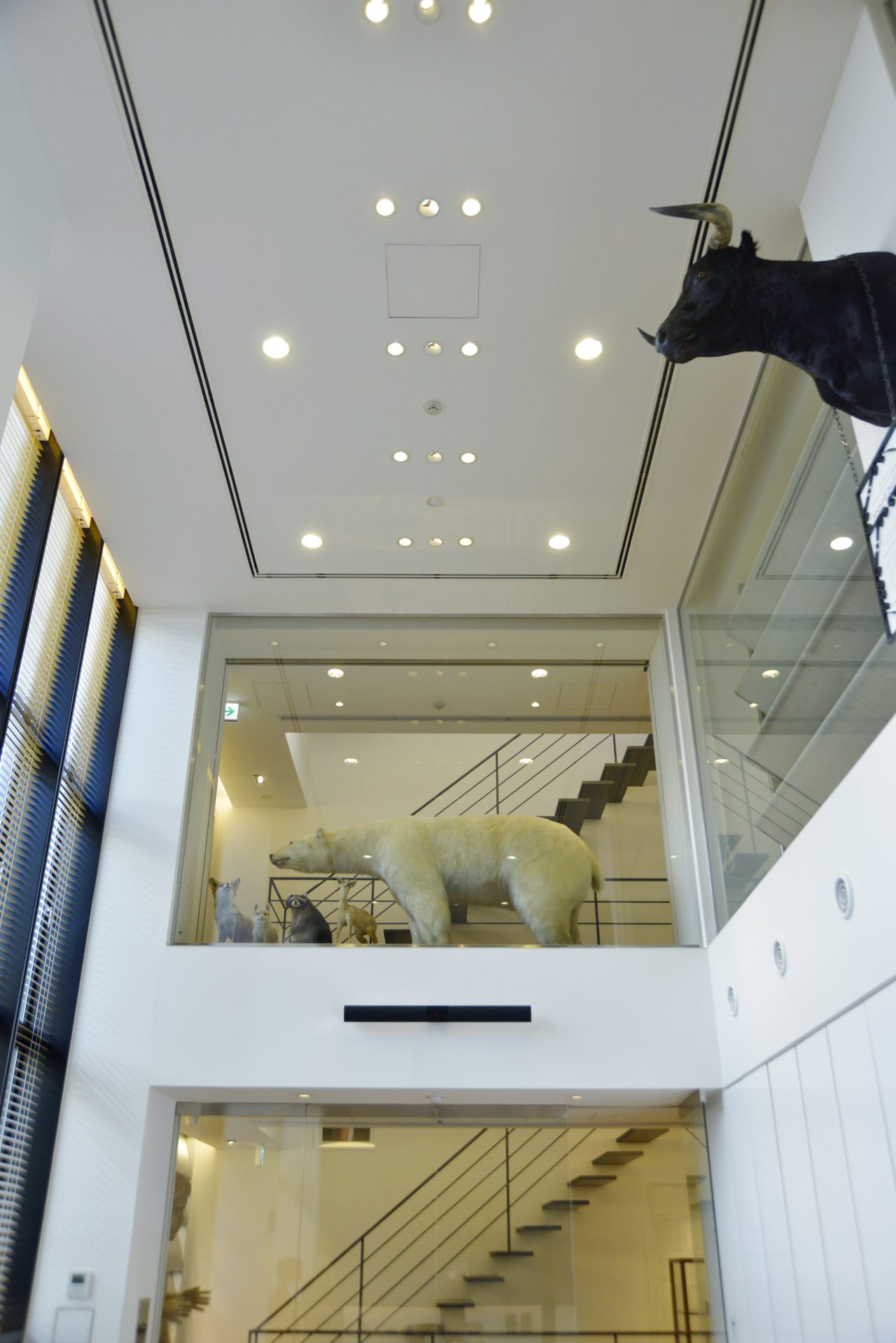 CHAMP: More than just the interior designer most know you as, your skills are spread across various mediums and genres of creativity. Interior designer, educator, art collector. Can you tell us more about this?
KATAYAMA: I started my career as interior designer, but I guess I am lucky to have different opportunities, such as Professor at Musashino Art University. On the other hand, I don't really see my self as a collector, as it's nothing compared with the big collectors' collections. It is just the same as clothes, or books, or magazines…
How does your collection, or the art that you're drawn to, shape your everyday life or does it inspire your work (to have the art in your life)?
My passion for art gives me a different perspective especially. My passion for art gives me a different perspective to see. Conceptual art, which allows me to discover a new vision. I want to enjoy them and be inspired by them, that's why I install them in the office. In a similar sense, it can be compared to the understanding of performance art, as it has always 'been' (in form), but now it is generating more understanding. It's conceptual, so sometimes for others it is hard to understand, but it really speaks it's own language. Challenging barriers and pushing boundaries in performance. There is now more of an understanding through an increase in popularity. That is the big difference in art and design. Design is one form of solution. However, art is a form of an artist's expression. I find it fascinating to think what the concept is behind it. In the same way, I do create experience as interior designer. I always think what I would do if I have to create the same impact through design when I am inspire by art or performing art. Sometimes, I do not find an answer, but it is OK. Design needs execution, but this is my way of challenging barriers.
There is something else I am also very interested in recently. Have you heard of Rakugo? It is a traditional verbal entertainment. The Rakugo-ka, the lone story teller, uses only a paper fan and a small cloth as props. The performer tells a long and complicated story with more than two characters involved. Just by listening to him, you feel like you are watching the theatre or a drama, which is basically a comedy. The imagination is evoked and there is a scene or space created in your head without any visuals. I feel that this is a really beautiful form of art. I'm inspired by a lot of different things, but every time i see the performance of art, I try and translate the performance into design.
We love this quote: "Art should make us feel more clearly, and more intelligent, and it should give us coherent sensations which we otherwise would not have had before." It is by Robert Hughes, an art critic for the NY times, explaining that your opinion is up to your own perspective of what is art. Through our feelings, it should give us coherent sensations which we otherwise wouldn't have had, thus altering our mind.
I totally agree. Human development is inventing new forms, in languages, and a lot of different ways. But it is also humans that limit the vision of human possibility. If you don't have the word (of a different language), you will start to imagine it, look at their face (conversationalist) and imagine how they feel. This is a new creativity.
Yes, Dai Fujiwara encourages new colour palettes from personal creation. We always categorise colours from what we have learnt traditionally, as Pantone and a title, but it encourages you to think outside.
One must try to think, the meaning behind the information. Maybe design is the language to fill the understanding, and probably art is completely different. More primitive.
Do you try to do the same when you create an interior space?
Yes I do. You can not think outside the box if you are in the box. So every time I design a project, I think about how the customer would feel entering the project, and the space I designed. I think my inspiration comes more from art. The design process can be logical because it needs execution, but I should not think about it from the beginning. Sometimes intuition comes first, and I think 'how did I come up with this concept', and follow the process with the sentence.
Do you ever differentiate the customer? Do you categorise the way people can feel in different experiences? For instance with food in a supermarket setting like Dean & Deluca, or in a retail outlet with clothes at Uniqlo.
Both. Everything is connected. Maybe the feeling is different, but the motto is, that it is part of life. Every time I design a space, it is of course important to communicate the detail of the product. It is not the communication I want to pursue, but more of how you can create this space if you have the product in your life. Humans (and their emotional connections) comes first. My definition of design is to think about the customer that comes to the store, their life and their different preferences.
How important is understanding the surrounding area. You know where the space will be, and then you design? What about that locations surrounding local area?
It is very important for me. I do research, and every time I de- sign a space, I try to understand the surrounding and the feelings linked there. I am very lucky as an interior designer, as I am asked to help my client choose the location for their project quite often. I would say 50% of the design process is done by choosing the place. Location is extremely important. Incorporating the neighbourhood feeling and cultural understanding, helps create the space.
When you are designing outside of Japan, what cultural considerations do you keep in mind?
In Japan I have a full understanding of the areas, but of course when I go overseas I try to experience their culture as best as I can. I go and see and feel, but I would also ask clients or friends, to understand the environment. I also always trust my instinct. When you visit a location, you'll feel straight away if it is right or not. On the other hand, depending on the project, sometimes it is not easy to understand what area is good now. It looks hip, but the locals do not go there anymore. So I ask people around me what they advise.
Your designs range from big retail chain stores to small boutiques. Is there one that is more enjoyable for you?
What my team and I did for Thom Browne. New York Aoyama totally different to Uniqlo. Both clients were very trusting, but in different ways. For Thom Browne, the space should communicate the brand it's philosophy, so the details need to be very precise. Working with Uniqlo is totally different, as of course the store space is what communicates the brand concept, but it is more about the design helping their business structure. I like to work on projects I personally like and enjoy, I am lucky to have different types of clients.
Tell us more about your interests and what you look to for ideas.
I love the city. I am from the countryside, very close to Naoshima, and as a teenager I was longing to be near the city. My dream place was Tokyo. I still feel so excited when I go big cities such as Paris and New York. But, the most inspiring place was the Grand Canyon. This is the beauty of nature, and one cannot compete with the design of nature. I feel I should go out to see more spaces, such as the Iguazu Falls in Brazil or any other great places. I'm interested in the forms that one cannot design. Like nature, or animals.
Are there any constraints? The Wonderwall office building uses bark-like textured concrete as perhaps it is more practical? Is there something you have ever imagined and had difficulty to produce?
I'm inspired by the form of nature and other things, but I have never intentionally tried to bring it into design. [Shows us an object] This is the back spine of a whale. It is beautiful, and reminds me that I cannot compete with the design of nature. This is a natural form, and in other words, people could never have designed this.
As an educator of the next generation of designers, what do you teach your students to follow the most?
Research is important as a designer, and my product is my idea. I always say to my students, that everyone has a different culture and background, and individuality is important. In the beginning we are all inspired by other designers, but by learning more and more, we slowly find our design style. At the University I do a series of different workshops, and in class, I have this imaginary projects for the students. Every student has a different way of researching, and through it, you have a different point. After this, concept work is very important.
You need the ability to persuade clients with your concept. With a strong concept, the shape should produce itself. As I mentioned earlier, design is a form of solution. People will invest in good solutions. Design and business is connected. We should never forget it. I believe there is a bright future for design. Apple's success, is really from design and function. Both should organically merge.
You have a strong passion towards art. What are some of your favourite galleries to visit?
I am a good friend of Taro Nasu, the owner of Taro Nasu Gallery. He is a friend, and also a great teacher to art. He teaches me a lot of different things about art.
Did he introduce Simon Fujiwara to you? I see you have some of his artworks here.
Yes. Simon has been to our office several times, and had dinner with us. Ryan Gander also.
When you admire an artist and their practice, how do you come to own their work? What compels you to own their artwork?
Maybe it is a responsibility. I like museums, but it is not fascinating as much as galleries because you can just browse but not purchase. The value of the art is totally dependent of yourself, so I prefer going to galleries and think about if the art work worth the price.
It is the emotional value that is important.
Yes, exactly. That is what excites me. I always think that if I really want this artwork, or if I feel a strong connection to the art, to get it. The artists that create beautiiful things in the form of design, like Ryan Gander and Simon Fujiwara. They both love design and architecture, so the primal form fits into the contemporary environment, not very classic, but is gets closer to the fashion or design object. For me, art can be aligned with fashion or music.
I agree, yesterday I saw a video with the British artist Ryan Gander expressing his interest in his Bamford Watch, which he mentioned he had swapped something to gain it. I thought, 'it must have been with Katayama-san!'
The object is interesting, and at the end of the day it is a creative product. Perhaps it is just as inspiring for the viewer or owner as a painting in the office. I was wearing my Bamford watch, and Ryan Gander kept telling me how much admired the watch. I said, "why don't you have it!". He was so surprised, he said he would swap it for some of his artworks. The Bamford watch is a commercial product. I can buy it again, but the experience I had from this swap. Ryan wanted to have a Rolex watch for a long time, but to purchase it at the store had no meaning, so an exchange with me it had more meaning. And, I think I got the best deal out of the exchange!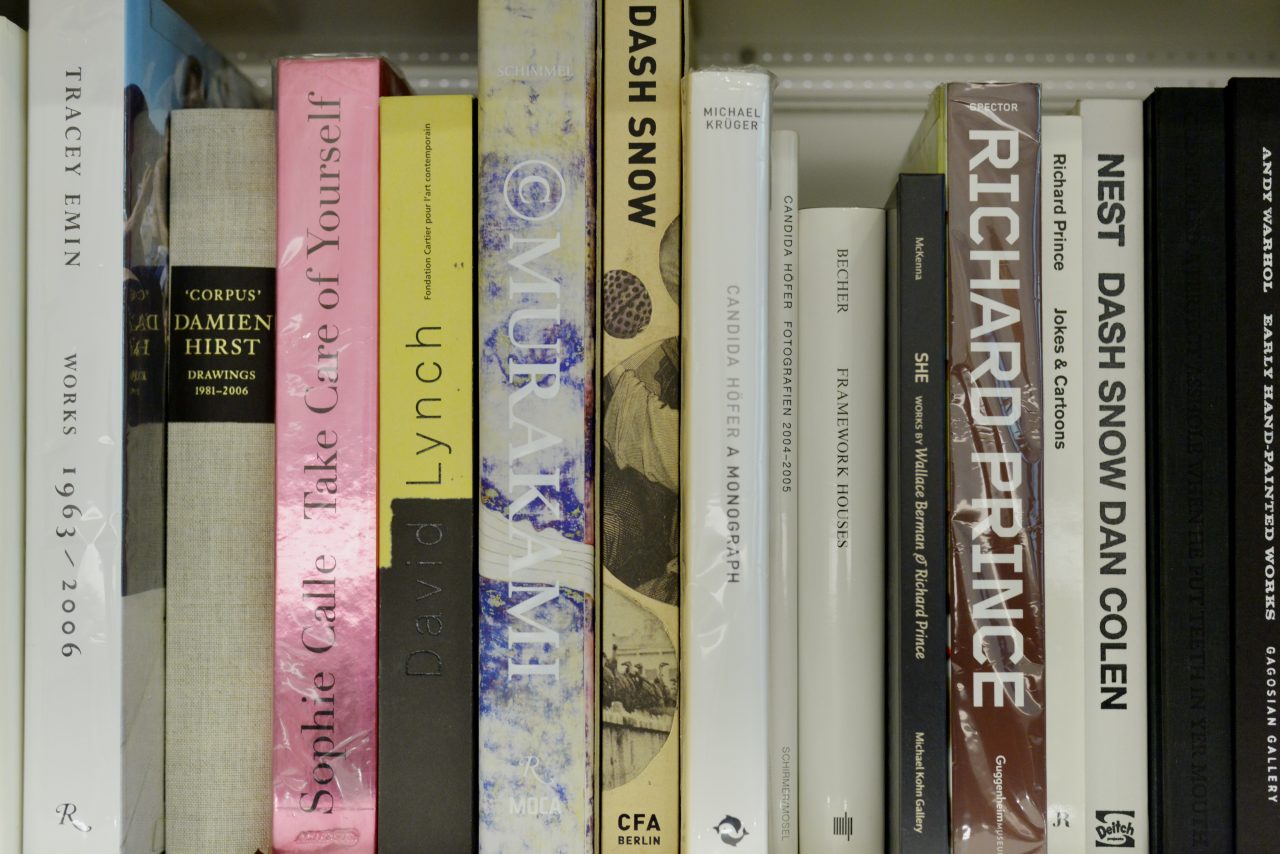 What are the most recent items of artwork you have acquired recently?
Liam Gillick. It's a still-piece, a plate of steel hanging on the wall. It means 'window' to Liam. The piece is inspired by Donald Judd, by very simple structures.
Hiroshi Sugimoto has designed locations such as Koyanagi Gallery, and although he is not trained for spatial design, is it possible for an artist to create functional space? To properly execute them?
I think that is a beautiful thing. Kohei Nawa has a studio with architecture team (Sandwich Studio), because he kept receiving offers to design, so it was natural for him. The final result could be art, architecture or design. Clients want to invest on his taste, with the platform being anything. This is a trend.
Similar to Daniel Arsham, with his company Snarkitecture. When I asked him how this began, he said it was 'because of so many requests!'
I think it is totally natural. The training is not that important. Do you know Masaya from Kitsune? He is an architect that designed his own store, because he has a passion. This skill was there before he became a designer. Passion is most important.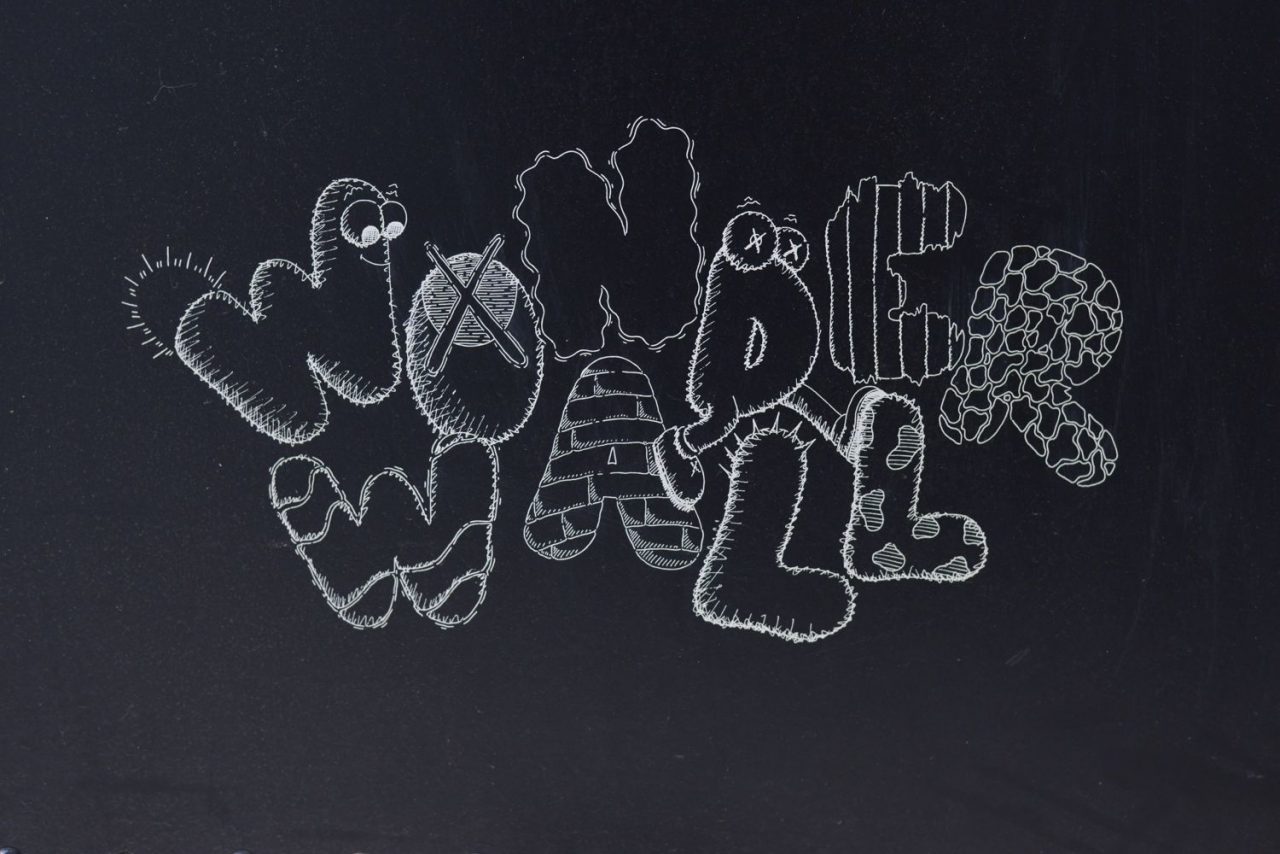 This interview was originally published in Champ Magazine issue 8.
Interview: Joanna Kawecki
Photography: Satomi Yamauchi