Andrea Caputo 'NO_CODE Shelter'
On The Critical Convergence Of Tradition & Technology
What is most refreshing to see in a product-heavy design week is a conceptual, research-driven installation that takes us back to basics; exploring the origins of our housing archetypes and behavioural codes.
Milan and Shanghai-based architecture and design research firm Andrea Caputo have created NO_CODE Shelter installation for Italian luxury brand Tod's, during this years Milan Design Week (Salone del Mobile), designing an installation and concept exploring the fundamental architectural design roots of shelters and housing archetypes in a contemporary context, furthermore incorporating decades-long research from Lloyd Kahn, Stewart Brand and D.C. Beard in the space. Throughout the installation, find references from the influential publications Whole Earth Catalogue (1968) and Shelter (1973), whose authors' obsessive research led them to detail various forms of structures; from informal and spontaneous refuges, to nomadic and self-constructed alternatives.
What makes NO_CODE Shelter so fascinating is it's direct intention; focusing on the origin of one of our first basic human needs – housing – and questioning where we are today in our often-predictable landscape. One where materials are far too easily accessible, and where critical manual design methodologies are lost through the transition to industrial techniques.
Caputo's exhibition concept and architectural structures for NO_CODE Shelter is a convergence of both technology and traditional craftsmanship, as equally found in Tod's own brand identity. Held in the spectacular and recently renovated Spazio Cavallerizze (situated inside the National Museum of Science and Technology) in Milan, the exhibition features five types of shelters: Yurt, Pitched Hut, Casamance, Persian Hut and Musgum Mud Hut. Each shelter is executed in a modern interpretation, utilising modern materials such as steel, aluminium and glass. Inside, video interviews are housed, sharing the work of 8 authoritative individuals selected by Tod's Michele Lupi, each unique in their approach in operating in the design industry in varying capacities. We find legendary Italian car designer Marcello Gandini, alongside visual features presenting London-based creative Mai Ikuzawa, Milan design duo FormaFantasma, Tod's NO_CODE's creative director Yong Bae Seok to American automobile designer Chris Bangle.
At NO_CODE Shelter, guests can explore the space at their own pace and view the presented films multiple times, creating their own navigation and experience as intentionally-designed by Caputo. Design details of the exhibition have not been missed, with a custom rug artwork produced by Milan-based artists Invernomuto acting as a floor plan to aesthetically navigate the space. Curiously and impressively, the floor rug is an enlarged version of a village typology as sourced from the pages of Lloyd Kahn and Bob Easton's monumental Shelter publication, first published in 1973.

Whilst the concept of hybridisation is championed through past and present at NO_CODE Shelter – the spirit of counterculture remains – where resourcefulness, imagination and self-reliance formerly led primary ideas in design. Now, it can offer us new inspiration; imperative for relevant contemporary design today.
∆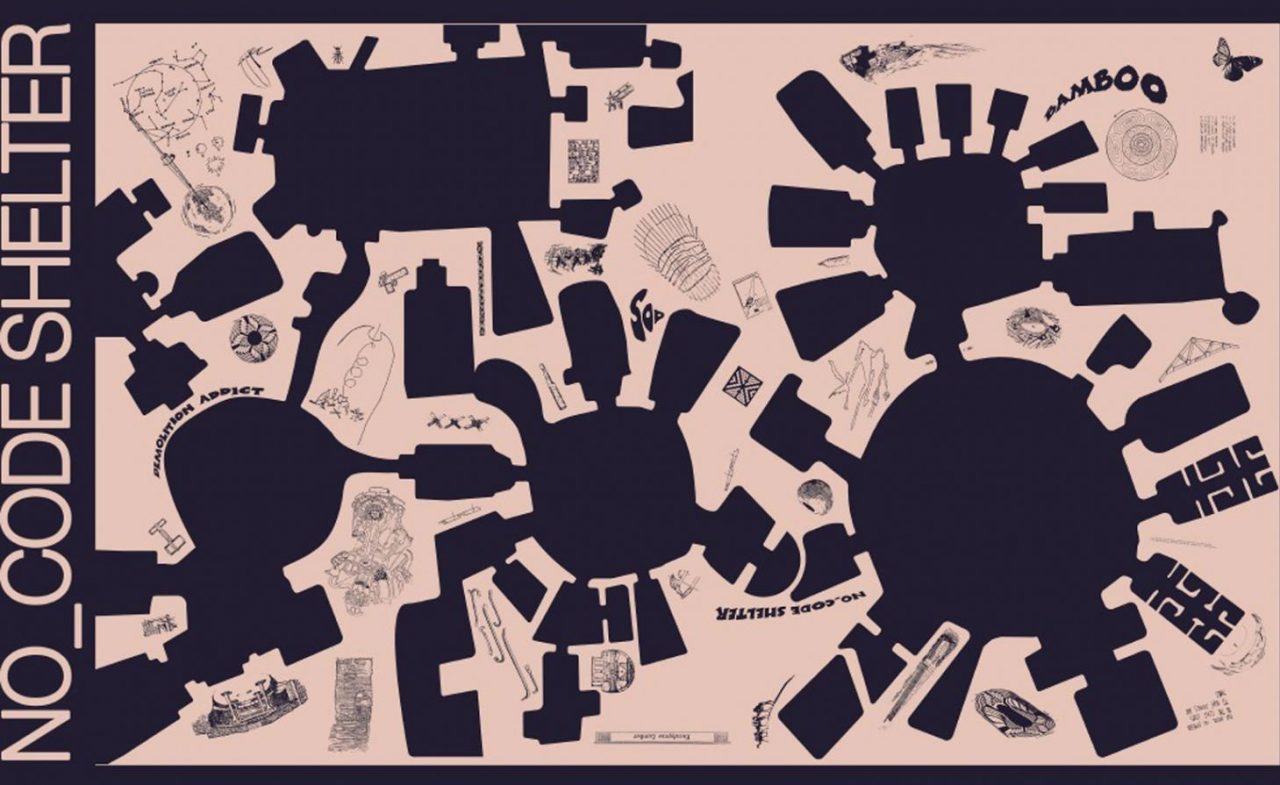 NO_CODE Shelter: Stories Of Contemporary Life
Address: via Olona 6,
National Museum of Science & Technology Leonardo da Vinci, Milan, Italy
9-14 April, 2019 | Salone del Mobile
The project will be exhibited in Seoul, Korea on May 23rd
at the Dongdaemun Design Plaza (DDP)