Kyo-machiya Hotel Shiki Juraku
A 100-year Old Traditional Japanese Machiya Townhouse-Turned Contemporary Design Stay
*We are sad to share that Shiki Juraku announced closure on June 30, 2020
——————-
Japan's old capital Kyoto is rich with tradition and history. Walking through their central streets find machiya (traditional Japanese wooden townhouse) perfectly preserved, with many now converted into contemporary residences or overnight stays.
Such is the new Kyo-machiya Shiki Juraku, as a 100-year-old traditional machiya townhouse-turned contemporary overnight stay. Working with 10 curated creatives to transform the space, Ju-no-raku meaning Ten Delights.  Sincerely, it is simply a truly unique place to stay that captures the tradition and magic of Kyoto.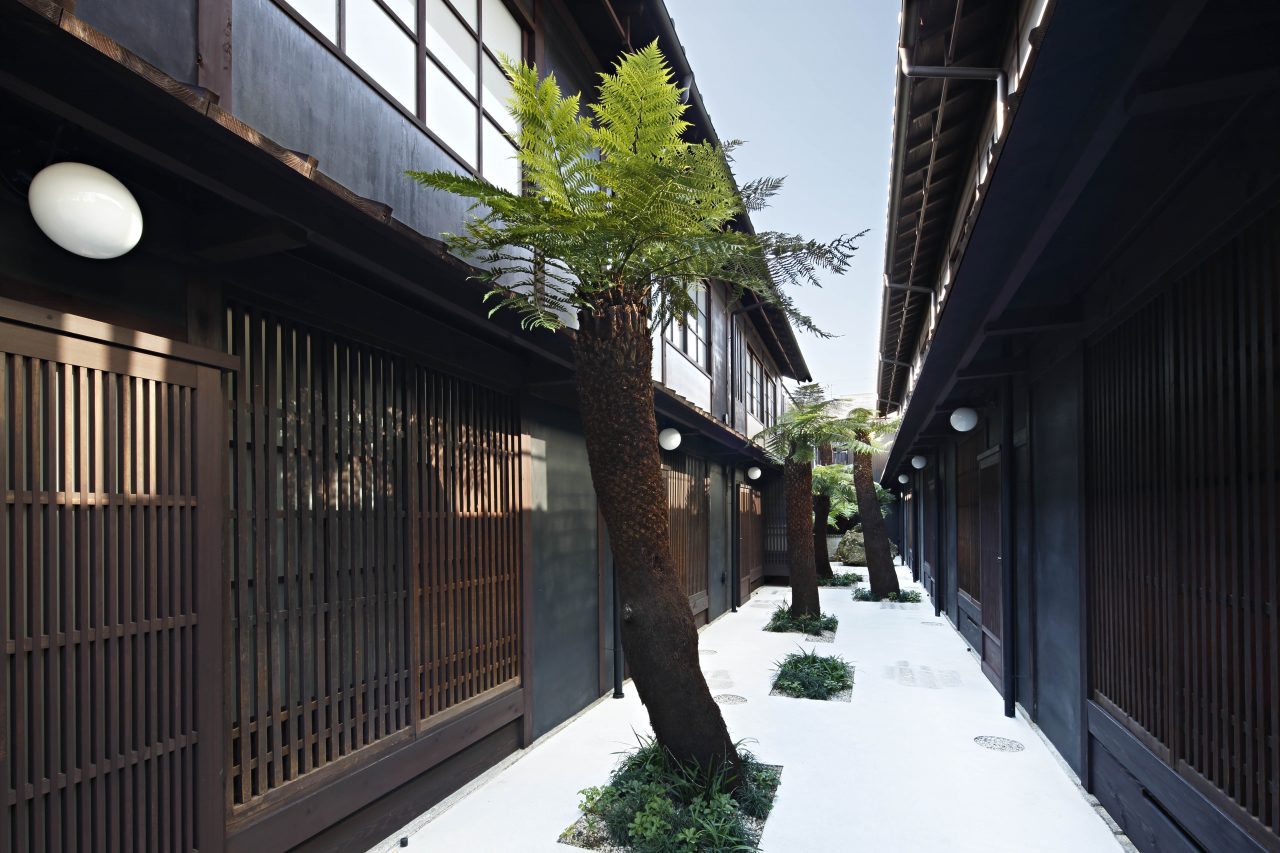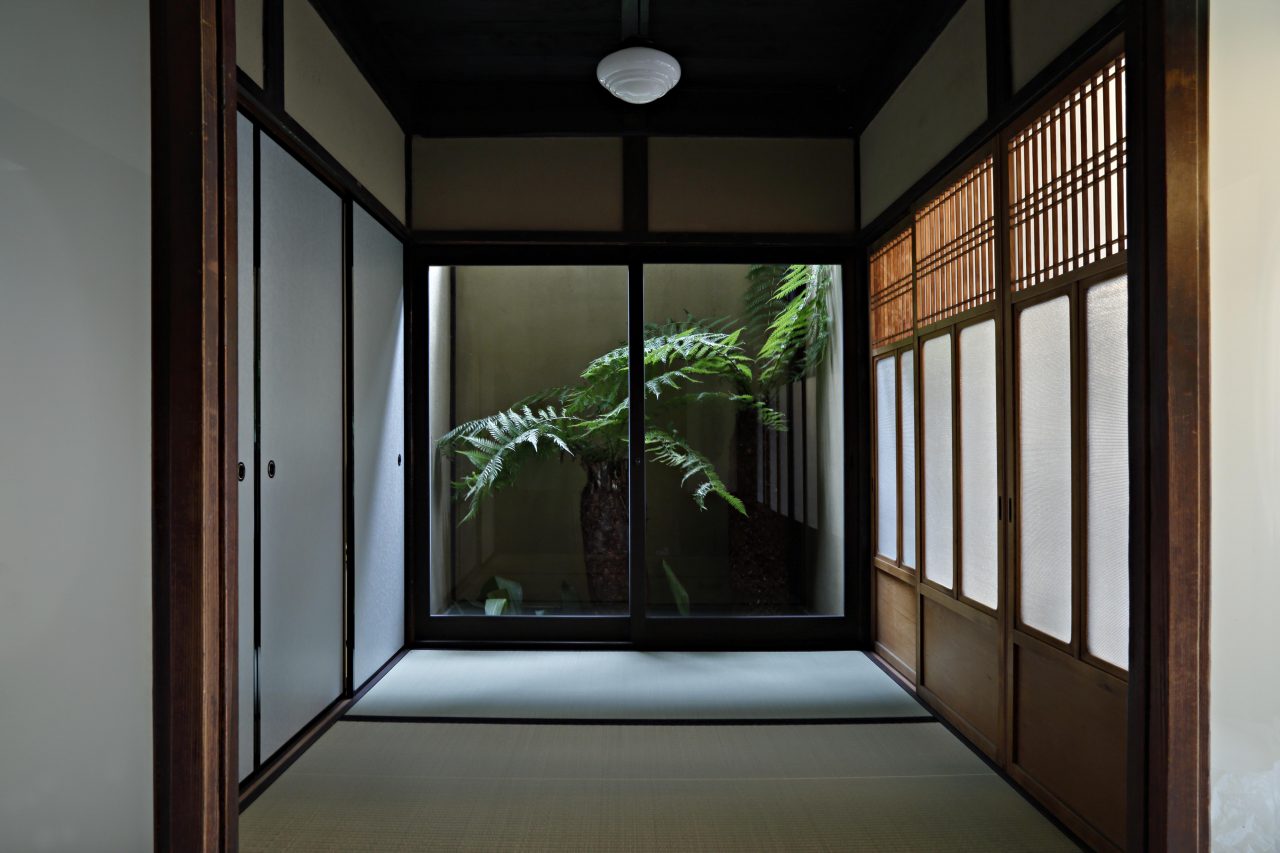 Working from an original renovation design by Uoya Shigenori Architecture Company, the space was transformed by Shiki Juraku's 10 creatives as a new approach to contemporary and conscious luxury. Here, it's all about the details from washi paper sliding doors and exceptionally curated books (helmed by Mitsumura Suiko-Shoin) on display which all add to the extraordinary atmosphere. Here, find Shigemori Mirei's Aristic Garden Design published by Mitsumura Suiko-Shoin, to Bamboo Masterworks (selected by Shiki Juraku).
In Shiki Juraku find the ikebana displays and seasonal wildflowers provided by Hayato Nishiyama (of Mitate Flower Store, a much-loved Kyoto florist) alongside photographer Taisuke Koyama's colour photographs in each room (selected by Shiki Juraku's creative director and renowned photo gallerist Shigeo Goto of G/P Gallery). With a spectacular front gate and Juraku salon dining area, both designed by architect Tsuyoshi Tane, the grand sense of nature was coordinated through "plant hunter" Seijun Nishihata. His selection of giant Australia-sourced Xanthorrhea's line the walkway to guest rooms and are found throughout the hotel.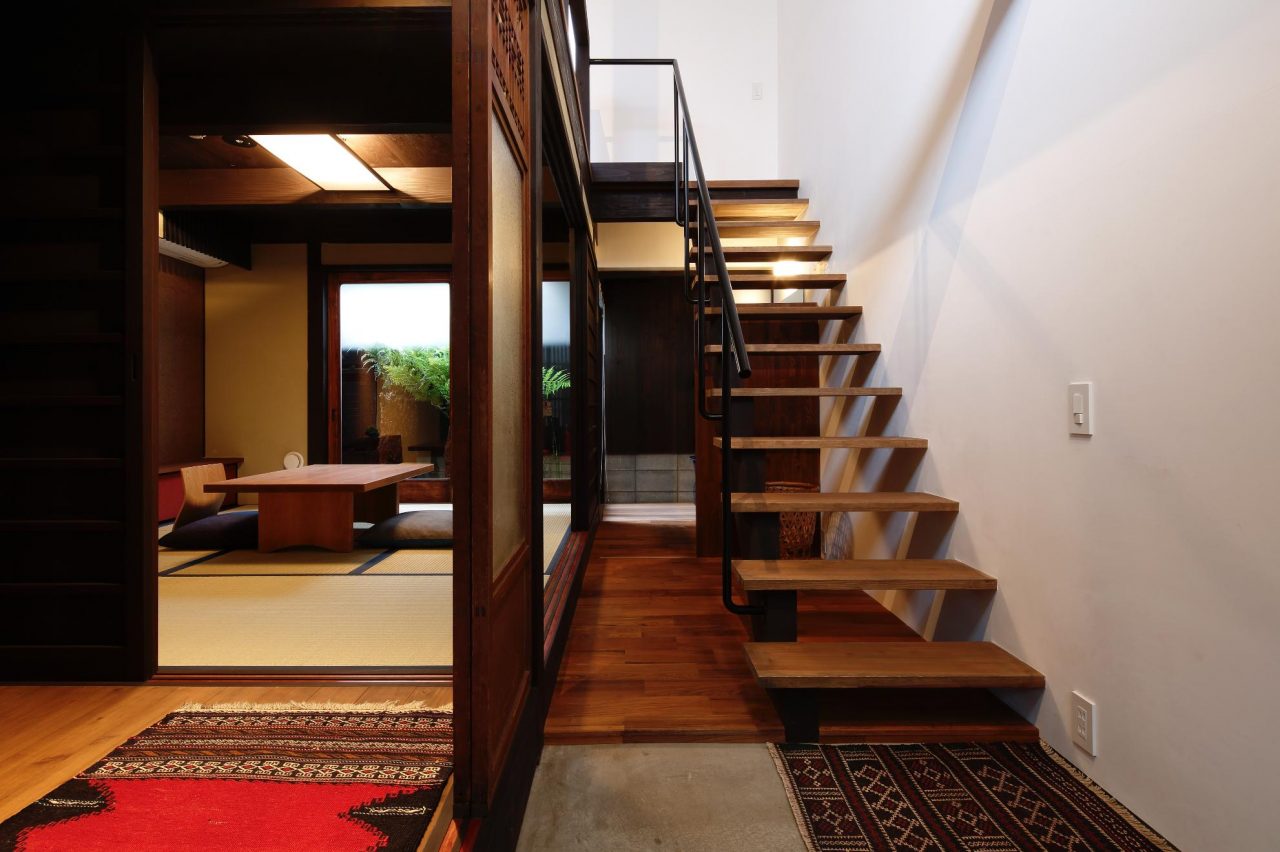 Each of Shiki Juraku's 10 guest rooms are all unique in design and concept, yet each retain their interior structure from the original townhouse style. Looming wooden beams and columns are left raw and exposed, offering a slight imagination of old-world Japan, where houses were more commonly wholly made from timber. Find washi paper sliding screens and doors, to tatami-style straw or polished wooden floors. Such as in Room 5, find a double-storey open space with beautiful timber beams against white walls, which feels like an amalgamation of a New York loft merged with a modern renewal of traditional Japanese architecture. Find a large goemon-buro ceramic bath from the Shigaraki region in the bathroom, perfect to soak and unwind in. The quiet neighbourhood allows for true tranquility and calm during your stay – its so quiet you'll seldom hear another sound. Room 10 holds a large cypress wooden bath, whereas in Room 1, the bedroom is extraordinarily completely covered in washi (traditional Japanese handmade paper) wallpaper. Inside guestrooms also find pensive artworks, which upon closer inspection are conceptual photographs. Japanese photographer Taisuke Koyama's images present a solid canvas with an illusion for the eye, with his works selected by Shiki Juraku's creative director and renowned photo gallerist Shigeo Goto of G/P Photo.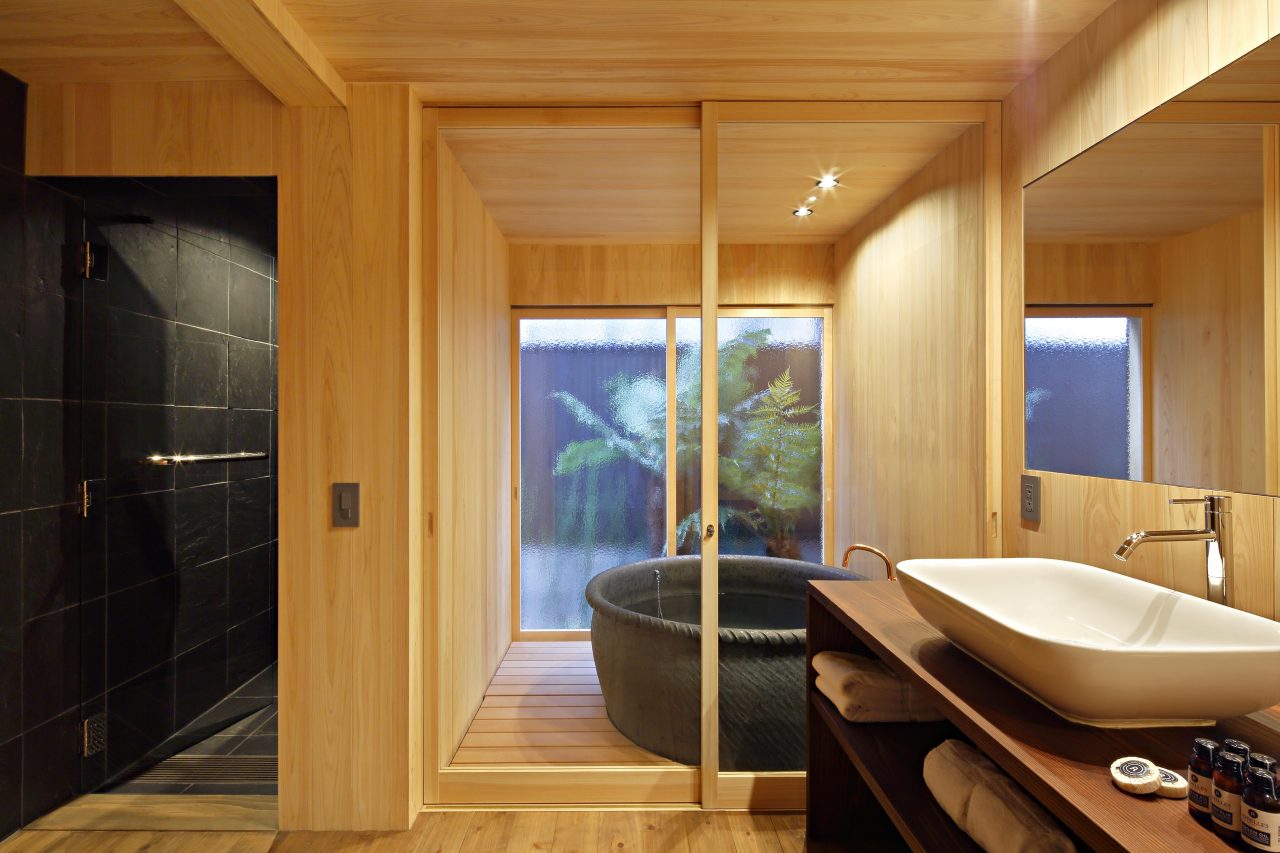 What is most charming about Shiki Juraku is their impressive curation of local artisans, produce, and creators who are involved in the boutique hotel. It's an impressive capture of Japan's leading and key individuals in their field. One such is also the cafe and bar menu, with a stellar locally-focussed and seasonality-driven menu, curated by renowned food producer Kimiko Hiyamizu. Find coffee by Kyoto's Circus Coffee and tea from Uffu, the breakfast is an example of produce excellence; additive-free ham by Keisuke Yamauchi, Kochi Good Foods juices, and Yoshida Factory bread. No corner has been cut here, the whole hotel experience is a perfect example of redefined luxury for the modern traveller.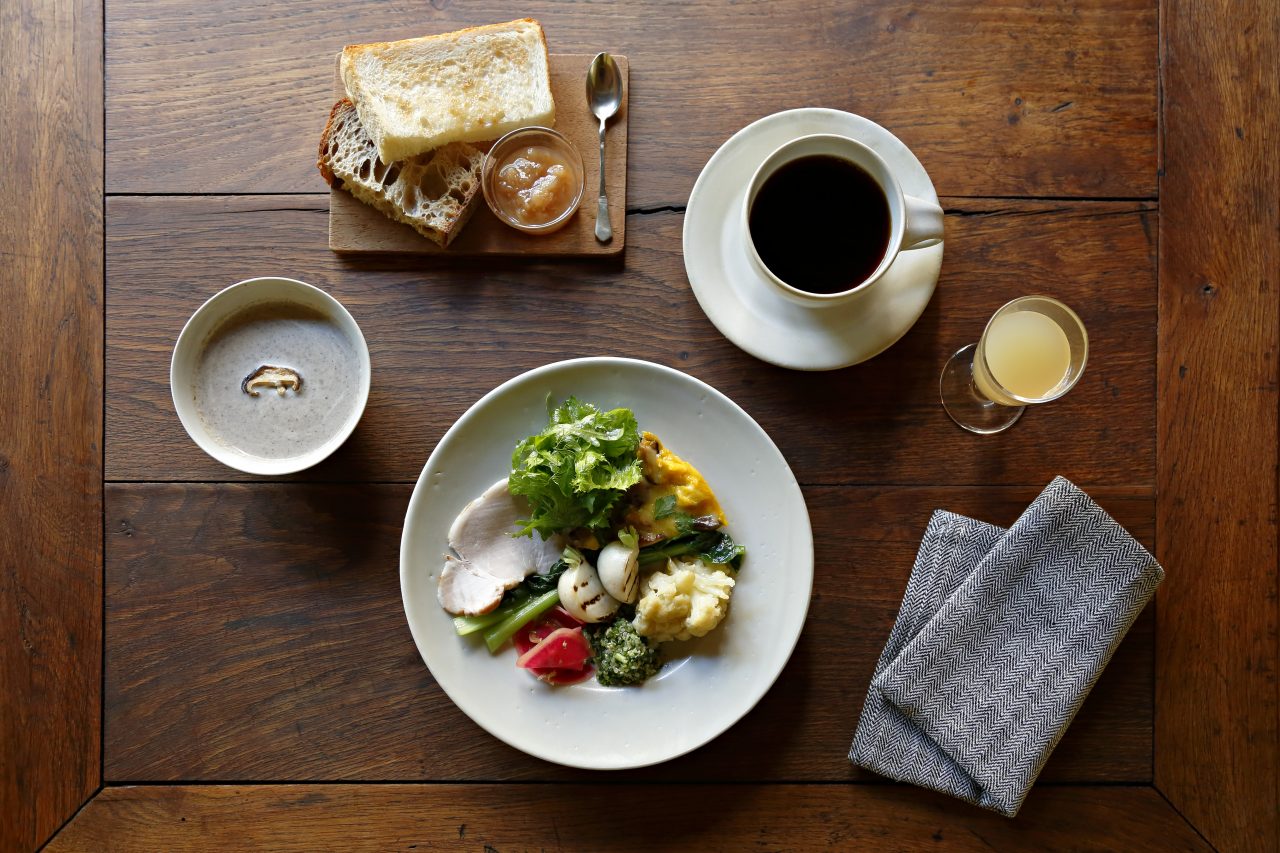 From every corner of Shiki Juraku, light seems to stream in from all angles through the latticed window openings to the traditional architecture angled entrances, reminiscent of a scene from Junichiro Tanizaki's In Praise of Shadows. Here, the hotel is a perfect example of a modern and considered Kyoto, always remaining close to it's heritage and tradition, yet connecting with the excellence of contemporary Japanese designers for the future. A subtle powerhouse idea and overnight stay from the 10 curated creatives.